Often called the Gentleman's Sport, Cricket is popular, gentlemanly like the name suggests.
The World has seen some truly remarkable players like Sachin Tendulkar, Sir Vivian Richards, and Bob Willis.
Born on May 30, 1949, Robert George Dylan Willis, better known as Bob Willis, was an incredible English cricketer.
Furthermore, he played for the national team of England, Surrey County Cricket Club, Warwickshire County Cricket Club, and Northern Transvaal Team.
Willis was a right-arm fast bowler known for his aggressive fast bowling that often left the batsmen catching a breath. Moreover, he was a force to be reckoned with on the circle ground.
Before diving into his life in a detailed manner, here are some quick and interesting facts about his life that may interest you!
Bob Willis: Quick Facts
Full Name
Robert George Dylan Willis
Birth Date
May 30, 1949
Birth Place
Sunderland County, Durham, England
Nick Names
Bob Willis
Religion
Christian
Nationality
English
Ethnicity
White
Education
Not Known
Horoscope
Tauras
Father's Name
Ted Willis
Mother's Name
Anne Huntington Willis
Siblings
One Older Brother David Willis, One Older Sister
Age (At the time of death)
70 Years Old
Date of Death: December 4, 2019, in Wimbledon, London, United Kingdom
Height
6 ft. 6 inches
Weight
N/A
Sexual Orientation
Straight
Hair Color
Light Brown
Eye Color
Brown
Body Measurement
N/A
Build
Athletic
Marital Status
Married
Wife
First wife Juliet Smail; Second wife, Lauren Clark
Children
A daughter
Profession
Professional Cricketer
Net Worth
$2 million
Salary
N/A
Books

Fast Bowling with Bob Willis, Pace bowling, Diary of a cricket season, Lasting the Pace.

Death
December 4, 2019
Other Profession
Commentary, TV Show Guest
Cause of Death
Prostate Cancer
Social Media
N/A
Merch

Bob Willis: A Cricketer and a Gentleman: The Sunday Times Bestseller

Last Update
March, 2023
Where was Willis Born? Childhood, Cricket, and Education
Bob was born in Sunderland, County Durham, to Ted Willis and his wife, Anne Huntington Willis. His father was a radio subeditor and then a news executive for the BBC.
Further, Willis had a brother named David and an older sister, whose name is not available. Moreover, Bob and David played cricket tirelessly in the backyard of their home all day.
As a kid, he studied at Royal Grammar School in Guildford. Apart from cricket, Willis also actively played football. However, he was not interested in the most popular game in his school, rugby.
One interesting fact about Willis is that he added the middle name "Dylan" in 1965 as per his own wish because he was a huge fan of the musician Bob Dylan.
Moreover, his extraordinary bowling skills got him to play for Surrey Schools and the Surrey Colts as they selected him.
Consequently, he was guided by Watcyn Evans, who later became a good friend of his.
Kane Williamson Bio: Career, Net Worth, Personal Life & Wife >>
Bob Willis' Rise to Prominence As The Best Bowler
County Career Debut – Amateur Games
Willis joined the Surrey and Middlesex Young Cricketers on their tour to Pakistan. Hence, he used this opportunity to work on his skills and become a better bowler.
After his return, Bob joined Surrey's second XI and, at the young age of 19, took a wicket against Worcestershire's Seconds team.
Two days after that match, he faced Glamorgan and took three wickets. As a part of Second XIs, he played multiple games.
Then, he got to make his first-ever debut in the first-class team in 1969 August. He took three wickets for thirteen runs in that debut match in thirteen overs in his first innings.
That first-class season, Willis took 22 wickets in six matches. Further, this ranked him in the top 15 of the national average of England.
Thanks to his excellent performance in the previous season, Willis earned a second season at the Surrey's. In 1970, Willis played in 14 championship matches.
In the said matches, he took 40 wickets at the run rate of 28.37 and thirty-one wickets in one-day matches at 14.65. That year, Surrey ranked fifth in the championship.
Shivam Dube- Cricket, Net Worth, Father, Girlfriend & Facts >>
Australian National Team
One awe-inspiring game was at the quarter-finals of the Gillette Cup against Middlesex. Surrey had a score of 280 with 5 wickets down.
Middlesex won the game, but Willis bowled extraordinarily and turned the game upside down as the Middlesex finished in 272 with 9 wickets down. Willis won the man of the match award for the same.
When the captain and vice-captain for the English Test Team side approached Willis over the telephone, he agreed to travel to Australia and join the National Team there.
This was a piece of great news for Willis as he was thinking of taking a job at the Crystal Palace Recreation Center for the winter because Surrey kept him on the sidelines on many occasions.
International Career Beginnings for Bob Willis
Bob Willis got the golden chance to join the national team of England on the 1970-72 tour to Australia when he had to replace the injured Alan Ward.
Willis played multiple warm-up matches for the Marylebone Cricket Club. As a result, England won the test series, and The Wisden commented on it as,
"Bob wills' infectious enthusiasm and team spirit played no small part in Australia's downfall."
Willis played his first test match in the fourth match of the same series, and he scored fifteen not out.
England batted first and scored a total of 332. He also took his first test wicket in the tournament against Ashley Mallet.
Bob Willis truly shined during the last two matches when he took three wickets and four in the final series that helped England secure victory in the said series.
At the end of the test series, Willis had amassed 12 wickets and took several crucial catches. He also took two wickets in the following test match series that happened in New Zealand.
From Surrey to Warwickshire
After his successful time at both the test series, he returned to Surrey and helped the team win the Championship title that year.
After his contract with the team was up, he chose not to renew it due to the growing misunderstanding between them.
Additionally, he rejected offers from clubs like Leicestershire and Lancashire to join Warwickshire.
As a result, his incredible performance immediately showed results, and he took 25 wickets. Willis even took a five-wicket in one innings in a game impressive for any bowler even today.
Hence, he helped the team win the championship of 1972 and became one of the few players who won titles with different county teams.
Thus, 1973 was a season full of injuries for Willis. Despite that, he managed to secure 43 wickets in the Championship.
But, the injury prevented him from attending the Test match against West Indies Cricket Team.
Because the injury persisted throughout the 1974/75 season, he had to take several painkilling injections to decrease the pain and get back to work.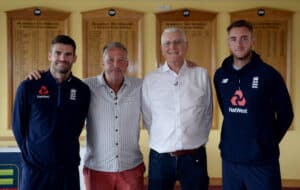 Owing to the same injury, Willis had to return to England to treat it. Not only that, he went through multiple operations suffered from a post-operative blood clot.
Also, to improve from the surgeries, he had to rigorously perform exercises and gym programs that helped him get better slowly and build stamina.
"A Fine Piece of Fast Bowling"
Further, that year, Willis played 13 championship games for the Warwickshire Club.
He also played in the Australian series, played against India and Pakistan in Test Matches, and even scored his best in test match batting by scoring 24 runs.
After the injury became a little better, he returned to the field once again to play in the county game, where he took 16 wickets in the few matches he played.
Then, Willis even scored his personal best in batting with 43 runs.
Seeing that he got better from the injury, Willis was allowed to play the test match against west indies, where he took three wickets with 71 runs and then a whopping five wickets in the second innings.
Willis also completed the past 50 test wickets for the first time. Talking about his last three wickets in the test series, Wisden mentioned that it was
"a fine piece of fast bowling"
Constant Injuries and On and Off Matches
Despite having injuries that persistently tortured him time and again, Willis became the Wisden Cricketer of the Year in 1978.
Willis also managed to bag the third position in the Benson and Hedges Cup. Further, He completed a total of 16 wickets at the run rate of 6.5 runs.
Moreover, this included an impressive four doors in only four runs in one of the innings. During the county championship season, he played in 10 games and took 37 wickets.
Dylan also won the Man of The Match award when Pakistan had toured England in 1978.
Moreover, in 1978, in all the first-class matches that he played, he took a total of 65 wickets at the run rate of 18.41.
This was his highest wickets over run rate in any season up until now. When England held the World Cup in 1979, Bob Willis was also a part of its 13 men's team.
Consequently, England slowly progressed in the tournament and reached the semi-finals. Then, Bob Willis had to miss the final match due to another injury.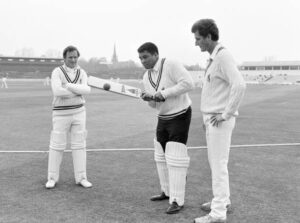 In addition, Willis attended all the matches for the World Cup Series that England played. However, he did not do that great of a job.
So, he could only bring six wickets in the run rate of over 74 runs. Consequently, he became the captain at the county club, Warwickshire.
Captaincy and Advancement in Career
After that, Willis then participated in the ODI matches against West Indies but was only included for one game where he took two wickets and made two catches.
The same year, Willis faced the West Indies team again for four matches, where he took more than 10 wickets. Hence, England lost the game in that series.
Furthermore, in the county front, Willis took a total of 27 wickets at 31.70 runs. During that season, he totaled 23 wickets in the ODI series.
After that, in 1982, Bob Willis was appointed captaincy of the English National Team for their ODI match against India.
As a result, he took two wickets and assisted in a run-out. England won both the games against India, and Willis completed his first captaincy with success.
Soon after, Willis led the English team to Australia for the 1982-83 Ashes. Due to injuries, he could not continue much further with the game, and his teammate had to take up the captaincy.
Life after Cricket
When he retired from playing cricket, Willis decided to join the BBC TV Cricket and summarize for Chanel.
Later, he joined Sky Sports in 1990 for commentary purposes but was soon dropped from front-line commentary duties.
However, as a commentator, Bob Willis did not achieve the same success as a cricketer as he was often condemned for his "melancholic style" and that.
"He used the same note of voice – like the drone of your neighbor's mower."
Bob Willis | Personal Life, Wife, and Cancer
Firstly, Bob Willis got married to his first wife named Juliet Smail in 1980, and they had a daughter together who was born in 1984.
However, later they got divorced in 2005. After that, Bob Willis got married to his second wife, Lauren Clark, in 2014.
Because he spent his youngster years in Manchester, he was a huge supporter and fan of the Manchester United Football Club.
Being the greatest fan, Bob even attended the match at Maine Road in 1954 and FA Cup Final against Newcastle United in 1955.
Cancer
Bob Willis passed away after his long battle with Prostate Cancer. He died at the age of 70 on December 4, 2019. By then, he had played 90 Tests for England and had taken a then-record 325 wickets when he retired in 1984.
"If I had problems in the cricketing world or in my personal life, he'd always be there to help me. Bob Willis was like a big brother. We had some amazing times together around the world. There are certain friendships you have in your life but very few as close as it was with Bob."
– Ian Botham
Some FAQs:
What does the Bob Willis fund do?
The Bob Willis Fund raises awareness of cancer and money for research into fighting the disease. Likewise, the majority of the money raised at the Bob Willis Fund goes to specific prostate cancer diagnosis projects.
What did Bob Willis do in cricket?
Bob Willis is regarded as one of the best fast bowlers of all time despite being a player from yesteryears.
What is Bob Willis' Net Worth?
Bob Willis has a net worth of about $2 million, according to sources.
When was the Bob Willis Trophy established?
The Bob Willis Trophy was established in the 2020 English cricket season in his honor.
How fast is Bob Willis?
Bob Wills has a professional speed record of 145.9kph.
What is Bob Willis's bowling speed?
Bob Wills has a professional bowling speed record of 90.7Mph.
Is Bob Willis a Hall of Famer?
Bob Wills was inducted into the ICC Cricket Hall of Fame in June 2021.
Where is Bob Willis buried?
Bob Willis is buried at Adelaide vineyard.