The Los Angeles Dodgers pitcher Bobby Miller has a girlfriend, Natalie Loureda. The pitcher hasn't made his relationship with Natalie public.
So, you might think, how do we know that? A quick comment search is enough to know about the brewing romance between the two young rising athletes.
She is a martial artist with a famous sister Valerie Loureda. Natalie comes from Cuban origin and has represented the United States on international stages.
Going through the comments, the romance between the two might have started in December 2022. Natalie sat alongside Bobby Miller's parents as he shined on his debut against Atlanta Braves.
A highly touted player, Miller played a key role in the absolute domination of the Dodgers against the Braves. In his five innings, Miller only gave one run and struck out five.
Bobby Miller Girlfriend: Is The Pitcher Dating Anyone?
We might just have the name of Bobby Miller's girlfriend. The MLB star, who kept his dating life under wraps, might be seeing mixed martial artist Natalie Loureda.
Mind you! There isn't any photographic evidence of them together, but the comments say it all.
Since December 2022, the two athletes have been leaving heart emojis and sweet messages on each other's posts.
One of Miller's first comments on Natalie's post came on December 24, 2022, when Natalie put on a risque display on show. One of the other comments from Miller arrived on the day Natalie graduated from DeVos Sport Business Management Program.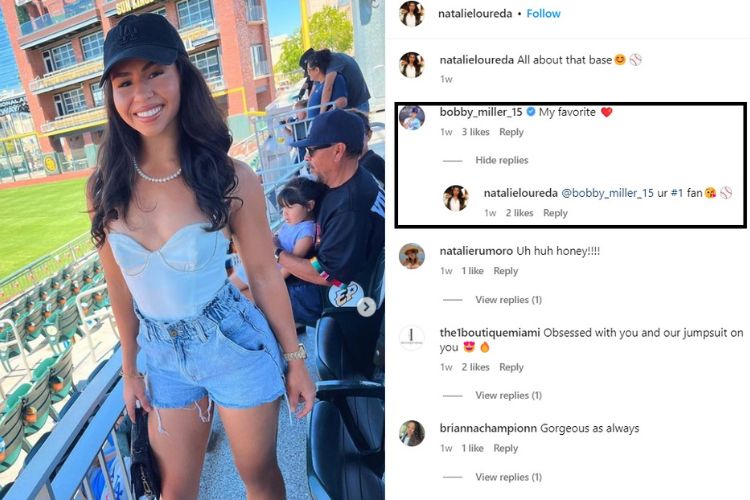 Miller commented, "Congrats, baby," which was then met by a "Thank you" from Natalie. The comment also didn't go unnoticed by some of Bobby Millers' fans.
On May 15, Natalie also attended the Dodger vs. Padres game and shared a couple of snaps before the game started. Bobby Miller commented on the post, "My favorite," to which Natalie replied, "Your no.1 fan."
Natalie has also left comments on Bobby's recent posts, with the latest one coming on a post made by Miller in March.
And more thing to add is that the comments made by Natalie are not only liked by Bobby but also by his mom, Tracy Miller.
Who Is Bobby Miller's Girlfriend, Natalie Loureda?
Bobby Miller's supposed girlfriend, Natalie Loureda, is a Cuban-American athlete and the little sister of WWE wrestler Valerie Loureda.
Her Twitter bio states that she is a martial artist, creative director, and AFFA Certified Trainer.
Natalie has been into martial art and taekwondo from a young age. She even won the 2013 Pan American Championships Best Cadet Female Athlete award and has represented the US in several major competitions.
She won silver in US Open in 2013, followed by gold in 2014.
Some of her early days' achievements go back to 2010, including a bronze in the 2010 US Open & many more.
In 2017, young Natalie also shared a picture of her winning gold at the AAU Taekwondo National Championship.
Natalie's kickboxing debut came on March 4, 2023, as she won unanimously against Brooke O'Dell. The kickboxer shared a thank you post on April 12 with a short clip of her fighting against Brooke.