"Journalism, like democracy, is not something that is achieved. It is a work in progress, and not every day is good as the last." A quote that many journalists carry on as a motto, such as Bonnie Bernstein.
Indeed, the 51-year old has been at it since her early adult life, almost three decades ago. Amongst many sportscasters, the Brooklyn-born is probably the most successful, having been on the air for networks like ESPN, CBS, NBC, FOX Sports, etc.
As they say, "Ratings don't last good journalism does.", regardless of all the challenges thrown at Bernstein, she overcame all the adversities and established herself at the forefront of journalism, in an occupation where we mainly saw men in abundance.
The article discusses this incredibly accomplished sportscaster's life and her journey throughout the span of a broadcasting career.
The article also comprises Bonnie's early life, body measurements, net worth, and a brief on her relationship!
Quick Facts
| | |
| --- | --- |
| Full Name | Bonnie Lynn Bernstein |
| Birth Date | August 16, 1970 |
| Birth Place | Brooklyn, New York, U.S. |
| Nick Name | Bonnie |
| Religion | Undefined |
| Nationality | American |
| Ethnicity | Caucasian |
| Education | Howell High School; University of Maryland |
| Horoscope | Leo |
| Father's Name | Unavailable |
| Mother's Name | Unavailable |
| Siblings | Yes (2: Names Unknown) |
| Age | 52 Years Old |
| Height | 5'7" (1.71 m) |
| Weight | Unavailable |
| Hair Color | Dark Blonde |
| Eye Color | Brown |
| Body Measurement | 34-24-34 inches |
| Figure | Ectomorphic |
| Married | No |
| Former Spouse | Ron Thorton; Grant Reynolds |
| Children | None |
| Profession | Sportscaster, Anchor, Radio Host |
| Net Worth | $1 million |
| Salary | $500,000 yearly |
| Affiliations | ESPN, CBS Sports, ESPN Radio |
| Active Since | 1990 |
| Social Media | Instagram, Twitter, LinkedIn |
| Last Update | June, 2023 |
Bonnie Bernstein Wiki-Bio | Early Life, Education & Parents
Bonnie Lynn Bernstein, in short, Bonnie Bernstein, is a Brooklyn, New York native born on August 16, 1970.
Moreover, she grew up in Howell, New Jersey, alongside a brother and a sister whose names remain a secret.
The whereabouts or any slightest information on her parents is also kept away from the media. However, Bernstein did attend Howell High School, which inducted her to its members of Hall of Famers.
After that, by putting high school life behind her, Bonnie embarked on a fruitful university experience. While a student, the New Yorker studied to acquire a bachelor's degree in broadcast journalism.
Further, Bernstein graduated with a Magna cum Claude, one of the highest distant honors granted to students for their academic excellence.
The road to journalism started as a college student, but her fervent passion provided her the motive to keep on pursuing the field despite the complications.
Kay Adams Bio: Age, Height, Parents, Career, Net Worth, Husband Wiki >>
Besides, the Newyorker was adept at her studies and was equally gifted in terms of athletics.
In like manner, Bernstein is the recipient of Academic All-America a total of four times in gymnastics, with a Thomas M. Fields award to validate her achievements.
Notwithstanding these, Bonnie maintains her relationship with the academic board and even received a position in the Board of Visitors at the Philip Merrill College of Journalism, associated with the University of Maryland.
Similarly, she now hosts a tv program that addresses the university's ongoing and its prominent alumni.
Bonnie Bernstein | Age, Height, & Body Measurements
At the time of writing, the talented sportscaster is 51-years old and is as jubilant and motivated as during her incipient stage.
There is no laziness or procrastination in this lady, all about hard work and undeterred passion.
Moreover, if anyone seeks inspiration to muster confidence and energy, take Bonnie as an example.
Nothing fazes the New Yorker, and nothing brings her to her knees; the sheer devotion for reporting, and generally, the entirety of her craft is unparalleled.
Also, the blonde reporter stands at a modest height of 5'7″ (1.71 m) and has a commanding presence in the room.
Additionally, Bonnie weighs approximately 55 kg (121 lbs) with a keenness towards her and her admirable profession.
Rebecca Lowe Bio: Age, Career, Husband, Net Worth, Instagram Wiki >>
Although her body measurements remain under wraps at the moment, it is evident from her Instagram posts that she fondly follows yoga to keep a balance between her mind and body.
Likewise, journalism can be intense, and it comes of great importance for one to maintain composure, and what better way than meditation and hot yoga.
Bonnie Bernstein | Career: Sportscaster
It took a stressful three years to find a spot that provided her ample opportunity to reach even higher.
Bonnie broke through as a sports and news director for WXJN-FM radio based in Lewes, Delaware.
Ultimately, with a few years of experience as a radio host, Bernstein was ready to be in front of the camera.
Hence, she accepted a job at WMDT-TV located in Salisbury, Maryland, serving as a news anchor and transitioning to becoming KRNV-TV's first-ever female sports day anchor on the weekdays.
However, in 1995, a major turn took place in the Brooklynite's life as ESPN recruited her and assigned her as a Bureau Chief for the Chicago branch.
While there, Bonnie had the opportunity to report live from the United Center, home of the Chicago Bulls.
Also, Bernstein was fortunate enough to interview Michael Jordan on numerous occasions. Contrarily, with a 3-year experience at a reputed broadcasting network, she parted ways to join CBS Sports in 1998.
In the same way, Bonnie covered the NCAA Men's Basketball Championship as a leading female sideline reporter.
Like her previous gig, the blonde sportscaster parted ways with CBS, but this time by working for the network for almost eight years.
Allison Williams Bio: Age, Height, Husband, Net Worth, Instagram Wiki >>
At the same time, Bernstein returned home to the place, which gave her a chance to become a sensation in the journalism world, ESPN.
In like manner, the Brooklyn native continued her service as a field reporter for the network.
Furthermore, an unforeseen event occurred in Bonnie's life, as a life-threatening blood clot in the lungs, medically termed pulmonary emboli, sidelined her for several weeks. This certainly impacted her career significantly.
In other words, Bernstein had to reduce her travel as a preventive decision.
As a result, the sportscaster directed her attention to studio hosting for shows like NFL Live, Jim Rome Is Burning, Outside the Lines, College Football Live, and First Take.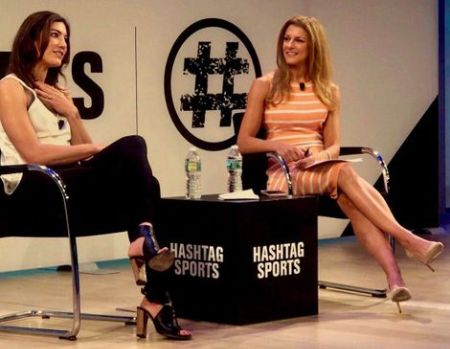 Similarly, The Michael Kay Show found a new host in Bonnie, a radio program that aired on 1050 ESPN Radio.
Her primary duties were to report on the New York Jets and conduct a program, especially during the NFL Playoffs.
In 2013, the Brooklynite helmed the role of VP of Content and Brand Development for Campus Insiders.
Campus Insider was a partnership deal between Jerry Reinsdorf, the owner of the Chicago Bulls and White Sox, and IMG College.
Notwithstanding these, Bernstein had other roles, such as that of a guest in programs like The Dan Patrick Show, NBC, MSNBC, and FOX News.
In 2014, she undertook to report for Sklar Brother's comedy special What Are We Talkin' About?
Philanthropic Campaigns
On the contrary, Bonnie's life doesn't revolve only within the four walls of a studio. As someone who overcame a fatal illness, the Brooklynite makes sure others don't have to fare the boat she had.
Hence, the sportscaster raises awareness regarding childhood obesity and deep vein thrombosis.
Additionally, Bonnie accepted the position of media strategist and national ambassador for ING KiDS ROCK.
At the same time, Bernstein actively supports the National Foundation of Fitness, whose main motive is to allocate funds to fight childhood obesity.
Similarly, the blonde reporter is also a spokesperson for Prevent Deep Vein Thrombosis, a disease that Bonnie battled in 2006.
Stance on Ray Lewis' Crime
Back in March 2013, we all are aware of Ray Lewis's criminal incident that took the shock waves all over. As for the background information, Ray Lewis and his friend group had gotten into a fight with some people during a party.
Following it, the people of the other groups were found dead. Hence, when they ran an investigation, Ray lied to the cops stating he had no idea of the incident after destroying his bloodstained white suit.
Altogether, he was later suspended a year for keeping everyone away from the truth. Well, it was then when Bonnie Bernstein posted an update on her Facebook handle relating it to her childhood smoking incident.
She stated that her friends were trying out cigarettes, and though she never even tried it, she would wash her clothes as soon as she reached home. Hence, she stated Ray's case to be similar but on different grounds.
Some of her Facebook statement states as follows.
"Was I guilty of smoking because I washed my clothes?
Had I lied, did that mean I was lighting up, too?
I don't believe Ray Lewis was a complete saint the day of the double stabbing for which he was initially charged (and yes, I'm well aware murder is a lot worse than smoking, thank you). He ditched his bloody suit, which was never recovered, and was initially dishonest with investigators. That's clearly obstruction of justice, for which he plead guilty."
-Facebook update of Bonnie
Bonnie Bernstein Net Worth | Salary & Income
To begin with, Bonnie has had an illustrious career, and with such a remarkable adventure comes the age-old talk about wealth.
In other words, in an astounding three decades of service as a journalist, the New Yorker proudly sits on a net worth of more than $1 million.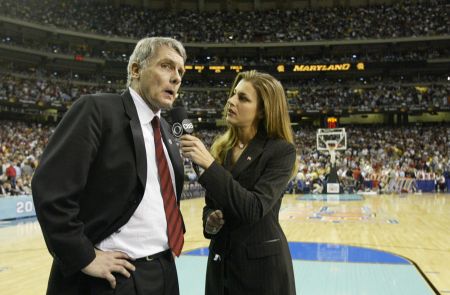 However, the exact details are still a mystery; to our dismay, it is doubtful that such an exemplary sportscaster would have a meager earning.
Furthermore, sources also have come close to reporting that Bernstein earns around $500k salary yearly. In the same way, it is quite a fitting way to say that hard work does pay off.
With emerging and youthful talents in the field of journalism, Bonnie neither slows down due to age nor is she planning to, becoming a lesson for the youngster to keep the pursuit and spirit alive, despite the age.
On the other hand, in January of 2019, the New Yorker pocketed a handsome $118k from the University of Maryland as a result of her involvement in the Commission Investigating Football Culture. As busy as Bonnie can get, she is earning in bulk.
Net Worth of Bonnie Bernstein in Different Currencies
Here's the net worth of Bonnie Bernstein in different currencies, including cryptocurrency and BitCoin.
Currency
Net Worth
Euro
€

850,232

Pound Sterling
£

725,665

Australian Dollar
A$

1,372,156

Canadian Dollar
C$

1,267,895

Indian Rupee
₹

73,583,900

BitCoin

฿21
Bonnie Bernstein Relationship Status | Husband & Kids
Currently, an inspiring journalist is a single woman. Yes, Bonnie is technically on the market, maybe searching for love or just enjoying her productive career.
In fact, Bernstein used to be a married woman, with two marriages that ended bittersweetly. For instance, the Brooklyn native tied the knot, initially, to Roy Thornton.
Although there is no information available on the said man, it seems that the two collided through Bonnie's active career as a sideline reporter.
Nonetheless, like many unsuccessful marriages, this one ended in a slightly disheartening way.
Despite an unsuccessful first marriage, Bernstein dared to move on and fall in love again. Indeed, she found love with a man named Grant Reynolds.
So she thought, as her previous marriage, the second one didn't take long to bite the dust. Subsequently, a heartbroken Bonnie hasn't sought the love and affection of a man for some time now.
She is a strong and independent woman, and we are sure that a man will deservedly earn her heart again one day.
Social Media Presence
Instagram: 21.9k followers
Twitter: 139.3k followers
Some FAQs
Is Bonnie Bernstein involved in Dance Therapy?
No, she is not involved in dance therapy.
Are Bonnie Bernstein and Scottie Pippen Friends?
No, they are not friends. Bonnie is a Sportscaster, whereas Scottie is a basketball player.
Has Bonnie Ever Interviewed Roy Williams?
Roy Williams is a basketball coach who has given the interview for Bonnie Bernstein.