While Bonnie is credited for being Diana's swim coach, this Bonnie Stoll Wikipedia will help you know her more.
The Netflix movie 'Nyad' highlights Stoll's role in helping Diana achieve the unbelievable feat of swimming from Cuba to Florida.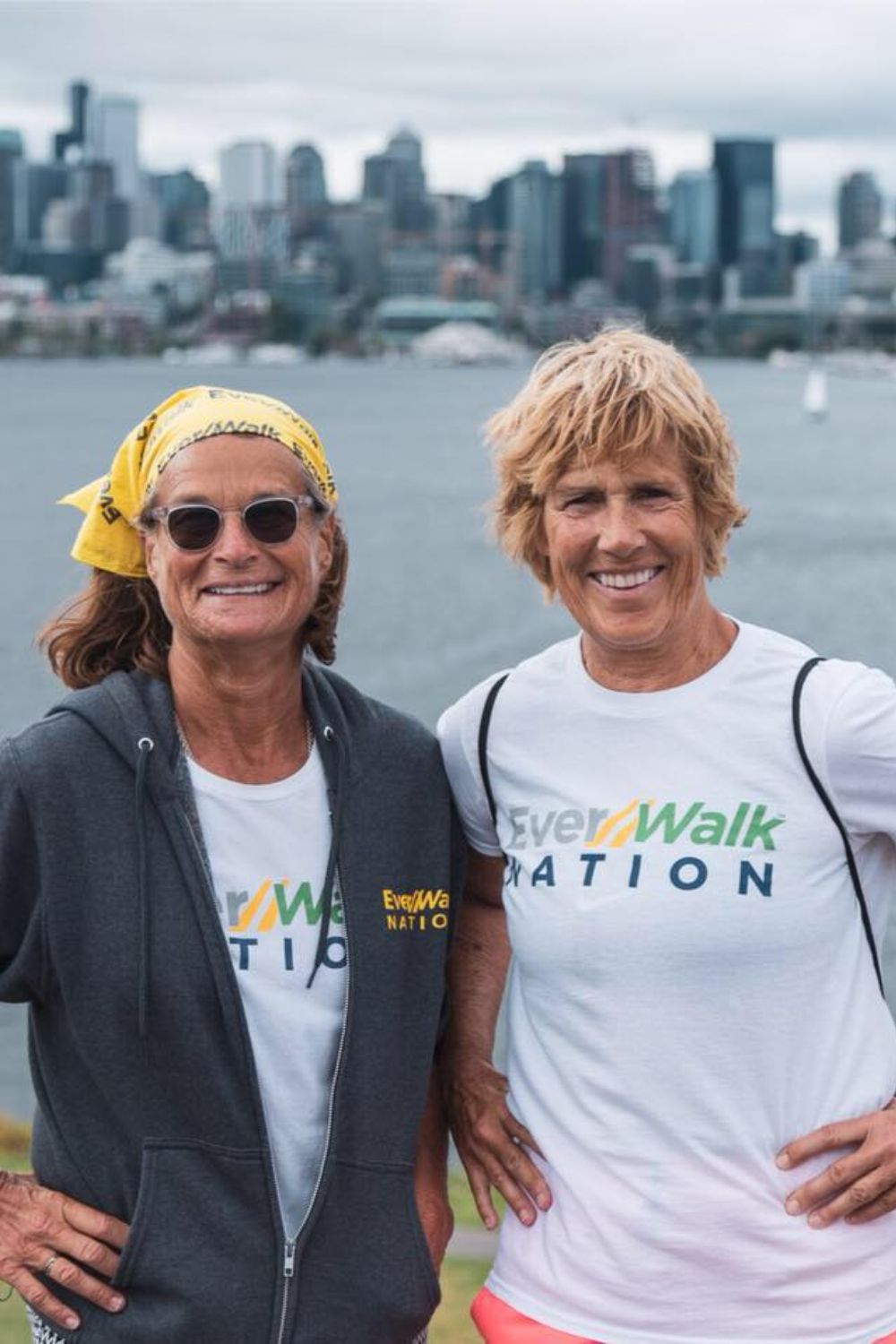 Diana Nyad, born on August 22, 1949, is a remarkable American author, journalist, motivational speaker, and long-distance swimmer. Her inspiring journey has captured the hearts of millions.
Diana's swimming career took off under the guidance of former Olympian Jack Nelson, who coached her from her teenage years.
After graduating from Lake Forest College, she pursued a Comparative Literature Ph.D. program at New York University in 1973.
Nyad gained national acclaim in 1975 when she swam around Manhattan, covering a distance of 28 miles in record time.
Her feats continued to amaze as she swam from North Bimini in The Bahamas to Juno Beach, Florida, covering 102 miles in 1979.
Albeit, the pinnacle of her career came in 2013 when, at the age of 64, she successfully swam from Havana, Cuba, to Key West, Florida.
Diana Nyad's incredible achievements and relentless determination have served as a beacon of inspiration for people worldwide.
Bonnie Stoll Wikipedia And Age
Bonnie Stoll is a name often used in conversations about endurance sports and long-distance swimming.
Despite her significant contributions to the world of sports and her remarkable personal journey, Stoll maintains a relatively low profile.
Born in Stamford, Connecticut, in June 1952, Bonnie, at the time of writing, is 71 years old.
She made a name for herself as a professional racquetball player during the 1980s. She even reached the impressive rank of No. 5 in the country.
Her passion for racquetball and her competitive spirit were evident from a young age, thanks in part to the guidance of her coaches.
Regarding her education, Bonnie earned her undergraduate degree in Physical Education from the University of Connecticut.
Likewise, she taught high school Physical Education in Connecticut for three years after her graduation.
In 1989, she relocated to California and embarked on a successful 30-year career as a personal trainer, establishing "Workout Results."
During this time, she trained an impressive roster of clients, including celebrities like Rod Stewart and Diana Ross.
The fateful meeting between Bonnie and the legendary athlete Diana Nyad during Bonnie's racquetball career marked the beginning of a deep and enduring friendship.
Their connection evolved as they began working out together, with Bonnie eventually becoming Diana's fitness coach.
Later, she played a pivotal role as Diana Nyad's swim coach, assisting her in achieving the extraordinary feat of swimming from Cuba to Florida on a grueling 110-mile course, which she completed in an astounding 53 hours.
Is Bonnie Stoll Diana Nyad's partner?
Diana Nyad shares a deep and enduring friendship with her training partner, Bonnie Stoll. However, Bonnie is not Diana Nyad's partner in a romantic sense.
While Bonnie and Diana did have a brief dating period, they soon realized that their connection was more profound as friends.
Their relationship evolved into one of inseparable best friends, almost akin to sisters. This remarkable bond extended beyond their personal lives as they collaborated professionally.
Together, Bonnie and Diana founded BravaBody, a fitness company that enjoyed significant success for five years.
Their partnership extended further as they initiated a national walking program called EverWalk in 2016.
Bonnie Stoll even appeared off-Broadway, at the Minetta Lane Theater, in Diana's play "The Swimmer."
Their journey together is marked by incredible achievements and a genuine commitment to living life to the fullest.