Brad Marchand is a professional ice hockey player for the National Hockey League. Further, he plays for the Boston Bruins as the left-winger.
Likewise, he is also the alternate captain for his team and one of the best players on the current roster.
When it comes to scoring, Marchand is the Bruins' go-to guy. He has been a very reliable force when making exceptional offensive plays in crunch time.
However, his short temper behavior has made him into a controversial figure. In addition, as a child, he had anger issues and was deemed dangerous.
Therefore, the left-winger took anger management classes and also saw a sports psychologist.
This helped the player to stay calm and use his anger as a driving fule during game time. Regardless, we do get to see a glimpse of his anger side now and then.
As of now, he has had eight suspension games and has received multiple fines from the league.
Before getting into further details about the athlete, here are some quick facts.
Quick Facts
| | |
| --- | --- |
| Full Name | Brad Marchand |
| Birth Date | May 11, 1988 |
| Birth Place | Halifax, Nova Scotia, Canada |
| Nick Name | Pest |
| Religion | Christian |
| Nationality | Canadian |
| Ethnicity | White |
| Education | Madeline Symonds Middle School |
| Horoscope | Taurus |
| Father's Name | Kevin Marchand |
| Mother's Name | Lynn Marchand |
| Siblings | Three; Jeff, Rebecca, and Melissa |
| Age | Years Old |
| Height | 5'9″/175 cm |
| Weight | 181 lb/82 kg |
| Hair Color | Black |
| Eye Color | Grey |
| Build | Athletic |
| Profession | NHL Player |
| Team | Boston Bruins |
| Position | Left-Winger |
| Active Years | 2008 – Present |
| Marital Status | Married |
| Wife | Katrina Sloane |
| Kids | Two |
| Net Worth | $25 million |
| Social Media | Instagram, Twitter |
| Merch | Funko Pop, Signed Items |
| Last Update | June, 2023 |
Brad Marchand | Early Life, Family, And Education
The NHL left-winger was born in Halifax, Nova Scotia, Canada, to Kevin Marchand and Lynn Marchand. Further, he has three siblings Jeff, Rebecca, and Melissa Marchand.
Brad is the oldest of them all. His parents are both local hockey coaches proving hockey does run in his blood.
As a kid, he was a short-tempered kid who used to get into fights often. Marchand even developed an aggressive game-playing style that suited his temper.
However, it would be a nightmare for his opponents as he has hit an opponent to the extent that damaged the cage on the player's helmet.
As a result, the skater had to take anger management classes frequently. Furthermore, as his hockey career progressed, he also visited a sports psychologist.
Despite his on-ice behavior, he knew precisely how to convert his anger into scores as he was a prolific scorer.
You Might Be Interested In Ice-Hockey Player, Olli Juolevi Bio: NHL, News, Injury & Contract >>
Brad Marchand | Age, Height, And Weight
The Bruins player recently turned 35–years old on May 11, 2023. As an athlete, Marchand stays on top of his health.

Hence, he is very fit and has a toned physique. With his regular exercise and balanced diet, the left-winger weighs around 181 lb, i.e., 82 kg.
Besides that, the hockey player is 5 feet 9 inches tall.

Brad Marchand | Ice Hockey Career
Amateur
Brad was always competitive to a level that he quickly got under anyone's skin as a kid. Similarly, he had exceptional skills to back off his talk as well.
Therefore, the Moncton Wildcats of the Quebec Major Junior Hockey League (QMJHL) drafted him as the 24th overall.
Instantly, he clicked with the team as he scored 29 goals in his rookie year. Hence, his performance got him the QMJHL Rookie of the Year award.
Likewise, he made significant progress as he received the go-to role on the team. Thus, Marchand scored 29 goals and 66 points in the regular season.
Further, he toned up his level in the postseason that allowed him to lead his team to the President's Cup.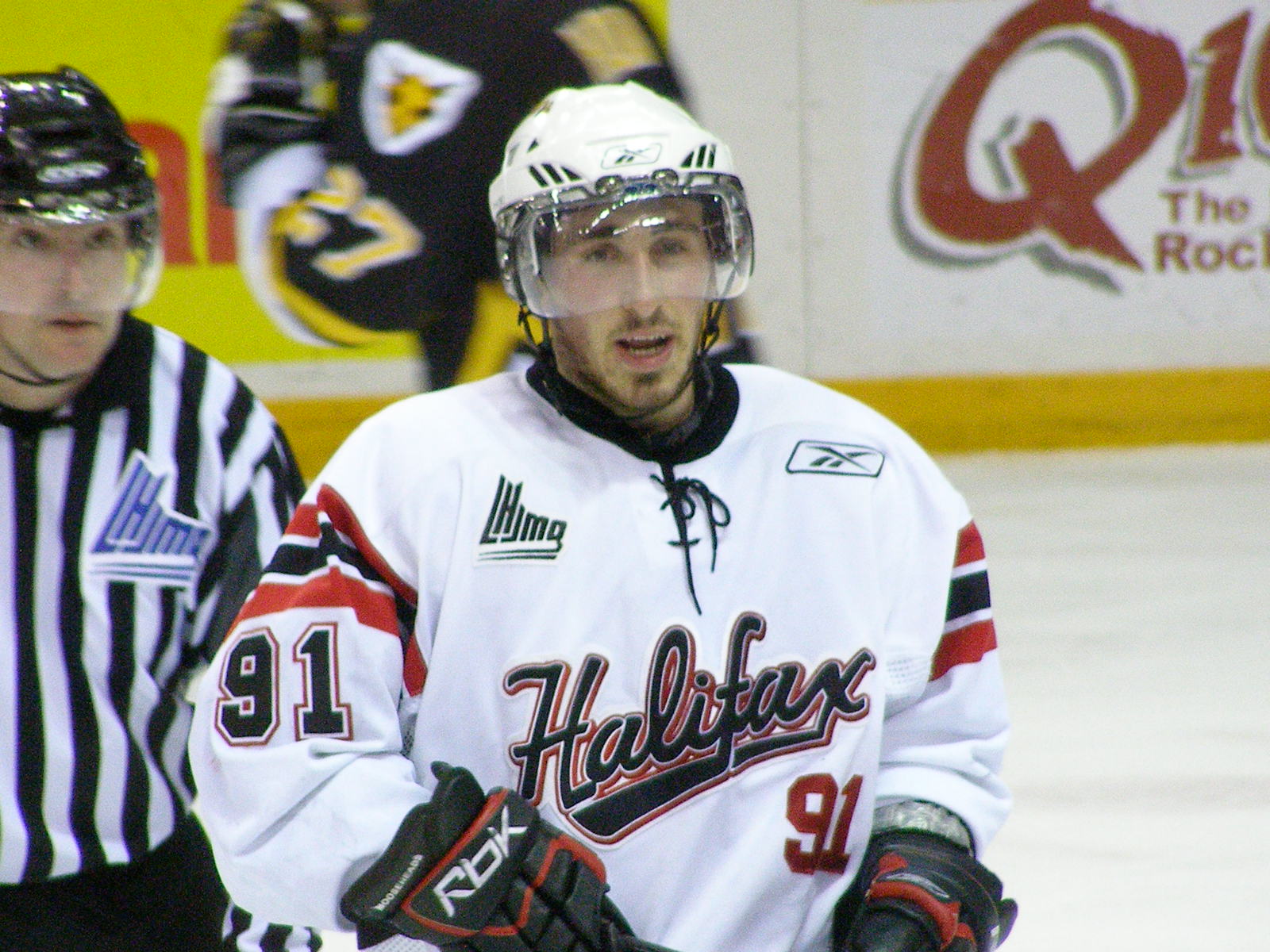 Despite the players' outstanding performance, the team lost the finals to the Quebec Remparts.
Seeing such a phenomenal young player make a name for himself, the NHL's Boston Bruins couldn't resist drafting the young man.
As a result, the Bruins spent a lot of draft picks acquiring Marchand's draft rights as the 71st overall pick in 2006.
However, Brad still stayed in QMJHL before being eligible to play in the NHL. Hence, he spends two more seasons in the junior league playing for Val-d'Or Foreurs and Halifax Mooseheads.
NHL
Summer Camp and NHL Debut
After not having a productive year in the QMJHL, Boston asked Marchand to join the summer training camp.
Further, Marchand didn't like this decision as he wanted to play in the big league rather than a training camp.
Despite his feelings, he still had to join Boston's American Hockey League (AHL) affiliate Providence Bruins. He made sure to work his way up to the NHL.
Therefore, the player finished with eight goals and 41 assists in 79 games which helped the team get into the 2009 Calder Cup playoffs, where they were eliminated.
Moreover, after showcasing some brilliant offensive games, Marchand received his first call-up by the Boston Bruins and made his debut on October 21, 2009.
However, he couldn't keep up with the hype as he went scoreless for 11 games straight. Hence, he was sent back to Providence, where he is the put in more effort.
Furthermore, the Bruins played him as the fourth-line forward, which seemed to be a splendid decision. By the All-Star break, he had scored 13 goals and 25 points.
First Playoffs, Contract Extension, and First Career Hatrick
Getting into NHL for the second time, Marchand sought out to make a name for himself. Further, with the given opportunity, he made sure to put out an offensive display.
Therefore, he helped the team get into the 2011 Stanely Cup playoffs, where he remained scorching hot on the offensive end.
The rookie player recorded 19 points in 25 postseason games that helped Boston claim the championship.
Not to mention, his 11 playoff goals lead him to tie Jeremy Roenick for the second-most of any NHL rookie.
Seeing his fantastic performance throughout the season, the Bruins re-signed Marchand for two years.
Overall, he had a very productive season despite Boston failing to have a deep postseason run. However, the NHL team knew that Marchand was a suitable investment.
Therefore, the Bruins extended his contract for four years on September 7, 2012.
Learn more about NHL player Evgeny Svechnikov Bio: Ice Hockey, Career & Net Worth >>
Injury, First All-Star Team, and Max Contract Extension
For a player not to get injured is quite rare in competitive sports, especially for Marchand, who are overly energetic during game time.
Hence, in the 2014 Playoffs, he received an elbow injury that concluded not to be serious. However, it did seem to through off his balance now and then in games.
Similarly, he suffered a concussion in the 2015-16 season due to a collision with Dale Weise. As a result, the collision sidelined him indefinitely.
Shortly after missing two games, he returned to the active roster. The Bruins' struggle on the offensive end continued as they missed playoffs for the second time.
Nonetheless, they were very clear about their future with Marchand as he developed into a star player.
Therefore, Boston offered him a $49 million max-contract extension of eight years. On top of that, the same season, Marchand made it into his first NHL All-Star Game.
Not to mention, by that time, he was leading the Bruins in scoring. He put up 13 goals and 22 assists in 43 games.
Likewise, the NHL player also received the Elizabeth C. Dufresne Trophy as the most outstanding player for the Boston Bruins.
Unsuccessful Playoff Run
Despite the Bruins' best effort, they never seem to catch a break for performing well in the postseason.
Except for Marchand's rookie year with the team, the team has failed season after season in capturing the trophy.
Marchand is tremendous reliability on the offensive end. However, without a good player surrounding him, there is not much that the left-winger can do.
Nevertheless, he is still fired up to make another deep playoff run and reclaim the Stanley Cup again.
Suspensions and Fine
You would think Brad is known for his superb on-ice performance. That is true to some extent, but he is famous for his behavior issues.
He is highly competitive, and when things don't go his way, he doesn't shy off to express his feeling towards his opponent. Thus, he has been suspended six-time in his career.
In the 2010-11 season, he first received his two-game suspension for elbowing R. J. Umberger.
Further, he continued his behavior on the ice, trying to fight with opponents and perform an illegal move.
As a result, Brad was given the nickname "pest" due to his reputation of getting under his opponent's skin.
Indeed, the Bruins loved his attitude as he would disrupt competitors' rhythm. Nevertheless, such behaviors were not tolerated by the league.
Therefore, he received multiple fines for his action on-ice. For example, he was fined over $150,000 in the 2011-12 season for an illegal hit to the head.
Similarly, he received a fine of $5,000 for throwing a punch with a two-game suspension and over $150,000 for repeatedly offending the league rule with a three-game suspension.
Nevertheless, there are rumorous instances where he violated the league's rule. However, one that stood out was his habit of kissing and licking his opponents.
Such action was first noticed in the 2017 season, where he leaned to kiss Leo Komarov on the cheek instead of fighting.
Likewise, the Canadian skater licked Ryan Callahan during the 2018 second round of playoffs, for which he received a warning.
Overall, if he keeps up his attitude, he could undoubtedly set the record for the highest number of suspensions in NHL history.
Brad Marchand | Dating, Marriage, And Kids
Brad Marchand is married to his long-term girlfriend, Katrina Sloane, in September of 2015. They had dated for five years before tying knots with each other.
They are a thrilling couple with two children. Katrina had a son named Sloan in her previous relationship and was single parenting the child.
Nonetheless, after getting into relation with Marchand, he also helped raise Sloan. As of now, they are very close and seem to spend a lot of time playing hockey.
Further, the couple shares a daughter named Brittany, who was born two years into the marriage.
You might also like NHL player Wayne Gretzky >>
Brad Marchand | Net Worth, Salary, And Charity
The NHL player has a net worth of $25 million. As of now, he is under an eight-year contract worth $49 million that will end in the year 2025.
Hence, his average salary is around $6,125,000, with a signing bonus of $24,000,000.
Even though he made plenty as an NHL player, most of his earnings are spent on fines from the league.
However, his multi-year endorsement deals with Warrior Hockey and New Balance have kept him secure.
Further, he signed deals with both brands in 2017. Nonetheless, the financial terms of the contract have not been disclosed.
Therefore, we don't know how much he makes a year through his lucrative deals.
Nonetheless, we know that Warrior Hockey provides Marchand with on-ice equipment, whereas New Balance provides him with off-ice equipment.
Similarly, various sources claim him to have actively taken part in charity. However, since the skater is a private person, the details have not been revealed.
Brad Marchand | Social Media Presence
The father of two is on Instagram, with over 282 thousand followers.
He has 148 posts and shares many beautiful pictures of his adorable kids and wife, his NHL highlights, and his vacation.
The left-winger has been on Twitter with over 188.4 thousand followers since he joined in 2013.
Moreover, the skater shares ice-hockey-related news along with promoting his sponsorship brands.
Also, check out Jared McCann Bio: NHL, Contract, Injury & Girlfriend >>
Brad Marchand | FAQs
Is Brad Marchand an American citizen?
No, Brad is a Canadian who spends most of his time in the US due to his profession. However, his wife is a US citizen.
What kind of car does Marchand drive?
Brad has four car collections: a vintage Old Jeep YJ, Cadillac Escalade EXT, Hemi Ram 1500 trucks, and Camaro.