Brady Quinn is a name that football enthusiasts are familiar with. He is a former NFL quarterback currently working as an NFL commentator.
As his father puts it, Brady Quinn is not a talker but a doer, which can be evident from all the awards and achievements he has garnered in his professional NFL career.
Quinn's love for the sport was evident from a young age, and he quickly gained fame in high school. He was already popular in college days, having won the top-tier Maxwell Award.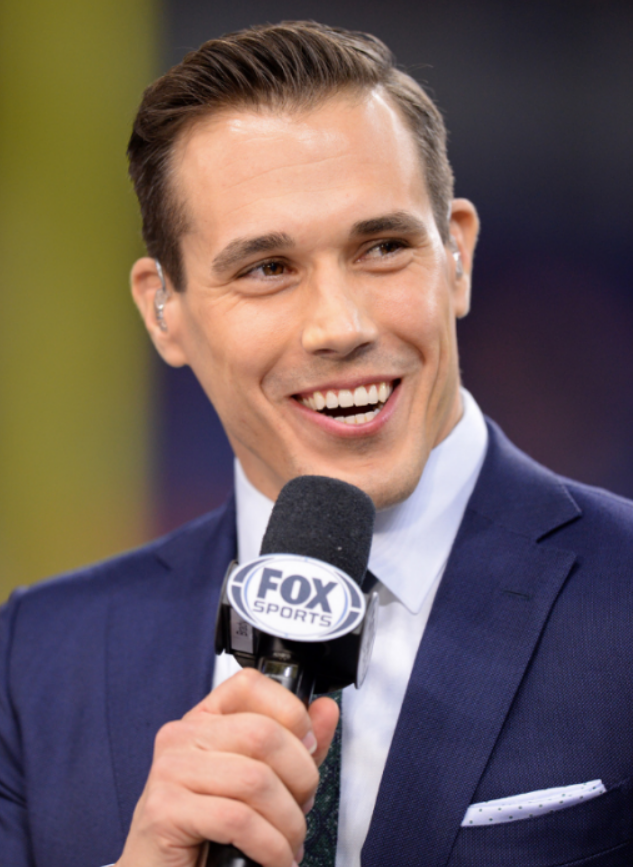 After college, Quinn was selected in the first round of the 2007 NFL Draft by the Cleveland Browns. Throughout his professional career, he played for the Denver Broncos, Kansas City Chiefs, Seattle, and New York Jets.
So, how was his professional career, and why did he retire? Let's know in detail. Furthermore, this article will explore his early life, football career, philanthropic efforts, and more.
But before that, let's briefly look at Brady Quinn's quick facts.
Quick Facts
Name

Brady Quinn

Full Name

Brayden Tyler "Brady" Quinn

Nick Name

Buster

Date of Birth

October 27, 1984

Age
38 Years Old
Birth Place

Columbus, Ohio

Nationality

American

Ethnicity

White

Zodiac Sign

Scorpio

Height

6 ft 4 inches/1.93 m/193cm

Weight

235 lbs/106 kg

Hair Color

Brown

Eye Color

Hazel

Father's Name

Tyrone J. Quinn

Mother's Name

Robin D. Quinn

Uncle's Name

David and Steve Slates

Siblings

Two: Laura and Kelly Katherine

High School

Dublin Coffman High School

Education

Dual degrees in political science and finance from Notre Dame

University

Notre Dame

Marital Status

Married

Wife

Alicia Sacramone Quinn

Children

Four (Three daughters and one son)

Marriage Year

2014

Profession

Former NFL quarterback, philanthropist, commentator

Position

Quarterback

Leagues

NFL

NFL Draft

2007, Round 1, Pick 22

Debut Year

2007

Retirement

2015

Playing Teams

Cleveland Browns (2007–2009)

Denver Broncos (2010–2011)

Kansas City Chiefs (2012)

Seattle Seahawks (2013)

New York Jets (2013)

St. Louis Rams (2013)

Miami Dolphins (2014)

Notable Awards & Achievements

Johnny Unitas Golden Arm Award (2006)

Maxwell Award (2006)

Sammy Baugh Trophy (2005)

Net Worth
Approximately $10 million
Social Media
Twitter, Instagram
Last Update
June 2023
Early Life
Brady Quinn was born Brayden Tyler Brady Quinn on October 27, 1984, in Columbus, Ohio.
He was born as the middle child to Tyrone J. Quinn (Mother) and Robin D. Quinn (Father). His father is a Vietnam War veteran, and his grandfather fought in World War II.
Quinn grew up with an older sister, Laura, and a younger sister, Kelly Katherine, who were both accomplished athletes in their own right.
His older sister Laura was an accomplished softball and field hockey player, and his younger sister Kelly was an All-America soccer player at Coffman.
His sister, Laura, is married to former NFL and Ohio State linebacker A. J. Hawk, while Kelly Katherine married NHL defenseman, Jack Johnson.
Quinn was called Buster in his home and started playing football in third grade. His uncles, David, and Steve Slates, were college footballers, so that he would seek advice from them.
Furthermore, Brady considers himself fortunate to have pursued a career in what he loved the most. He, in an interview, once said,
You sometimes forget when you're on the field how truly fortunate we are and how lucky we are that God gave us the ability and talent we have because there are kids who will never have the opportunity.
His positive attitude, talents, and hard work made him one of the most popular NFL players in the nation.
Early Career
Brady's athletic career began to take shape in high school when he attended Dublin Coffman High School in Dublin, Ohio, and joined the high school football team.
There, he quickly made a name for himself as a talented football player, ranking sixth on the Detroit Free Press "Best of the Midwest" team and landing at number 20 on ESPN's list of the nation's top 100 prospects.
His hard work and dedication paid off in the fall of 2002 when Quinn received a scholarship from Notre Dame.
During his four years at Notre Dame, he earned several accolades and honors, including honorable honors such as Johnny Unitas Golden Arm Award for the best college quarterback in the nation.
In addition, he became the first Golden Domer since 1977 to win the Maxwell Award, given to the nation's top player. In 2006, he graduated from Notre Dame with political science and finance degrees.
Professional Career
Quinn's exceptional talent garnered him a reputation as one of the best players in the country, earning him an invitation to attend the draft.
Though he was projected to be the top-ten pick, he was picked by Cleveland Browns' 22nd pick in the first round of the 2007 NFL Draft.
He played for the Browns for three seasons until 2009. In 2010, however, he was traded to the Broncos for Peyton Hillis. After that, he played for the Broncos from 2010 to 2011, followed by a year with the Kansas City Chiefs in 2012
In 2013, he played for four different teams: he was initially signed by the Seattle Seahawks, but he was only on their roster during the offseason and did not appear in any regular-season games.
He then signed with the New York Jets but was released before the start of the regular season. He was picked up by the St. Louis Rams, where he played briefly. Finally, he rejoined the Jets and played for them regularly.
In 2014, Quinn was a member of the Miami Dolphins but only participated in off-season activities and was not on their active roster during the regular season.
In 2015, Quinn participated in the first NFL Veteran Combine and officially retired from the NFL career.
Analyst Career
Quinn's passion for broadcasting led him to attend the NFL's annual Broadcast Bootcamp in June 2014, furthering his knowledge and experience in the field.
He started his career as a college football analyst for Big Noon Kickoff on Fox in August 2019. Later, he became a color analyst for Fox's NFL, CFB, and XFL games.
In May 2021, Quinn co-hosted FOX Sports Radio's weekday morning drive show "Outkick The Coverage" and worked as an NFL analyst at CBS Sports HQ, providing insightful analysis and commentary throughout the year.
In addition to his work on television, he also works on podcasts and radio. He regularly appears on the "PickSix Podcast" and is a co-host of the "Blitz" on Sirius XM NFL Radio.
Thus, Brad Quinn has established himself as a prominent football analyst since retiring from his NFL career.
Awards & Achievements
Brady Quinn's impressive performance on the field earned him several accolades, including
Ohio Capital Conference Offensive Player of the Year (2001)
2005 AP All-America Team as a third-team quarterback
Maxwell Award (2006)
Johnny Unitas Golden Arm Award (2006)
Sammy Baugh Trophy (2005)
Cingular All-America Player of the Year (2006)
Married To A Former National Gymnast
Brady Quinn has been married to former national gymnast Alicia Sacramone since 2014. The couple met at the charity event, fell in love at first sight, and eventually started dating.
In August 2013, they publicly announced their engagement, and then, a year later, the couple tied the knot on March 2014.
A Short Glance At Brady Quinn's Wife
Brady Quinn's wife, Alicia Sacramone, is a retired American artistic gymnast who achieved remarkable feats during her career.
She was born Alicia Marie Sacramone Quinn on December 3, 1987, in Boston. She is 1.54 meters tall and is of white ethnicity.
Alicia earned a silver medal with the United States team at the 2008 Summer Olympics and claimed the World Championship title in 2005 and 2010 in floor exercise and vault, respectively.
On top of that, she is the fourth most decorated female gymnast from the United States, with an impressive tally of eleven World Championship and Olympic medals.
Father Of Four Children
Brady Quinn and Alicia Sacramone are blessed with three daughters and one son. On August 6, 2016, they shared the exciting news of their firstborn, Sloan Scott Quinn, through a social media post.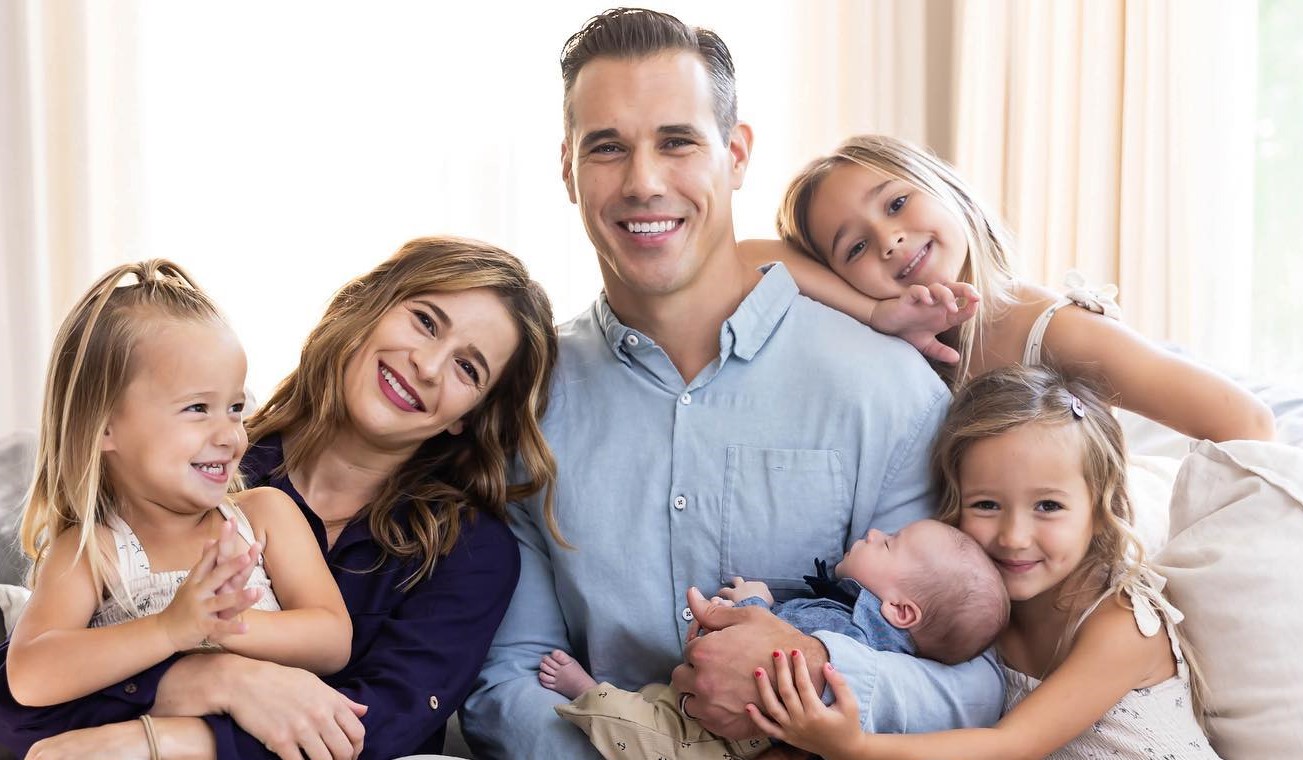 In July 2018, the couple welcomed their second daughter, Teagan Marie Quinn, and two years later, they welcomed their third daughter, Cassidy Nicole Quinn, on February 12.
Recently, on March 17, 2023, the couple was blessed with a son named Cavanaugh Ty Quinn.
Charity and Social Work
In 2011, Brady Quinn established the 3rd and Goal Foundation. It helps to make homes accessible for injured veterans who are handicapped and offer gifts to military families in need.
Furthermore, Operation Education provides educational resources to support veterans transitioning from military service to pursuing, continuing, or completing their education.
Quinn and his wife serve as co-chairs of the foundation.
Net Worth & Contracts
Brady Quinn's estimated net worth is approximately $10 million as of June 2023, earned from his successful career as an NFL player and contracts with various teams.
Over the years, he signed numerous contracts with different teams.
Quinn signed the most significant contract in 2007 with the Cleveland Browns, a five-year deal worth $20 million. Despite high expectations, he failed to deliver and was released by the team in 2010.
After his release, Quinn signed a one-year contract with the Browns worth $1 million and $1.5 million with the Chiefs a year later.
In 2013, Quinn signed two one-year contracts with the Jets and the Seahawks worth $228,529 and $780,000, respectively.
Similarly, Quinn's last contract was with the Dolphins in 2014, signing a one-year deal worth $855,000.
Although it is unclear how much he earns as an analyst, it is estimated that he makes a handsome amount based on his skills and experience.
Interesting Facts
Brady Quinn used to have a spoon full of honey every time he went to play. It was part of a ritual when he was in high school.
Brady was called Buster, his older sister Laura was Lubster, and his younger sister Kelly was called Chubster.
He is an avid Kentucky basketball fan.
His cousin is actor Zachery Ty Bryan, well known for his role in Home Improvement.
Frequently Asked Questions (FAQS)
Why did Brady Quinn quit?
Brady started off great in the NFL, but a mix of injuries, coach changes, and underperformance made him ultimately quit the league.
Did Brady Quinn win the Heisman Trophy?
No, Brady Quinn hasn't won Heisman Trophy. However, he ranked third in the Heisman balloting.