Kurt Warner is an American former football player who played as a quarterback in the NFL for 12 seasons. He played for three NFL teams; St. Louis Rams, New York Giants, and Arizona Cardinals.
Warner is a legendary player having one of the greatest stories in NFL history and is considered one of the best undrafted NFL players of all time.
He is a two-time NFL MVP, Super Bowl XXXIV champion and MVP, 2008 Walter Payton Man of the Year award winner, and was named to the First-team twice and Pro Bowl four times.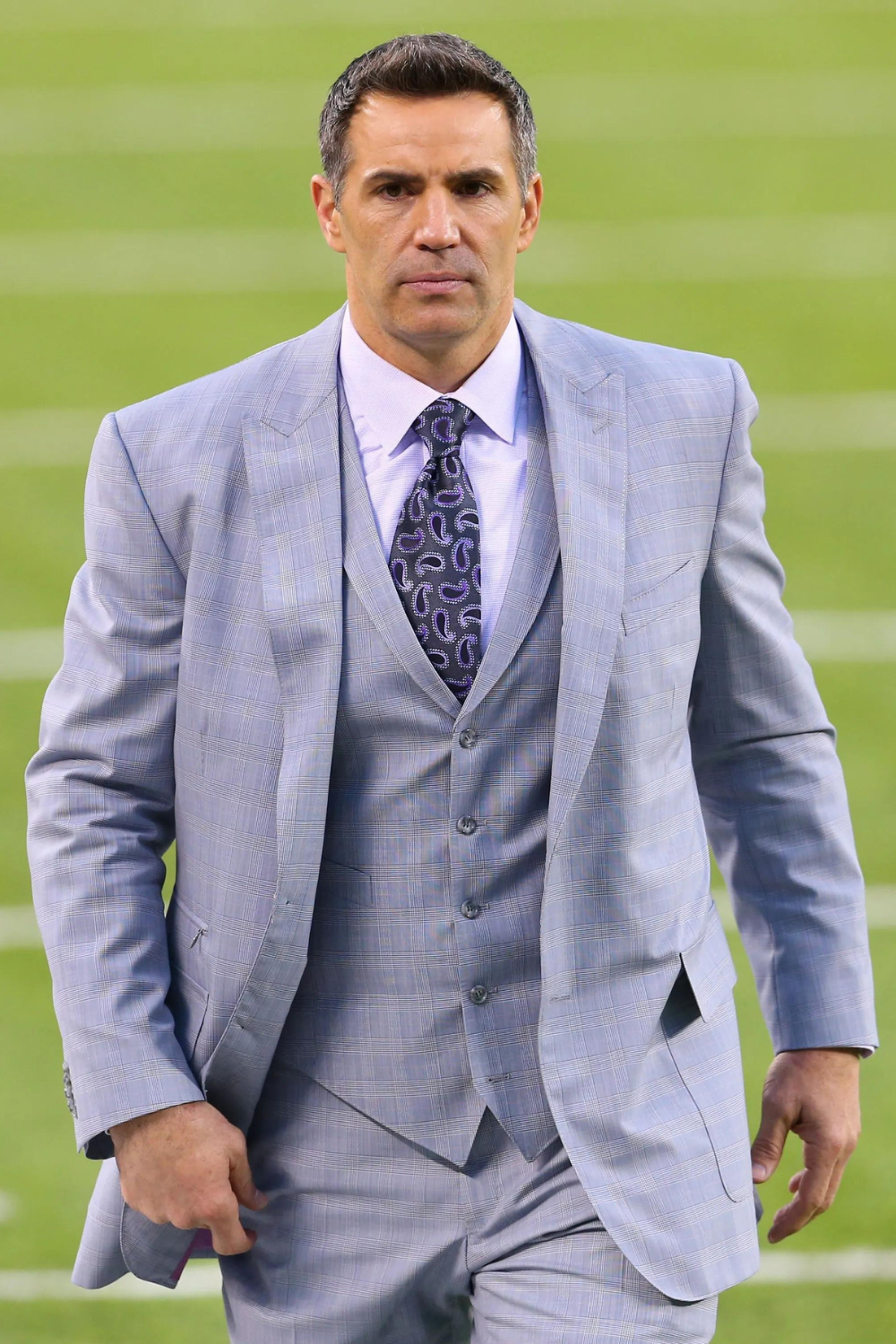 Equally important, he is the only person to be inducted into the Pro Football Hall of Fame and the Arena Football Hall of Fame.
The former quarterback has achieved many milestones throughout his journey, one of them being the only undrafted player in NFL history to win the NFL MVP award.
Warner is also the only undrafted quarterback to lead his team to a Super Bowl victory.
Fun Fact: Former Cardinals quarterback who is still loved by the fans enjoyed a helicopter ride with the Cardinals owner, Michael Bidwill, in February 2023.
We will be exploring more about this exceptional former quarterback in this article. So, make sure to read till the end. But first, let's take a glance at the quick facts table.
Quick Facts
Full Name
Kurtis Eugene Warner
Date of Birth
June 22, 1971
Birth Place
Burlington, Iowa
Nick Name
The Greatest Show on Turf & 'Chachi'
Religion
Christianity
Nationality
American
Ethnicity
White
Zodiac Sign
Cancer
Age
51 Years Old
Height
6'2″/1.88 m/188 cm
Weight
97 kg/214 lb.
Hair Color
Black
Eye Color
Light Brown
Build
Athletic
Father's Name
Gene Warner
Mother's Name
Sue Warner
Siblings
Brother, Matt Warner
Education
Regis High School
University of Northern Iowa
Jersey Number
13
Wife
Brenda Warner (m. 1997)
Kids
7
Profession
Football Player, Analyst, Coach
Position
Quarterback
Teams
Green Bay Packers (1994)*
Iowa Barnstormers (1995–1997)
Amsterdam Admirals (1998)
St. Louis Rams (1998–2003)
New York Giants (2004)
Arizona Cardinals (2005–2009)
Active Years
1994-2009
Net Worth
$30 Million
Social Media
Instagram, Twitter
Merch
Books, Jersey, Trading Cards, Bobblehead
Last Update
March 2023
Age, Weight, Height & More
Being born in the year 1971 makes Warner 51 years old as of 2023.
He stands tall at 6 feet 2 inches (1.88 meters) and weighs around 97 kg (214 pounds).
The former quarterback has an oval face and a fair complexion. His black hair and light brown eyes complement his appearance.
Besides, he keeps his hair short and chic. To the curious heads out there wondering what shoe size this former NFL player wears, his size is 12 (U.S.).
Early Life & Education
Kurt was born on June 22, 1971, to his parents, Gene Warner and Sue Warner. When he was six, his parents divorced; hence, he stayed with his mother and grew up with his brother, Matt Warner, in Burlington, Iowa.
After a year of the divorce, Kurt's father remarried Mimi. They also had a son named Matt, and the three boys got along well.
Kurt enrolled at Regis High School, Cedar Rapids, Iowa, where he was the quarterback of the school's Class 3A football team.
In 1989, after his high school graduation, he committed to the University of Northern Iowa.
Warner continued his brilliant performance, and in his single season as a starter, he was also named the Gateway Conference's Offensive Player of the Year.
Besides, he was third on the Panthers depth chart until his senior year and later graduated from the university in 1993 with a degree in communications.
Professional Career
Green Bay Packers
Warner went undrafted in the 1994 NFL Draft but was invited to try out for the Green Bay Packers training camp.
During that time, Mike Holmgren, Steve Mariucci, and Andy Reid were the head coach, the quarterback coach, and the assistant coach, respectively.
Warner was fighting for a spot against Brett Favre, Mark Brunell, and former Heisman Trophy winner Ty Detmer.
Afterward, the Packers released Kurt before the regular season, and thus, he moved forward to work for the Hy-Vee grocery store in Cedar Falls for $5.50 an hour.
In pursuit of being connected with football, Warner worked as a graduate assistant coach for the football team at his alma mater.
Iowa Barnstormers
After his short stint as a coach, he returned to throwing passes and signed with Iowa Barnstormers of the Arena Football League (AFL) in 1995.
Kurt led the Barnstormers to ArenaBowl appearances and was named to the AFL's First-team All-Arena, in 1996 and 1997.
Following it, he was named twelfth out of the 20 Best Arena Football Players of All Time, doing justice for his impressive gameplay.
Not to mention, he missed his chance for the Chicago Bears before 1997 due to his elbow injury from the spider bite during his honeymoon.
After Warner's breakout NFL season, AFL used his new fame for the name of its first widely available video game in 2000, Kurt Warner's Arena Football Unleashed.
A decade later, on August 12, 2011, he was named an inductee into the Arena Football Hall of Fame.
St. Louis Rams
In December 1997, Warner signed a futures contract with the St. Louis Rams and was allocated to NFL Europe.
He played for the Amsterdam Admirals, leading the league in touchdowns and passing yards.
During the NFL Europe, Warner was backed by the future Carolina Panthers quarterback Jake Delhomme.
1998 Season
For the whole 1998 season, Kurt remained as St. Louis' third-string quarterback behind Tony Banks and Steve Bono.
By the end of the season, Warner had only 4 of 11 pass attempts for 39 yards and had a QB rating of 47.2.
Prior to the 1999 season, Warner was selected as one of the team's five unprotected players by the Rams in the 1999 NFL Expansion Draft.
However, Cleveland Browns did not select any of the Rams, and Scott Milanovich was their only quarterback selection.
1999 Season
At the beginning of the season, Warner appeared second on the depth chart. Before the preseason, Warner was named the Rams' starter as the Rams left Bono in free agency and signed Trent Green, who struggled through the ACL injury.
The very season, Warner, alongside Marshall Faulk (running back) and Isaac Bruce (wide receiver), Torry Holt (wide receiver), Az-Zahir Hakim (wide receiver), and Ricky Proehl (wide receiver), successfully put together one of the top seasons by a quarterback in NFL history.
Warner recorded 4,353 yards with 41 touchdowns in passing and a completion rate of 65.1%.
Furthermore, Warner marked an NFL record by throwing three touchdown passes in each of his first three NFL starts (which was surpassed by Patrick Mahomes in 2018).
On their fourth game, Warner faced the San Francisco 49ers, with whom the Rams lost their last 17 meetings. Warner led the Rams to a 42-20 win and recorded five touchdown passes.
Later Career & MVP
By the end of the season, Kurt led the Rams to their first playoff berth since 1989 and their first division title since 1985, earning him the 1999 NFL MVP.
For his exceptional performance, Sports Illustrated featured him on their October 18 cover with the caption "Who Is This Guy?"
In the playoffs, Warner led the Rams to victory in Super Bowl XXXIV against the Tennessee Titans.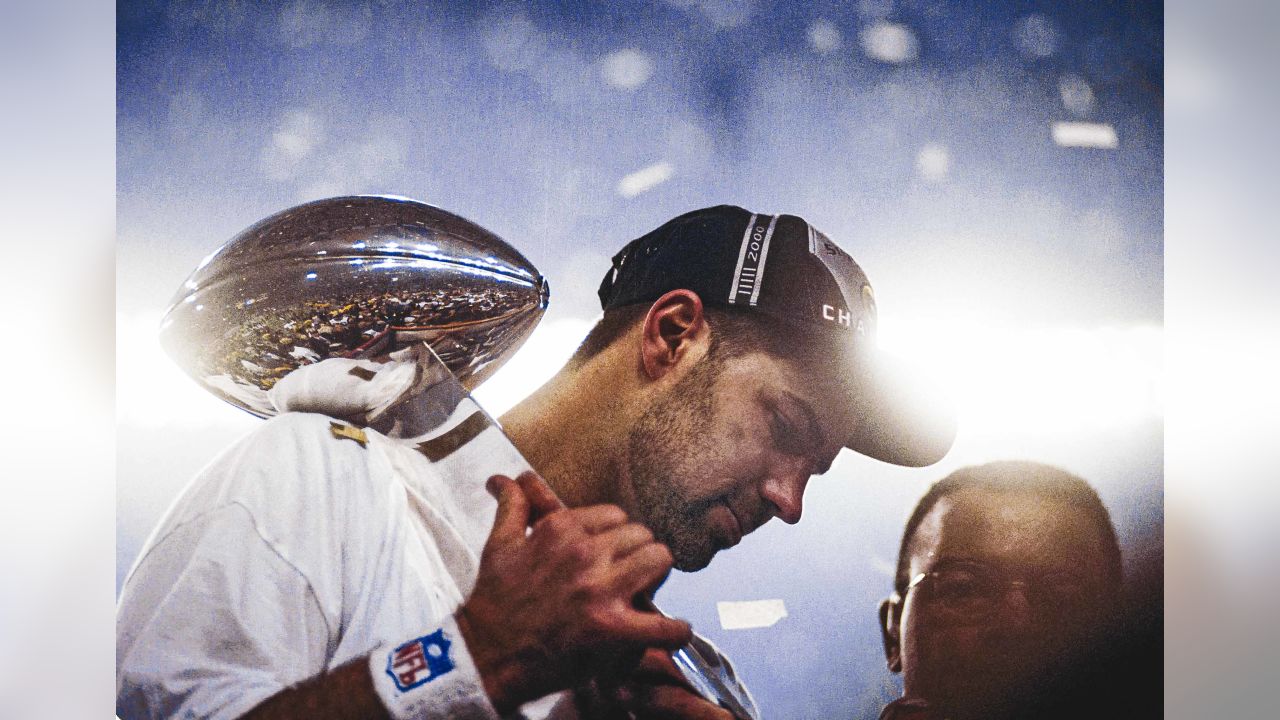 In Super Bowl, he recorded two passing touchdowns, 45 passes without a single interception, and a then Super Bowl-record 414 passing yards, including a 73-yard touchdown to Isaac Bruce, which earned him the Super Bowl MVP award.
2000 Season
Kurt signed a seven-year extension with the Rams worth $47 million on July 21.
He commenced the 2000-01 season with 300 or more passing yards in each of his first six games (tying Steve Young's record), posting 19 touchdown passes.
During the mid-season, Warner was replaced by Green after he broke his arm.
Afterward, Green and Warner became the power duo to lead the Rams to THE then-highest team passing yards in NFL history, with 5,232 net yards and a combined gross passing yards total was 5,492.
Besides, Kurt had improvised his turnover rate as he threw an interception in 5.2% of his attempts.
However, the Rams had only ten wins in total, and thus, they cut nine of their eleven defensive starters as Green was traded to the Kansas City Chiefs.
2001 Season
Warner recorded the league-high 36 touchdown passes and 4,830 passing yards, and another league-high mark in passer rating (101.4).
Despite completing a career-high 68.7% of his passes, Kurt tossed 22 interceptions.
However, he led "The Greatest Show on Turf" to its third consecutive 6–0 start, becoming the first NFL team to do so and appearing in Super Bowl XXXVI.
In Super Bowl, Kurt threw for 365 yards, a passing touchdown, and a rushing touchdown.
However, New England Patriots coach Bill Belichick's defensive game plan successfully broke Warner's game rhythm, leading to a 20-17 loss for the Rams.
2002-2003 Season
At the start of the season, Warner had a weak start with only one touchdown as the team went 0–3.
During a match against the Dallas Cowboys, Warner broke a finger on his throwing hand, due to which he could only attend two games.
As a result, for the 2002 season, he had a minuscule 67.4 rating.
In the 2003-04 season, the Rams made Warner a starting quarterback in the match against the New York Giants. Marc Bulger replaced Warner as he later revealed that he couldn't perform well as his hand was not completely healed.
On June 1, 2004, Warner was released by the Rams. Although he still had three years left in his contract.
New York Giants
No more than two days after Warner's release, New York Giants signed him in a one-year/$3 million deal with a second-year player option worth $6 million.
During his time with the Giants, he played as the Giants' starting quarterback and won five of his first seven games.
By the end of the season, Warner let go of his second-year contract to become a free agent.
Arizona Cardinals
2005 Season
In early 2005, Warner signed a one-year, $4-million contract with the Arizona Cardinals. In the beginning, coach Dennis Green made him the starter, and Kurt recorded three relatively average performances.
However, after the games, former starter Josh McCown replaced Warner as he had injured his groin.
During Warner's absence, McCown did well in two games but eventually struggled in the other two straight games.
Later, Kurt returned and replaced him in the starting line and recorded nearly 700 passing yards in two consecutive losses.
Warner recorded a 38-28 win against his former team, the Rams, passing for 285 yards and three touchdowns with a QB rating of 115.9.
At the end of the season, he partially tore his MCL (Medial Collateral Ligament).
2006 Season
On February 14, Warner signed a new three-year contract extension, including a base salary of $18 million and a cap hit of $24 million.
Kurt commenced the season claiming the NFC Offensive Player of the Week award as he threw 301 yards and three touchdowns, eventually gaining a win over San Francisco in Week 1.
In Week 4, Warner became the then-second-quickest (behind Dan Marino) in NFL history to pass the 20,000-yard passing milestone in his 76th game.
Subsequently, in the fourth quarter of Week 4, Warner was replaced by rookie Matt Leinart, and he was kept as the backup quarterback for the remaining season.
However, after Leinart faced a shoulder injury in Week 16, Warner returned to replace him.
Following it, Kurt maintained good gameplay, recording 365 yards and a touchdown in a 27-20 loss against the San Diego Chargers.
2007 Season
Kurt started the 2007 season as a starting quarterback until their game against the Baltimore Ravens. Warner came off the bench during the 4th quarter, putting his team in a tie 23-23; however, losing the game 26-23 after a late field goal from Baltimore.
On September 30, in a match against the Steelers, Warner recorded 14 passes completion of 21 attempts for 132 yards with one touchdown pass and no interceptions.
Warner replaced Leinart for the rest of the season as Leinart was sidelined due to an injury.
On November 25, loss to the Cardinals, Warner gained his career-high 484 yards against the 49ers.
Following it, Warner led the Cardinals to the win over the Browns, which listed them for the NFC Wild Card playoff spot.
Kurt finished the season with 27 passing touchdowns and earned a $1 million bonus.
2008 Season
Cardinal named Warner as the starting quarterback for the 2008 season on August 30, and he recorded 4,583 passing yards, 30 touchdowns, and a completion percentage of 67.1% for the season.
The former quarterback also stood as the top-ranked passer in the National Football Conference for the third time.
Not to mention, he gained FedEx Air Player of the Week honors for his performance during Weeks 9 and 11 of the season.
In Week 3 against the Jets, Warner had a touchdown and two picks, resulting in a touchdown and a field goal; however, the match resulted in favor of the Jets.
On December 7, Kurt led the Cardinals to a 34-10 win against the former team, Rams, bagging the NFC West Division title and their first playoff berth since 1998.
Warner was named the starting quarterback for the NFC team in the 2009 Pro Bowl.
2009 Season
Although Warner wanted to play for the Cardinals, he didn't sign a contract with them as the two couldn't agree on a deal.
The Cardinals were offering him $20 million for two seasons, while Warner was hoping to earn $14 million per season.
Thus, on February 27, he became a free agent and was in talks with the San Francisco 49ers. However, the Cardinals and Warner agreed on a two-year/$23 million deal on March 4, including a $15 million signing bonus and $19 million guaranteed.
On March 17, Warner underwent arthroscopic hip surgery to repair a torn labrum.
Moreover, on September 30, Warner made another breakthrough with the NFL's single-game record for a completion percentage in the regular season (92.3 percent).
His very record surpassed the previous NFL record set by Vinny Testaverde in 1993.
During a match against the Panthers on November 1, Warner made his career-high-equaling five interceptions.
Consequently, he was titled the first quarterback in the NFL to throw for over 14,000 yards playing with two teams.
Later Career & Winning Titles
Following it, he had a career-high five touchdown passes in a single game during a 41–21 victory over the Bears. Therefore, earning him the NFC Offensive Player of the Week and the FedEx Air NFL Player of the Week.
Equally important, during a 31–20 win against the Seahawks, he made his career milestone with his 200th touchdown pass on November 15.
On November 22, Warner had to leave due to a concussion in a 21–13 victory over the Rams.
On December 6, Warner re-joined the team as they recorded a 30-17 victory over the Vikings.
Right after this, Warner made his three touchdown performances and came on to claim the NFC Offensive Player of the Week and the FedEx Air NFL Player of the Week.
During the match against the Rams, Warner became only the second quarterback in NFL history to throw 100 touchdown passes with two teams.
Two days later, on December 29, Warner was named an alternate quarterback for the NFC team in the 2010 Pro Bowl.
2009 Postseason & Last game
In a 51–45 victory over the Packers on January 10, 2010, Warner completed 29 of 33 passes for 379 yards and threw five touchdowns.
The game helped him to be one of the few quarterbacks in NFL history to throw more touchdowns (5) than incompletions (4) in a playoff game.
Subsequently, he achieved the perk of having the second-highest quarterback rating in NFL playoff history with a rating of 154.1.
Warner became THE second quarterback to throw for five touchdown passes in a playoff game twice and the first to do so since the merger of the leagues.
By the end of the playoffs, he had the perfect score of 7-0 in home contests and tied the NFL record for consecutive playoff games with at least three touchdown passes (three games).
On January 16, 2010, the former quarterback faced an injury during a 45–14 loss at New Orleans in the NFC Divisional.
In 2012, the NFL discovered the Saints placed a bounty on Warner. However, Warner never accused the Saints.
Retirement
In 2010, Warner publicly announced his retirement from the NFL, stating; he wanted to give more time to his family.
As of this writing, Warner stands in the seventh-highest career passer rating of all-time (93.7) and has the thirteenth-highest career completion percentage in NFL history with 65.5%.
In the 2014 season, Kurt was eligible for induction into the Hall of Fame, followed by his desire for his comeback.
Warner also admitted that he considered returning when Carson Palmer and Drew Stanton were injured, and the team started losing.
For the 2011 Arena Football League season, Warner was featured as the broadcaster for Iowa Barnstormers and became a member of its Hall of Fame.
In the year 2017, Kurt was inducted into the Pro Football Hall of Fame, which followed his induction into the Arena Football Hall of Fame.
Alongside his journey, Warner was also a coach from 2015-18 at Desert Mountain High School in Scottsdale, Arizona. Since 2019, Warner has been the quarterback's coach at Brophy College Preparatory.
Highlights & Awards
NFL (National Football League)
Super Bowl champion (XXXIV)
Super Bowl MVP (XXXIV)
2× NFL Most Valuable Player (1999 & 2001)
4× Pro Bowl (1999–2001 & 2008)
2× First-team All-Pro (1999 & 2001)
Bert Bell Award (1999)
2× NFL passing touchdowns leader (1999 & 2001)
3× NFL completion percentage leader (1999–2001)
2× NFL passer rating leader (1999, 2001)
NFL passing yards leader (2001)
NEA NFL Most Valuable Player (2008)
Walter Payton NFL Man of the Year (2008)
Arizona Cardinals Ring of Honor
Bart Starr Award (2010)
Arena
2× First-team All-Arena (1996 & 1997)
Iowa Barnstormers Hall of Fame
Arena Football Hall of Fame
Iowa Barnstormers No. 13 retired
Career Stats
NFL (National Football League)
| | | | |
| --- | --- | --- | --- |
| Completion Percentage | TD-INT | Passing Yards | Passer Rating |
| 65.5% | 208-128 | 32,344 | 93.7 |
AFL (Arena Football League)
| | | | |
| --- | --- | --- | --- |
| Completion Percentage | TD-INT | Passing Yards | Passer Rating |
| 62.0% | 183-43 | 10,465 | 107.84 |
Kurt Warner Beyond Football
Broadcasting
Warner started as an NFL analyst in 2010 and was even featured on NFL Total Access. Besides, he appeared in-studio on NFL Network's Thursday Night Football pregame show and the Thursday Night Kickoff presented by Sears.
Kurt also covered the 2010 Arena Football League playoffs for the NFL Network.
Subsequently, in August 2010, Warner appeared as a color analyst on the network's NFL coverage for Fox Sports.
During that time, he worked with announcers Chris Rose or Chris Myers to call regional games. Additionally, he was a substitute analyst for the Westwood One radio on Monday Night Football games.
Television appearances
For the first time, Kurt appeared in the NBC reality show 'The Biggest Loser' on January 27, 2009. On January 18, 2010, he was a guest on Disney's 'The Suite Life on Deck.'
Warner also appeared as himself in the episode "Any Given Fantasy." Following it, on February 9, 2010, he made a surprise guest appearance on the final episode of 'The Jay Leno Show.'
Besides, Warner made his appearance on live television as a contestant on 'Dancing with the Stars alongside his professional dance partner, Anna Trebunskaya.
In 2013, Kurt was the host of the show 'The Moment,' which is a reality series on USA Network.
Film & Video
Warner first appeared in the film in 2003, released by GoodTimes Entertainment as the "coach" of a group of animated sports balls.
The film was named Kurt Warner's Good Sports Gang, which portrayed moral values and religious faith and was also sponsored by Kurt himself.
In the beginning, it was decided as a series; however, only two episodes came out 'Elliot the Invincible' and 'Together, We're Better.' A portion of the proceeds went to Warner's First Things First Foundation.
In February 2020, a theatrical film about Kurt's life titled American Underdog: The Kurt Warner Story was announced, which was created by Erwin Brothers, produced by Kingdom Story Company, and later distributed by Lionsgate on December 25.
Endorsements & Charity
After his retirement, Kurt signed a multi-year endorsement deal with Amway North America on December 3, 2010, to represent the Nutrilite brand.
In exchange for the endorsement, Amyway agreed to make a $50,000 donation to Kurt Warner's First Things First Foundation.
As for his charity work, he has invested in the Elite Football League of India (South Asian professional football league).
From the foundation's total donation, $50,000 was allocated for football training in schools and underprivileged children throughout India. However, the exact amount of the donation is unknown.
Net Worth, Salary & Career Earnings
The retired professional football quarterback has a net worth of $30 million as of 2023.
Besides, his total career earnings amount to $62.77 million.
Furthermore, in 2019, Warner sold his $3.1 million, 11,300 square feet mansion located in Paradise Valley, Arizona.
Quotes
"The road to our dreams has many detours. "
"It did not matter whether it was preseason, regular season, my first playoff game, or the Super Bowl, I was nervous. And all that meant was that it always mattered to me. Anytime I was putting myself on a line, it didn't matter what it was, it was okay to be nervous because it was important to me. It was important to do my job well."
"I always felt like wherever I was, I'd be successful."
Marriage
Warner has been married to Brenda Carney Meoni since October 11, 1997. Brenda is a former United States Marine Corps corporal. Brenda was a divorced lady with two children.
After Kurt was released by the Packers' training camp in 1994, they lived in Brenda's parents' basement in Cedar Falls.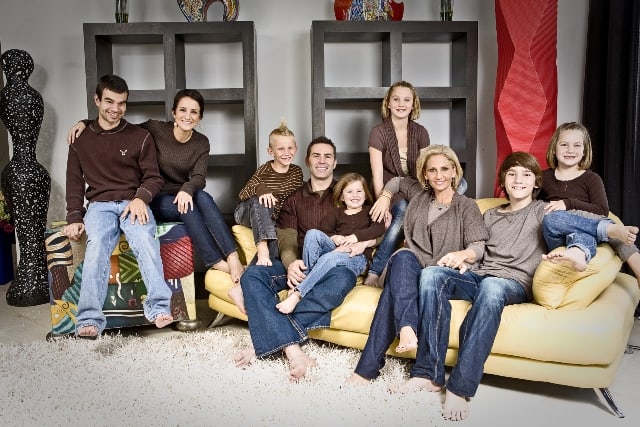 Brenda had lost her parents in a tornado in 1996 in their Mountain View, Arkansas home. Kurt and Brenda's wedding ceremony was organized in the same church where Brenda's parents' funeral was held.
After their marriage, Warner adopted her two children (Jesse Jo Warner and Zachary Taylor Warner) and had five children (Kade Eugene Warner, Jada Jo Warner, Elijah Storm Warner, and twins Sienna Rae Warner and Sierra Rose Warner) of their own.
Personal Life
Nick Name
Warner does not particularly have a nickname; however, Brett Favre once gave him the name 'Chachi' from the show 'Happy Days.'
When Warner appeared for his brief stint with the Green Bay Packers, Favre instantly stamped him with a name.
During his tenure with the Rams, his team (power defense) was known as "The Greatest Show on Turf."
Christian Faith & Testimony
Kurt is a devout evangelical Christian alongside his wife, Brenda. According to Kurt, his faith first emerged when he was named the MVP during his time with the Rams.
He believes that Lord healed him when he suffered a concussion in 2000.
"Everybody's going to be tired of hearing this, but I never get tired of saying it. There's one reason that I'm standing up on this stage today. That's because of my Lord up above.
I've got to say thanks to Jesus; you knew I was going to do it, but I've got to do it. And secondly, I've gotta say thanks to you guys (motioning to the Arizona fans); when nobody else believed in us when nobody else believed in me, you guys did. And we're going to the Super Bowl!"
-Kurt Warner
Public Service
Warner is quite active in public service announcements for Civitan International, where the couple volunteers and promotes their work with the developmentally disabled.
The very project is close to Warner's heart as his adopted son, Zachary (from Brenda's first marriage), struggled with major brain damage as an infant.
After Super Bowl in 1999, Warner came up with the First Things First Foundation. Basically, the foundation is to promote Christian values, share life experiences, and provide opportunities to encourage people to put 'first things first.'
Warner's foundation involves numerous projects for children's hospitals, people with developmental disabilities, and assisting single parents.
He was awarded the Most Caring Athlete Award for 2009 and the Muhammad Ali Sports Leadership Award. Not to mention, Sports Illustrated featured him as the best role model on and off the field in the NFL.
In February 2010, Warner received the annual Bart Starr Award for outstanding character and leadership in the home, the field, and the community.
Social Media Presence
The former NFL player is on different social media platforms promoting his movies and brands.
Warner is available on Instagram under the handle @kurt13warner and on Twitter as @kurt13warner.
Instagram: 105k followers
Twitter: 632k followers
Popularity
Being an undrafted NFL player and winning Super Bowl, Kurt has gained a lot of fans from his professional football career and his philanthropic works and TV appearances.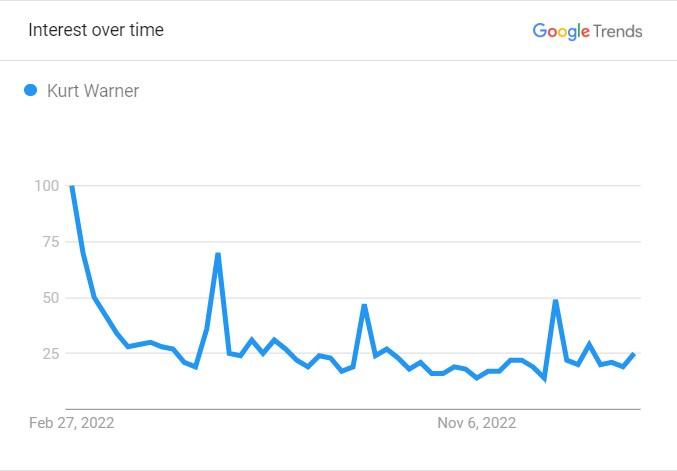 The above graph gives brief information about the popularity of Kurt Warner based on Google searches in the United States over a year.
Frequently Asked Questions (FAQS)
Who was in Lowes's commercial with Kurt Warner?
Chris Simms was with Kurt Warner in the Lowe's Black Friday Deals TV commercial, 'Rod Pod: Drill or Driver.'
Is there a documentary based on Kurt Warner's life?
Kurt has a biographical sports film named 'American Underdog.'
How involved is Kurt Warner in politics?
Although the former NFL player is not directly involved in politics, he has previously raised his voice against political leaders like Donald Trump during his regime.