Love, trust, and friendship are the foundation of happy marriages. If one cannot confide in their partner, a marriage can never be successful.
It doesn't matter the status one built professionally or the fortune one has. Once, it seemed that Kevin Garnett and Brandi Padilla would have a cherished marital life.
Marriages are fragile as glass, fail to handle correctly, and then the consequences are irreparable.
Due to Garnett's alleged infidelity, Padilla had to force herself out of his life, and the process wasn't all that pretty.
Indeed, we are here to shed light on Brandi, whose rise to fame is hands down due to her marriage but more so with her divorce from Kevin.
Even at present, Garnett's estranged remains under media scrutiny time and again.
Let's move on with our discussion, and like always, we have tried our best to keep you up to date with the information we compiled.
This article will talk about Padilla's early life, measurements, net worth, and the time she spent with Kevin Garnett!
Quick Facts:
| | |
| --- | --- |
| Full Name | Brandi Alyssa Padilla |
| Birth Date | January 25, 1976 |
| Birth Place | The United States of America |
| Nick Name | Brandi |
| Religion | Undefined |
| Nationality | American |
| Ethnicity | African-American |
| Education | Unavailable |
| Horoscope | Aquarius |
| Father's Name | Not disclosed |
| Mother's Name | Bernadette Padilla |
| Siblings | Lisa Padilla |
| Age | 46 Years Old |
| Height | 5'3″ (1.61 m) |
| Weight | 56 kg (124 lbs) |
| Shoe Size | Updating Soon |
| Hair Color | Black |
| Eye Color | Black |
| Body Measurement | Unavailable |
| Build | Slender |
| Married | No |
| Spouse | Kevin Garnett (Former) |
| Children | Yes (Capri Garnett & Kavalli Garnett) |
| Profession | Humanitarian, Model |
| Net Worth | $310,000 (from spousal support) |
| Social Media | Instagram |
| Last Update | November, 2022 |
Brandi Padilla Wiki-Bio | Early Life, Ethnicity, & Nationality
Brandi Alyssa Padilla was born on January 25, 1976, in one of the United States of America's beautiful cities.
Although any informative detail regarding her family's whereabouts is well hidden from the public's eye, we do know that she is the daughter of Bernadette and a sister to Lisa.
Moreover, it so happens that Brandi isn't the only woman in the family who struck fame with marriage.
Her sister, Lisa, married a highly-acclaimed songwriter and record producer, Jimmy Jam Harris. Out of 11 Grammy nominations, Jimmy clinched 5.
Even though she was once married to a famous basketball star, not many took efforts to dig deeper into Padilla's life at that time.
Hence, not only her childhood but most of her high school and college life also remains in the dark.
Also, read: <<Charlise Castro Bio: Age, Parents, Ethnicity, Husband, Instagram Wiki >>
How old is Brandi Padilla? Age, Height, & Body Measurements
Brandi Padilla was born in 1976, which makes her 46 years old at the moment.
Likewise, Padilla celebrates his birthday every year on the 25th of January under the Aquarius star sign.
In our observations, when it comes to celebrities, age seems to work in a different order, as Brandi doesn't look to be a 46-year-old woman, suggested by many pictures that surfaced online.
Likewise, Brandii is relatively short compared to her gigantic ex-husband. She stands at the height of 5'7″ (1.76 m), in comparison to Kevin's 6'11" (2.11 m), almost dwarfing the former.
At the same time, Padilla weighs a proper 56 kg (124 lbs) and seems to be a fitness enthusiast.
While this may or may not be accurate, her pictures with her former husband assent to our assumptions.
Indeed, she is a beautiful woman with long black wavy hair, dark upturned eyes, a chiseled jawline, and a voluptuous figure. Hence, it doesn't seem appalling as to why Garnett first laid eyes on Padilla.
Don't forget to check out: <<Jessie Moses Bio: Age, Ethnicity, Kids, Husband, Instagram Wiki >>
What Does Brandi Padilla do? Career
As enigmatic as Brandi is, her career is no less. We mean by this that despite having enjoyed the limelight for so many years, none managed to dig into her professional life.
Although we find displeasure in your frustration, we can still briefly discuss Padilla's ex-husband, Kevin Garnett.
As most of you know, he is one of the most reputed basketball players. Also, the South Carolinian is an NBA Champion in 2008 with the Boston Celtics.
Notwithstanding that, the power forward who stands at almost 7-feet is a 15 times NBA All-Star, nine times NBA All-Defensive First Team, recipient of J. Walter Kennedy Citizenship Award, and 4 times NBA rebounding champion.
Don't forget to check out: <<Camille Kostek Bio: Age, Height, Career, Net Worth, Boyfriend, IG, Wiki >>
Further, these are just a few of his awards and accomplishments. Kevin was a real threat to the pitch and therefore was a star in every team he signed.
Additionally, Garnett played basketball for his high school teams in Mauldin and Chicago.
Thereafter, in the 1995 NBA draft, Minnesota Timberwolves selected him in the first round, becoming the 5th overall pick. Throughout his career, the power forward donned the number 21, 5, and 2 jerseys.
If you are interested in buying Basketball jerseys, click here>>
Brandi Padilla Net Worth | Salary & Income
Let's start by saying that there is no clear indication of what occupation Brandi might be involved in. As a result, we have no means to find out what her salary or net worth is.
However, after settling the divorce lawsuit, she came in possession of almost $300k from the spousal support agreement ordered by the court.
Apart from this earning, any external sources have yet to be disclosed. On the contrary, Brandi's ex-husband is the proud owner of a $180 million fortune.
This amount was possible solely through Garnett's basketball career and endorsements.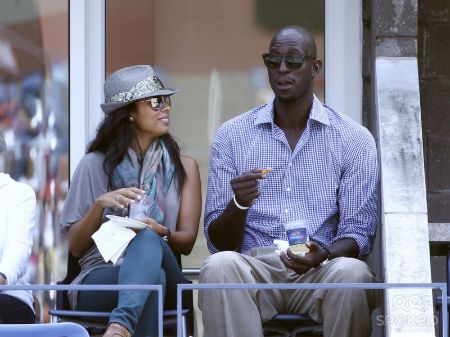 In the year 2000, Kevin agreed to sign for the Minnesota Timberwolves in a deal that totaled around $126 million given to him in a span of six years.
At this point, the South Carolinian was pocketing a hefty $25 million on an annual basis.
In like manner, in 2004 and 2005 alone, Garnet cashed in $44 million, with salaries that ranged in double million range.
Eventually, upon joining the Boston Celtics, the power forward signed a deal of $30 million over a three-year contract agreement.
In 2012, as per the contract, Kevin took home $21 million that stemmed from his salary and wins and endorsements with various sporting brands.
After joining Brooklyn Nets in 2013, the South Carolinian accepted a two-year $12.4 million contract and endorsed the Zinco water brand and Anta sportswear to earn $4 million collectively.
You might also want to read: <<Maureen Blumhardt Bio: Age, Height, School, Net Worth, Kids, Twitter Wiki >>
Brandi Padilla: Kevin Garnett's Ex-Wife | Kids
To begin with, the exact time and location of Garnett and Padilla's are still under review, but one thing is for sure, the two dated for a long time before officially announcing their wedding.
In fact, it was nothing but shocking news to everyone due to such a prolonged delay. Eventually, in July of 2004, the couple exchanged vows in California.
The venue and most of the ceremony were conducted away from the media's eyes as Brandi and Kevin joined in holy matrimony in the presence of family and friends.
Also, just for the sake of the wedding, the power forward was willing to miss out on the Olympic Games. It showed what Padilla meant to him, and that family always came ahead of work.
What's more interesting is that the couple enjoyed 14 long years of marriage. In the meantime, the lovebirds even welcomed two daughters Kapri and Kavalli, born in 2008 and 2013, respectively.
You might also want to read: <<Helena Seger Bio: Age, Career, Net Worth, Husband, Instagram Wiki >>
At the same time, in the public's eye, they were a healthy couple. Everything seemed right with the two.
Nonetheless, a marriage doesn't last long unless both parties are faithful and open towards one another.
Sadly, in July 2018, Brandi was forced to part away from the relationship that wasn't a result of a simple misunderstanding or mutual differences.
The feud originated because of Garnett's infidel nature. Numerous reports came into the limelight pointing fingers towards Kevin's extra-marital affair, most of the tabloids saying, with a nurse.
The two took to the court to annul their marriage immediately, and as part of a prenup before the wedding, Garnett had to provide over $300k in spousal support and $46k extra for child support.
Social Media Presence:
Instagram: 175 followers (Private)
Some FAQs:
What is Brandi Padilla's ethnicity?
As Padilla is a native of San Pedro, an island in Belize, Central America, it came to speculation that she belongs to the mixed (African-American) ethnicity.
How much did Brandi Padilla demand for divorce from Kevin Garnett?
According to sources, Brandi Padilla demanded $2.3 million for divorce from her former NBA star husband. Besides, she also demanded $300,000 for attorney fees.
How did Brandi Padilla meet Kevin garnett?
Sadly, there is no information about how Brandi Padilla and Kevin garnett meet and started dating. But, the duo dated for a very long time before their marriage in 2004.