Fans wonder if the 49ers wide receiver Brando Aiyuk has a wife- he doesn't. But the NFL player is in a relationship with his girlfriend, Rochelle Searight.
The Arizona State alum and his fitness instructor sweetheart Rochelle met during their teenage and have been together for 6 years.
Aiyuk and his girlfriend, Rochelle, may not have exchanged marital vows yet but they lead a happy family of three. Together, they share a son named Braylon.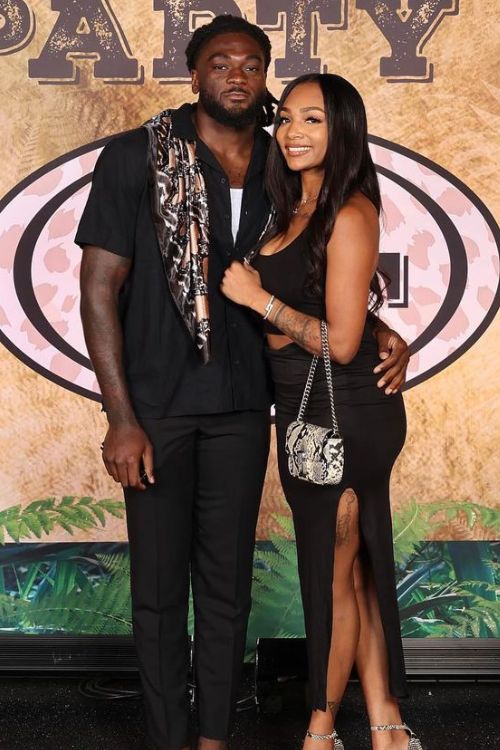 Brandon Aiyuk, a Rocklin, California-born, has been playing for the NFL team San Francisco 49ers since they picked him (25th overall) in the 2020 NFL draft.
He is from the same draft year as Joe Burrow (#1 pick), Chase Young (#2 pick), and Jeff Okudah (#3 pick), to name a few.
With the 49ers, the 25-year-old football player appeared in the NFC Championship of 2021-22 and 2022-23, both of which they lost.
The 6-foot (1.83 m) tall football player is currently on a $12.5 million 4-year contract with the San Francisco 49ers. It sees him an annual salary of $3.13 million.
For the 2024-24 season, the wide receiver got an option contract of $14.1 million (signed on April 28, 2023).
Brandon Aiyuk Wife: Did He Marry Girlfriend Rochelle Searight?
No, Aiyuk and his longtime girlfriend, Rochelle Searight, are yet to marry or have been engaged so far.
Their intense adoration and understanding led many to believe they got married.
Brandon and Rochelle may not have been husband and wife officially, but they are already giving the vibes of marital life.
The NFL star and his significant other are parents to their only child, son Braylon Aiyuk, born on September 7, 2020. He is 3 years old as of 2023.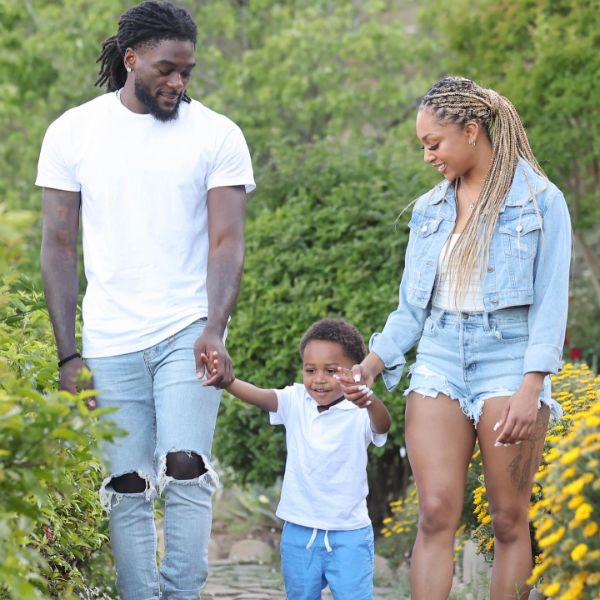 Brandon's girlfriend, born on December 3, 1997, is three months older than him.
As reported, the two met while at college and were teenagers then. They began dating in 2017 but have kept further details of their courtship under wraps.
While Rochelle Searight is not an athlete like her boyfriend, she's been his constant support throughout his professional football journey. She often attends her beau's games.
Professionally, Rochelle is a fitness instructor and a social media influencer. She has more than 9.5K followers on her Instagram, while her TikTok followers count more than 236.6K.
Also, she runs a YouTube channel (@ItssRochellee) with over 34.2K subscribers, where her content is about fitness and beauty vlogs.
Family Of Rochelle Searight: Parents And Siblings
Searight, a native of Nevada, is the daughter of Luannda Searight (nee Rencher) and Gregory Searight.
According to her mom's Instagram post, she and Gregory have been together for 33 years.
They celebrated their 30th wedding anniversary in November 2022, meaning they've been married since 1992.
Her mother, Luannda, is in the real estate business and works as a property manager realtor at Rentvest Property Management (August 2017- present).
The youngest of three siblings, Rochelle, has two sisters, Karlamarie and Jaqueline, and a brother named Aaron Searight.
Her sister, Jaqueline, is in the US Army, while her brother, Aaron, aka AJ, is pursuing a Master's degree in sports medicine at Florida State University.
Searight's brother graduated from the University of Nevada, Reno, in 2022.
As for her other sister, Karlamarie, the details about her is under wraps.