Reports suggest Jenn Aubrey, who is Brandon Aubrey wife, is a pilot by profession.
The media handle post from the multi-sport athlete suggests that the beautiful couple officially started dating in 2016.
Later, the couple exchanged vows and rings after dating for a few years.
Brandon Butter Aubrey was born on March 14, 1995, to Jeffrey Aubrey and Donna Aubrey in St. Louis, Missouri, U.S.
He attended Plano Senior High School for his high school education and attended the University of Notre Dame for further studies.
The placekicker chose to study Software Engineering at Notre Dame University while simultaneously playing for the university's football team.
Toronto FC selected Aubrey in the 2017 draft, and he went on to win several awards for the team.
However, he left the club because of the low pay and the hassle of commuting between the US and Canada.
Aubrey took a software engineering job in the US and later signed a year contract with Birmingham Stallions of the USFL in 2022.
Brandon Aubrey Wife: Profession, Relationship, Support
Jenn Aubrey, wife of then Stallions' player, is a highly educated person with a double major in Finance and Chinese.
In addition to being the player's strength and supporter, the beautiful woman works as a Pilot and Aircraft Dispatcher.
The couple met during their college days at Notre Dame University and instantly fell in love.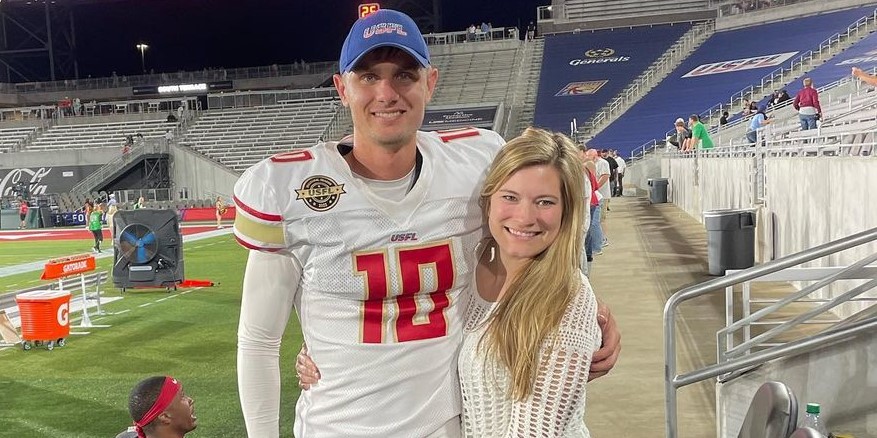 Aubrey, now playing for the Dallas Cowboys, suggests on his Instagram handle that the couple started dating in the New Year of 2016
Later, the couple dated for almost two years before they exchanged their vows on 4 January 2019.
On many occasions, Brandon stated how his wife encouraged him to go for the NFL draft and expressed his gratefulness to her.
Support System
In 2019, his wife, Jenn Aubrey, underwent a significant and challenging brain surgery, an ordeal he openly documented on his social media platform.
He took to his social media to express his heartfelt gratitude to all the well-wishers who offered their prayers and support for his wife during this trying time.
He also shared his admiration for his wife's incredible strength, noting that, despite the intense physical and emotional pain, she managed to maintain a radiant smile throughout the ordeal.
Aubrey, with utmost pride, remarked, "I couldn't be more impressed with the unwavering strength my wife displayed as she faced both the physical and emotional challenges of her journey."
While the player did not delve into the specific details of his wife's medical condition, his profound gratitude and admiration for her strength resonated with all who followed their story.
Brandon Aubrey Parents And Siblings
Brandon Aubrey's parents have been a constant source of support for their son throughout his journey. They have stood by him, championing every decision he has made.
From a young age, Brandon exhibited his passion for sports, exploring various disciplines, including football, all the while receiving wholehearted encouragement from his parents.
In an interview, his father, Jeff Aubrey, expressed his confidence in Brandon's ability to understand his chosen career and his potential for a long and successful tenure.
"Brandon has a deep understanding of his responsibilities," he noted.
Donna Aubrey, Brandon's mother, echoed her husband's sentiments, affirming their shared belief in their son's capabilities and aspirations.
The Aubrey family's united support has undoubtedly played a pivotal role in Brandon's journey toward success in the athletic world.
Aubrey Brothers And Friends: Brandon And Ryan
Brandon's elder brother, Ryan Aubrey, has opted to keep his age private, maintaining a degree of mystery about himself.
Ryan's life has been blessed with happiness as he married Hannah Aubrey in 2018.
The couple celebrated their union surrounded by their dearest family and friends in a heartwarming ceremony held in Iowa.
While the Aubrey family tends to keep a low profile in the public eye, their own media outlets offer glimpses into the genuine happiness that they share as a family unit.