Brian Roberts is an American former professional basketball player who had a very brief career in the NBA. However, Roberts has played most of the games abroad.
After failing in the 2008 NBA draft, Roberts went to Israel to play in the Israeli Basketball Premier League (IBPL). Besides NBA and IBPL, he has appeared in professional leagues in other countries like Spain, Germany, etc.
Roberts was one of the most promising point guards during his college years. Sadly, he lost his brilliance once he began his professional league journey.
While at Dayton, Brian was nominated for different prestigious awards for his performance, such as Naismith Award, Bob Cousy Award, and John R. Wooden Award.
Apart from that, he received several honors as well.
Although he did not achieve anything significant in the NBA, he was the winner of several cups and leagues overseas. Roberts helped his team Brose Bamberg win German Cup and German League three times in a row.
Now, let's explore more about Robert's life and career alongside everything significant about him in the article below. But before that, here are some quick facts about him.
Quick Facts
Full Name
Brian Lloyd Roberts
Known As
Brian Roberts
Date of Birth
December 3, 1985
Birth Place
Toledo, Ohio, the USA
Nickname
Not available
Religion
Christianity
Nationality
American
Ethnicity
African-American
Zodiac Sign
Libra
Age

38

years old
Height
1.88 m (6 feet 2 inches)
Weight
173 lb (78 kg)
Hair Color
Black
Eye Color
Dark brown
Build
Athletic
Father's Name
Nolan Roberts Jr.
Mother's Name
Ann Roberts
Siblings
Two (Nolan III, Shanda)
Education

St. John's Jesuit High School (Toledo, Ohio)
University of Dayton ( Dayton, Ohio)

Marital Status
Married
Sexual Orientation
Straight
Wife's Name
Jenna Miller
Kids
Four (Alana, Cole, Ava, and Naomi)
Former Profession
Basketball player
NBA Draft
2008 / Undrafted
Position
Point guard
League
National Basketball Association (NBA)
German League
Israeli Basketball Premier League
Liga ACB
Active Years
(2008 – 2019)
Net Worth
$1-$5 million
Currently Plays for
None / retired
Social Media
Instagram
Merch
University of Dayton Quarter-Zip Sweatshirt
Last Update

December 2023
Brian Roberts | Early Life, Family & Education
Brian Lloyd Roberts, commonly known as Brian Roberts, was born on December 3, 1985, in Ohio, Toledo, United States. He was the youngest child of his parents, Nolan Jr. and Ann Roberts.
Besides them, he had a brother named Nolan III and a sister named Shaunda in the family who were much older than him. By the time Brian was six years old, his older brother had already graduated his high school.
Similarly, his sister, Shaunda, graduated her high school in 1994.
Growing up in Toledo, Brian studied in two different schools before high school. Although both his parents had jobs, they had enough time to groom him. As a result, young Brian excelled in his studies.
Brian remarks that maybe his parents loved him more than anyone else as he was born much later in their life.
So, they treated him like their grandson rather than their youngest child and taught him to be an educated and well-mannered man rather than be a good athlete. But, his older siblings, who were already proficient in basketball, had a massive impact on him.
However, his parents always had a significant role in helping him make life choices. They wanted him to complete his education besides following his other aspirations. So, after graduating high school, he enrolled at the University of Dayton for further studies.
He graduated with a Bachelor's degree in Marketing from the university in 2008. However, he continued playing basketball in his college years. Similarly, his brother and sister played college basketball after high school graduation.
While Nolan III played college basketball for Valparaiso University, his sister played basketball at the University of Kentucky and Toledo. But, unlike Brian, they did not pursue professional basketball careers.
Brian Roberts | Basketball Career
High School Career
Brian Roberts played high school basketball for the St. John's Jesuit High School in Ohio. He was just around 5'9″, so he did not have many chances in his first year. Yet the head coach Ed Heintschel's training and workout sessions became of much help to him because of which he quickly progressed.
As a senior, Roberts averaged 18.4 points in 34 games of the season and became a leading scorer. For his performance in last season, the state honored him with Ohio Division I Co-Player of the Year.
Click to learn about the American point guard Josh Shelby who started his professional career playing in the NBA and now stars for the BC Pieno of the Lithuanian Basketball League!
College Career
After graduating from St. John's, Brian joined the University of Dayton and committed to play for the Dayton Flyers. However, the freshers had great competition, so he initially had difficulty winning team management's trust.
Luckily, he played 29 matches in his first season and finished it with an average of 9.2 points and 2.7 rebounds per game. Eventually, Roberts started getting attention while in his sophomore season.
He played almost all the matches and had more playtime in the new season, so he had much better stats. Roberts finished his overall college career with an average of 15.7 points and 3.0 rebounds per game.
Professional Career
Contrary to the pre-draft hype, Brian Roberts failed to get picked in the 2008 NBA draft. After that, Brian joined the Orlando Magic and the Los Angeles Lakers to participate in the summer league games.
However, he later realized that playing summer leagues and settling for less would not help him redeem his career. So, he decided to go abroad to play professional basketball.
Fortunately, the Israeli club, Altshuler Saham Galil Gilboa, approached him in the late 2008s with which he immediately signed. So, he stayed with them for the 2008-09 Israeli Premier league.
Roberts signed a new two-year deal with the Brose Bamberg and went to Germany to play in the new league. It later proved to be a great deal as it helped him get into the NBA.
After a highly successful European venture, Roberts signed a multi-year contract with the New Orleans Pelicans on August 16, 2012. The Pelicans included him in the summer league roster in which he performed well.
Brian played 78 matches in his first-ever NBA regular season, although the playtime was not as much as he wanted. Eventually, he finished his rookie season with an average of 7.1 points and 2.8 rebounds per game.
Roberts played one more season with them before signing with the Charlotte Hornets in 2014. He had the highest free throw percentage in the 2013-14 season in the NBA.
In 2017, he again went overseas to continue his career. For around two years, he played basketball in Greece and Spain. He eventually announced his retirement in 2019 after appearing in one season of the Liga ACB for the Unicaja Malaga.
Awards & Achievements
German League Champion (2010 – 2012)
Liga ACB Free Throw Percentage leader (2019)
German Cup winner (2010 – 2012)
Atlantic ten All-Rookie Team (2005)
EuroLeague Free Throw Percentage leader (2018)
All-German League second Team (2011)
Second-team All-Atlantic 10 (2006, 2007)
First team All-Atlantic 10 (2008)
Brian Roberts | Net Worth & Career Earnings
One of the most popular overseas players from America, Brian Roberts, has a net worth somewhere between $1 million to $5 million. However, the exact amount remains unknown.
Roberts played professional leagues for more than a decade, so his primary source of earnings is the league games. He started earning money playing overseas in Israel and Germany.
The Gilboa Galil paid him nearly $500k for his 2008-09 season with them. However, there is no data about his earnings in the German League.
After returning to America, he played for the New Orleans Pelicans in the 2012-13 season, for which they paid him around $473k. As he did pretty well in the first season, they increased his salary to $788k.
After that, he played around four more NBA seasons, from which he made over $6 million. Assessing his earnings, Roberts accumulated approximately $8 million from his overall NBA career.
Besides that, he earned more by playing in the Spanish Liga ACB and the Greek League from 2017 to 2019.
David Wear is an American-born professional basketball player who has played in the NBA and the Australian National Basketball League (NBL). Read his bio here!
Age, Weight & Height
As of 2023, Brian Roberts is 38 years old.
About his physical stats, Roberts stands 1.88 meters (6 feet 2 inches) tall.
Initially, he was pretty shorter than his teammates and lacked physical strength, but he improved his physique and attained his present state during his college years. Similarly, he weighs around 173 lb (78 kg).
Brian Roberts | Wife & Kids
Brian Roberts is married to a beautiful lady named Jenna Miller. Like Roberts, Jenna is also an Ohio state native, but she resided in Dayton while Brian was born and brought up in Toledo.
So he met her while he was studying at the University of Dayton in 2004. They got closer soon after and married after both of them graduated. But, the exact date of their wedding is unknown.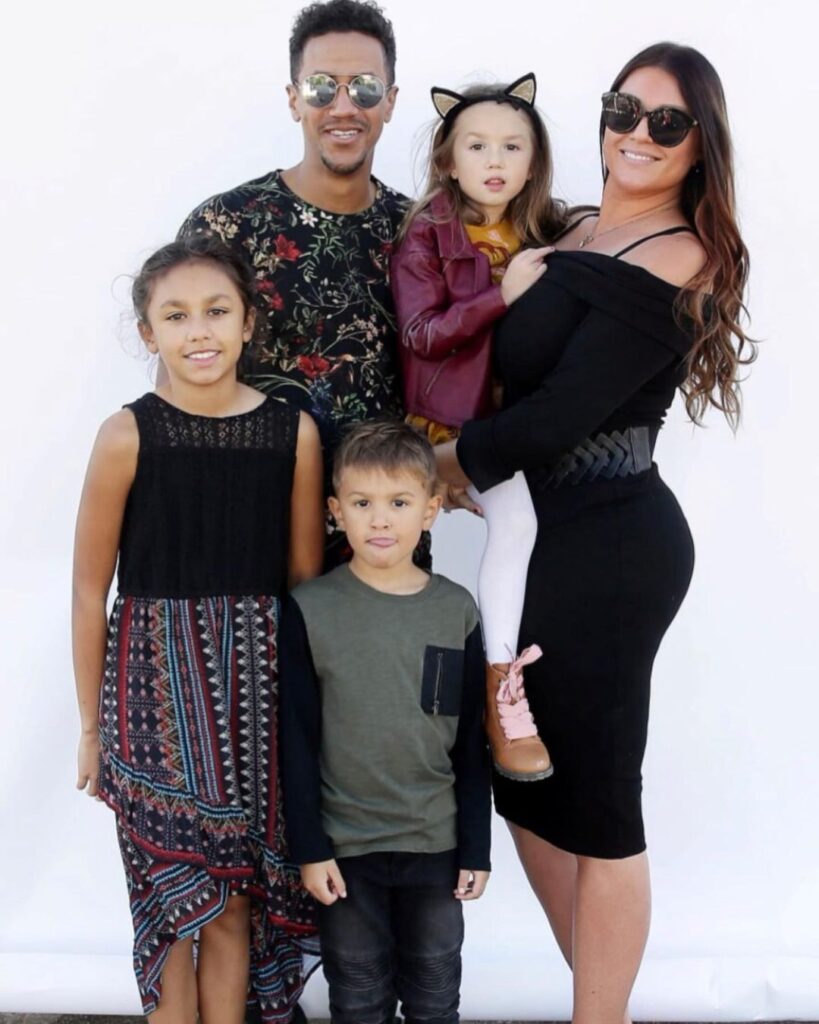 However, she had given birth to their first child, Alana, while Roberts was in his senior year. Now, they are blessed with three more kids. Their second child, Cole Roberts, was born in 2013 when he played for the New Orleans Hornets in the NBA.
Similarly, their second daughter, Ava, was born a year after their son was born. In 2021, they welcomed their youngest daughter, Naomi. They previously lived in Charlotte, North Carolina, but now they reside comfortably in their home state, Ohio.
Social Media
Brian does not use many social media handles, but he is pretty active on Instagram. He currently has around 13k followers.
The retired NBA veteran player and current assistant coach of the Houston Rockets John Lucas II nearly destroyed his career in the 1980s. Read his story here!
FAQs
What is the wingspan of Brian Roberts?
Brian Roberts has a wingspan of nearly 6 feet 5 inches.
What was Brian Roberts' jersey number?
Brian Roberts wore the jersey no. 22 for almost every team he played for throughout his career.