George Murdoch, an American better known by his ring-name Brodus Clay or Tyrus, is a professional wrestler, actor, and political commentator. He is well known as a legendary wrestler for World Wrestling Entertainment.
He signed with the National Wrestling Alliance, where he reigned as NWA Heavyweight Champion in his early career.
He appears on Fox News as a cable news personality and in its sister streaming service Fox Nation, mainly as a co-host/panelist on the late-night talk show Gutfeld! and in other programs as a contributor/fill-in host.
Tyrus's autobiography Just Tyrus: A Memoir has become a New York Times bestseller in 2022.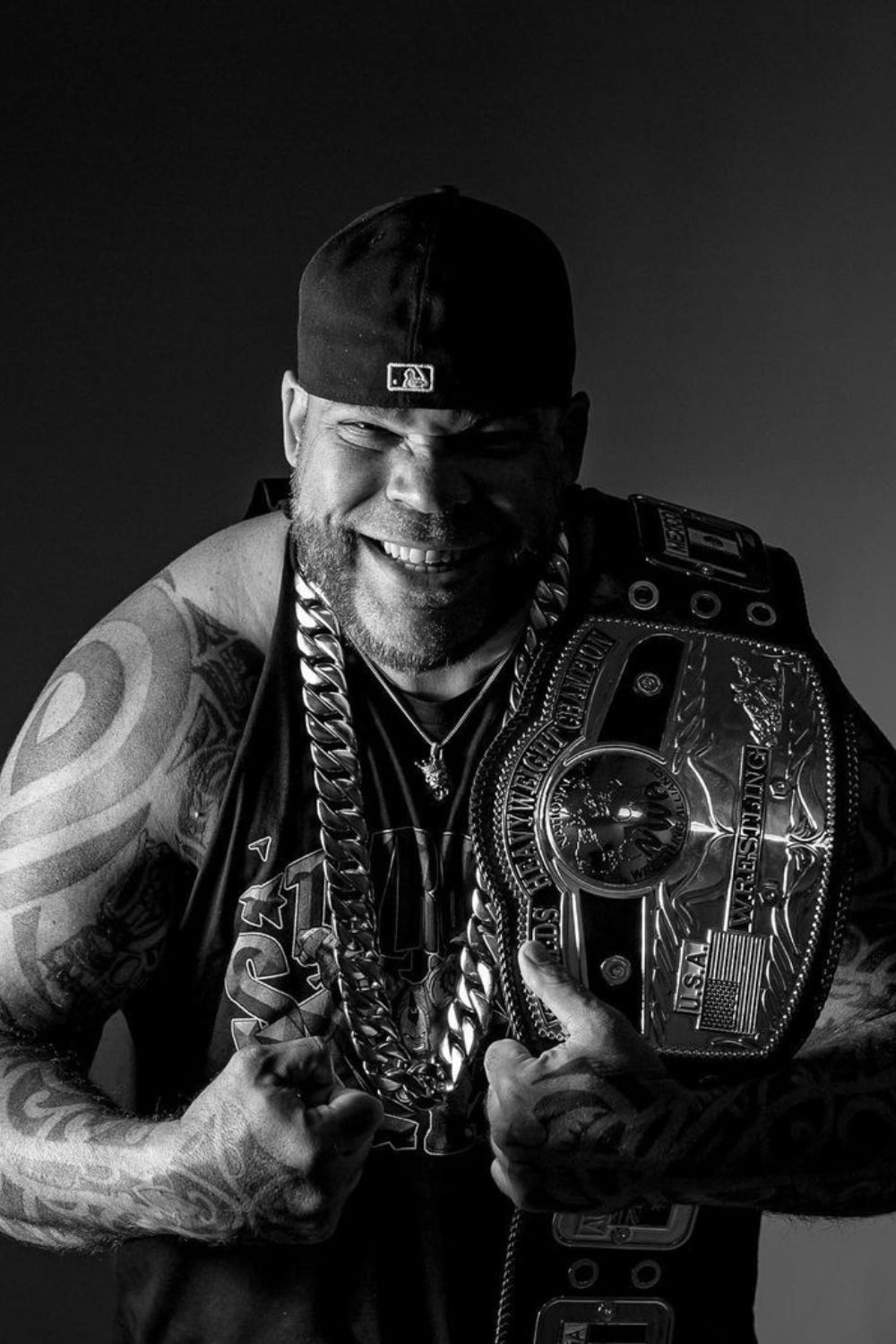 Learn here with us about this talented wrestler in the article below.
Let's take a look at some quick facts about Clay before we dive into the details:
George Murdoch | Quick Facts
| | |
| --- | --- |
| Full Name | George Murdoch |
| Birth Date | February 21, 1973 |
| Birth Place | Boston, Massachusetts, United States |
| Nick Name | Brodus Clay, Tyrus |
| Religion | Unknown |
| Nationality | American |
| Ethnicity | Mixed (Caucasian Mother And African-American Father) |
| Education | Quartz Hill High School Antelope Valley College, The University Of Nebraska At Kearney |
| Horoscope | Pisces |
| Father's Name | Unknown |
| Mother's Name | Unknown |
| Siblings | Brother |
| Age | 50 Years Old |
| Height | 6 ft 7 in/2.01 m/201 cm |
| Weight | 170 kg/375 lbs |
| Shoe Size | Unknown |
| Hair Color | Black |
| Eye Color | Blue |
| Body Measurement | Unknown |
| Build | Athletic |
| Married | Yes |
| Wife | Ingrid Rinck |
| Children | Yes |
| Profession | Wrestler |
| Net Worth | $2-$3 Million |
| Salary | Unknown |
| Currently Works As | Wrestler, Actor, TV Commentator |
| Affiliations | WWE, Pennsylvania Premiere Wrestling |
| Active Since | 2006-present |
| Social Media | Instagram, Twitter |
| Merch | Trading Card |
| Last Update | November 2023 |
Brodus Clay | Early Childhood & Education
Brodus Clay or Tyrus was born George Murdoch, on February 21, 1973, to his 15-year-old white mother and a 19-year-old black father.
He grew up in an unstable abusive household. Clay was once hit by his father, which caused severe damage to his eye.
Murdoch attended Quartz Hill High School in Los Angeles County, California. Murdoch then attended Antelope Valley College. He studied to become a teacher at the University of Nebraska at Kearny.
He played college football, but a ruptured appendix surgery left him limp and ended his career then and there.
Clay interestingly worked as a bodyguard for Snoop Dogg. Many thought he got it because of his impressively large physique.
Professional Wrestling Career
It wasn't an early start for Brodus, as he started wrestling in 2006 when he was 33. He signed his first contract with World Wrestling Entertainment(WWE).
Murdoch was assigned to a developmental territory of the WWE known as Deep South Wrestling(DSW). He fought his first debut fight in September 2006.
His first ring name was G-Rilla, and his style was of a street thug. He beat his opponent, Big Bully Douglas, in his debut match.
After a few matches following his dramatic street style, G-Rilla became an enforcer (a larger person who usually comes second in a match) for a team called the Urban Attack.
The club consisted of two other wrestlers, Eric Perez and Sonny Siaki. Later, his bad blood with The Bag Lady cost them a match for the DSW Tag Team Championship against The Major Brothers.
The Urban Attack, however, won the championship ultimately. But his feud continued, which caused the other members of Urban Attacks to kick him out of the group.
WWE Feuds
After being thrown out of the group insultingly, G-Rilla started attacking the Urban Assult during matches and eventually beat them officially in a match. He partnered with Freakin Deacon, his former enemy.
The duo went on to many other trams like the Samoan Fight Club and Afa Jr., Shawn Osborne and Jon Bolen, Robert Anthony, and Johnny Curtis. However, the team dissolved after Freakin Deacon had a mental breakdown.
By 2007, G-Rilla was a well-known name in the wrestling world. Murdoch debuted at the Florida Championship Wrestling's inaugural show and defeated Shawn Osborne. He eventually won the battle royal.
He became the number-one contender for the FCW South Heavyweight Championship through his win. But, he lost the championship to the defending champion Harry Smith after being disqualified.
G-Rilla continued to poke fights with Smith and Hart. The Smith and Hart duo formed a team with TJ Wilson and Ted DiBiase. G-Rila, too, teamed up with Osborne, Jake Hager, and Afa Jr. His contract with the WWE finished in 2008, and he was released.
Return To The WWE
Brodus Clay signed with the WWE again in 2010. After that, he was sent to the FCW. He used his previous name, G-Rilla, to partner with The Uso Brothers, Tamina, and Donny Marlow.
He officially changed his ring name to Brodus Clay, named after the real name Snoop Dogg(Calvin Cordozar Broadus), in May 2010.
Under this name, he allied with Donny Marlow, calling themselves the Colossal Connection.
Their team unsuccessfully challenged another team called Los Aviadores for the FCW Florida Tag Team Championship. Clay appeared in the WWE house show to fight JTG, which he eventually lost.
NXT And Alberto Del Rio
Clay debuted in the NXT of the WWE in December 2010. It was the fourth installment of the NXT, and after winning a four-way elimination in January, he got the right to pick his own Pro.
He chose Alberto Del Rio and then attacked DiBiase. Del Rio didn't want to work with him and temporarily passed his Pro responsibilities to his manager.
However, he did not return for the rest of the season. Clay won second place in the tournament after losing to Curtis.
Tyrus also appeared in RAW as Del Rio's bodyguard and played a few matches on his behalf. He accompanied Del Rio to face Christian and Edge.
Brodus also tagged Del Rio to the WrestleManiaXXVII for his match with Edge. Their final appearance was in May when Clay interfered for Del Rio against Christian in a ladder match.
The Funkasaurus
Clay returned to wrestling on the Superstars' episode, where he defeated Pat Silva and many other wrestlers throughout the few weeks.
Clay returned to television in January 2012 with a fun-loving, funk-dancing personality, calling himself 'The Funkasaurus.' He incorporated dance movies into his various wins in Smackdown and Raw.
In January 2013, Clay competed in the Royal Rumble Match and was eliminated by five other wrestlers.
He formed a friendship with Tensai, and the latter even formed a tag team to win against many famous teams like Primo & Epico.
Heath Slater and Jinder Mahal, Team Rhodes Scholars, etcetera. They later named their tag team "Tons of Funk."
2013 and 2014 were not particularly good years for The Funkasurus. He was involved in a lot of controversies and uncalled fights.
He threw fits because of jealousy and even attacked his tag team partner, Tensai. This did not serve well with his other friends, either.
Total Nonstop Wrestling / Impact Wrestling
In 2014, Murdoch debuted in Total Nonstop Wrestling(TNW) under Tyrus's new ring name. Brodus aligned himself with Ethan Carter III.
He won his first-ever match in the TNW with Shark Boy. Brodus had a general time with a decent number of wins and losses.
In December 2018, he also wrestled in the independent circuit Tommy Dreamer's House of Hardcore. Clay trained with Robert Strauss but did not win against David Arquette and RJ City.
Recent Career
Tyrus made his NWA debut at Back For The Attack, announced through NWA social media on 11 March 2021.
In one of the episodes in August, he defeated The Pope by winning NWA World Television Championship.
He challenged Trevor Murdoch for the NWA Worlds Heavy Weight Championship at NWA 74th Anniversary Show, which was unsuccessful on 28 August 2022.
On September's one of the episodes of NWA USA, Clay vacated the NWA World Television Championship using the 'Lucky 7' rule and challenged Murdoch and Matt Cardona for the NWA Worlds Heavyweight Championship at NWA Hard Times 3.
He won the title against Murdoch, making his first win in the world championship in his career on 12 November 2022.
Brodus Clay | TV Commentry & Filmography
Murdoch has been a contributor to various programs on the FOX Channel. Brodus regularly contributes to Fox Host Dana Perino's daytime show, The Daily Briefing. He usually gives his political opinions.
He was also a co-host of Un-PC on the FOX news streaming channel, Fox Nation. Clay also premiered his show called Nuff Said.
He has also played in movies like No One Lives as Ethan, Scooby-Doo! WrestleMania Mystery as Brodus Clay, Enuatti as Bateman, Supercon as a Security Guard, Stand On It as Sheriff Cletus T. Necessary, and Poker Run as Cletus T. Necessary.
Furthermore, the wrestler also appeared in numerous TV Shows like Total Divas, Trashville, The Greg Gutfeld Show, GLOW, Preacher, Syn, MacGyver, Love, The Purge, and Nuff Said
He shares his view on Politics too, and he is also a Trump supporter and has often spoken about this on the FOX channel.
Brodus Clay | Personal Life
Murdoch hasn't had an easy early life or upbringing. When his parents separated, he lived with his mother's family but never felt welcome because of his interracial status.
This made him very anxious and obsessed with being white. He wanted acceptance from his mother's family.
Clay has also mentioned that he and his brother lived in a foster home for many years because of their unhealthy relationship with their parents.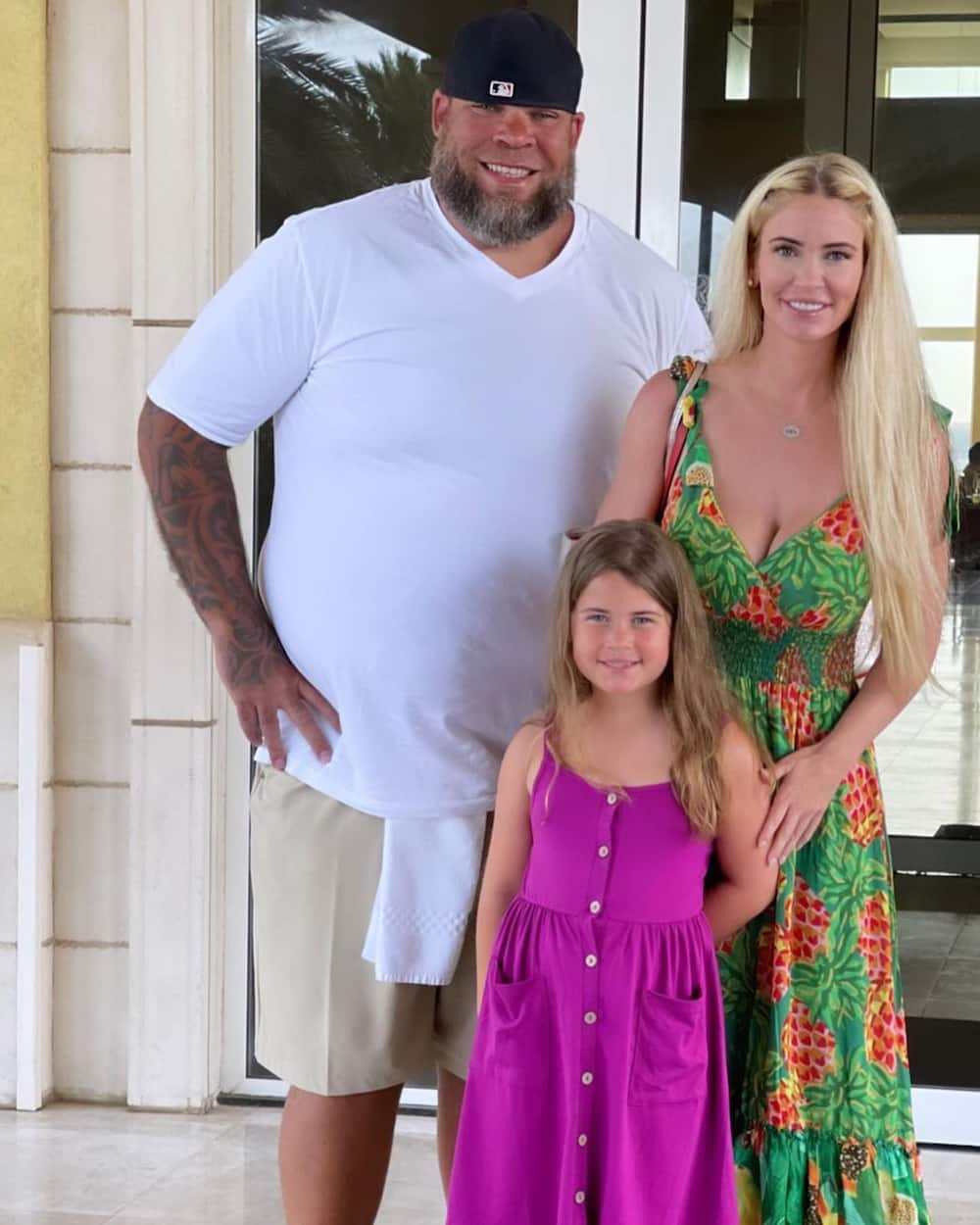 They eventually lived with their mother again, but he moved out of his home at 15. Despite that, Tyrus is now successful and leads a healthy lifestyle with his family.
Clay is a married man. He is married to Ingrid Rick, and they also have kids together.
There are five children; Tyrus and Ingrid have one daughter together, two children from his previous marriage, and two from Ingrid's former relationship.
Brodus Clay | Achievements
He has won awards and championships as a wrestler like:
National Wrestling Alliance
Pennsylvania Premiere Wrestling – Heavyweight Champion (1 time)
Pro Wrestling Illustrated – Ranked No.70 Out of the Top 500 Singles
Total Nonstop Action Wrestling – Bound for Gold
WWE – Slammy Award for the Best Dance
Brodus Clay | Controversy
Brodus Clay was accused of sexual harassment after allegedly sending Britt McHenry, a co-host for the show Un-PC a series of lewd text messages.
FOX news claimed to have investigated and resolved, but McHenry filed a lawsuit against Tyrus and Fox News on December 2019.
McHenry claimed she lost her mobile phone containing the text messages, which was evident to support her claim.
In July 2021, she dropped the case voluntarily, apparently as a part of a legal settlement.
Brodus Clay | Net Worth & Salary
Tyrus is a rich wrestler with a net worth of about $2 to $3 million.
Although his salary is unknown, he has a huge income because of his wrestling career, acting gigs, Television Shows, and other business ventures he is a part.
Social Media Presence
Brodus clay is on Instagram as well as Twitter. He is constantly sharing his life updates on them. He also shares his political views and announcements.
View this post on Instagram
Instagarm: 224k followers @Tyrus
Twitter: 590k followers @PlanetTyrus
Popularity Graph
George Murdoch is a professional wrestler, cable news personality, and actor known by his ring/stage name Tyrus.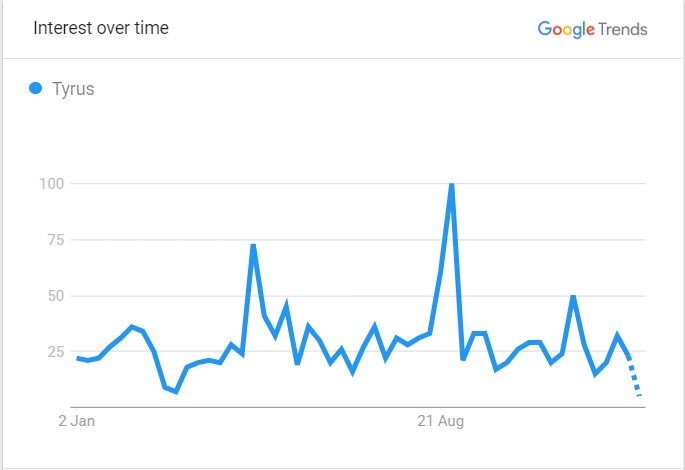 The above graph shows Brodus's popularity over the past twelve months.
Frequently Asked Questions (FAQs)
What does Brodus Clay's wife, Ingrid, do?
Ingrid is an entrepreneur and a fitness trainer. Clay and Grid married in 2014. Before meeting Tyrus, his wife was diagnosed with depression and anxiety.
How did the Iron Shiek quote Brodus Clay?
The Iron Shiek quotes, "The Brodus Clay have gimmick good for the kids and make the people happy."
How long does Brodus Clay have been in a Wrestling career?
He has been a wrestler since 2006; there were times when he was not participating in wrestling, but as of 2022, it has been over a decade for Clay.