Bronny James has graduated from high school, and pictures from his convocation wearing a gown and cap are getting a buzz on social media.
This month has been particularly significant for Bronny, as he recently announced his decision to join USC and become a Trojan, followed by attending his senior prom and now graduating from high school.
On May 29, 2019, James transferred to Sierra Canyon School, a private K–12 school in Chatsworth, Los Angeles, for his freshman year of high school.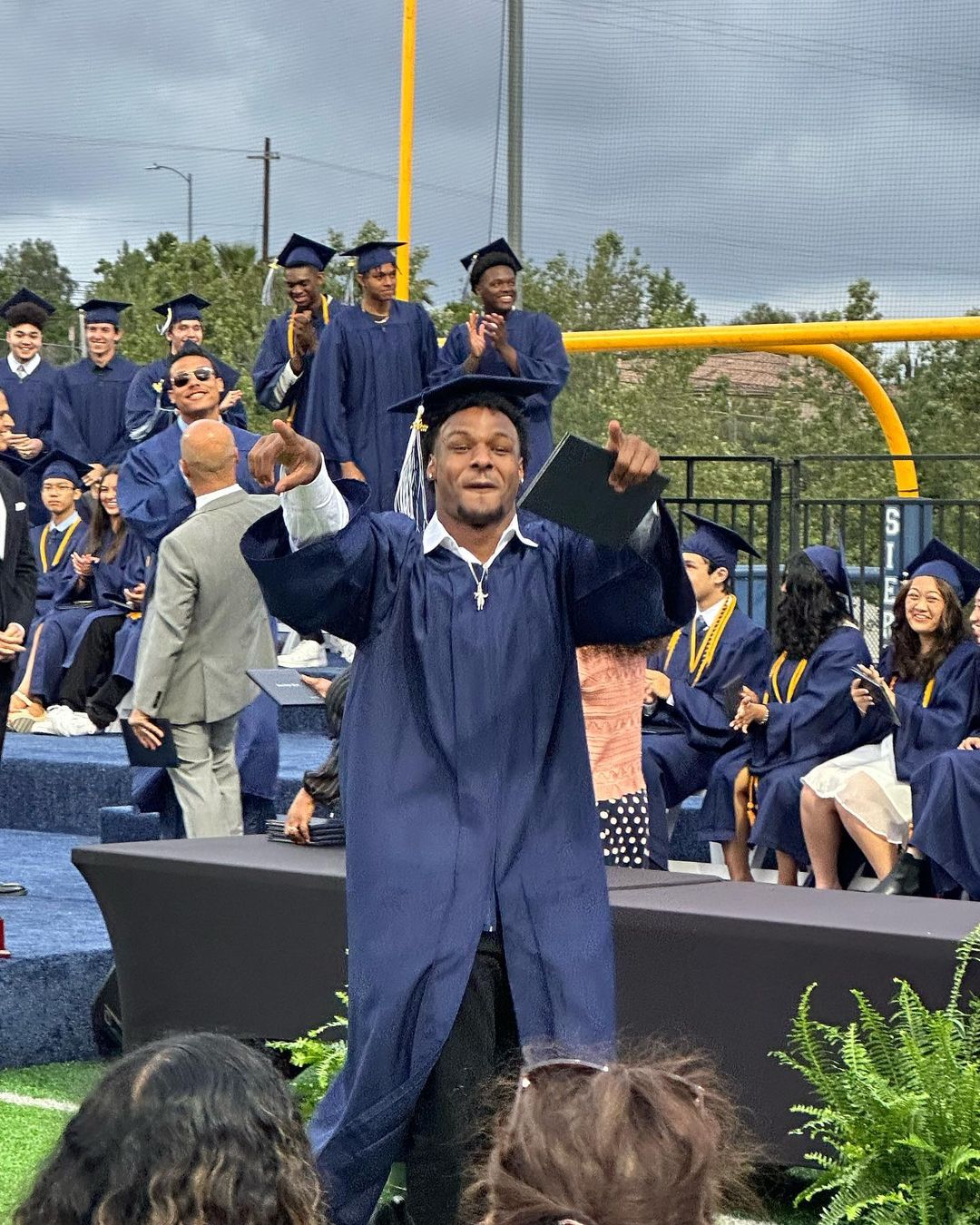 Bronny made his highly anticipated high school basketball debut on November 21, 2019.
Throughout his high school career, he distinguished himself by forging his own path and demonstrating continuous growth and improvement on the basketball court.
Playing on the varsity team, Bronny showcased his skills and dedication, showing progress and development over the course of his four seasons in high school basketball.
Even though he couldn't win a state championship, James has solidified himself as a great player and paved a path for his bright future.
Bronny James Graduation
Bronny's graduation from Sierra Canyon High School was a source of immense pride for LeBron James.
LeBron attended the event and captured the moment on Instagram Live, watching as Bronny received his diploma on stage.
His grandmother, Gloria James, congratulated him on Instagram and expressed her joy for his success.
"Congratulations grandson🎉🎊🎉🎊!!!! You've always made me very proud of you. And seeing you graduate tonight, just made me feel an even bigger sense of pride. I wish you the most happiness and success in this next chapter of your young adult life. Continue to spread your wings and soar to new heights🚀. Love you very much, Grammy💗💗💗💗."
After that, taking to Instagram stories, LeBron shared his mother's post highlighting Bronny's achievement and took the opportunity to write a special message for his son.
LeBron captioned the post, "Continue To Fly High Young King!"
This gesture reflects LeBron's unwavering support and belief in Bronny's potential as he embarks on his future endeavors.
What's Next For Bronny James?
Bronny James, standing at 6-foot-3, has earned recognition as an impressive talent in the basketball world.
After considering a college career at Ohio State, Oregon, or USC, he made his decision on May 6, 2023, to ultimately chose to commit to USC.
Being eligible to enter the NBA Draft in 2024 after completing one year of college basketball, Bronny is already being projected as a potential top-ten pick.
This speaks to the high expectations and the belief in his abilities as he continues to develop as a player.
Who Will Win The Eastern Conference Finals?
Celtics (64%, 7 Votes)
Heat (36%, 4 Votes)
Total Voters: 11
Loading ...