The franchise star, Brook Robert Lopez, is an American professional basketball player for the Milwaukee Bucks of the National Basketball Association (NBA). He signed with Milwaukee Bucks in 2018 after finishing most of his keen seasons with the Brooklyn Nets.
Lopez is best inside the paint centers, and a seven-footer has the mastery to finish at the rim. He stepped up big and was impactful when the team needed him the most.
Brook Lopez played 9 seasons for Brooklyn Nets and became the franchise's all-time leading scorer. Furthermore, he signed with Milwaukee Bucks in 2018 and became NBA Champion in 2021.
Lopez is a brilliant player on the court whose shooting proficiency makes him a feasible center for Milwaukee Bucks. Lopez's game's growth has stunned the world while his 3-pointer has reached the elite level.
He goes aggressive on the inside, and he can shoot from the outside; that is the beauty of Lopez. His gameplay is something that you don't see every day.
Discover more about one of the great basketball players with immense dedication and determination in this article. Before going further, glance at the Quick Facts.
Quick Facts
| | |
| --- | --- |
| Full Name | Brook Robert Lopez |
| Birth Date | April 1, 1988 |
| Birth Place | North Hollywood, California |
| Nick Name | Splash Mountain |
| Religion | Christianity |
| Nationality | American |
| Ethnicity | White |
| Education | Sandford University |
| Horoscope | Aires |
| Father's Name | Heriberto Lopez |
| Mother's Name | Deborah Ledford |
| Siblings | Four (Three brothers and a sister) |
| Age | 35 years old |
| Height | 7 ft (2.13 cm) |
| Weight | 128 Kilograms (282 lb) |
| League | NBA |
| Hair Color | Light brown |
| Eye Color | Dark brown |
| Body Type | Athletic |
| Profession | NBA Player |
| Professional Career Teams | Brooklyn Nets, Lakers, Milwaukee Bucks |
| Draft In | 2008 (Round:1/pick: 10th overall) |
| Drafted By | Brooklyn Nets |
| Active Years in Basketball | 2008-Present |
| Sexual Orientation | Straight |
| Marital Status | Unmarried |
| Girlfriend | Hailee Strickland |
| Kids | Not any |
| Net Worth | $14 million |
| Position | Center |
| Social Media | Facebook |
| Merch | Plaque, Bobblehead |
| Last Update | November, 2023 |
Brook Lopez | Early Life & Family
Lopez's real full birth name is Brook Robert Lopez, but he is usually known as Brook Lopez. He got interested in basketball from a very young age. Therefore, basketball was part of Lopez's life, and now it's his career.
Lopez was born on April 1, 1988, and is 35 years old. When it comes to his origin, he was born in North Hollywood, California.
His ethnicity is white, and he is American by Nationality. His zodiac sign is Aries.
Lopez attended San Joaquin Memorial High School in Fresno, California. Similarly, he attended Stanford University from 2006 to 2008.
Family
About his family, Lopez has a family of five, and he is blessed with two brothers and a sister. Lopez's now-estranged Father is Heriberto Lopez, and his mother is Deborah Ledford. His estranged Father is a native of Cuba.
His mother, Deborah Ledford, was a world-class swimmer. She even attends the basketball arena to cheer for her son.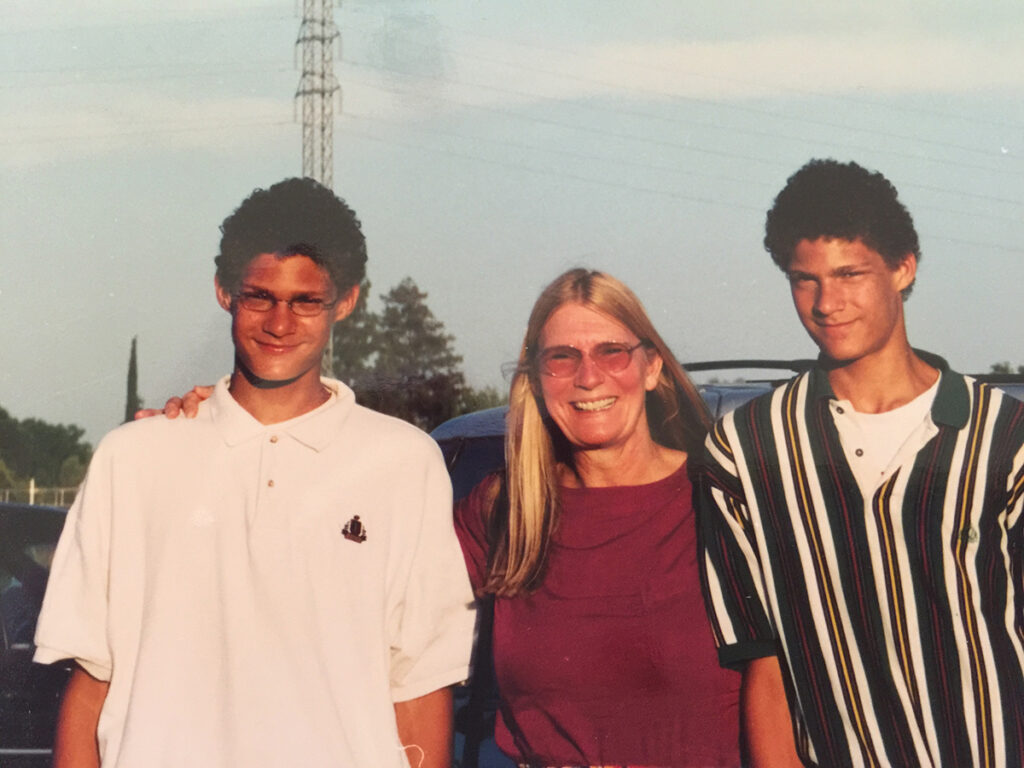 Lopez was born to a family that loves to play basketball. His grandfather played basketball at the University of Colorado. Correspondingly, his older brother Alex played basketball professionally at the University of Washington in Japan, Spain, and New Zealand.
Brook Lopez has a twin brother Robin Lopez, a professional basketball player for the Orlando Magic of the NBA. Both brothers share a common bond, including a dream to make it to National Basketball Association (NBA).
Besides, they are big comic fans obsessed with Disney, anime, and comic books.
Robin Lopez and his brother played basketball at San Joaquin Memorial High School. Now, they are playing as opposed to a team in the NBA.
Basketball Career
College Career
Brook Lopez played the first season (2006-2007) at Sandford University. His college stats were worth gratitude. Lopez was named to All- Pac-10 and also named to the All-Pac-10 Freshman Team. He scored 12.6 points and 6.0 rebounds in his freshman season.
He averaged 19.3 points, 8.2 rebounds, 2.1 blocks, and 1.5 assists per game in the next season.
The seven-footer hit the match-winning shot against the Marquette Golden Eagles in the second round of the 2008 NCAA Tournament. Therefore it was the finest 82-81 overtime win for the team.
Also, read the interesting article of Aaron Gordon's Bio: Career, NBA & Net Worth.
Additionally, Lopez was named the All-Pac 10 First Team and an All-American Third Team during his sophomore season. Lopez announced the 2008 NBA draft on March 31, 2008.
Professional Career
Brooklyn Nets
Brooklyn Nets drafted Brook Lopez from Stanford University in 2008, ranking 10th overall. Lopez made his debut on October 9, 2008, in a 95-85 victory, when he averaged 8 points, 8 rebounds, and 2 blocks in 25 minutes of action.
Subsequently, Lopez started adding up great numbers for the team. Because of his performance, he was selected to compete in the 2009 NBA All-Star Weekend Rookie Challenge.
Brook averaged 13.0 points, 8.1 rebounds, and 1.9 blocks per game, playing 82 games during his rookie season.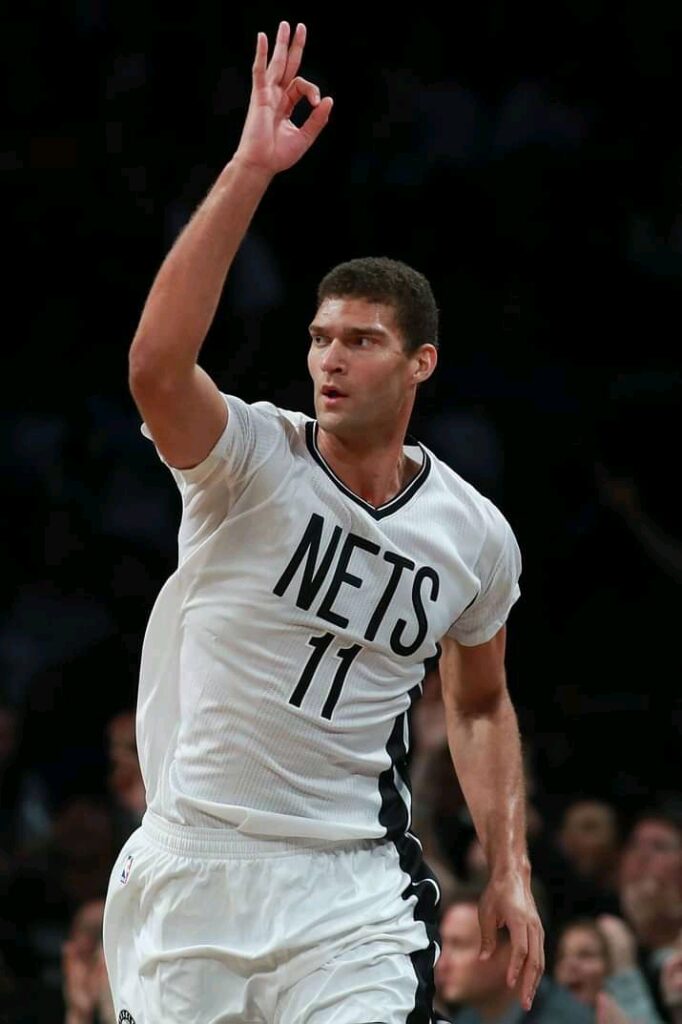 He ranked third in the NBA Rookie of the Year by voting and was named All-Rookie's first team. Moreover, he was appointed as NBA Rookie of the month for two consecutive months, January and February.
On December 4, 2009, Brooklyn Nets won their first match against the Charlotte Bobcats with 97-91 on the scoreboard. Lopez helped the team to win with 31 points and 14 rebounds. He created a career-best in 36.9 minutes, with 8.6 rebounds averaging 18.8 points per game.
In the season 2009-2010, Lopez started in every game. However, the season didn't go in their favor. They ended the season with the worst records in NBA history at 12-70.
Furthermore
After all the good plus bad records, Lopez started his third NBA season. However, Lopez found it troublesome to rebound the ball and even got criticized by head coach Avery Johnson.
He scored 20.4 points, 6.0 rebounds, 1.5 blocks, and 1.6 assists. The Brooklyn nets ended in 24-58 and likewise missed the playoffs.
Lopez signed a four-year contract extension of $61 million for the start of the other season (2012-13). Lopez got a decent start with 27 points in the season's opener against the Toronto Raptors. He played seven of the other twelve games, scoring 20 points.
After that, he injured his ankle in a win over the Boston Celtics. In December, he made his comeback and started to play tremendously from late December. He averaged 35 points and 11 rebounds in a win over the Cleveland Cavaliers on December 29.
In January 2013, the Bucks center made its first All-Star game appearance. Lopez injured his foot and missed the season's remaining games in December 2013.
Lopez re-signed with the Brooklyn Nets on a three-year contract in July 2015. Brook became the Brooklyn Nets' second-highest career scorer during the 2015-2016 season. Lopez became the franchise's all-time leading scorer in the same season.
Lakers
Lopez and Kyle Kuzma were traded to Los Angeles Lakers in exchange for D'Angelo Russell and Timofey Mozgov on June 22, 2017. Lopez debuted in the season opener and averaged 20 points against the Los Angeles Clippers in October 2017.
He hit six 3-pointers and scored season-high 34 points in a victory over his last team Brooklyn Nets.
Milwaukee Bucks
After remarkable seasons with Brooklyn Nets and Lakers, Lopez signed with the Milwaukee Bucks on July 17, 2018.
In July 2018, he debuted in a season opener and averaged 14 points to win over Charlotte Hornets.
He scored eight 3-pointers and 28 points in a win over the Denver Nuggets.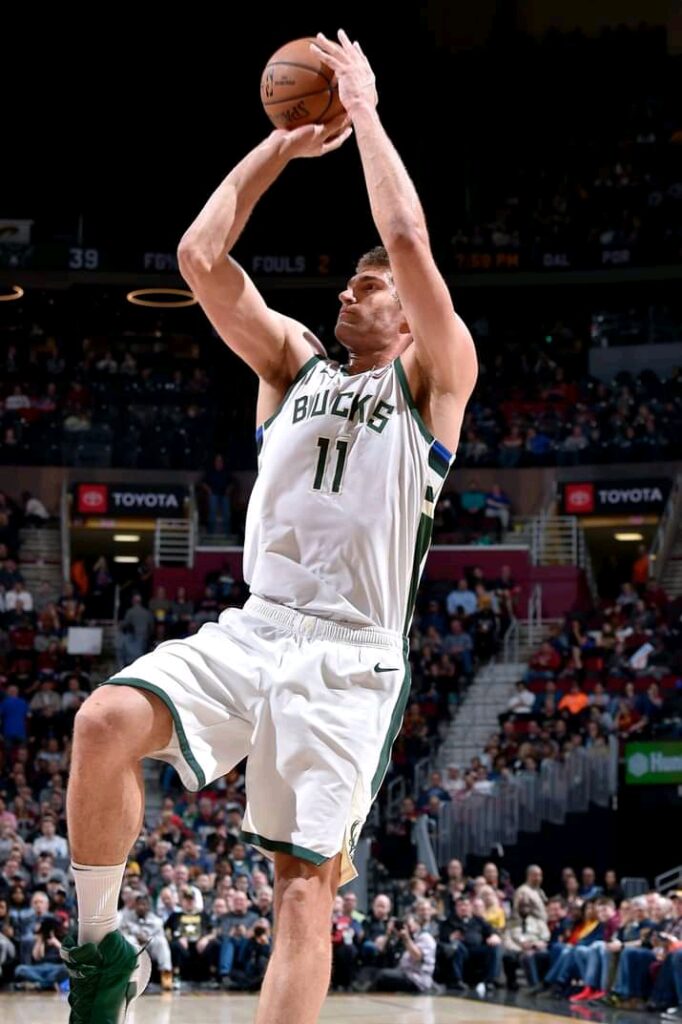 Similarly, Lopez contributed the maximum for Milwaukee Bucks in their win over the Toronto Raptors in Game 1 of the Eastern Conference Finals. He averaged a career-high 29 points, hit a 3-point shot, and played a decent defensive role in making it win.
In 2019, Lopez signed 4 years $52 million contract extension with Milwaukee Bucks. In October 2019, he made his season debut and scored 11 points, three assists, and five blocks in a victory over the Houston Rockets.
Therefore, his counts continue throughout every game. He scored a season-high 34 points with seven rebounds and two blocks against the Dallas Mavericks.
Lopez won the first championship in 2021. It was the final between two of the most fantastic team Phoenix Suns and the Milwaukee Bucks. The impressive 98-105 win gave Bucks the NBA 2021 championship title.
Read this article that might interest you, Gabriel Deck Bio: Career, Latest Stats, NBA & Net Worth.
Awards & Achievements
NBA All-Defensive Second Team (2020)
NBA Champion (2021)
Third-team All-American -AP, NABC (2008)
First-team All Pac 10 (2008)
NBA All-Rookie First Team (2009)
Third-team parade All American (2006)
McDonald's All American (2006)
Age, Height & Weight of Brook Lopez
Born on April 1, 1998, Brook Lopez is 35. Lopez's height is 7 ft 0 in ( 2.13 m), and he weighs 282 lb ( 128 kg).
He has an athletic body with incredible body measurements and height. He has a healthy body and believes in balancing his body weight.
Besides physical stats, his hair color is light brown, and his eye color is dark brown.
Net Worth & Salary
Brook Lopez is one of the greatest players of all time, with a net worth of $14 million.
He has earned a salary of around $133 million over his career. During the 2020-2021 season, Lopez was set to reach $12.7 million.
In 2019, Brook signed a 4 year, $52 million contract with the Milwaukee Bucks of the NBA.
Moreover, he earned a good amount from the sponsorship with Adidas.
Social Media Presence
Brook Lopez's official Facebook page has a good number of followers (149 k followers as of Jan 2022).
Since his hype is increasing as an outstanding player, his followers are inversely boosting in every social media.
He posts about his games, achievements, and accomplishments on Facebook.
Relationship
Everyone knows the star player Brook Lopez is beyond perfect on the basketball court, but what about his personal life?
Is he dating someone, or what is his marital status?
Here is the answer to your curiosity.
The California-based player has been in a relationship with Hailee Nicole Strickland for a decade. Since then, the couples have been enjoying their love life.
Moreover, Hailee Strickland is a senior Digital Marketing Specialist at Townsquare Interactive. She is enormously beautiful and has an incredible sense of fashion.
The couple met each other in late 2012 and has been dating for nearly one decade.
Interesting facts about Lopez
Lopez's favorite basketball player is Kobe Bryant.

His favorite musical artist is Michael Jackson.

His favorite vacation spot is Disneyland.

He is older than his twin brother Robin Lopez by one minute.

He played basketball with Quincy Pondexter in high school.

Lopez has drafted five spots ahead of his brother Robin Lopez in the 2008 NBA Draft.
Read this article to learn more about Davis Bertans Bio: Career, NBA & Net Worth.
Frequently Asked Questions (FAQs)
Is Brook Lopez Mexican?
Lopez was born in North Hollywood, California, whereas his now-estranged Father is a native of Cuba.
What back surgery did Brook Lopez have?
Lopez has been a reliable player his entire career, with reported back injuries where he had surgery for a bulging disc.
How many 30 points games does Brook Lopez have?
Lopez is an excellent player where. He has 41 games played with 30+ points.