Becoming a great player is not easy as it takes hard work, perseverance, and strength to rise above all outer and inner doubts and fulfil your goals.
Quincy Pondexter is a mentionable name in the history of the National Basketball Association (NBA) history; he always went forward to build his career no matter what the situation was.
The shooting guard, Pondexter, is a professional basketball player. He played in NBA for multiple teams like New Orleans Hornets, Memphis Grizzlies, New Orleans Pelicans, Chicago Bulls, and San Antonio Spurs.
Moreover, Quincy played basketball in high school and all four years in college.
Pondexter gained popularity early on from his high school years, and it continues to the present day.
His uncle Cliff Pondexter played for NBA for three seasons, and his father, Roscoe, played basketball for Italy and Argentina for ten years. Now Quincy is adding his name.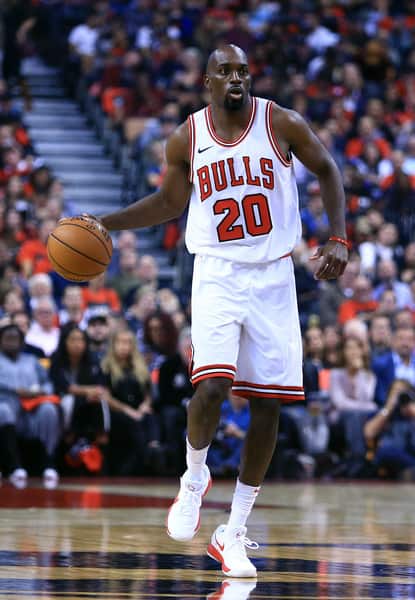 The forward Quincy was born on March 10, 1988, in Fresno, California, USA. He has strong family support for his career. Pondexter feels lucky to have his family; he says his family provided him everything when he was a kid.
Let's check quick facts before we can go further into Quincy's life.
Quick Facts about Quincy Pondexter
| | |
| --- | --- |
| Full Name | Quincy Coe Pondexter |
| Birth Date | March 10, 1988 |
| Birth Place | Fresno, California, USA |
| Nick Name | Not Available |
| Religion | Not Available |
| Nationality | American |
| Ethnicity | Afro-American |
| Education | University of Washington |
| Horoscope | Pisces |
| Team | New Orleans Hornets, Memphis Grizzlies, New Orleans Pelicans, Chicago Bulls, San Antonio Spurs |
| Father's Name | Roscoe Pondexter |
| Mother's Name | Doris Pondexter |
| Siblings | Myisha Pondexter (Sister) |
| Age | 35 Years Old |
| Weight | 230 lbs |
| Height | 6 feet 7 inches |
| Hair Color | Black |
| Eye Color | Black |
| Body Measurement | Not Available |
| Shoe size | Not Available |
| Build | Not Available |
| Married | No |
| Profession | Professional Basketball Player |
| Position | Small Forward/Shooting Guard |
| Children | No |
| Net Worth | $20 million |
| Retirement | Active |
| Social Media | Facebook, Twitter, Instagram |
| Last Update | June, 2023 |
Pondexter | Age | Weight | Height | Horoscope
The NBA star, Pondexter, is 32 years old. He is taller than most, with 6 feet and 7 inches in height, and weighs 230 lbs (104 kg).
Quincy got an attractive personality and athletic body for a successful basketball career.
Being born on the 10th of March makes Quincy a Pisces. Pisces are kind, creative, and family-oriented. Pondexter is close to his family.
We often catch him thanking his family member for his achievements. The kind soul has his moments of ups and downs, which he dealt with his family's support.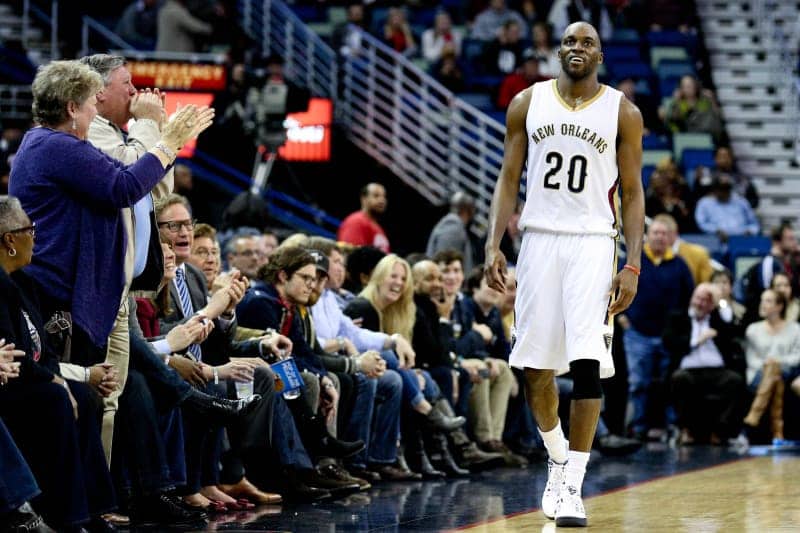 Yet, in Chinese astrology, Quincy is a Dragon. Dragons are ambitious and seek leadership.
According to sources, Pondexter often wanted to lead his team; sometimes, he wanted it bad. He is a powerful player and likes adventure.
You might be interested in reading: Dante Cunningham Bio: NBA, CBA, Controversies & Salary>>
Quincy Pondexter | Family | Education
Early Life | Family
Quincy Pondexter was born to Roscoe Pondexter and Doris Pondexter. Roscoe himself played basketball internationally. Roscoe's brother Cliff also was an NBA player.
Moreover, Quincy has a sister named Myisha Pondexter and a brother named Clifford starred.
Myisha has a unique role in Quincy's life. She has a very protective instinct for her brother.
Moreover, Myisha fought with boys on the Fresno basketball court so that Quincy can play. Myisha admits that she would be Quincy's bodyguard to make sure no one could create any obstacles in his path.
In addition to Myisha's protective instinct, Quincy's father kept pushing him further. Roscoe told him to focus on the opportunity he had in front of him and keep going forward.
Furthermore, Roscoe assured him to fulfil all his needs so that Quincy can concentrate on playing.
The international star, Roscoe, did not want his son to face the hardship he had. Roscoe is very close to his son Quincy; let's check the fun tweet dedicated to his father.
More than anything else, Pondexter needed his family's counsel and to be around them.
Whether Pondexter was doing well or not, his family was always there to support him. He says his family has always come first.
Furthermore, the NBA veteran Pondexter went to San Joaquin Memorial High School in Fresno, California, where he started playing basketball.
After that, he continued playing, carving out his excellent NBA career.
Pondexter | Wife | Girlfriend
Everyone would love to know whether the good looking player Pondexter is dating someone or not. He is not married but does he have someone in his life?
It can be an excellent question to ask. Quincy is active on social platforms, but he has never said or written anything about his special someone.
Pondexter's female fans will be eagerly waiting to get the news and cherish him more.
Quincy Pondexter | Career
Before Quincy has had a decade long NBA career, he became famous from his high school years and college years.]
College Career
The basketball shooter joined the University of Washington in Seattle to further his education and basketball career. He played basketball all his four years of college, being the Huskies.
There were times when Quincy's college completion was questionable, but he completed his education and moved forward toward his basketball career.
Jayson Tatum Bio: Basketball Career, Son & Net Worth>>
Freshman Year
During freshman year, Pondexter was chosen as a starter when he scored 21 points and 7 rebounds against Pepperdine. He completed his first year with a mention on the Pac-10 All-Freshman team.
Sophomore Year
Moreover, Quincy got his starting lineup position back at the beginning of the sophomore year. But he lost his position for 7 games.
Pondexter finds his Sophomore year most difficult as his fellow team members started transferring, and he was left alone.
His performance dipped that, and he struggled to go up again. Yet Quincy rebound with an average score of 15.2 points and 6.4 rebounds in total 5 games.
Junior Year
In addition to better performance, Pondexter won the Industrial Award for the hardest worker.
Moreover, the rising star Quincy got to be captain of his team with Justin Dentmon and Jon Brockman just before his junior season.
After few losses, Pondexter took the Huskies to the top of the Pac-10 conference standings, and he also delivered a victory against USC with 22 points and 5 rebounds.
His junior seasons were both good and bad for the team, but Quincy had a good year.
Senior Year
During senior year, Quincy won a bronze medal while participating in the World University Games. He started his senior year with 25 points and 11 rebounds in a 96-78 victory against Belmont.
Moreover, the Huskies won against San Jose State, scoring 30 points and 15 rebounds. Pondexter concluded his college career with the third-highest scoring player in school history.
RJ Barrett: Family, Basketball Career & Net Worth>>
New Orleans
In the 2010 NBA draft, Quincy got selected by the Oklahoma City Thunder, but the New Orlean Hornets acquired him in an exchange setting.
Again in 2011, New Orleans exchanged Pondexter with Greivis Vasquez to the Memphis Grizzlies.
After three seasons with New Orleans, Quincy got injured in the 2013-14 season, which led to missing the season. He went through foot surgery at the end of the year.
After the first few months with Memphis in the 2014-15 season, Quincy was traded back the New Orleans. His second-time entry with the Orleans, now called the Pelicans, was better than before.
Pondexter in 2014-15 stint gave his best performance with an average of 9 points per game with 25 points against the Brooklyn Nets.
In the following years, from 2015 to 2017, Quincy went through multiple knee surgeries, leaving me out of the basketball court.
He could not appear in the 2015-16 and 2016-2017 seasons for the Pelicans. Further, he suffered from a life-threatening skin infection.
Chicago Bulls
In September 2017, Pondexter entered the Chicago Bulls, the team his uncle Cliff played for. In October, he played his first game against the Toronto Raptors and was again released by the Bulls in February 2018.
San Antonio Spurs
In August 2018, the iconic player Pondexter yet again signed a one year contract with the San Antonio Spurs based in San Antonio.
You can watch Quincy's career statistics on the website of basketball-reference.
Quincy Pondexter | Personal Life
Quincy and Dorothy Wang
Pondexter dated Rich Kids of Beverly Hills star Dorothy Wang. The duo was seen together numerous times. They also sent on basketball outings together.
However, Dorothy later made it clear that they were just friends and would love to be in each other's life without romantic involvement.
Quincy and Dorothy, along with some friends, provided gifts and donations to some staff members from Valley's Children hospital's oncology department in 2015.
Camps
Quincy Pondexter loves mentoring children and youths. He is often seen conducting youth camps back home every year.
Injury
It's almost inevitable for a sportsperson to get injured. Quincy has injured himself quite a few times, but the incident in 2016/2017 turned out to be deadly.
He was on the bed rest for almost a year. It was a life-threatening infection which made Quincy think that he might die.
It started after a game when his knee bothered him. The pain worsened with time, with nothing seen in the reports.
With several surgeries and medication, he finally made it to the field. The miracle of faith and prayers from his wellwishers worked for the basketball player.
Quincy Pondexter | Net Worth | Salary
Currently, Quincy is playing for the Spurs. He has been playing with the NBA since 2010, starting with the New Orleans. In his decade career, he has accumulated quite a net worth.
As of 2023, Quincy has an estimated net worth of $20 million.
In Quincy's starting the year 2010/11 with the New Orleans Pelicans, he was paid approximately $1,073,280.
With Memphis Grizzlies, it went up to $2.2 million, and with the Chicago Bulls, it was almost $3.8 million.
Moreover, Pondexter made a one year contract with the San Antonio Spurs of around $2 million in 2018/19.
In his entire career, Quincy has made a total of $21,852,359.
The iconic phenomenon Quincy has a bright future ahead of him, which will increase his net worth.
You may also want to read about another basketball star, DeAndre' Bembry.
Is Quincy Pondexter active on social platforms?
The kind soul Quincy seems to be quite active on social platforms. He has Facebook, Instagram, and a Twitter account.
Pondexter looks friendly and in a celebrating mood in most of his posts.
Besides career moves, Pondexter has posts related to his family, fans, and fellow players. Quincy has set very positive energy through his social accounts.
Quincy openly talks about injustice and demand justice for everyone. Moreover, he wants to spread only love through social media. Quincy stays very active in the community work, which we can see on various posts.
Instagram 77.5k followers, 860 followings
Twitter 69k followers, 869 following
Facebook 48k followers
Visit NBA Stats to know more about Pondexter's career.
Common Queries about Quincy Pondexter
Is Quincy Pondexter dating?
Not sure. Pondexter is secretive about his personal life. He cherishes his family a lot, and we can see that clearly through his social media posts, but he has never talked about his dating history.
Is Cliff Pondexter related to Quincy's?
Yes. Cliff Pondexter is Quincy's uncle. He was a centre/forward player, played three seasons with the Chicago Bulls from 1975-1978.
Is Quincy retired from the NBA?
No. Pondexter is still playing for the San Antonio Spurs. There is no news on renewing his contract with the Spurs, but he is still active.
Did Roscoe Pondexter play for NBA?
No. Roscoe is Quincy's father. The Boston Celtics picked Roscoe as a third pick, but he chose to play basketball overseas.