D'Angelo Russell is an American basketball player who was named NBA All-Star in 2019. The estimated net worth of D'Angelo Russell for the year 2023 is around $25 Million.
D'Angelo Danté Russell, a 27 years old American has been playing in NBA since 2015.
He was a round 1 pick in the 2015 Draft by the Lakers after his amazing gameplay with the Ohio State Buckeyes. Also, he bagged McDonald's All-American title in 2014 during his collegiate years.
Additionally, the Nets considerably offered him his highest-valued contract, a four-year, $117 million.
Russell currently plays for the Lakers, and even though Russel is still new in NBA, he has traded the teams four times.
There are so many interesting events in his life, and we will cover the most interesting ones.
Before all that extensive details, let us browse through some of the quick facts about Russell.
Quick Facts
Name
D'Angelo Danté Russell
Birthdate
February 23, 1996
Birthplace
Louisville, Kentucky, United States
Age
27 Years Old
Nationality
American
Ethnicity
Afro American
Religion
Christian
Father's Name
Antonio Russell
Mother's Name
Keisha Rowe
Siblings
Antonio Russell (Older Brother), Lashaun Russell (Older Brother), Tayshaun Russell (Brother), & Cloee Russell (Sister)
Education

Central High School
Montverde Academy
The Ohio State University

Profession
Point Guard / Shooting Guard
Nickname
D'Angelo Russell
Height
6'4″/1.93 m/193 cm
Weight
193 lb./88 kg
Body Measurements
43 Inches (Chest), 15 Inches (Biceps), 33 Inches (Waist)
Shoe Size
12 (U.S)
Body Shape
Athletic
Hair Color
Black
Eye Color
Dark Brown
Coach
Byron Scott
Zodiac Sign
Pisces
Net worth
$25 Million
Achievement
NBA All-Star (2019), NBA All-Rookie Second Team (2016), Consensus first-team All-American (2015), Big Ten Freshman of the Year (2015), First-team All-Big Ten (2015), Jerry West Award (2015), McDonald's All-American (2014)
World Records
Not Available
Salary
$31.3 Million
Style
Attacking
Club
Los Angeles Lakers, Brooklyn Nets, Golden State Warriors, Minnesota Timberwolves
Endorsements
$6 Million
Sexual Orientation
Straight
Marital status
Not Married
Girlfriend
Laura Ivaniukas
Children
Not Available
Hobby
Card Playing & Magic Tricks
Debut
2015
Social Media
Instagram, Twitter
Merch
Trading Card, Autographed Basketball
Last Updated
May 2023
Income & Contract
The 27 years old player started his professional career with Los Angeles Lakers. He has changed four teams coming to 2022.
Russell got his first salary of $5.1 million after the 2015 NBA Draft after being selected as the second-round pick by the Lakers.
For 2020-2021 he got $28.6 million, which later reached his career-high salary of $30 million.
Till now notably, he has earned total career earnings during his 8 seasons of NBA career is $138.6 million.
This career earning also includes Russell's signed four-year/ $117 million contract with the Nets, as part of a Sign-and-Trade with the Warriors.
Also, this hiked his net worth to $25 million as of 2023
Houses & Cars
Houses
Previously, this young player split his time between homes in Florida, Los Angeles, and Louisville. He bought and rented a grand mansion wherever he lived.
Although he is not quite public about his home whereabouts, our sources have confirmed that Russell is living large.
Russell has a 6,300 square feet property located in Minneapolis, an old-style house. He renovated it in black and white his favorite theme by Tiffany Thompson, the interior designer.
He placed a black Italian leather sectional sofa in the living room with cherry wood-colored flooring, which was inspired by an island in Japan.
Cars
Apparently, D'Angelo owns two Rolls Royce (in both red and white), and it seems like he is obsessed with his ride.
As many know, celebrities go for this brand because Rolls Royce is a luxury in itself, at a starting price of $330,000
Russell also owns a sleek black Ferrari & Audi R8 (Dynamite Red). Ferrari's cost can range as much as $276,550 to $625,000. For instance, the 2020 Ferrari SF90 Stradale cost the highest of them all.
The Audi R8 that Russell owns is about $142,700 for coupe models, and for convertibles, it costs up to $154,900.
Timberwolves High Priced Fine
Timberwolves in 2020 paid a $25k fine for violating the NBA rules regarding the player resting policy with Russell.
In 2020 Russell was held out the Sunday at Denver for a planned rest. Though the NBA deemed Russell a healthy player under its policy, which was designed to minimize star player absences from nationally televised games.
To Which Timberwolves issued a statement of acceptance of the punishment, "While we respect the league's guidelines and standards, we are a player-centric organization that's focused on learning and optimizing our players' bodies."
The team said," As a new player in our program, we chose to rest D'Angelo in order to learn his body better and to optimize his health during a difficult stretch of games and travel."
Vacation & Lifestyle
Vacation
It's a no-brainer that D'Angelo, after having earned much money, travels almost every other day. For Russell, traveling is an integral part of life, be it for sports or luxury vacations.
This young and rich player recently visited Croatia. In fact, he was having a very luxurious time sipping on expensive cocktails in a yacht around Kamerlengo castle.
In the final analysis, Europe is quite a place for luxurious holidays, and Russell proved it.
His off day includes chilling on a yacht and going around lakes with his friends. The amount of partying this player has seen in his life is unimaginable.
Russell also loved his stay in the Myrtle Beach Safari, an elite place, where one can go by reservation only.
The time he spent with friendly wild animals made quite an impact on his Instagram. It came like a sensation and made people talk about it for days.
To sum up, everybody should learn and earn to vacation like D'Angelo.
Lifestyle
Not sure he loves physical exercise; that's why he became an athlete. Or he is an athlete; that's why he has to love physical exercise.
Guess we will never know because this thing is completely looped, it seems. Anyway, yes, he has rigorous workout sessions every day.
This player parties when he likes, but he is very conscious of his health too. In fact, it is all that discipline that brought him to success at this tender age.
Russell eats clean and sleeps on time and makes sure to balance all this every day.
Charity & Endorsements
The charitable deeds of Russell are not quite public, but according to this player, he wants to give back to the community where he grew up.
Mainly because the people of Kentucky helped and contributed to Russell reaching this career point in his life.
He has established "D'Angelo Foundation" which provides an early Christmas for poor families and also takes low-income families shopping making their Christmas special to show these poor families that they are not alone.
D' Angelo Foundation has raised a huge sum for poor families and has helped over 40 families till now.
D'Angelo as well wants to share his knowledge and influence the kids who are interested in basketball.
He hosted his first basketball camp in 2019 which allowed youths to play basketball, and was joined by over 300 kids.
Endorsements
Russell earns $6 Million from brand endorsement alone. He had a deal with Nike in 2015. Additionally, the well-known players who also signed were Kevin Durant, Kobe Bryant, and LeBron James.
Hence, that deal accumulated him to the exclusive group of NBA athletes who countersigned that brand.
Despite his young age, he has many high-class deals with numerous cosmopolitan corporations. Some of them are 2K Sports, H&M – Hennes & Mauritz, and Li Ning.
Further, this player's agency is the Creative Artists Agency, and Russell has three agents, namely Jessica Holtz, Aaron Mintz, and Austin Brown.
Career
DLo's interest in basketball started way earlier than his high school days. Russell was an active and talented kid who made several contributions to his high school via his athletic skills.
As an Ohioan state college player, D'Angelo verified a career-high 14 rebounds in a victory against Maryland on Jan. 9, 2015.
He has bagged several honors a consensus first-team All-American (2015) and first-team All-Big Ten (2015), and Big Ten Freshman of the Year (2015).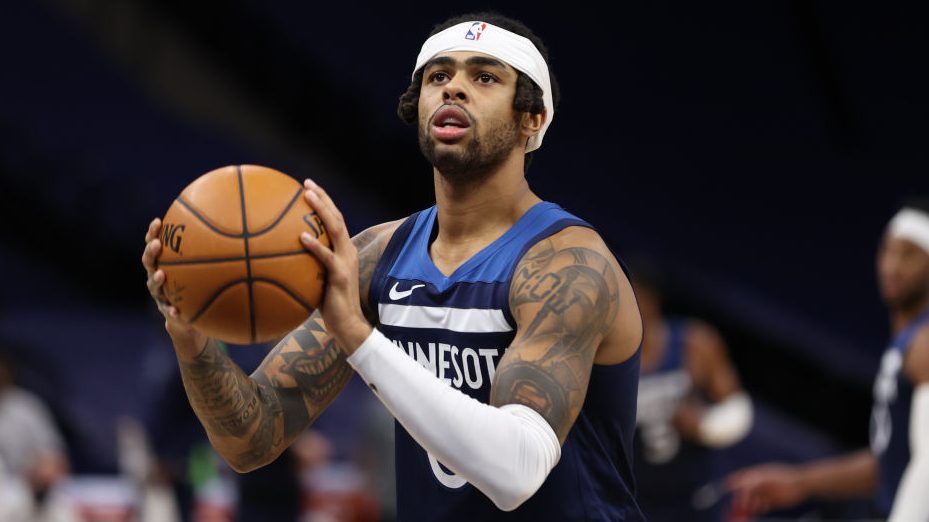 In fact, Russell proved that he was a gem, especially in his first team, i.e., the Lakers. After that, in his second team, they named him Eastern Conference Player of the Week in 2019.
Thirdly, he spent a year with the Warriors before showing his ice on the veins for Minnesota Timberwolves.
D'Angelo is one of the valued players for the Timberwolves still to this day. Later he was traded back to the Lakers on Feb. 9, 2023, in a three-team trade with the Utah Jazz.
On Feb. 11 2023 Rusell scored 15 points, five rebounds, and six assists in a 109–103 win over the Warriors.
Trivia
D'Angelo is not brand conscious as long as it works.
He loves wearing hoodies, mostly.
Russell cannot imagine going out without his sunglasses.
He takes his playing cards everywhere and does magic tricks.
Russell is a big fan of the late Muhammad Ali.
Quotes
"When you find your niche, you just gotta continue to be confident and thrive in it."
"I take pride in creating genuine relationships with people that genuinely care about you."
"I can't imagine being in an All-Star Game, knowing that you're among some of the best of the best."
Search Graph
D' Angelo Russell is an American professional basketball player, who plays for the Los Angeles Lakers of the NBA.
Russell earns millions only from his endorsements, which illustrates in his fame and search graph.
Frequently Asked Questions (FAQs)
Who is Russell currently dating?
This Louisville native player is currently dating an international model whose name is Laura Ivaniukas. She just turned 23 in 2022. D'Angelo is not very public about his relationship, but our sources found some obvious details in Laura's profile. It seems like these two love birds cannot stop adoring each other and celebrating life together.
What is D'Angelo Russell's career high?
Russell scored a career-high 52 points in a match against the Timberwolves during the 2019-20 season.