Minnesota Viking's wide receiver, Adam Thielen's wife, Caitlin Thielen, is a successful blogger and a doting mother of three kids.
We can all agree that the Thielen family is one big family goal. However, they have gotten into many controversies, especially during the pandemic.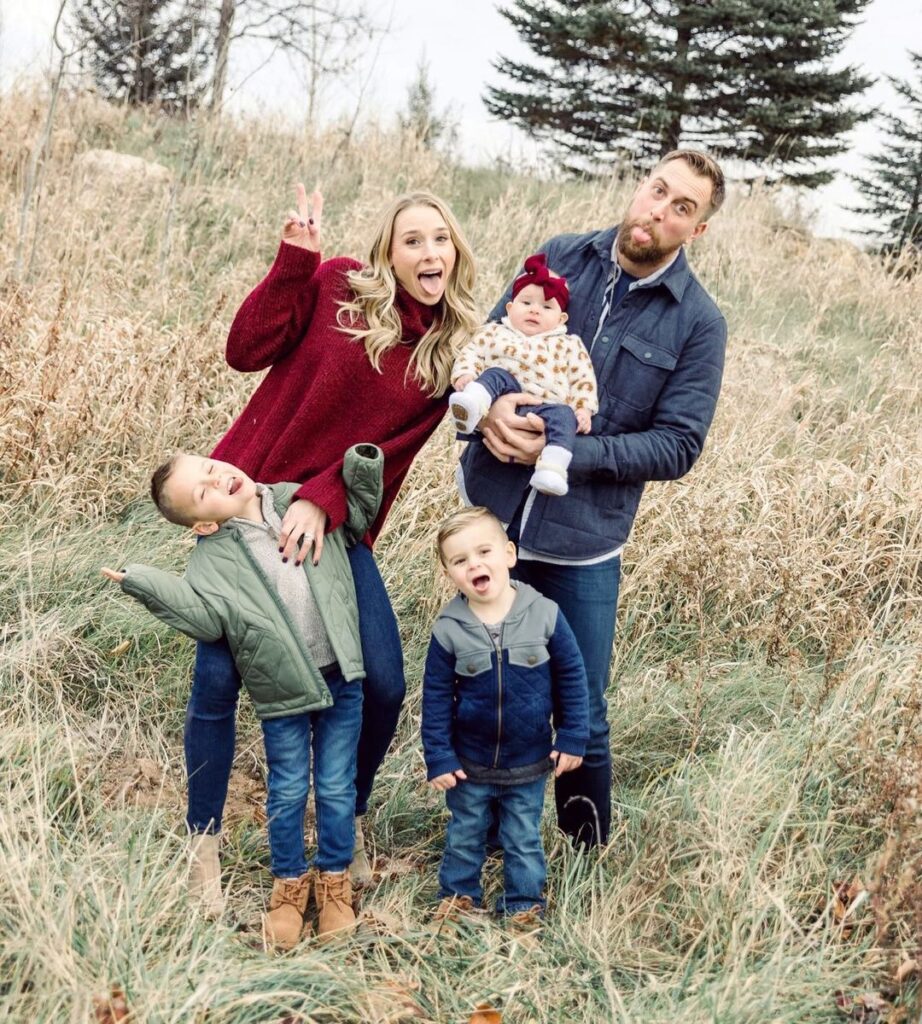 Regardless, Caitlin is a great personality who has been stupendously managing her life as a full-time mom, social media influencer, and athlete's wife.
But if you think she's just a "trophy wife," you couldn't be more wrong.
Therefore, before further details, here are quick facts about Caitlin.
Quick Facts
| | |
| --- | --- |
| Full Name | Caitlin Thielen |
| Date of Birth | September 27, 1991 |
| Birth Place | Appleton, Wisconsin |
| Nick Name | Cait |
| Religion | Catholic Christian |
| Nationality | American |
| Zodiac Sign | Libra |
| Age | 31 Years Old |
| Height | 5'5″ |
| Hair Color | Blonde |
| Eye Color | Grey |
| Build | Slim |
| Father's Name | Jin Graboski |
| Mother's Name | Brenda Graboski |
| Siblings | 2 Brothers; Ryan Graboski and Brent Graboski |
| Education | Minnesota State |
| Marital Status | Married |
| Husband | Adam Thielen |
| Kids | 3 |
| Boyfriend's Profession | Football wide receiver |
| Affiliations | Minnesota Vikings |
| Net Worth | $5 million |
| Profession | Lifestyle Blogger |
| Social Media | Instagram, Twitter |
| Website | Life with Mrs. T |
| Charity Foundation | Thielen Foundation |
| Merch of Adam Thielen | Biography |
| Last Update | April 2023 |
Caitlin Thielen | Early Life & Childhood
The lifestyle blogger Caitlin Thielen was born on September 27, 1991, in Appleton, Minnesota.
Caitlin Thielen, formerly Caitlin Graboski, was born to Jin Graboski and Brenda Graboski.
She grew up with two brothers, Ryan Graboski and Brent Graboski. They have a spectacular sibling bond.
Furthermore, Caitlin completed her high school at Woodbury High School. She later joined Iowa State only to transfer to Minnesota State.
Mrs. Thielen completed her studies in communications disorders and speech pathology at Minnesota State. Besides studies, she was a midfielder for the Minnesota Maverick, which explains her active indulgence in her husband's career.
Moreover, Caitlin was into dance, soccer, and basketball as a kid. But with age, her interest in gymnastics, dance, and basketball was diminished, and she focused on soccer only.
Adam's partner, Caitlin, has always been a family person with a strong personality.
Age, Height & Measurement
Standing tall at 5'5″, Caitlin Thielen is a beautiful person. Although other bodily measurements aren't available on the internet, her personality seemed mighty.
Furthermore, the mother of three has maintained a slim physique. Besides, her blonde hair perfectly complements her dark grey eyes.
Who is Kyle Lowry's wife, Ayahna Lowry?
Caitlin Thielen | Career
American football wide receiver Adam Thielen's wife, Caitlin Thielen, is a lifestyle blogger. She started blogging very recently but has a strong presence.
Moreover, Caitlin Thielen's blog is called "Life with Mrs. t." She writes about family life, her interest in fashion, health, nutrition, and fitness.
Caitlin also incorporated her life as a footballer's wife and many other life-related articles. She also shared changes as a mother of three kids.
Mrs. T is a strong individual who loves to cook and play with different recipes. Besides a successful blog, Caitlin Thielen's Instagram is blooming too.
Additionally, Caitlin handles two Instagrams, life_with_mrst, with 24.4k followers. Here, she shares her life as a mother, insights about her faith, fashions, and talks about fitness.
Likewise, Mrs. T's second Instagram handle, mrs_t_19, boasts 91.1k followers. This Instagram is dedicated to showing the life Thielen family.
Before blogging, Caitlin worked as a substitute teacher.
Caitlin Thielen | Net Worth
Mrs. Thielen is a free person who enjoys writing her blogs and keeps in touch with her followers.
Although Caitlin Thielen's net worth is still under review, it is estimated at $1million – $5 million.
The average salary of a lifestyle blogger is $52,382 per annum. Hence, Mrs. T earns a decent amount through her blog.
Besides blogging, Caitlin also makes a decent amount from her paid sponsored posts via Instagram.
Mrs. Thielen is a full-time mother, but she makes significant earnings by sharing her experiences with fellow women.
Husband Adam Thielen's Net Worth
While Caitlin's salary is for us to imagine, her husband, Adam Thielen's net worth, is $5 million as of 2022.
The American wide receiver Adam Thielen signed a four-year contract with the Minnesota Vikings worth $64,200,00.
Thielen's current contract includes a signing bonus of $9 million with a guaranteed $33 million and an average salary of $16,050,000.
Furthermore, in 2022, Viking's wide receiver is estimated to earn a base salary of $12,045,000 with a roster bonus of $167,647 and a workout bonus of $100,000.
Similarly, his cap hit is calculated at $16.612,647 and a dead cap value of $11,100,000.
Thielen's Charitable Foundation
Apart from earning and living a comfortable dream life, the Thielen couple has dedicated a significant amount to charity.
Caitlin and Adam established Theilen Foundation, which aspires to create programs to empower kids to reach their full potential in life.
Caitlin serves as the Vice President of the foundation established in 2018. Sponsored by Choice Bank, Adidas, State Farm, and many more, Theilen Foundation has worked with several hospitals and high schools.
Some programs held by the Thielen Foundation are:
Change ThruSport
Salvation Army Christmas
Football Camps
Mental Health: Answering your Questions
Furthermore, the Thielen Foundation has also held events like Charity Softball Game 2022 and many more to provide scholarships to deserving and passionate candidates.
Likewise, the foundation has maintained transparency about the donation collected since 2018. According to the site, they have collected $1,305,000 so far.
Moreover, the foundation reportedly gives out $1,000 scholarships to meritorious high school students who attend their partnering schools.
Merch Sales
Some merch from the Thielen Foundation are as follows:
Adam Thielen Fanshirt – $25
Thielen Foundation Adidas Hoodie: $60
Beanie: $22
Thielen Foundation Ice Shaker Water Bottle: $40
Clear Stadium Tote Bag: $20
Woodchuck Journal: $50
Their merch probably helps the foundation raise necessary funds for their motto, i.e., "achieve your full potential."
NFL Stud, Adam Knew He'd Marry Caitlin in Their First Meet
The Thielen couple's love story is truly blissful.
Caitlin revealed that the pair were introduced to Adam through a mutual friend in 2011. However, she was not very interested in Adam because they were indifferent to school and also because Adam was a bit of a party person.
But the differences did not stop Adam. Thus, he started approaching Caitlin via Facebook. Despite Adam's persistence, she was reluctant until they officially met in the fall of 2011.
Furthermore, Adam Thielen's wife saw a different version of him at the frat. She further revealed that she'd received a sweet text after they met.
Although the pair exchanged many texts, Adam was still friend-zoned until Caitlin transferred to Mankato in 2012.
Moreover, Adam had talked about his willingness to marry her. Obviously, Caitlin expresses that she was creeped out at the time.
Finally, in early August, she decided to give Adam a chance and hung out with him. Then after realizing the pair had so much in common, they started dating in 2013 and got engaged shortly after.
Exchanged Vows in 2015
Adam and Caitlin Thielen have gone through everything together.
After two years of dating and getting engaged, the pair finally married on May 23, 2015.
The couple has since evolved drastically. Adam Thielen's spouse remembers being skeptical when her husband told her he would register for a regional combine.
Although Mrs. T was skeptical, she didn't deny Adam's passion and supported her. Hence, her support has been unbelievable since day 1.
Mother of Three Kids
Since 2015, the family of two has quickly expanded to a family of five by 2021.
Adam and Caitlin welcomed their first baby, Asher Thielen, on October 11, 2016. Papa Thielen announced his first kid's arrival via his social media.
Similarly, their second baby boy, Hudson James Thielen, was a tremendous new year gift for the Thielen family. The pair announced Hudson's arrival via their social media on January 8, 2019.
Another beautiful blessing from God was welcomed into our family. Everyone meet our newest little man, Hudson James Thielen💙 We couldn't be more thankful for another healthy son, we love you so much little man! @athielen19 pic.twitter.com/kYwBP7ieGA

— Caitlin Thielen (@MRS_T_19) January 7, 2019
Both Adam and Caitlin planned for three-to-four babies initially. Hence, they welcomed their third child, a baby girl, on June 22, 2021. She is named Cora Jean Thielen.
Adam excitedly shared the news through his social media and was grateful for all the prayers.
The Thielen Family is Faithful
Faith is a huge part of the Thielen family. Both Adam and Caitlin grew up in a Catholic families.
Furthermore, the Thielen family tries to incorporate God into their lives as much as possible.
Mrs. T believes that having faith in their lives is super important as it has kept them grounded and humble.
Frequently Asked Questions (FAQs)
What is Caitlin Thielen's maiden name?
Adam Thielen's wife, Caitlin Thielen's maiden name is Graboski. She grew up with her two brothers and was influenced by their sportsmanship.
Hence, she grew up a tomboy and loved football.
Is Caitlin Thielen against vaccination?
The mayors of Minneapolis and St. Paul had announced that both the cities required proof of COVID-19 testing or proof of vaccination at indoor food establishments.
The NFL wife, Caitlin Thielen, retweeted, showing her concerns for the restaurants. She tweeted, "I feel so bad for the venues and restaurants that will go down because of this."
Caitlin further continued to reason her thoughts. She clarified, "I could get vaccinated and then go to those restaurants while having Covid and pass it to everyone."
Likewise, Thielen continues, "but no one would care, right I have a vax card?" She concluded her tweet with, "LOL, ridiculous." While few supported her tweet, many tried to educate her and a few trolled.
So, is Caitlin Thielen against getting vaccinated? You be the judge!