Cameron Talbot is a Canadian professional ice hockey goaltender for the Ottawa Senators of the NHL. Internationally, Talbot has represented Canada at the 2016 IIHF World Championship.
Are you familiar with a Ghostbusters mask during the NHL? If you are, you surely know who that uniquely designed mask belongs to. If you guessed Cam Talbot, then you are correct.
This outstanding goaltender, famous as the 'Goalbuster,' is a loving husband and father of twins.
He is one of Ghostbusters' biggest fans and has undoubtedly made a name for himself as a known world-leading goaltender today.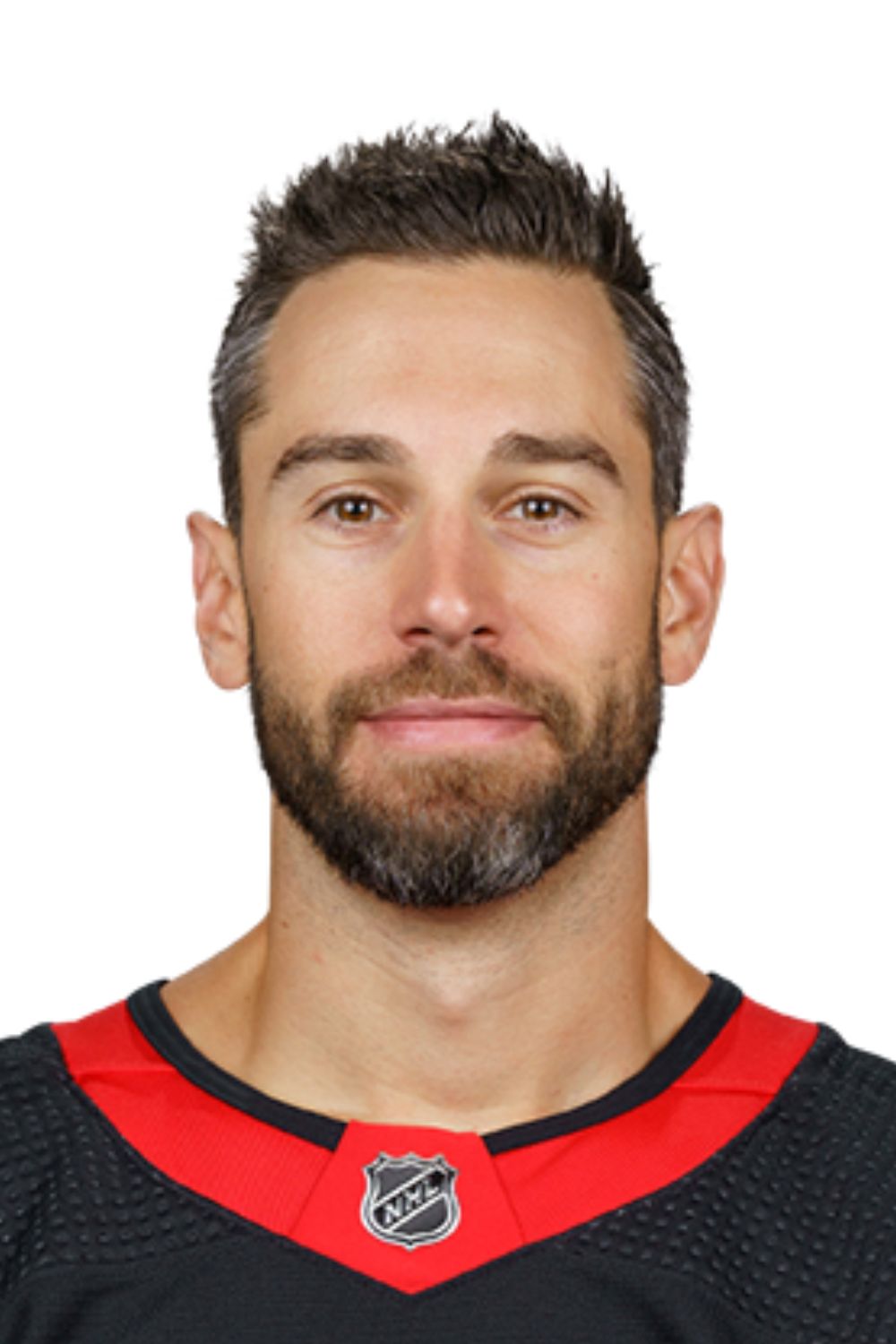 On January 4, 2023, Senators goalie Cam Talbot gave the nod to superstar Ryan Reynolds with a new 'Deadpool' mask. More on this in the section below.
Let's dig a little deeper into the life of this exceptional 'Goalbuster.'
Here, we will provide details about his early life, education, professional career, scouting report, net worth, and lovely family.
Let's hop into some of Cam Talbot's quick facts first.
Cam Talbot | Quick Facts
Full Name
Cameron Talbot
Birth Date
July 5th,1987
Birth Place
Caledonia, Ontario, Canada
Age
35 Years Old
Nickname
'Yes, We Cam' Talbot, Goalbuster, Dadbot 2.0
Religion
Unknown
Nationality
Canadian
Ethnicity
White
Education
University Of Alabama
Horoscope
Cancer
Father's Name
Mark Talbot
Mother's Name
Not Disclosed
Siblings
Stephanie Talbot
Height
6'4"/1.93 m/193 cm
Weight
196 lb/89 kg
Build
Athletic
Shoe Size
Not Available
Hair Color
Black
Eye Color
Black
Position
Goaltender
Active Years
2010 – Present
League
NHL
Team
Ottawa Senators
Number
33- Ottawa Senators
Marital Status
Married
Spouse(s)
Kelly Talbot
Children
Children 2 (Twin)

Sloane Talbot (Daughter)
Landon Talbot (Son)

Profession
Professional Ice Hockey Player
Catches
Left
Former Teams

New York Rangers
Edmonton Oilers
Philadelphia Flyers
Calgary Flames
Minnesota Wild
Ottawa Senators (Present)

Net Worth
$18 Million
Career Honors & Awards

CHA: Tournament MVP (2009)
Second All-Star Team (2009)
All-Tournament Team (2009)

Social Media
Twitter, Instagram
Merch
Poster, Trading Card
Last Update
March 2023
Cam Talbot Bio | Early Life, Family, & Education
Ice hockey goaltender Cam Talbot, known as the famous goalbuster, was born on July 5th, 1987, in Caledonia, Ontario, Canada, to his proud father, Mark Talbot. However, the detail about his mother is unavailable.
Similarly, Cam has a sibling named Stephanie Talbot. He posted about dedicating his jersey to his sister and all the healthcare workers out there saving lives during the COVID-19 pandemic on social media.
According to Zodiac charts, Cam is a Cancer. The most common Cancer traits are nurturing, compassion, security-seeking, offering, and loving.
Age, Height & Body Measurements
The famous 35 years old goalbuster has an athletic physique and firm body control, making him one of the best goalies that the NHL has ever seen.
Cam stands at an impressive height of 1.93 m and possesses a healthy physique weighing 196 lbs, which is considered a perfect frame for his goaltender position.
Besides, he is one of the most good-looking athletes in the NHL with his dark hair, black eyes, charming smile, and well-built frame.
Education
As for his education, Talbot attended the University of Alabama, located in Huntsville.
Likewise, before his career took off as a professional ice hockey goaltender, he played for his university. CHA Tournament 2010 declared Talbot as the MVP, representing his university team.
Without a doubt, we can confirm that he was an exceptionally passionate player through his prime days at the university.
Cam Talbot | Career | Professional Ice Hockey Athlete
Before hopping into his professional career and achievements, let's look into his impressive early career.
Early Playing Career
Cam grew up playing ice hockey in Caledonia, Ontario. He kicked off his early playing career by playing for the Thunder MHA Programs.
Later, he joined South Central AAA hockey for Hamilton Jr. Bulldogs in Minor Bantam, where he played for three seasons.
At 17, he returned to the Jr. Bulldogs and played a Major Midget season. Later, Talbot joined Hamilton Red Wings, a junior ice hockey team of the Ontario Junior Hockey League from 2004-2005.
During his university years, he joined the college hockey team of the University of Alabama.
For the CHA Tournament season 2009-2010, Talbot was named the CHA's All-College Hockey America Second Team and declared the MVP.
Now, let's hop onto Cam Talbot's professional ice hockey career, which earned him his nicknames 'Yes we cam,' Talbot, and Goalbuster.
Professional Ice Hockey Career
New York Rangers
As a result of Talbot's impressive early ice hockey career, he was signed as a free agent on March 30th, 2010, by the National Hockey League's New York Rangers.
Talbot played with Connecticut Whale in the American Hockey League for the 2010 – 2011 and 2011- 2012 seasons. After Connecticut's elimination from the AHL playoffs, the Rangers added Cam to the Stanley Cup playoff roster.
Cam was again called by the Rangers on October 15th, 2013, after the demotion of Martin Biron. Hence, he was backup to Henrik Lundqvist in the NHL.
On October 24th, 2013, Talbot's debut made him the second NHL player from the University of Alabama – Huntsville.
He played against the Philadelphia Flyers, where the Rangers lost by 2-1. Cam's first win was in the next game on October 26th, 2013, against the Detroit Red Wings.
Cam earned his first NHL shutout during a game with Montreal Canadiens on November 16, 2013.
On February 3rd, 2015, Talbot became the temporary starting goaltender of the New York Rangers as Henrik Lundqvist suffered from a blood vessel rupture on his neck.
During this period, Talbot ended the season with remarkable efforts with a higher save percentage (.926) and a lower GAA (2.21), which was better than Henrik Lundqvist.
On April 6th, 2015, he received the Steve McDonald Extra Effort Award for his exceptional efforts.
Edmonton Oilers
Talbot was later traded to the Edmonton Oilers by the Rangers in the 2015 NHL Entry Draft on June 27th, 2015.
During the first season with the Oilers, he competed with Anders Nilsson for Edmonton's #1 spot for a goaltender.
As a result, his efforts didn't go to waste. Cam signed a $12 million contract extension for three years on January 17th, 2016, and became Edmonton's starting goaltender.
Talbot certainly proved his worth by setting the record for most wins in a season, where he passed Grant Fuhr, who had 40 wins, and Talbot earned 41 wins on April 6th, 2017.
During the Pacific Division's second season, Cam helped his team reach Game 7 of the Western Semifinals. It was Oilers' first playoff appearance in ten years.
During the 2017–2018 season, on October 4th, 2017, Cam recorded a 27-save shutout against the Calgary Flames in the opener.
Philadelphia Flyers
On February 15th, 2019, the Oilers traded Talbot to the Philadelphia Flyers in exchange for Anthony Stolarz during the 2018- 2019 season for $1,129,050.
Calgary Flames
Talbot earned his famous nickname 'Yes We Cam' Talbot while playing for the Calgary Flames. As Cam was a free agent, he left the Flyers and signed a one-year contract deal of $2.75 million with the Calgary Flyers on July 1st, 2019.
When NHL returned to play during the COVID-19 pandemic, Talbot backstopped Calgary Flames and won over Winnipeg Jets to a 3-1 series, including a shutout during game four alongside the Jets. Hence, how he got his nickname 'Yes We Cam' Talbot.
Minnesota Wild
During the free agency's opening day, Cam left the Calgary Flames and agreed to join Minnesota Wild as a starting goaltender for a deal worth $11 million for three years starting from October 9th, 2020.
Ottawa Senators
A year before the closing of the contract, Talbot got traded by the Wilds to Ottawa Senators in July 2022 in exchange for Filip Gustavsson.
Cam Talbot | Ice Hockey Stats
| | | | | | | |
| --- | --- | --- | --- | --- | --- | --- |
| Season | Games Played | Games Started | Wins | Looses | Shot Against | Goal Against |
| 2022-2023 | 24 | 21 | 10 | 11 | 671 | 63 |
| NHL Career | 420 | 402 | 211 | 153 | 12,343 | 1,058 |
Cam Talbot | Rookie Card
Here's a picture of Cam Talbot's rookie card:
You can get yours for $2.24 on Amazon.
Cam Talbot | Net Worth
Famous goalbuster, Cam Talbot, is indeed a very successful athlete. He was a professional NHL athlete for quite a long time which justifies his staggering net worth.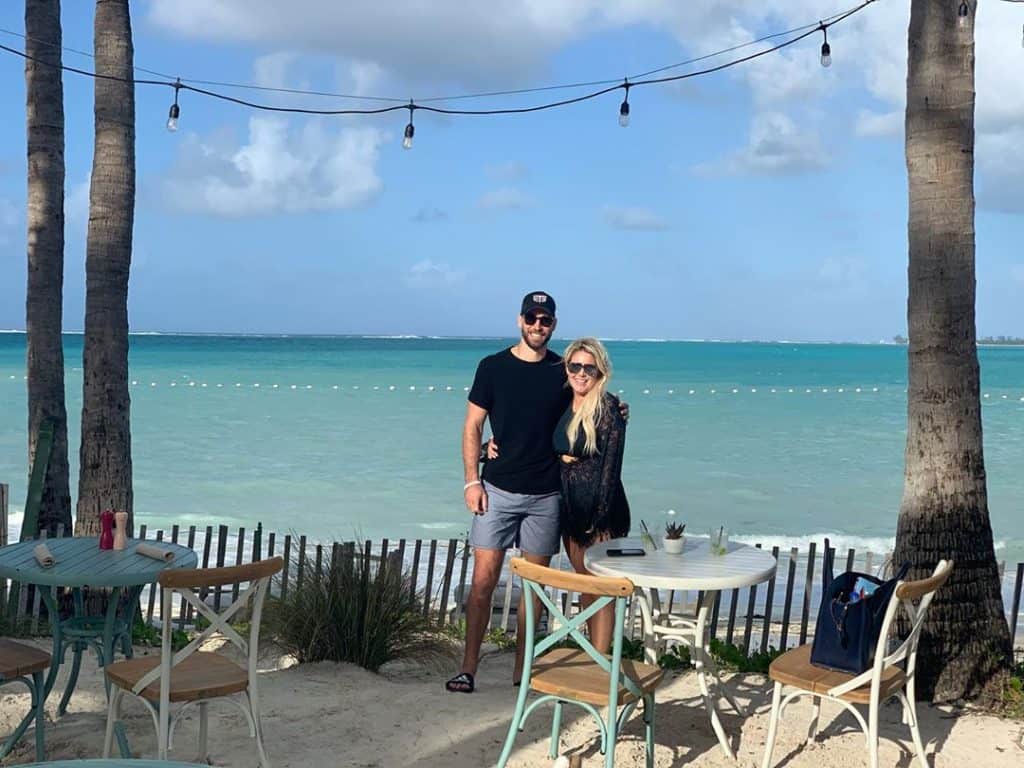 As an exceptionally skilled goaltender, Cam is one of the top-paid goaltenders in the league.
Cam Talbot's net worth is estimated to be around $18 million as of 2023.
Cam Talbot | Wife & Children
Apart from his exceptional professional career, Cam Talbot is famous as a loving husband and father of beautiful twin babies.
Talbot tied the knot with his lovely wife, Kelly Talbot, on June 1st, 2012.
Cam and his wife Kelly welcomed their twin babies, son Landon Talbot and daughter Sloane Talbot, in October 2016.
The Talbot family is a picture-perfect family, which we can see through their social media.
Cam's Deadpool Mask
Cam Talbot is trying to woo the Ottawa Senators' potential new owner with his goalie mask.
Cam revealed his new mask, which pays tribute to the comic book character Deadpool, who is played by Canadian actor Ryan Reynolds.
Reynolds has made it clear that he wants to buy the Senators.
Jacques Plante would be proud as hell. https://t.co/lgS6QkQHYe

— Ryan Reynolds (@VancityReynolds) January 4, 2023
During a game in November 2022 at the Canadien Tire Centre, he received a standing ovation from Ottawa fans.
On one side of the mask, Deadpool is shown holding the Canadian flag while wearing a Senators jersey on the other.
Talbot requested Reynolds' approval of the mask via a tweet.
In one, he made the comment that Hall of Fame goalie Jacques Plante would be pleased.
In his second tweet, Reynold made fun of his own Deadpool mask's ability to breathe.
"I think we both just got a new mask. And this one is a tad more breathable."
Cam Talbot | Autograph & Masks
Here's a picture of Cam Talbot's autograph.
Cam is known for his love for Ghostbusters, as that's how he got his nickname goalbuster.
One of the most popular masks that Talbot wore was the 'Ghost Twins' themed mask, which was in honor of his twin babies and wife.
As a result, he received another one of his nicknames, 'Dadbot 2.0.'
Cam Talbot | Social Media Presence
Talbot is quite active on his social media.
He has around 24.1k followers on Instagram. His Instagram mostly includes his official Cam Talbot Apparel.
Cam also quite often shares his moment with his family. Similarly, he has a Twitter with more than 69.8k followers.
View this post on Instagram
Cam posted his wife and daughter's picture on Instagram for mother's day, showing his gratitude towards her wife for being the best mother for his kids.
The Popularity Graph
Cam Talbot is a famous ice hockey player with a huge fan following, as illustrated by his popularity graph.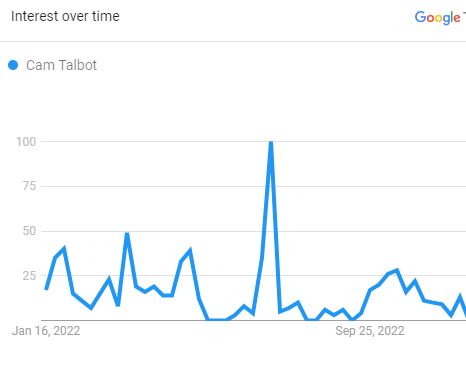 He is famous for his funky masks, which are enticing to look at for his fans.
Cam Talbot | FAQs
Who designed Cam Talbot's Ghostbuster masks?
David Gunnarsson, the legendary NHL mask painter, designed Cam Talbot's Ghostbuster mask.
What is the Cam Talbot and Jordan Binnington issue?
When Jordan Binnington was heading off the ice after the 2nd period against the Minnesota Wild in April 2021, he said something offensive to Cam Talbot. Talbot and Binnington then argued, and the referee had to separate them.
Which team currently has a contract with Cam Talbot?
Cam Talbot is currently in a one-year contract with Ottawa Senators.