Hailing from Northridge, California, from a family with an eminent lineage of football players, Casey Matthews himself is a former linebacker and brother of a former outside linebacker and the Super Bowl XLV champion Clay Matthews III.
Having produced seven professional football players, the Matthews family is often considered the NFL's "First Family."
Likewise, it is also one of the only five third-generation families to play in the NFL.
Casey's father, Clay Matthews Jr., played in the National Football League for 19 seasons. He played 278 games which initially ranked him at number 17 among most games played.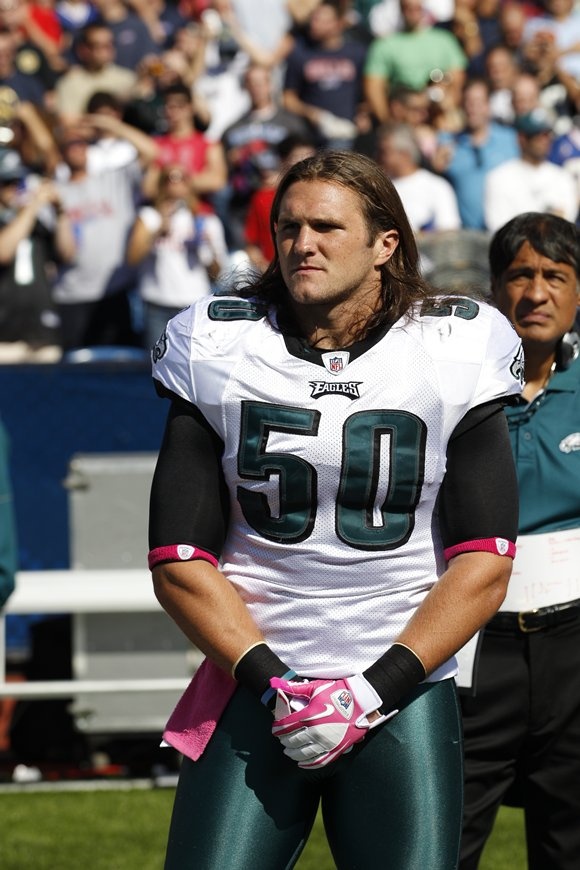 Similarly, his older brother Clay Matthews III recently announced his retirement from the sport on September 27, 2022, after two seasons out of football because of contract agreement issues with the team.
Moreover, Casey's uncle Bruce who played in the NFL for 18 seasons, was inducted into the Pro Football Hall of Fame in 2007.
For more details about Casey and NFL's First Family, please read the whole thing and do not forget to check out the facts table below.
Casey Matthews | Quick Facts
Birth Name
Casey Christopher Matthews
Known As
Casey Matthews
Date of Birth
January 16, 1989
Birthplace
Northridge, California, United States
Current Residence
Nashville, Tennessee, United States
Religion
Christian
Sexual Orientation
Straight
Father Name
William Clay Matthews Jr.
Mother Name
Leslie Matthews
Gender
Male
Age
34 Years Old
Profession
Former Professional Football Linebacker
Famous For
Son of Former NFL Player William Clay Matthews Jr., Brother of NFL Player Clay Matthews III, Former NFL Linebacker, Nephew of Former NFL Player Bruce Matthews
Nationality
American
Education
Oaks Christian School, University of Oregon
Height
6 ft. 1 in/1.85 m/185 cm
Weight
242 lb./110 kg
Eye Color
Black
Hair Color
Brown
Build
Large
Marital Status
Married
Spouse
Alyssa Grillo
Children
Two Children
Siblings
Clay Matthews III, Jennifer Matthews, Kyle Matthews, Brian Matthews
Zodiac Sign
Capricorn
Played For
Philadelphia Eagles (2011-2014), Minnesota Vikings (2015)
Position
Linebacker
NFL Stats
Tackles: 114

Sacks: 2.5

Interceptions: 2

Touchdowns: 0

NFL Draft
2011 / Round: 4 / Pick: 116
Roster Status
Retired
Career Highlights
Second-team All-American (2010)

First-team All-Pac-10 (2010)

Second team All-Pack (2009)

Jersey Number
50
Net Worth
$3 Million
Social Media
Not Available
Last Update
March 2023
Casey Matthews | Early Life, Education & More
The former American football linebacker Casey Matthews was born on 16 January 1989 in Northridge, California, United States.
He was born to Leslie Matthews and Clay Matthews Jr., a former NFL linebacker.
Coming from a family of football players, Casey developed a fondness for sports as a kid after seeing his father and uncle play professionally.
He always dreamt of playing football at the national level. Also, he had four siblings to practice his ball throwing growing up.
His older brother Clay Matthews III later became a professional football player and played for 11 seasons.
To pursue his football dream, Casey went to Oaks Christian School in Westlake Village, California, and played for the Oaks Christian Lions high school football team.
With passion and the right platform, he got the chance to hone his skills even more and, during junior year, recorded 132 tackles and four quarterback sacks, quite a good start for a high schooler.
Similarly, as a senior, he upped his scores even more and recorded 158 total tackles, two interceptions, and ten sacks.
And since Rivals.com considered Casey a three-star recruit, many universities offered him an athletic scholarship.
However, he decided to go to Oregon State University to further his studies and advance his football career.
You Might Want To Read About Ronnie Lott's Son: Ryan Nece's Career, Net Worth & Broadcasting
Casey Matthews | Age, Height & Weight
Casey Matthews is currently 34 years old and falls under the sun sign Capricorn, given his birthdate.
He stands 1.85 meters tall and weighs around 242 lbs.
Let's face it football is more of a physical game along with tactics and requires strong muscles, a sharp mind, and, most importantly, huge endurance capacity.
So to remain active and strong on the field, football players work out daily, and Casey is no exception.
Even though he is not an active player anymore, he still practices the workout regime he followed during his NFL career.
Also Read About Chris Simms Father: Phil Simm's Career, Net Worth & NFL
Casey Matthews | Career
Casey always aspired to become a professional football player.
He achieved his dreams with dedication, determination, and, most importantly, hard work. He began his career in high school.
Casey was named an all-Tri Valley League player, all-county player, and Defensive Player of the Year as both a junior and senior throughout high school.
After high school, Casey attended the University of Oregon and studied economics.
His overall performance throughout college was super impressive.
Casey was part of Oregon when it lost to Auburn 22-19 in the 2011 BSC National Championship Game.
He recorded a forced fumble against Cam Newton, a Heisman Trophy winner.
All in all, Matthews completed his colligate career with 50 games played, 245 tackles, and four interceptions.
After college, Casey declared for the NFL draft. He was projected to be drafted in the fourth round, and as expected, he was chosen by the Eagles 116th overall in the fourth round of the 2011 NFL Draft.
After a few years with the Eagles, he was selected by the Vikings as a free agent in 2015.
Afterward, he sustained a hip labrum injury and was placed on injured reserve.
Matthews Family Tree
William Clay Matthews Sr., Casey's grandfather, started the family's legacy in football.
His great-grandfather H. L. Matthews served in World War I and was a minor league baseball player and coach of several sports teams at The Citadel.
Casey's grandfather, William Clay Matthews Sr., served as a paratrooper in the Korean War but rejoined the league and played three more seasons with the 49ers before hanging his boots.
Unfortunately, on March 24, 2017, he passed away at 88.
Casey's uncle Bruce Matthews is also a former NFL player.
Both of his brothers, Kyle and Clay III, have played football past the high school level.
As a matter of fact, Clay III played 11 seasons in the National Football League and retired in 2022.
Similarly, his other brother Kyle played as a safety for USC Trojans.
Moreover, his uncle Bruce's sons Jake and Kevin played in the NFL.
Kevin played as a center for the Titans, Redskins, and Panthers, while Jake plays as an offensive tackle for the Falcons.
Also Read About Clay Matthews Bio: NFL, Retirement & Net Worth
Short Bio On Clay Matthews Jr.
Casey's father, William Clay Matthews Jr., is a former NFL player who played for 19 seasons with two teams; Cleveland Browns and Atlanta Falcons.
The Cleveland Browns drafted Clay Jr. in the first round of the 1978 NFL Draft.
He spent 16 seasons with the Browns before signing with the Falcons in 1994.
During his time with the team, he was a four-time Pro Bowl selection.
He set the record as the oldest player to record a sack with the Falcons in 1995 at the age of 40 years, 282 days.
Clay currently serves as defensive coordinator at Oaks Christian High School in Westlake Village, California, Casey's alma mater.
On June 2022, Matthews was one of the 25 semifinalists chosen by the hall's 12-member Seniors Committee for the Pro Football Hall of Fame's consideration as members of the 2023 class. Hopefully, he will be inducted this time and won't get snubbed.
Casey Matthews | Wife, Children & Net Worth
Casey is married to his high school sweetheart Alyssa Grillo. They walked down the aisle on July 14, 2012.
The couple has been blessed with two children.
As for the net worth, Casey's estimated net worth is around $3 million as of March 2023.
Even though hip surgery cut his career short, Casey earned quite a money from the league to lead a comfortable lifestyle and provide for his family.
On July 29, 2011, he signed four years $2.479 million rookie contract with the Philadelphia Eagles.
According to the contract, his signing bonus amounted to $434,864 with a $619,966 average annual salary, $434,864 guaranteed at signing, and $434,864 total guaranteed.
He became a free agent in 2015 and shortly signed one year $825k contract with the Minnesota Vikings.
In total, Casey earned $2.38 million in salaries, $434,864 in signing bonuses, $55,000 in roster bonuses, and $30,000 in workout bonuses, with a total of $2,907,864 in career earnings over five seasons.
Unknown Facts
In 2007, Casey sustained a shoulder injury late in the season, which kept him out of the team and did not let him play in the Sun Bowl.
He recorded his first career sack in the Eagles Week 14 game at Miami.
His cousins Kevin was a center for the Titans, Jake is an offensive tackle for the Falcons, and Mike was a center for the Browns.
Frequently Asked Questions (FAQS)
Which team did Casey's brother Clay III play for?
Clays Matthews III played for Green Bay Packers and Los Angeles Rams over 11 seasons.
What is Clay Matthews III's career stats like?
Clay Matthews III had quite a career. Over the course of his 11 seasons NFL career, he recorded 519 tackles, 91.5 sacks, 44 pass deflections, six interceptions, 17 forced fumbles, and three defensive touchdowns.
What is Clay Matthews Jr.'s most notable record?
Matthews Jr. had 1,561 tackles in his career, which is the third most in NFL history unofficially.
You Might Want To Read About Clay Matthews Father: Clay Matthews Jr. Career & Net Worth