Charles Haley is a versatile defensive player and is the first five-time Super Bowl champion; he was also an assistant defensive coach for the Detroit Lions from 2001 to 2002. This football player was diagnosed with bipolar disorder and went under therapy and medication.
Americans love their football, whether it is a Superbowl or another championship. And it's a no-brainer how much recognition one gets from the sole game.
One of them happens to be Charles Haley. Charles established himself as a versatile defensive player in the league for 15 years.
After beginning his career as a specialty outside linebacker, he transitioned to a pass rusher and eventually became a full-fledged defensive end.
Notably, Haley is the first player in the National Football League(NFL) history to win the Super Bowl five times.
Likewise, he is also the second player after Tom Brady in terms of total Super Bowl title victories, with Brady possessing six of them.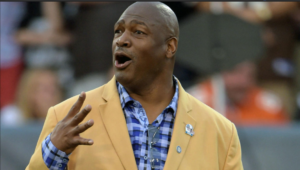 Haley is considered an all-time football superstar and is highly respected among his peers and sports enthusiasts alike.
Let us look at this legend's life through this biography and try to find out more about his career, personal, and social life, starting with some quick facts.
Quick Facts:
Full Name
Charles Lewis Haley
Birth Date
January 6, 1964
Birth Place
Gladys, Virginia, United States
Education
William Campbell High School, Naruna, Virginia
James Madison University, Harrisonburg, Virginia
Horoscope
Capricorn
Father's Name
N/A
Mother's Name
Virginia Haley
Siblings
7 (including David Haley, George Haley, James Haley, and Lawrence Haley)
Age
59 years old
Height
6'5″ or 196 cm or 1.96 m
Weight
116 kg or 255 lb
Jersey Number
94, 95
Position
Outside linebacker, defensive end
Shoe Size
N.A.
Profession
Retired professional football player
Debut
1986
Net Worth
$3 million
Married
Divorced
Ex-wife
Karen
Children
Charles Lewis Haley, Jr., Madison Haley, Brianna Haley, Princess Haley
Salary
N.A.
Social Media
Instagram, Twitter
Merch
Autographed Jersey, Signed Rookie Card
Last Update
June, 2023
Charles Haley | Early Life, Family, And Education
Charles Lewis Haley shortly Charles Haley was born on January 6, 1964, in Gladys, Virginia, United States.
He was born to a proud mother, Virginia Haley, while his father's name is unknown.
Along with his parents Charles grew up with seven siblings, David Haley, George Haley, James Haley, and Lawrence Haley. Haley's early beginnings were not too favorable.
Both his parents had to work two jobs to support the family, and Charles, even though he used to play with his brothers, was not happy.
He mentioned in an interview that he had no friends, and his brothers used to beat him up.
Likewise, Charles also mentioned that he did not feel like a part of his family and was not truly happy as he had bipolar disorder.
Further, Charles then found relief through football. He used to spend a lot of his time playing at various positions.
Education
As for his education, Charles attended William Campbell High School, situated in Naruna, Virginia.
He played as a linebacker for his school football team, a tight end, and was a three-year starter.
Afterward, he received the defensive player of the year awards as a senior and was part of the All-Region III and the All-Group AA selections.
Moreover, with his help, his team won the Seminole District Championship. Other than football, Charles also played basketball, for which he was an All-district selection.
During his senior season, Haley was not highly recruited. He then accepted a scholarship from James Madison University.
Starting at the defensive end as a freshman, he was moved to the inside linebacker position the following year.
But later, Haley switched to outside linebacker in his senior season's last four games.
A two-time Division I-AA All-American, Haley finished his college career with a school record of 506 tackles. Likewise, he also tallied 17 sacks and 3 interceptions.
How Old Is Charles Haley? Age, Height, And Weight
Born on January 6, 1964, Haley is 59 years old at the moment.
Haley has a muscular physique which helped him with all the tackles and sacks throughout his career.
He terrorized and intimidated the quarterbacks during his playing days and often dominated his opponents.
The American player stands at the height of 6 feet 5 inches (1.96 m) and weighs around 116 kg (255 lb).
He maintained his weight of around 250 lb to establish his dominance on the field during his career, but he was highly agile despite being heavy.
Charles Haley | Career Highlights
In the 1986 NFL Draft, the professional team San Francisco 49ers selected Charles Haley in the fourth round of the draft as the 96th overall pick.
In his rookie season, in a 3-4 defense, he played the outside linebacker. He finished with 12 sacks for the season and was second on the rookie's list behind Leslie O'Neal.
The Pro Football Weekly and the United Press International voted him to the NFL All-Rookie team.
Likewise, in 1990, he was the UPI NFC Defensive Player of the year and a consensus All-Pro selection.
Unfortunately, in 1991, Charles and the organization did not see eye to eye anymore, but he still registered 53 tackles, 6 passes defenses, 2 forced fumbles, and 7 sacks.
From 1986 to 1991, he led the 49ers in sacks every single season and was an integral part of the championship teams in Super Bowl XXIII and Super Bowl XXIV.
Further, Haley got traded to Dallas Cowboys for a second-round pick in the 1993 draft and a third-round pick in the 1994 draft.
With Dallas Cowboys
After moving to the right defensive end in a 4-3 defense, Haley registered 39 tackles and 6 sacks and led the team with 42 quarterback pressures in 1992.
He was the UPI Defensive Player of the Year and a Consensus All-Pro selection again.
After losing against the 49ers in the NFC Championship Game, he announced his retirement but decided to return after the 49ers offered him a new contract.
Then in the 1995 season, Haley retired due to his back problems and because his youngest daughter Brianna was diagnosed with leukemia.
After a hiatus of 2 years, Haley signed for the San Francisco 49ers once again on January 2, 1999, to provide depth to their injury-depleted defensive line in two games of the playoffs.
After signing with them again for the 1999 season, he registered 3 sacks.
You can find detailed career stats, game logs, NFL scores, and much more information related to Charles Haley on the ProFootballReference website.
The Mission: 'After The Knock' Features Charles Haley
The tales of the Hall of Famers who recently took part in telling the Class of 2022 members that they had been elected to the Pro Football Hall of Fame will be featured in the most recent episode of "The Mission" podcast.
Charles Haley, one of the NFL's most obnoxious pass rushers for the San Francisco 49ers and Dallas Cowboys and the league's first five-time Super Bowl champion, will kick off this series.
Haley, a member of the 2015 Class of the Hall of Fame, was thrilled to celebrate and welcome Bryant Young, a legendary 49ers player, into the Hall of Fame.
Accomplishments
Haley was an important part of the 49ers, and the Cowboys teams that won the Super Bowl titles and started in all of the five championship games his teams participated in.
He won two Super Bowl championships with the San Francisco 49ers, winning Super Bowl XXIII and Super Bowl XXIV.
Likewise, he won three Super Bowl championships with the Dallas Cowboys, winning Super Bowl XXVII, Super Bowl XXVIII, and Super Bowl XXX.
Charles is a College Football Hall of Fame inductee, getting inducted in 2011 and a part of the Pro Football Hall of Fame, for which he was elected in the year 2015.
A five-time Super Bowl champion, he won the Pro Bowl five times in 1988, 1990, 1991, 1994, and 1995.
Haley is a two-time First-team All-Pro selection, getting selected in the years 1990 and 1994.
Likewise, he has also won the NFC Defensive Player of the Year award two times, in 1990 and 1994.
Moreover, he is also a part of the 100 sacks club of the National Football League and was honored with the "Dallas Cowboys Ring of Honor" on November 6, 2011.
Notably, Haley is also a part of the "San Francisco 49ers Hall of Fame", and in 1985, just before the start of his professional career, he was a Division I-AA All-American selection.
Charles Haley | Relationships, Wife, And Children
Just after his rookie season, Haley married a woman named Karen. Although the couple split up over a decade ago, around 2007, they are still friends.
Karen is the most passionate supporter of Charles. The couple could not stay happy during their marriage because of Charles' bipolar disorder and mood swings.
Karen was sometimes scared of Charles' behavior, and so were their children.
The duo share four children named Charles Lewis Haley Jr., Madison Haley, Brianna Haley, and Princess Haley.
Notably, Madison is a reputed soccer player and has won the NCAA College Championship with her Stanford team.
Although the family is not living together as they used to, they still remain tied together and care for each other.
What Is Charles Haley's Net Worth? Net Worth & Salary
Charles Haley had a flourishing career and garnered a lot of fame through his superior skills as a football player. As of 2023
"Charles Haley has an estimated net worth of $3 million"
Most of Haley's income came from his playing days, and due to his reputation as a superstar, he earned considerable amounts through endorsements.
Moreover, in 2001, the Detroit Lions appointed him as their assistant defensive coach. The former star player coached the team until 2002.
He is currently a special advisor for both the Dallas Cowboys and the San Francisco 49ers, and he mentors the rookies.
Philanthropy
Charles Haley well uses his money and indulges himself in several humanitarian works from time to time.
Notably, he has even founded a non-profit organization along with Dallas civic leader Bob Bowie called "Tackle Tomorrow."
The foundation focuses on improving early childhood literacy rates and also provides family support services.
Fun Facts
At James Madison University, Haley was an All-American two times.
He Had Two Teams And Won Five Super Bowls
After a physical altercation with 49ers quarterback Steve Young, Haley was traded to the Dallas Cowboys.
He was a finalist for the NFL Hall of Fame five times after retiring from football.
Haley was later diagnosed with bipolar disorder.
Social Media Presence:
Haley belongs to the group of people who is on social media but is very lowkey.
Although he does not share too much on social media, Haley does post about football and pictures with his friends from time to time.
He is available on Instagram and Twitter. You can follow him via these links.
Instagram: 9,858 followers
Twitter: 6,686 followers
Some FAQs:
Did Charles Haley coach any football teams?
Yes, apart from playing amazingly on the field, Charles Haley has also coached a team. From 2001, he was the coach of the Detriot Lions and continued till 2002.
How much is a Charles Haley rookie card value?
As to the pricing of the football cards, Charles Haley's rookie football card price ranges from $4.00-$9.99.
What years did Charles Haley win the Super Bowl ring with the San Francisco 49ers?
Charles Haley won a ring from Super Bowl XXIII and Super Bowl XXIV following the 1988 and 1989 seasons while playing for the San Francisco 49ers from (1986-1991).
How many Super Bowl appearances does Charles Haley have?
Charles Haley has made five Super Bowl appearances in his professional football career.