Every kid who dreams of making big in basketball wishes to work with the NBA. It's not that easy to be a part of the world's most famous basketball league; you have to devote most of your everything to basketball. Troy Brown. Jr was one among thousands of those kids.
He dreamt of it, gave blood and sweat to achieve it, and now has it. Troy Brown Jr. currently plays for the Washington Wizards of the National Basketball Association (NBA).
Notably, Troy was named 2017 McDonald's All-American while he was in his senior year of high school. Later, he also competed in the National Collegiate Athletic Association (NCAA) Division for Oregon Ducks.
Today, we will be diving deep into learning about the personal and professional life of Brown Jr. Let's get started!
Quick Facts
Full name

Troy Randall Brown Jr.

Known as

Troy Brown Jr.

Birthdate

July 28, 1999

Birthplace

Las Vegas, Nevada, United States

Nationality

American

Religion

Christian

Horoscope

Leo

Age
23 Years Old
Father's name

Troy Brown Sr.

Mother's name

Lynn Brown

Sibling

Two sisters

Sibling's name

Jenae Brown and Jada Brown

Education

Centennial High School, Las Vegas, Nevada




University of Oregon, Eugene, United States

Marital status

Unmarried

Relationship status

Committed

Girlfriend's name

Kyra Coley

Children

None

Height

6 feet 6 inches (198.12 cm)

Weight

98 kgs (216 lbs.)

Build

Athletic

Eye Color

Dark Brown

Hair Color

Black

Profession

Basketball player

Position

Small forward / Shooting guard

Current Affiliations

National Basketball Association (NBA)

NBA Debut

2018

Plays for

Washington Wizards

YouTube Channel

Troy Brown Jr. – YouTube

Awards and Honors

McDonald's All-American (2017)




Jordan Brand Classic (2017)




Nike Hoop Summit (2017)


Male Athlete of the Year (2017)
Salary
$3,372,840 (for 2020-21 season)
Net worth
$2 million
Social media

Facebook




Instagram




Twitter


YouTube
Washington Wizards' Merch

Jersey

, Poster
Last Update
March, 2023
Who are T

roy Brown jr

parents

? Early Life, Family, and Education
Troy Randall Brown Jr. shortly, Troy Brown Jr. was born in Las Vegas, Nevada, the United States, to parents Troy Brown Sr. and Lynn Brown.
Besides his parents, Troy grew up with his two elder sisters named Jenae Brown and Jada Brown.
Moreover, Troy's father also played basketball for Texas A&M Kingsville. Troy Sr. worked as a basketball coach as well.
Lynn was associated with the track. Troy Jr.'s sister, Jada, also played basketball at the University of Kansas.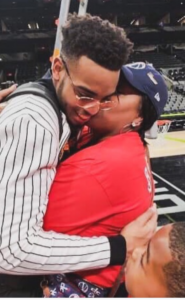 Troy Sr. firmly believes that his children got all the athleticism from their mother. He mentored Troy Jr. for the longest time.
However, he stopped coaching his son once he reached high school. To him, there had to be a thin line to separate parenting and coaching.
Troy Brown Jr. did not attend the draft in Brooklyn, New York, after the Washington Wizards drafted him in the 15th overall selection in the June 2018 NBA draft. In fact, he was the only prospect to miss the occasion.
He did so because it was essential for Brown to share that moment with his parents and siblings.
Brown is very vocal about his endless love and devotion towards his family. He regards his family as the rock that binds everything that he is today.
You might be interested in reading: Jayson Tatum Bio: Basketball Career, Son, Net Worth & Wiki.
Community Service by the Browns
Troy Brown Sr. and Lynn Brown have impacted hundreds of lives in the Las Vegas community.
They have worked for decades in the Clark County, Nevada government. Troy served as a juvenile probation officer, and Lynn was in the Department of Family Services.
Troy Sr. lost his father when he was 8. Thus, the idea of serving children and impacting their lives appealed to him. He was very keen on helping youths both in basketball and real life.
Troy Brown Sr. also co-founded an Amateur Athletic Union program called the Las Vegas Rebels. It was later renamed West Coast Basketball.
Education and Early Step Towards Basketball
Brown Jr. discovered that he could watch archived NBA video for free on the Internet, and then he began consuming clips after clips with his father. He is still very fascinated with older generations of basketball players.
He started watching basketball regularly. Moreover, Troy Jr. began studying the best point guards of that era, like Chris Paul. He even went back and found legends of the 1990s like John Stockton and Penny Hardaway.
Brown went to Centennial High School, Las Vegas, Nevada. He then started playing for DeDan Thomas, a Las Vegas AAU coach, in fourth grade.
They used to go for long road trips to California and Arizona, so Troy Jr. and his teammates could face off.
Brown Jr. was introduced to a men's league game at Club Sport in Henderson, Nevada. by his coach, Thomas.
He was in seventh grade then. He was fantastic in the game, to the extent that people came to him asking for his age after the game.
Brown Jr. then played for the Las Vegas Prospects under coach Anthony Brown. He was associated with them from eighth grade to high school.
Troy Brown Jr. | National Team Career
Brown represented the United States Under-17 men's basketball team at the 2016 FIBA Under-17 World Championship. He succeeded in winning a gold medal with Team USA.
Troy Brown Jr. | Recruiting
Troy Jr. was regarded as one of the best players in the 2017 recruiting class by Scout.com, Rivals.com, and ESPN.
He committed to playing with the Oregon Ducks on November 7, 2016. In fact, they chose him as one of their top prospects in the freshman season. He played for them throughout his college career.
Troy Brown Jr. | College Career
2017 season
Brown went to the University of Oregon. He played for the Oregon Ducks men's basketball team while in university. Brown debuted in collegiate basketball on November 10, 2017.
He scored 18 points in a victory against Coppin State University. Likewise, he then registered 17 points, 9 rebounds, and 4 assists in a victory over Prairie View A&M University three days later.
Further, Brown had his first double-double of the season after scoring 12 points and 10 rebounds in a victory against Colorado State University on December 8, 2017.
He again registered a season-high 12 rebounds and 10 points in a win against Texas Southern University on December 11.
Similarly, Brown registered a near triple-double with 10 points, 10 rebounds, and a season-high 9 assists on December 13.
It was a win over Portland State University. Later, he then recorded a season-high 21 points on December 31. It was a win against the University of Colorado.
2018 Season
Brown scored 21 points again on February 18, 2018, matching his earlier career-high score. They had a victory against the University of Washington.
Brown played 35 games for the Oregon Ducks. He averaged 11.3 points, 6.2 rebounds, and 3.2 assists in 31.2 minutes per game. In fact, he was the Oregon Ducks' leading rebounder.
He had a very successful career in Oregon. Consequently, he declared entry for the 2018 NBA Draft after the end of his freshman season.
Further, he was second on the team regarding assists. Also, Brown shot 44.4 percent from the field, 29.1 percent from three, and 74.3 percent from the foul line.
You can see the latest news and updates about Troy Brown Jr. on the website of the NBA.
Troy Brown Jr. | Professional Basketball Career
Brown was drafted as the 15th overall pick by the Washington Wizards in the 2018 NBA draft. He played 52 games in his rookie season. In fact, he started 10 of them.
He had this outstanding ability to play in multiple positions. However, he was a ball-handler for the Oregon Ducks. He then became a point guard for the Washington Wizards.
Brown played for the Washington Wizards G league (minor league) affiliate Capital City Go-Go.
He was asked to be the lead creator, like in his college days. He recorded 17 points on average on an efficient 49 percent shooting from the field.
However, he could only score 7 points on 43 percent shooting on average as the starting small forward in the Washington Wizards.
He shared every second of 274 minutes played in the season either with Ish Smith or Isaiah Thomas.
They are two-point guards who primarily need the ball in their hands to be effective. Further, he spent more than half of his total time with Bradley Beal.
How old is Troy Brown Jr.? Age and Height
Having born in the year 1999 makes Troy 21 years old at the time of writing.
Similarly, Troy celebrates his birthday every year on the 28th of July under the sign of Leo. Also, this sign is known for being determined, talented, and practical.
Moreover, the talented basketballer stands at a towering height of 6 feet 6 inches (198.12 cm) and weighs 98 kg (216 lb). Other than that, Brown has got short dark brown hair and a pair of black eyes.
Troy Brown Jr. Personal life | Girlfriend
Troy Brown Jr. might be in his early 20s, but he is already a ladies' man. The talented basketballer is in a romantic relationship with his girlfriend, Kyra Coley.
Sadly, the couple lives a private life, so not much is known about their relationship: like when and where they first met and how it all started. Nonetheless, the couple looks ravishing together.
Since they are still young and pursuing their career, they haven't made any announcement regarding their wedding and so on.
Troy Brown Jr. | Net worth and
Salary
The Las Vegas native earns well from his basketball career. Moreover, he received a salary of $ 2,798,057 from the Washington Wizards in the 2018-19 season. His salary for the 2020-21 season is $3,372,840.
Troy Brown Jr.'s net worth is estimated to be around $2 million. Brown lives a decent life in his 20s with a self-earned income. Also, this is just the beginning of Troy's career in the NBA.
Therefore, the talented basketballer still has many years left to make his name in the league and earn even more cash in the upcoming years.
Nonetheless, as Brown has made it to the big league, NBA, we can fully expect his net worth to increase in the coming years.
Troy Brown Jr. |

Career stats
Troy Brown Jr. | YouTube Journey
Troy Brown Jr. runs a YouTube channel on his own. He uploads new videos very often. He has 10k subscribers as of February 2021. Also, he has uploaded 22 videos till today.
His videos are mostly like a podcast where he shares his experiences with basketball. He has uploaded a few gaming videos as well.
Further, he has started vlogging these days. Subscribe to Troy Brown Jr.'s channel on YouTube.
Social Media Presence:
Troy Brown Jr. is very active on his social media handles. He uses Facebook, Instagram, and Twitter as his social handles. You can follow Troy Brown Jr. via these links.
Facebook account: 1,995 followers
Instagram account: 55.2K followers
Twitter account: 14.7K followers
Some FAQs:
Who is Troy Brown Jr.'s agent?
Troy Brown Jr. is managed by Adam Pensack of Pensack Sports Management, his agent.
Where will Troy Brown Jr. be drafted?
Troy Brown Jr was drafted as the 15th overall pick by the Washington Wizards in the 2018 NBA draft.
How good is Troy Brown Jr.?
Troy Brown Jr. is one of the most talented and reliable players of the NBA. He uses his incredible skills inside the court. Likewise, his good court vision helps him make spectacular passes to cutting teammates.
However, that often also gets him into some trouble because not all of his teammates see the play unfolding the way Troy does. Well, we hope in the coming years, Brown gets more opportunities to showcase his skills even more.
Did Troy Brown Jr. Participate in the G league?
Yes, Troy Brown Jr. played for the G League. He represented the Washington Wizards G league (minor league) affiliate Capital City Go-Go.
He averaged 17 points on an efficient 49 percent shooting from the field.
Does Troy Brown Jr. have a YouTube channel?
Yes, Troy Brown Jr. runs a YouTube channel. In fact, he is active on it and is seen uploading new videos very often.