Charlotte Flair is the daughter of the legendary Ric Flair. But, even though she was Ric Flair's daughter, she started from the grass-root level.
Her father's name may have helped her access the WWE training center, but the journey after the training center depended solely on her. Six times women's champion Charlotte is considered one of the Top 15 WWE superstars of this decade.
Mostly, Charlotte is famous for her villain and arrogant character in WWE. Besides, for her WWE gimmick, she even had to face a lot of backlashes, yet audiences preferred to see her in WWE.
Today, we dive into the life of 'The Queen.' Here, we discuss everything, from her career, love life, divorce, and net worth.
But before we proceed with this article, it is time to look at the quick facts.
Quick Facts
Full Name
Ashley Elizabeth Fliehr
Ring Name(s)

Charlotte Flair
Charlotte
Ashley Flair

Nickname(s)
The Queen
Birth Place
Charlotte, North Carolina, United States
Birth Date
April 5, 1986
Age
36 Years
Nationality
American
Ethnicity
White
Religion
Christianity
Father's Name
Richard Morgan Fliehr (Ric Flair)
Mother's Name
Elizabeth Harrell
Sibling(s)
Reid, Megan, and David Flair
Education

Providence High School
Appalachian State University
North Calorrina State University

Sun Sign
Aries
Height
5 feet and 10 inches (178 cm)
Weight
65 kg (143 lbs)
Body Measurements

Chest-37 inches
Waist-27 inches
Hips-36 inches

Shoe Size
5 (U.S)
Hair Color
Blonde
Eye Color
Blue
Build
Glass hour
Sexual Orientation
Straight
Relationship Status
Engaged
Fiance
Andrade El Idolo
Ex-Husband

Riki Johnson
Thom Latimer

Children
No Children
Profession
WWE Wrestler
Affiliation
WWE
Billed From
The Queen City
Active Since
2000-Present
WWE Debut
2014
Salary
$550,000
Net Worth
$1 Million
Trained By

Lodi
Ric Flair
Sara Del Rey

Merch
Wrestling Entertainment Trading Card
Social Media
Instagram, Twitter, Tiktok
Last Update
March 2023
Charlotte Flair: Early Life
At the beginning of summer, April 5, 1986, in Charlotte, North Carolina, United States, Ashley Elizabeth Fliehr, a.k.a. Charlotte Flair, was born.
She was the first child of Elizabeth Flair (mother) and Ric Flair (father). Ashley had a normal childhood, and she grew up with her half-sister Megan Flair and half-brother Reid Flair.
Her mother took care of her and her elder siblings as Ric stayed busy with his work.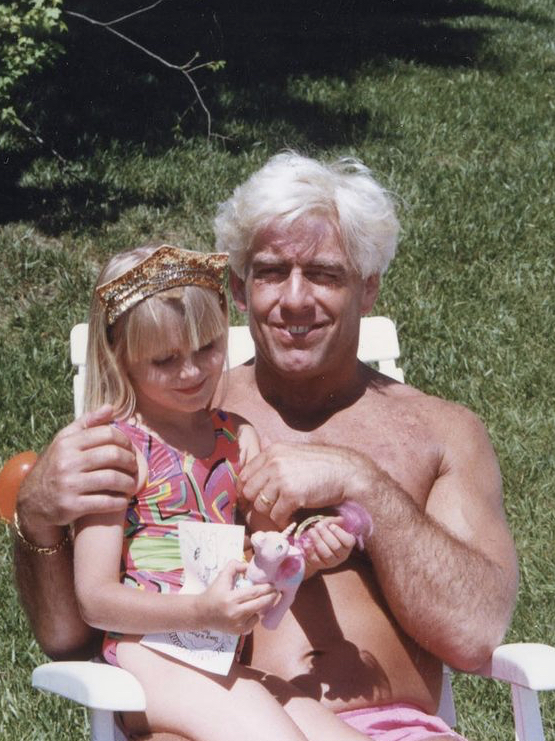 But Ric made up, and in the later years of her childhood, Ric stayed with Charlotte, which created a strong bond between them. With the influence of her father, young Ashley gained interest in fitness and dreamed of being a fitness trainer.
For her primary education, Charlotte went to Providence High School. When Ashley made her first WWE in-ring appearance, she was only thirteen years old; she and her brother, Reid, went to support their father during his retirement match.
Nonetheless, that match inspired her, and Charlotte decided to be a wrestler and started training for it. While in school, she was also part of the school volleyball team, and she was good at it.
For the 2005 season, she became the captain of the school volleyball team. Likewise, she also successfully won two NCHSAA 4 All-State Championships in sport.
Later, Charlotte graduated from high school and joined Appalachian State University. But soon after that, she was transferred to North Carolina State University, from where he graduated with a Bachelor of Science in Public Relations.
Scroll through Top 12 Female Professional Wrestlers in WWE>>
Charlotte Flair: Career
NXT
Before being a part of the main roster, Charlotte joined NXT in 2012 and stayed under a developmental contract with WWE. There she was given the ring name Charlotte.
Even though she became a part of NXT in 2012, she only got a chance to make her in-ring appearance in 2013. At first, she was teamed up with Bayley against Asuka and Cameron.
But later, Charlotte betrayed Batley and joined hands with Summer Rea and Sasha Banks. After that, she made regular appearances and got average reviews until May of 2013.
In June, the title of WWE woman's championship was vacant. Not only did Charlotte defeat all her contenders, but she also won the NXT championship, her first-ever championship in WWE.
Nonetheless, after some intense feud, both Charlotte and Bayley hugged it out joined hands against Sasha and Becky Lynch. But at last, Sasha won the NXT title, and that was the final appearance of Charlotte in NXT.
WWE Debut
At first, WWE female wrestlers were referred to as Divas. Still, when Stephanie McMahon decided to rename it into Woman's division, WWE signed Charlotte as a part of a revolution in 2015.
Stephenie brought many female superstars into WWE from NXT. At first, team Charlotte feuded with Team Bella, and not so surprising Team Charlotte won the match.
Soon after making her debut in the main roster, Flair got the opportunity to be the number one contender for Diva's title. In the second attempt, she won her first-ever Woman Championship, while the referee disqualified the match in past matches.
After that, there was no looking back for Charlotte as she became the longest-reigning female champion in the history of WWE. In the first phase of her career, Charlotte was nice to everyone.
But as she won the championship, she started to turn into a villainous character. Nonetheless, she received a lot of hate for that gimmick of hers, and to add to that, she even lost the title to Becky Lynch in 2016.
During WrestleMania 32, Divas' was renamed into Woman's Championship and Charlotte became the first wrestler to have won that title after defeating Banks and Lynch in a triple threat match.
But this success was going over Charlotte's head; she started acting superior and referred to herself as "The Queen," "The Greatest Female Wrestler of all Time."
Then, she did something that no one expected her to do, and she started having fights with her father. And Charlotte even humiliated Ric in front of several people in one episode of Raw. Then, she lost her Woman's title to Bayley in WrestleMania 33.
Drafted to Smackdown
In 2017, Charlotte was drafted to Smackdown, but after shifting in Smackdown, she started being a fan favorite as she changed herself and her attitude.
But at first, Charlotte could not do much in Smackdown plus; due to her father's poor health condition, she had to take a break. However, she returned shortly and thanked the audience for being with her and supporting her in her tough times.
But in November of the same year, Flair won her first-ever Smackdown woman's championship after defeating Natalya. And what acted as the icing to the cake was that she won the title in her hometown.
However, after defending and losing to title many times, Charlotte faced Lynch in the 1000th episode of Smackdown. But unfortunately, Charlotte lost that match.
After that, Becky, Ronda Rousey, and Charlotte had some intense feuds. Charlotte again turned into a villainous character and started dominating everyone, and she even started to demine the audience.
Return to RAW
Charlotte was drafted to Raw and made the leader of Team RAW for Survivor Series. Asuka was a member of RAW, but she betrayed her team, and she spat green mist that went into Charlotte's eyes which caused her to eliminate from the match. As a result, Team RAW could not win with Team Smackdown.
Due to the COVID-19 pandemic, everything was shut so was WWE, so not much happened that year in Charlotte's career. However, later, in 2021, Charlotte regained her title and defended it successfully until she was drafted to Smackdown again.
Becky and Charlotte changed their titles as they transferred into different rosters. So, after being drafted to Smackdown, Charlotte became the Smackdown Woman's Champion directly.
Hop onto 10 Most Followed Female Athletes on Instagram>>
Movies and Magazines
Apart from WWE, she has been featured in movies like Psych: The Movie and Smashing Glass Ceilings.
In 2016 Charlotte was featured in a fitness magazine named Muscle and Fitness. In 2017 Flair, along with her father and Brian Shields, released a book, Second Nature: The Legacy of Ric Flair and the Rise of Charlotte.
Charlotte Flair: Net Worth
The primary source of Charlotte's income has been her WWE career; she has earned quite a good amount of money in her decade-long career.
It is expected that Charlotte has a net worth of $1 million.
As Charlotte is the biggest WWE superstar, she is paid $550,000 in a year. Flair also has good endorsement deals, plus her WWE merch also contributes to her net worth.
Besides, Charlotte lives in a great house. She is a limousine-riding, jet-flying type of girl; Charlotte has quite a good collection of cars.
Flair's car collection includes Lamborghini Huracan, an Audi A3, Chrysler 300, a Mercedes-Benz GLC, a Hyundai Sonata, and even a Mini Cooper.
Charlotte Flair: Personal Life
Charlotte's life has been chaos, full of ups and downs and more brutal, like her career. But, after two unsuccessful marriages, she has finally found her soulmate and happily engaged to him.
In 2010 she got married to Riki Johnson, but it could not work out, and the couple separated their path on bad terms. But when they were together, Charlotte was head over heels in love with Riki, and she even made a tattoo of his name below her waistline.
In 2013, after the separation with Riki, Charlotte married Thomas Latimer, who was a wrestler by profession. But sadly, after three years of getting married, they got a divorce, and the reason for divorce is still unknown.
Finally, in 2019, she found the love of her life in Manuel Andrade, they met each other in 2019, and in 2020 they broke the news of their engagement. Today, she is happy with Andrade, and the couple can often be seen vacationing.
Controversy
Charlotte has been part of some severe controversy as well. In 2008, Flair was involved in a fight that even involved her father and then-boyfriend.
Then, in the heat of the moment, she assaulted the police officer. As a result, she was sent to jail for 45 days, but later her sentence was reduced to supervised probation, and the court freed her after paying a $200 fine.
In 2017 her book was released, where she accused her husband Riki of assaulting her daily and mentioning it to be the real reason for their divorce. But later, Riki filed a complaint against Charlotte, Ric, and Shield in the defamation case.
Social Media Presence
Charlotte is very much active on social media. She shares her, and her fiancee's pictures on her Instagram and Twitter handle.
Besides, a lot of people follow her from all over the world. Nearly 4.7 million people on Instagram follow her and 2.1 million people follow her on Twitter. Charlotte also has a Tiktok account.
Go through Mickie James: Husband, Net Worth, Music & WWE>>
Frequently Asked Questions
Did Charlotte win the case against Riki Johnson?
Unfortunately, there is no news on this controversy. All we know is Riki filed a case against Charlotte, but nobody knows what happened to the case or if it is solved. But as soon as we find any information regarding it, we will update you.
Is Charlotte Flair getting married in 2022?
No, she is not. There are no plans of getting married soon, but she is happy and spending a good life with her fiance, Andrade El Idolo.