Cheryl D. Miller is an American former basketball player and former TNT Sports sideline reporter, currently the women's basketball coach at Cal State LA after working as a sportscaster for ABC Sports, TBS Sports, and ESPN.
She was also the Phoenix Mercury's head coach and general manager in the WNBA.
Having spent more than two decades as a professional basketball player, she has made an exceptional career, popularized the game, and elevated it to a higher level.
Named by the NCAA as one of the top five women's collegiate basketball players in NCAA history, Miller is an inspiration to all young women athletes worldwide.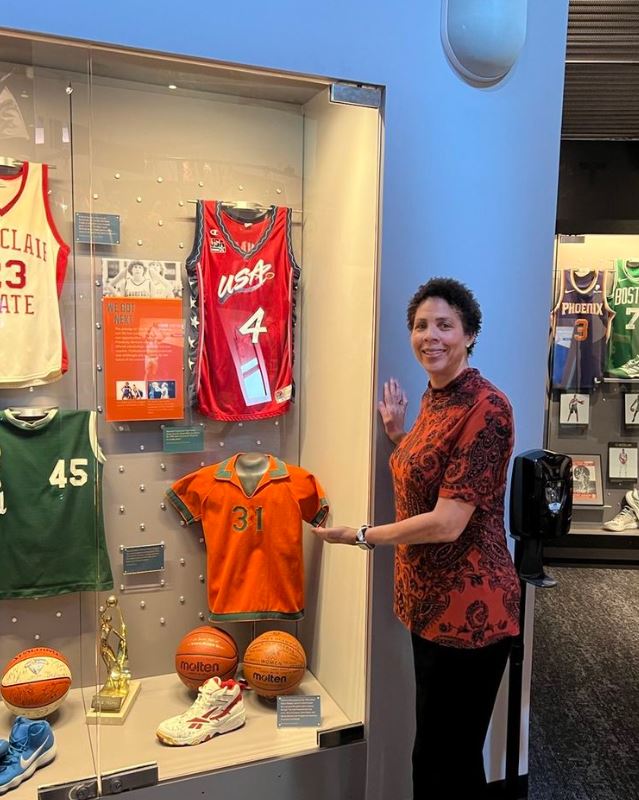 Do you know She is also the sister of former NBA great and fellow Hall of Famer Reggie Miller and former MLB catcher Darrell Miller?
Before moving on with the biography, Let us quickly look at some facts about Cheryl Miller.
Quick Facts
Full Name
Cheryl D. Miller
Birth Date
January 3, 1964
Birth Place
Riverside, California
Nick Name
Unknown
Religion
Christianity
Nationality
American
Ethnicity
African-American
Education
Riverside Poly High School

University of Southern California

Horoscope
Capricorn
Father's Name
Saul Miller
Mother's Name
Carrie Turner Miller
Siblings
Yes (Darrel,

Saul Miller Jr.,

and Reggie miller)
Age
59 years old
Height
6 ft. 2 inches (1.88 m)
Weight
180 lbs. (82 kg)
Shoe Size
Size 10
Hair Color
Dark Brown
Eye Color
Green
Body Measurement
36-30-36 Inches
Figure
Athletic
Marital Status
Unmarried
Husband
None
Children
None
Profession
Basketball Coach, Sportscaster
Net Worth
$5 Million
Salary
$106K-$116K
Currently Works At
Golden Eagles women's basketball program at Cal State LA as the head coach
Affiliations
National Basketball Association
Active Since
November 30, 1998
Social Media
Twitter
Merch
Paperback, Poster
Last Update
March, 2023
Who is Cheryl Miller? Early life and education
The aspiring player, Cheryl Miller, was born on January 3, 1964, in Riverside, California.
Born to a well-to-do family with parents Saul Miller and Carrie Miller, she spent her childhood in California.
The sportscaster also has 3 siblings:3 brothers, Reggie Miller, Darrell Miller, and Saul Miller Jr.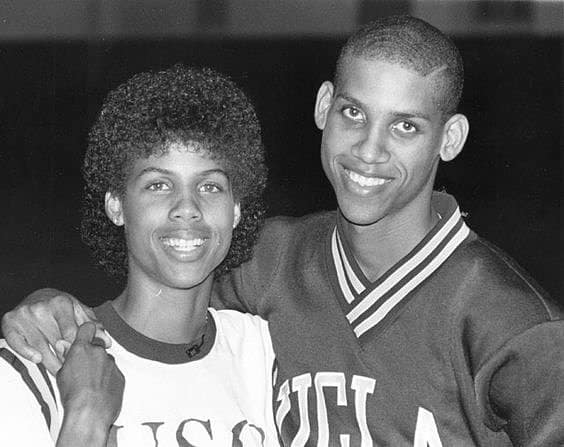 Growing up in an athletic family, Miller excelled in nearly every facet of basketball.
Moreover, her father inspired a competitive spirit in all of his children. Hence, he demanded top performances from his kids in sports and the classroom.
Moreover, her younger brothers are also involved in sports activities. Reggie is also a basketball player in the NBA. Darrel is a former American Baseball catcher. Saul Miller Jr is a musician.
The basketball player attended Riverside Poly High School.
Later, after completing her high school career, she joined the University of Southern California in Los Angeles, where she studied organic chemistry and quantum physics.
How old is Cheryl Miller? Age and Height
As of now, Cheryl is 59 years old. According to horoscope charts, the basketball player is Capricorn.
And from what we know, the people of this sign are known to be ambitious, organized, practical, and goal-oriented simultaneously.
Nevertheless, she possesses well-defined facial structures and an athletic body. Miller has aged like a fine wine.
Coming to her height, She has an astounding height of 6 feet 2 inches. At the same time, her body weight is around 82 kg.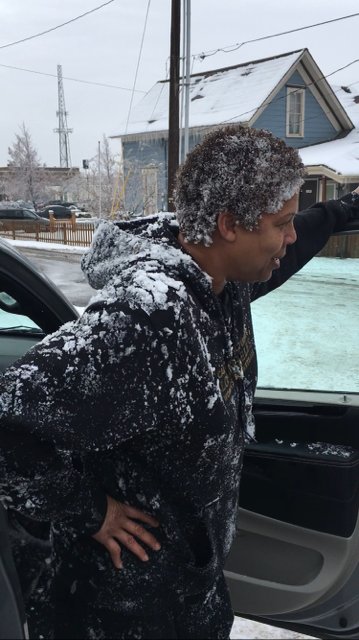 Similarly, Miller is a relatively fit and healthy woman with body measurements that include 36-inches of breast, 30-inches of the waist, and 36-inches of hips.
Although she is getting older, it is evident that Cheryl maintains her fitness.
With American nationality, she belongs to African American ethnicity and has followed Christianity as her religion since birth.
Additionally, the inspirational woman has beautiful brown eyes and curly black hair.
Cheryl Miller: Basketball Career
Cheryl Miller is an exceptional basketball personality. She has made an immense contribution through her different roles as a professional basketball player, broadcaster, and coach.
Early Career
As soon as Cheryl Joined high school, she immediately impacted the girls' basketball team and participated in the high school competition, shattering virtually every state scoring record, including the highest average in a season (37.5 points a game).
In her 90 matches at Riverside Polytechnic High School, Cheryl Miller scored 3,026 points, an average of 32.8 per game, grabbed 1,353 rebounds and had 368 assists.
She scored 105 points in a fun and was the first female player to dunk a basketball in a competition.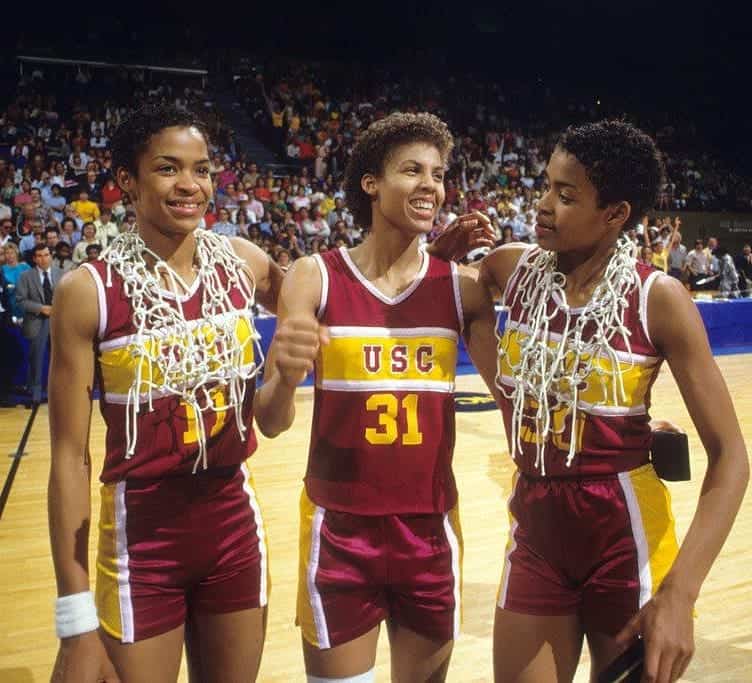 Cheryl Miller, the most selected female athlete of the time, received over 250 scholarship offers.
Moreover, after enrolling at the University of Southern California, her basketball skills lead the Women of Troy to national championships in her first- and second-year student seasons.
Later, Miller played in the championship game in her senior season. Although just a freshman, she got chosen as the Most Outstanding Player of the NCAA tournament because of her ability to dominate games with her all-around athleticism.
Throughout her four years and 128 games at Southern California, she scored 3,018 points, grabbed 1,534 rebounds, and had 462 steals in 128 games.
USA Basketball
Miller commenced her journey toward the USA National team by participating in the World Championships held in Sao Paulo, Brazil. Her team conquered six games, but the Soviet Union team defeated them.
In the initial round, they had a lead by nine points. Eventually, The Soviets won by 85-84 points. Cheryl scored 23 points in the game.
Nevertheless, Cheryl and her team won the next four games with the gold medals against USSR.
The USA team earned a silver medal in the next match after hitting the game-winning shot by the USSR team. However, in the game, Miller led the team in scoring 17.6 points per game.
In 1984, the United States sent its National team for pre-Olympic practice to the William Jones Cup competition in Taipei, Taiwan.
Cheryl's team won against all eight teams with an average of 50 points each game.
Eventually, with the gold medal at the 1984 Summer Olympics in Los Angeles, Miller led the U.S. team to victory.
In 1993, Miller was also part of the gold medal team at the Pan American Games, which took place in Caracas, Venezuela.
At the inaugural Goodwill Games, held in Moscow, Cheryl participated in the game representing the U.S., where Kay Yow served as their coach.
Miller's team started with a 72–53 win against Yugoslavia, where 19 points were from Cheryl.
After that, the team won over Brazil with a score of 91–70. The third game against Czechoslovakia went relatively smoothly.
In this game, Miller scored 26 points, leading to a 78–70 victory. After that, The USA played against Bulgaria in the semifinal and again won a 67–58 victory.
In the final match against the Soviet Union, led by Ivilana Semenova, the USA team won the gold medal with an 83–60 win. Throughout the event, Miller averaged 20.6 points.
Furthermore, Miller proceeded to represent the U.S. on the National team at the 1986 World Championships in Moscow.
The USA team was indeed more powerful this time, so they easily won the early game this time. In the semifinal game against Canada, the Miller team was declared victorious after achieving 82–59.
Coaching career
After Cheryl graduated from the University of Southern California, she got immediately selected by various professional basketball associations.
Unfortunately, Miller endured a knee injury that stopped her to continue playing basketball.
Henceforth, she served as an assistant coach at USC from 1986 to 1991. Additionally, she also worked as a sportscaster.
After the Cheryl team scored a record of 42-14, she got honored with the title of Head Coach at USC after coaching from 1993-1995.
With this record, the team reached the NCAA tournaments in both seasons.
She worked as a coach and general manager for the next four seasons with the Phoenix Mercury of the WNBA.
Later, in 1998, Miller trained the Mercury for the WNBA Finals. However, her team got defeated by Houston Comets. Sadly in 2000, she resigned from all her contracts after suffering from fatigue.
On April 30, 2014, athletic director Mike Garrett at Langston University selected her as the women's basketball coach.
Similarly, on May 26, 2016, she got titled ad the women's basketball coach by athletic director Mike Garrett at California State Los Angeles.
Broadcasting career
Cheryl started her professional broadcasting career for the NBA on TNT's Thursday night for TNT Sports coverage, where she worked as an assistant reporter.
During the 2008-2009 NBA season, the Californian worked as an analyst and reporter for NBA TV.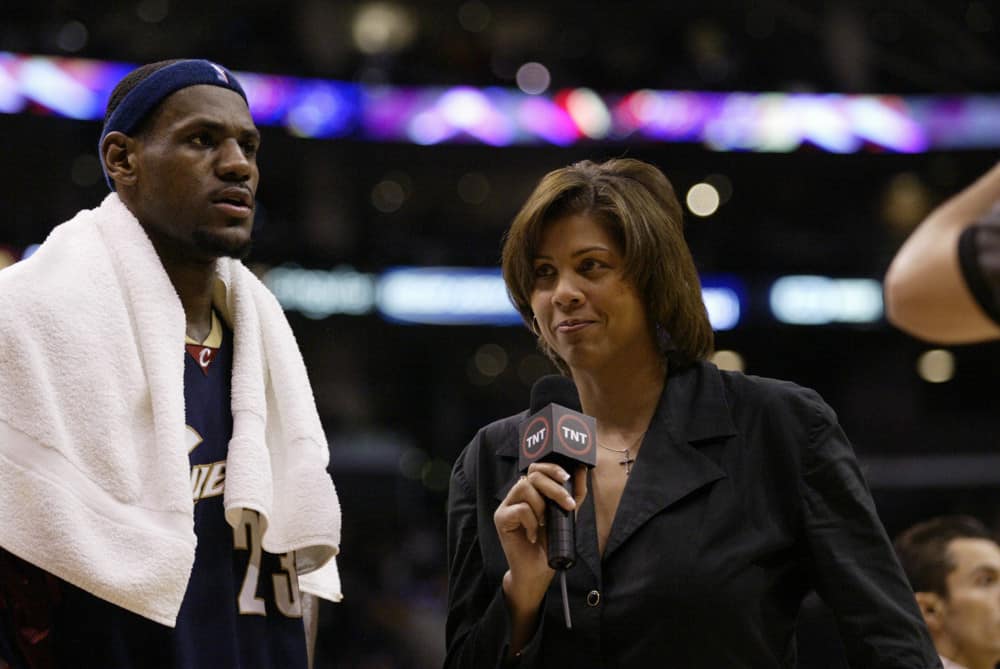 Furthermore, in 1996, Miller became the first female analyst to call a nationally televised NBA game.
Later, the basketball player worked in 2K Sports' NBA 2K Series as the sideline reporter until 2013.
Moreover, Miller served as their basketball commentator at the 1994 Goodwill Games.
Furthermore, the inspirational woman has worked as a women's basketball analyst and men's basketball reporter for NBC's coverage of the 1996 Atlanta Olympics.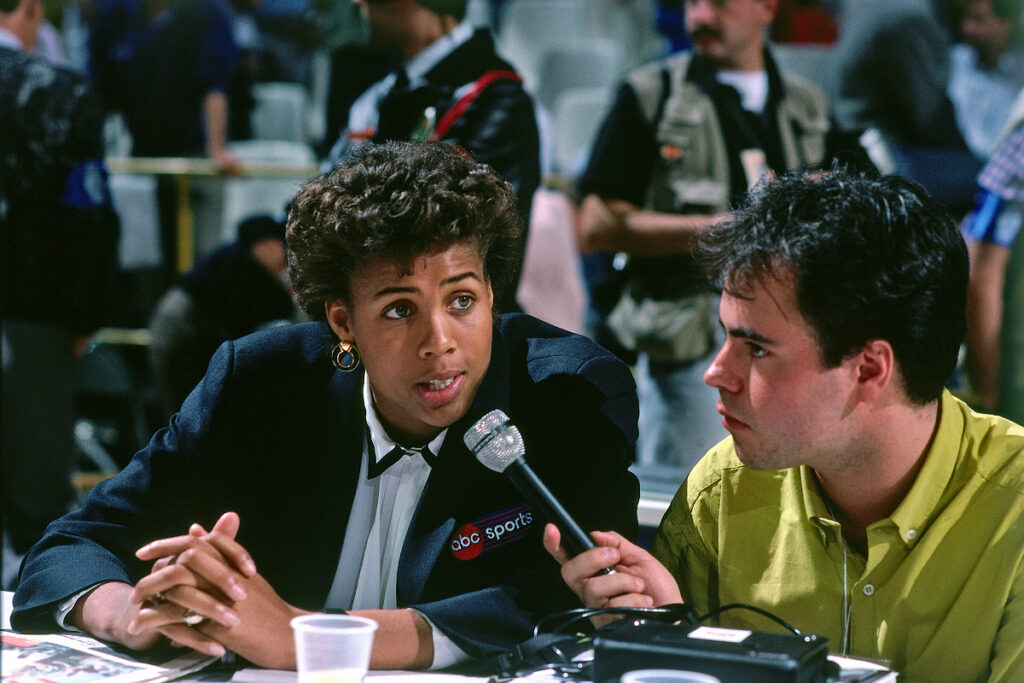 Miller also teamed with ABC Sports as a reporter. Cheryl has also worked for the Little League World Series as a field reporter and Correspondent for the Calgary Olympics.
Cheryl Miller: Awards and Honors
1984 – Winner of the Honda Sports Award for basketball
1984 – WBCA Player of the Year
1984 – The Honda-Broderick Cup winner for all sports.
1985 – Winner of the Honda Sports Award for basketball
1985 – Wade Trophy winner
1985 – WBCA Player of the Year
1991 – International Women's Sports Hall of Fame
2010 – FIBA Hall of Fame
Cheryl Miller's Net Worth and Salary
As we all know, Miller started her basketball career quite early in her life. The talented basketball player has accumulated great fortune since her early days.
It's no surprise that the basketball coach would earn a handsome salary because it's common sense to keep hard-working and dedicated players like her.
The net worth of Cheryl Miller is estimated to be over $5 million.
Her significant earnings come from her various basketball roles as a player, coach, and broadcaster.
Although her exact salary isn't known to the public, she must have a high salary range.
According to the reports, an NBA analyst's average salary comes around $106K- $116 K.
Net Worth of Cheryl Miller in Different Currencies
Here is the net worth of Cheryl Miller in different currencies, including the cryptocurrency BitCoin.
Currency
Net Worth
Euro
€

4,235,000

Pound Sterling
£

4,235,000

Australian Dollar
A$

6,805,130

Canadian Dollar
C$

6,280,700

Indian Rupee
₹

372,657,500

BitCoin

฿126
Cheryl Miller: Personal Life, Husband & Kids
The sportscaster has not mentioned her romantic life, is single, and has not tied the knot. She still has not found a perfect partner for her yet.
Since Cheryl lives a private life, her fans are curious about her sexual orientation.
There's speculation that she is interested in girls and thus is a lesbian. However, Miller has never answered anything to clarify questions about her sexuality.
Moreover, the basketball coach likes to lead a personal life and has never stated anything about marriage and sexual orientation.
Thus, it is not clear whether she is lesbian, bisexual, or straight. There are no specific reasons for her choice to remain single for such a long time.
Furthermore, Miller has no kids of her own and has not stated anything about adopting.
Cheryl Miller: Awards and Achievement
Through her utmost passion and dedication, Cheryl Miller has achieved heights of success in her career.
Initially, In 1984, she received the Honda Sports Award for her exceptional basketball performance and became the WBCA Player of the Year.
Similarly, the American received the Honda-Broderick Cup winner for all sports.
In 1985, Miller got honored with the Honda Sports Award for basketball for the second time.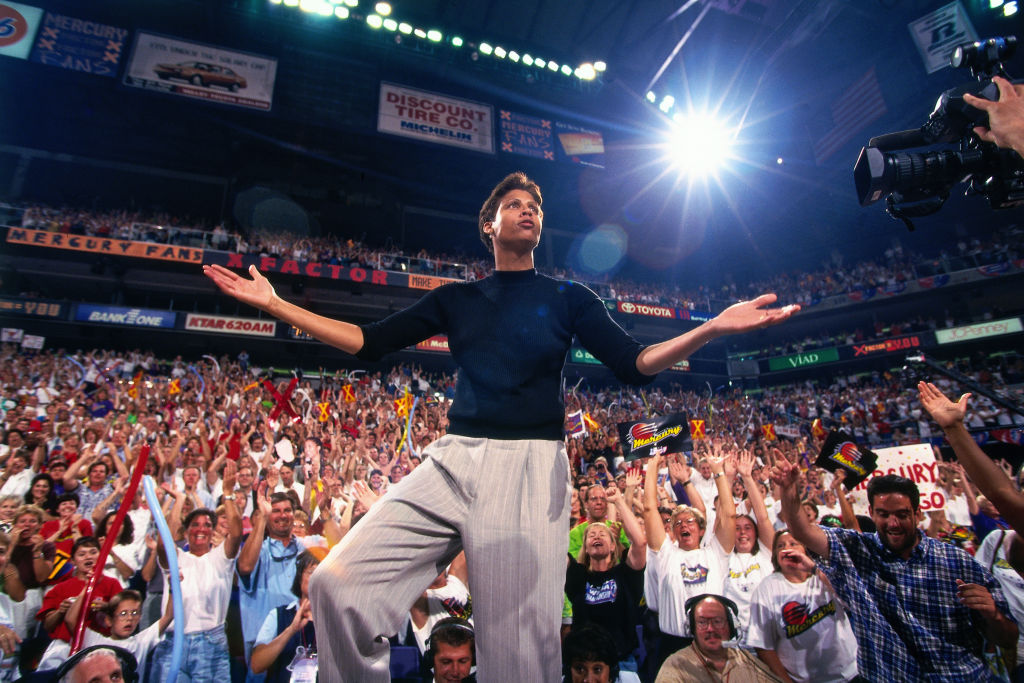 The same year she also achieved the Wade Trophy winner and became the WBCA Player of the Year.
Later in 1991, Cheryl got recognized in the International Women's Sports Hall of Fame.
Furthermore, in 2010, she became a member of the FIBA Hall of Fame as a female basketball player.
Cheryl Miller's Social Media Presence
Cheryl Miller is active mainly on Twitter and has an Instagram account. You can find her through the links below:
Twitter: @Cheryl_Miller31
Instagram: Cmill31
FAQs
What is Cheryl Miller doing today?
Miller got appointed as the new head coach of the Golden Eagles women's basketball program at Cal State LA.
Did Cheryl Miller play in WNBA?
Miller has coached four seasons with the Phoenix Mercury of the WNBA. There, she also served as their general manager.
Why did Cheryl Miller leave TNT?
In 2007, Cheryl was worried about her knee injury; hence, she retired from TNT for the rest of the season. However, she made a comeback in the next season.
What are Jersey's Numbers for Cheryl?
Cheryl wears Jersey number 31, which is considered lucky for her by her fans.
Was Cheryl Miller good?
Yes, Cheryl Miller was good. In her 128-game career, Miller established herself among the all-time NCAA leaders with 3,018 points (23.6 per game) and 1,534 rebounds (12.0 per game).
Is Cheryl Miller the greatest of all time?
Cheryl Miller is the greatest of all time. Miller led the U.S. to the gold medal in the 1984 Olympic games. She was the leading scorer with 16 points in the gold medal game beating South Korea 85 to 55.
Did Cheryl Miller ever dunk a basketball?
A 6'3″, 150-pound guard and forward, Cheryl Miller excelled in nearly every facet of basketball. Cheryl Miller was the first woman to dunk in organized play.
When did Cheryl Miller score 105 points?
Playing for Riverside (C.A.) Polytechnic High School, the Miller, set the single-game record of 105 points in a 1982 game against Notre Vista High School.
With tremendous grace and athletic skill, Miller established a legacy throughout her high school and unparalleled college career.
Is Cheryl Miller better than Reggie Miller?
When their careers are compared, it's evident that Cheryl had more influence on her team's success than Reggie ever did.
Cheryl was the coach of two NCAA championship teams at USC. She also won gold medals at the 1984 Olympics, the Goodwill Games in 1986, and the FIBA World Championship in 1986.