He nails it when it comes to dunks, his playstyle is unmatchable, and his I.Q, for the game is unbeatable. Today we will talk about someone who is really willing to take flight and reach high, just like his colossal height, Chimezie Metu.
Chimezie Metu is a professional basketball player for the Sacramento Kings of the NBA. He is on a two-way contract with the Stockton Kings of the NBA G League.
Before that, Chimezie remained a collegiate athlete for the University of Southern California. Moreover, he was an All-Pac 12 First Team selection junior in 2017-18.
Although he takes him underrated as a passer, only a few people who address him closely know his abilities.
Chimie can run the floor, deal with the ball on the break, make the accurate passes on the three-on-one, push the ball and make any style of passes you name. He is an athlete blossoming with versatility.
Having said that, it's high time. So let's take a quick tour of navigating his side of the story and explore him in a better way. But before that, let's jump into the quick facts.
Chimezie Metu | Quick Facts
| | |
| --- | --- |
| Full Name | Chimezie Chukwudum Metu |
| Birth Date | March 22, 1997 |
| Birth Place | Los Angeles, California |
| Nick Name | Not known |
| Religion | Christianity |
| Nationality | American/ Nigerian |
| Ethnicity | African |
| Education | Lawndale High School, USC |
| Horoscope | Aries |
| Father's Name | James Metu |
| Mother's Name | Florence |
| Siblings | A sister & a brother |
| Age | 26 years old |
| Height | 6 ft 9 in (2.06 m) |
| Weight | 255 lb (116 kg) |
| NBA Draft | 2018 / Round: 2 / Pick: 49th Overall |
| Hair Color | Black |
| Eye Color | Black |
| Career Highlights & Awards | Pac-12 Most Improved Player (2017), First-Team All-Pac-12 (2018), Second-team All-Pac-12 (2017) |
| Build | Athlete |
| Marital Status | Single |
| Girlfriend | Not known |
| Position | Power Forward/ Center |
| Profession | NBA player |
| Net Worth | Not available |
| Salary | $1,489,068 |
| Current Teams | Sacramento Kings |
| League | NBA |
| Active Since | 2018- present |
| Social Media | Instagram, Twitter |
| Merch | Rookie Card |
| Last Update | June, 2023 |
Chimezie Metu | Early Life, Family & Education
Starting with the basics, Chimezie was born on March 22, 1997, to his parents, James Metu and Florence, in Los Angeles, California.
His early life was quite a roller coaster ride from country to country. He was mostly raised in the South bay city of Lawndale.
At five, he moved to Lagos, Nigeria, with his father, brother, and sister and settled there for six years.
Both James and Florence hailed from Nigeria, and his father James had strict regards towards African culture and severely wanted his kids to know and understand their cultural values.
Moreover, James had his own plan to operate a business venture there. He was in an import-export business, whereas his wife was a nurse at an L.A hospital.
Chimezie used to travel back to the U.S each summer. While learning about his culture and place, he found adversities and struggles ruled there more than contentment in normal public life.
Chimezie also learned, "Things can easily be taken from you when it is easily given to you."
Henceforth, the only conclusion was to respect what one has. Not everyone is favored enough.
Since then, he knew one has to strive hard and keep moving forward instead of remaining in the same spot.
Not only that, Chimezie was asked to do this to get this. He was taught, "You cannot have something for free." This was a strict policy maintained by Chimezie's parents in Metu's house.
Chimezie Metu | High School Career
Metu went on attending Lawndale High School in Lawndale, California. According to Chris Brownlee, Chimezie's former high school coach, Metu gained much in Nigeria.
"His time in Nigeria gave him academic discipline and drove because there is a unique academic culture there, one where you either do, or you don't in the classroom,"
Not only that, Chimezie showed his utmost loyalty for his high school when he could easily grab grand opportunities of playing for an elite basketball academy growing up to a height of 6'8″ at the age of sixteen.
But he chose to stick with the Cardinals and play for them. This decision and act of him surrounded him with love and appraisals.
People initially did not treat him well, but Chimizie dealt with that and built him stronger out of that situation.
As a senior, he notched 8 points, 11 rebounds, and four blocks while heading Lawndale to basketball prominence in Southern California.
Chimezie raised his fan's eyebrows with mind-blowing dunks, including one against Miami Heat center Hassan Whiteside in a Drew League game.
Having fought against a strong team as Whiteside gave him unuttered confidence to compete in the NBA.
Chimezie was rated as a four-star recruit from high school and was the number 46 recruit according to Rivals.com.
Chimezie Metu | College Career
Several basketball powers offered him recruitment, including Harvard. Still, Chimezie chose to play for USC and managed to graduate with a degree in law, history, and culture in three years.
Chimezie showed up in 34 games, starting 2 as a freshman. He grabbed 6.4 points and 3.6 rebounds per game.
He also made 54 blocks which were the second most blocks by USC freshman since Taj Gibson.
Metu also took part in the 2016 NCAA Division I Men's Basketball Tournament for 10 minutes representing USC, resulting in a loss thereafter.
Chimezie started in all 36 games in his sophomore season, notching 14.8 points and 7.8 rebounds per game.
He headed his team to the second round of the 2017 NCAA Division I Men's Basketball Tournament. He earned himself an All-Academic Honorable Mention.
It was recommendable how he improved every season to an extent where Chimezie became an All-Pac 12 First Team as a junior in 2017-18 after notching 7.4 rebounds, 15.7 points, 1.6 assists, and made 1.7 blocks per game.
Moreover, according to his USC coach Andy Enfield, "Chimezie would last long in the NBA and make it big there. He is a hard worker and has great potential for someone his size."
Chimezie considers playing soccer in Nigeria, which helped him develop his impressive lateral quickness.
During his time at USC, he learned in-depth about the Spurs game and the team's culture through Trojan's assistant coach Jason Hart.
Controversy
Chimezie was not far away from feuds and controversies. He was dismissed from the post of Captain and suspended for a half for punching an opponent in the groin in December 2018.
Later on February 23, 2018, he was charged with bribery and corruption in college basketball.
He was linked to the FBI investigation, and later, he and his advisor, Johnnie Parker, got $2,000 from ASM Sports (an East Coast agency) as per the documents acquired by Yahoo Sports.
Awards and Recognitions
Pac-12 Most Improved Player (2017)
First-team All-Pac-12 (2018)
Second-team All-Pac-12 (2017)
Chimezie Metu | Professional career
San Antonio Spurs Highlights
According to Chimezie, Spurs was a storied franchise to him. And why not?
Being hired by San Antonio Spurs with the 49th pick in the 2018 NBA draft on June 21, 2018, was like taking the first step in the pavement of success.
Chimezie was later hired for the 2018 NBA Summer League roster of the San Antonio Spurs. He inked with San Antonio Spurs on September 4, 2018.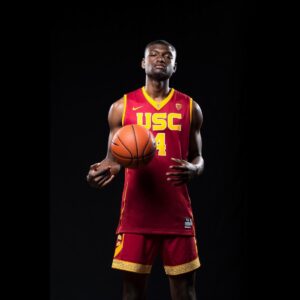 He was all set to be there and learn every tip and technique with an open mind. Metu would do his best to let his chance shine.
Chimezie made his NBA debut, played for about three minutes, scored two points, made two rebounds & a block in a 108–121 loss to Portland Trail Blazers on October 20, 2018. He was waived on November 20, 2020.
Sacramento Kings
Chimezie signed with the Kings on November 28, 2020. He managed to appear in four pre-season games and was later waived.
After two days, the Kings declared signing him back to the team to a two-way contract.
Chimezie was sidelined due to a wrist injury on February 16, 2020. The injury occurred when Memphis Grizzlies' big man Jonas Valanciunas yanked him off the rim.
While playing with the Kings against the Dallas Mavericks, Chimezia hit a 3-point buzzer-beater to win the game.
National Team Career
Chimezie was spotted in the Nigerian final roster for the 2019 FIBA Basketball World Cup on November 28, 2020.
Also, read about: Luka Garza Bio: Stats, NBA, Girlfriend, Iowa & Highlights.
Olympic Stats
| | | | | | | | | | | | |
| --- | --- | --- | --- | --- | --- | --- | --- | --- | --- | --- | --- |
| Year | Min | FG | FT | O | D | Tot | As | PF | To | St | Pts |
| 2020 Olympics | 59 | 9/18 | 2/2 | 4 | 16 | 20 | 7 | 3 | 4 | 6 | 27 |
Learn more about his scouting report, career on Peachtree Hoops, and game log on ESPN sites.
Chimezie Metu | Personal Life
Besides being a superb athlete, he is one young handsome man with an attractive personality. It's clear to hold a suspect regarding his personal life.
Does he have a girlfriend, or is Metu into some private affairs? These are a few of the common queries raised by any Metu fans.
Well, owing to your curiosities, we searched a little bit extra on the internet and concluded that his name is not linked to any of the beauties in the town.
Chimezie is probably single and kept himself away from the relationship and hook-up.
That's even worth it because he is new to the basketball world professionally and cannot stand a chance to miss any opportunity from rising high.
You can find the player profile, scouting reports, rankings, and more about Chimezie Metu on the NBADraft.net website.
Chimezie shares a great bond with his family.
Keeping his private affairs aside, Chimezie is quite a family man. He is close to all of his family members.
Though he has not updated many posts with his family members on his social media account as per sources, whatever he is doing, he is doing it for the sake of family too.
If you don't believe where Metu's family and friends were thrilled with excitement when his name was finally announced in the 2018 NBA draft.
Other than that, Chimezie loves basketball for obvious reasons and loves being a Nigerian. He is proud of what he is. His stay in Nigeria blessed him with a life-shaping experience.
While soccer remains the king in Nigeria, other sports are getting the hype, and thereafter, the country has produced 20 NBA players at least.
To name a few, Christian Okoye is referred to as "Nigerian Nightmare." Christian played for the Kansas City Chiefs in the NFL and has bagged several awards and recognitions like the Kansas City Chiefs Hall of Fame.
Moreover, Hakeem Olajuwon, referred to as" The Dream," played in the NBA. Additionally, current NBA star Giannis Antetokounmpo is of Nigerian descent.
But it seems like Chimezie is after writing his own legacy. But how? we don't know. Nevertheless, he is trying to pay all the debts in sheer hard work, sweat, and work-outs.
According to his USC coach, Andy Enfield, "He hits the gym frequently just to work on his game."
Also, read about: Kofi Cockburn Bio: NBA, Weight Loss, Draft, Illinois & Stats.
Chimezie Metu | Net Worth & Salary
He is oozing with all the potential to be an NBA player. No matter what, Chimezie averages 17 points per game, which clearly depicts he has a scorning talent.
Getting straight into the numbers, aligning with the public sources, Chimezie earns a base salary of $1,489 068 after cracking a one-year deal with the Sacramento Kings.
As of 2023, Chimezie is assumed to have a net worth of around 6 digit figure. However, there are no such exact numbers on the internet.
Social Media Presence:
Instagram: 28.8k followers
Twitter: 10.5k followers
Some FAQs:
What is Chimezie Metu wingspan?
Chimezie Metu has a wingspan of 7′.05.
Who is Chimezie Metu's agent?
According to Tim MacMahon of ESPN, Darren Matsubara of the Wasserman Sports Agency is his agent.
Where is Chimezie Metu from?
Although he lived in Nigeria with his father from age six to twelve, Chimezie hails from Los Angeles, California, United States.
Was Chimezie Metu in Olympics?
Yes, Chimezie Metu participated in the 2020 Tokyo Olympics.
What shoes does Chimezie Metu wear?
Vincent Poirier reportedly wears Nike Kobe 5 Protro shoes.
What is the jersey number of Chimezie Metu?
Metu wears the jersey number 7 and 10. He used the number 7 while playing for the Sacramento Kings and 10 for Nigeria's men's national basketball team.