Jonas Valanciunas is a Lithuanian professional National Basketball Association (NBA) player. He plays as a center for the New Orleans Pelicans of the NBA League.
The Toronto Raptors picked him as the 2011 NBA draft's 5th pick in the first round.
Jonas played for about four years in the Lithuanian basketball leagues before entering the NBA. He has won an insane number of awards and accolades throughout his basketball career.
He is undoubtedly one of the most successful contemporary basketball players globally.
The Lithuanian national has never ceased to bring smiles to his fan's faces since he debuted in the NBA. He has already played for three NBA clubs so far, including the Pelicans.
The overseas player has established himself as the point-scoring machine in the world's biggest domestic league. Over the past few years, he has become one of the most reliable players with consistent performance.
Even though he looks intimidating because of his gigantic stature, Jonas is, in fact, quite a jolly person. He has even played a minor role in one of the recent Lithuanian dark-comedy movies.
This article will take you through everything you need to know about Valanciunas and his incredible journey in the world of basketball.
But before moving into the details, here are some quick facts about Jonas Valanciunas.
Quick Facts
Full Name
Jonas Valanciunas
Date of Birth
May 6, 1992
Birth Place
Utena, Lithuania
Nick Name
Not Available
Religion
Christianity
Nationality
Lithuanian
Zodiac Sign
Taurus
Age

31

years old
Height
2.11 m (6 feet 11 inches)
Weight
265 lb (120 kg)
Hair Color
Light brown
Eye Color
Blue
Build
Athletic
Father's Name
Jonas Vilkas
Mother's Name
Danute Valanciunas
Siblings
None
Sexual Orientation
Straight
Education
Utenos Saules Gymnasium (Utena, Lithuania)
Marital Status
Married
Wife's Name
Egle Valanciuniene
Kids
Two sons
Kid's Name
Jonas Valanciunas Jr., second son's name- unavailable
Profession
Professional basketball player
Food habit
Non-vegetarian
NBA Draft
2011
Position
Center
League

Lithuanian Basketball League (LKL)
National Basketball Association (NBA)

Active Years
(2008–present)
Clubs He Played For

Perlas Vilnius
Lietuvos Rytas Vilnius
Toronto Raptors
Memphis Grizzlies

Net Worth
$5 million
Currently Plays For
New Orleans Pelicans
Social Media
Facebook, Instagram, Twitter
Merch
Notebook, Cards
Last Update

November 2023
Jonas Valanciunas | Early Life, Family & Education
On May 6, 1992, Jonas Valanciunas was born in Utena, Lithuania. His parents never married.
Jonas grew up with his mother, Danute, so he inherited her surname. However, his Father, Jonas Vilkas, had a close relationship with him from childhood. Vilkas formerly worked as a rowing master in the USSR.
He attended Utenos Gymnasium in his hometown, Utena, and began playing basketball early. Meanwhile, his mother wanted him to be a folk dancer and had enrolled him in a dancing class.
Valanciunas often bunked his dance classes and went out with his friends to play in his childhood.
At that time, basketball was very popular in Lithuania, and there was a massive attraction of youth towards the sport.
He was no different. Even though his mother did not want him to choose the sport, his Father helped him to be a better basketball player while growing up. He prepared a training ground and homemade basket for Jonas to practice.
While still in high school, Jonas was admitted to a local training school in Vilnius. He was already taller than his friends and did well in the academy.
Jonas soon attracted national team management's attention with his performance. As a result, the player secured his place on the Lithuanian U-16 team. He represented his country in the 2007 European U-16 Championship held in Greece.
However, he could only make a big impression by participating in the same tournament the following year held in Italy. In 2008, he had already given up folk dancing and primarily focused on basketball games.
<<<Jaxson Hayes: NBA, Domestic Violence & Net Worth >>>
Moreover, his mother started supporting him and promised to provide him with everything he wanted as he was her only child.
Jonas Valanciunas | Career
Lithuanian Basketball League (LKL)
Jonas started his professional league journey in 2008 at age 16. He played in the LNKL for the Perlas Vilnius. After playing the 2008-9 season in the country's second-best league, the club stepped up to the LKL.
Subsequently, he signed a long-term contract with the Lietuvos Rytas in January 2009.
He finally moved to the Rytas on January 17, 2010, and started playing in top-tier leagues. In February, they won the 2010 LKF Cup. Valanciunas soon won the team's trust and played many matches.
In his two-year's career, he won numerous trophies and cups for the club. He played all three LKL Finals between 2010 and 2012 and had great stats. They even became the LKL champions in 2010.
Moreover, he appeared in three LKL All-Star Games and won all three times. He became the LKL All-Star Game MVP consecutively in 2011 and 2012.
He earned so much international fame that people started talking about him across the Atlantic in America. As a result, the young Lithuanian emerged as one of the best prospects for the 2011 NBA draft.
He was close to his dream of playing in the NBA, the world's biggest basketball league.
NBA Career
Toronto Raptors
After training briefly at the pre-draft NBA camp in Italy, Jonas came to America for the 2011 draft. Toronto Raptors selected him as the draft's first-round 5th pick.
The rookie finished the season with an average of 8.9 points and 6.0 rebounds per game.
Moving onto the 2013-14 season, he played more matches and improved his stats. He averaged 11.3 points and 8.8 rebounds per game in 81 contests. In addition, he kept a record by recording the most rebounds in a single playoff game against the Nets.
Jonas extended four more years in the club, signing a contract with the Raptors on August 20, 2015. ESPN named him the 57th best player of the league before the start of the new season.
However, he played fewer matches than in the previous NBA seasons this year due to injury.
He played 60 matches with an average of 12.8 points and 9.1 rebounds per game. Returning to the court after a long rest, he led the Raptors to the playoffs this season.
However, they did not make it to the NBA Finals after they suffered his loss due to an ankle injury during Game 3 against the Miami Heat.
Valanciunas played three more seasons for the Raptors. Eventually, the club traded him to the Grizzlies in 2019.
Memphis Grizzlies
Jonas Valanciunas was traded to Memphis Grizzlies along with a few other players on February 7, 2019. He made his debut for the club on February 12 against the San Antonio Spurs.
He scored a fantastic 23 points and 10 rebounds in his debut, but the club lost the match. However, after suffering from another injury in a game against the Clippers, he missed the remainder of the 2018-19 season.
The club signed a new three-year contract with him on July 11, 2019. He averaged 14.9 points and 11.3 rebounds per game this season. Moreover, Valanciunas led his team to the 2020 NBA playoffs.
He appeared in one more season for the Grizzlies. In the 2020-21 season, he averaged 17.1 points and 12.5 rebounds per game, playing 62 matches.
New Orleans Pelicans
Grizzlies traded Jonas to the New Orleans Pelicans on August 7, 2021. The club signed a two-year contract on October 20, 2021, and he has already appeared in more than 45 games for the Pelicans.
He has already averaged 18.0 points and 11.6 rebounds per game in the game he has appeared. There is no doubt Valanciunas would have a remarkable career in the Pelicans.
National Career of Jonas Valanciunas
It is a known fact that Jonas Valanciunas was quite popular before he entered the NBA. He started playing for his country at 14 and is now a senior team member.
He won his first gold medal for Lithuania in the 2008 FIBA Europe U-16 Championship in Italy. He outshone everyone with an average of 14.3 points and 11.1 rebounds per game and was named the event's MVP.
Similarly, he has played for the Lithuanian national teams of different age groups and has always stood out over the years.
Jonas debuted for the senior Lithuanian team in the 2011 EuroBasket. He performed extraordinarily for his team in that tournament held in his own country, making them one of the strongest contenders for the trophy.
<<< Joakim Noah Bio: Career, Girlfriend & Net Worth >>>
However, they did not win the tournament. Since then, he has consistently represented them in numerous international events, including the EuroBasket 2017 and the 2019 FIBA Basketball World Cup.
Age, Weight & Height
As of 2023, the popular Pelicans center is 31 of age. He celebrates his birthday every May 6.
Talking about his facial features, he has beautiful blue eyes and light brown hair. Moreover, he always keeps a long brown beard which suits him well. However, he mostly used to be clean-shaven in his early NBA days.
The enormous-sized athlete weighs around 265 lb (120 kg) and stands 2.11 meters (6 feet 11 inches) tall. He was pretty lean and thin in his teenage years. But now, the player has gained a lot of weight.
So, to maintain himself, the athlete regularly goes to the gym for workouts with his teammates.
Injuries & Health Update
Like many famous athletes, Jonas has suffered many injuries in his career.
He had his first significant injury when he fractured his left hand on November 22, 2015. He missed 17 games after that incident.
Likewise, he injured his right ankle in the 2015-16 NBA playoffs and missed the rest of the playoffs. As a result, his team did not qualify for the finals. Moreover, before transferring to the Grizzlies, he dislocated his left thumb in a match against the Warriors.
Similarly, he has frequently missed many vital matches due to minor injuries. But, there has been no information about his injuries recently.
In January 2022, he entered the Covid health and safety protocols. However, he came out clear but rested for some days, citing non-Covid illness, before returning to the court in early February.
Jonas was already listed twice on the Covid Reserve list previously.
Net Worth, Salary & Career Earnings
Jonas, one of the most popular overseas athletes in the NBA, has an estimated worth of around $5 million.
The star athlete has already accumulated a hefty sum from the NBA league games. As he was picked up early in the 2011 draft, he received a considerable sum from the Raptors in his rookie season alone. He had an annual salary of around $3.3 million that season.
In seven NBA seasons, he received approximately $45 million from his games for the Raptors. Moving into Grizzlies, he received almost the same amount for about three seasons.
He currently plays for the New Orleans Pelicans and has an annual salary of about $14 million. He has already accumulated over $92 million from his NBA career.
Moreover, he earns a good amount through speaking fees in various events, merch sales, brand endorsements, etc.
Awards & Achievements
Some of his awards & achievements include:
LKL MVP (2012)
LKL Champion (2010)
NBA All-Rookie Second Team (2013)
LKF Cup Winner (2010)
LKL Player of The Year (2012)
FIBA Young Player of The Year (2011, 2012)
EuroCup Rising Star (2012)
Jonas Valanciunas | Wife & Kids
Jonas Valanciunas is married to a Lithuanian national, Egle Valanciuniene. The two met each other in around 2013 and married the same year.
Egle is the daughter of a well-known Lithuanian politician and lawyer, Remigijus Acas, and his wife, Vida Aciene. Her mother, Vida, is also a politician and an economist.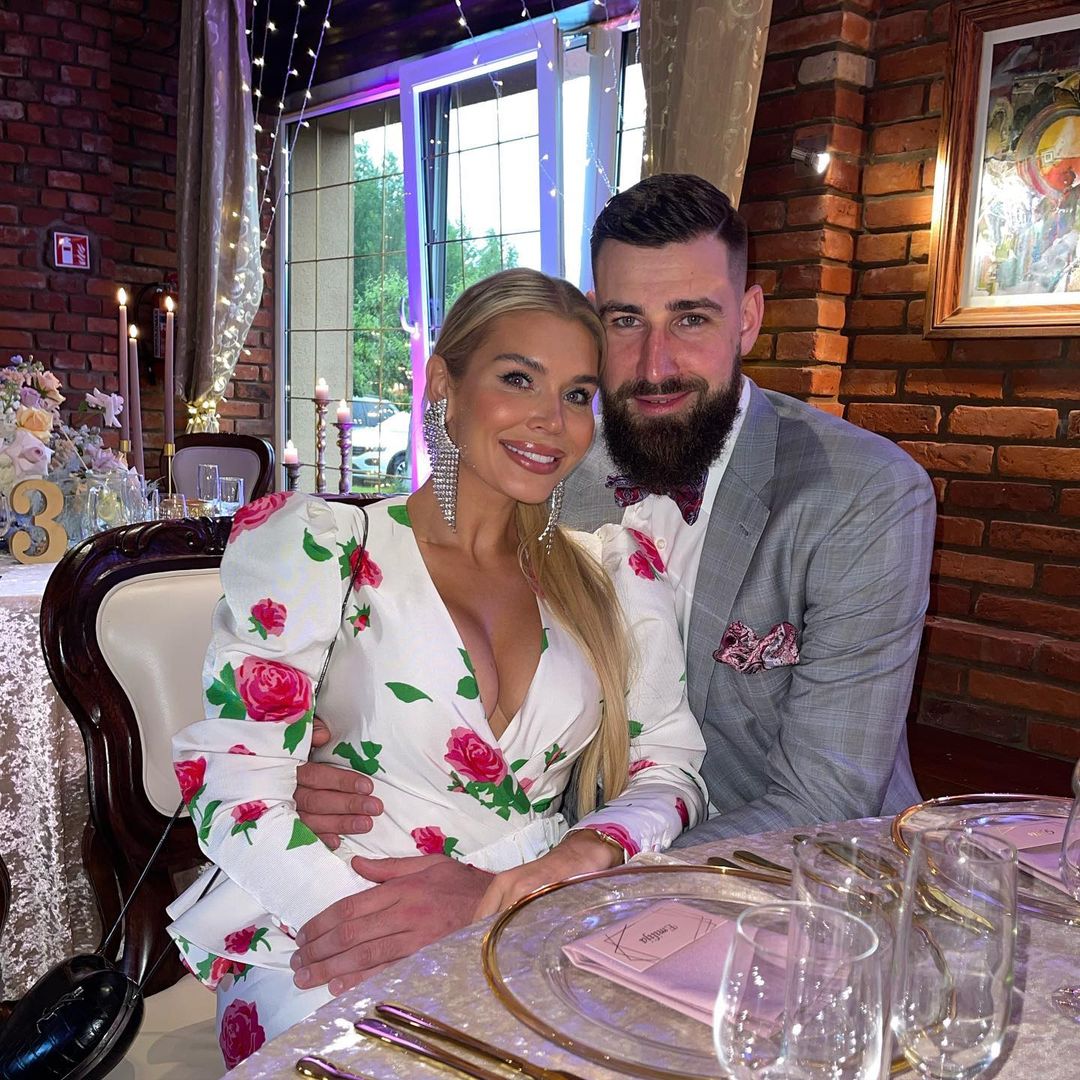 Before meeting him, she used to run a shopping website based in Kaunas. However, after their marriage, they lived together in the USA. Moreover, the couple is blessed with two sons.
Jonas Valanciunas Jr., their elder son, was born on March 12, 2015. Egle gave birth to their second son in 2017.
Social Media
Jonas Valanciunas is quite active on different social media platforms. However, he is relatively more available on Instagram and Twitter.
He has a verified Facebook account but has not posted anything on it since last year.
Jonas mostly posts about his professional and personal life on his Insta account. In addition, we can see many pictures taken during photoshoots. You can visit his social media pages by going through the links below:
<<< DeMarre Carroll: Contract, Retired, Wife & Net Worth >>>
Frequently Asked Questions (FAQs)
Who is number 17 on the Pelicans?
Jonas Valanciunas currently wears the number 17 jersey in the Pelicans. He joined the club on August 7, 2021, and chose that jersey number. Since then, he has appeared wearing that jersey number for the club in all the NBA matches.
How many three-pointers has Valanciunas scored in his career?
Valanciunas has scored more than 140 three-pointers in his career. The Lithuanian center is considered one of the best for the job. He has already played around 655 matches to achieve these many numbers of threes.