Hassan Whiteside is an American-born professional basketball player who plays for the Utah Jazz of the NBA.
He had started playing in the NBA when the Sacramento Kings picked him in the 2010 draft. However, he soon went overseas and played in foreign leagues, including the Lebanese Basketball League.
Whiteside eventually returned to the NBA in 2014 and has since been playing in the American leagues.
Before beginning his NBA journey, Hassan was a college basketball player for the Marshall Thundering Herd men.
Whiteside earned an NBA rebounding leader in 2017 and NBA blocks leader twice in 2016 and 2020. His rebound scores are so good that they are nearly equal to his point scores.
The massive American center has been a consistent performer since his return to the NBA in 2014 and does his job very well. Perhaps, for that same reason, the NBA clubs trusted in his skills and recruited him back.
Otherwise, his career was already on the verge of breaking apart at the start when his first two NBA seasons became a failure. But now, he has set everything right, which is why he is one of the best contemporary centers.
Let's discuss Hassan Whiteside's early life, his professional career so far, and other matters that concern us as his fans. Let's start with some quick facts.
Quick Facts
Full Name
Hassan Niam Whiteside
Known As
Hassan Whiteside
Date of Birth
June 13, 1989
Birth Place
Charlotte, North Carolina, the USA
Nick Name
Agent Block
Religion
Christianity
Nationality
American
Ethnicity
African-American
Zodiac Sign
Gemini
Age

34

years old
Height
2.13 m (7 feet)
Weight
265 lb (120 kg)
Hair Color
Black
Eye Color
Black
Build
Athletic
Father's Name
Hasson Arbubakrr
Mother's Name
Debbie Whiteside
Siblings
Anthony, Omaris, Darius, Nassan, Jovanna, and Danny
Food Habit
Non-vegetarian
Education

East Side High School (Essex County, New Jersey)
The Patterson School (Lenoir, North Carolina)
Marshall University (Huntington, West Virginia)

Marital Status
Unmarried
Sexual Orientation
Straight
Girlfriend's name
Ashly Ariza
Kids
Jayden Legend Whiteside
Salary
$2.4 million
Profession
Basketball player
NBA Draft
2010 / Round: 2 / 33rd pick overall
Position
Center
League
National Basketball Association (NBA)
Active Years
(2010 – Present)
Net Worth
$15 – $25 million
Currently Plays For
Utah Jazz
Jersey Number
21
Social Media
Instagram, Twitter, Facebook
Merch
NBA Card, Notebook
Last Update

November 2023
Early Life, Family & Education
Hassan Whiteson was born on June 13, 1989, in Charlotte, United States. He was the third child of Hasson Arbubakrr and Debbie Whiteside.
Hassan and his siblings took her mother's surname because he lived with her in North Carolina for most of his childhood.
However, growing up with six other siblings in poverty was not easy. His mother, Debbie, worked four different jobs to fill their stomachs and care for their other needs.
His father, Hasson, was a former American professional football player. But, he did not spend much time with him as he separated from his mother while he was still very young.
Raised in Gastonia, Hassan continuously switched between schools and studied in different schools in North Carolina. However, he attended Hunter Huss High School and Ashbrook High School until he finished middle education.
He was enthusiastic about sports from a very early age, and basketball was one of his favorite games. He often played games with his local friends and at school. In fact, it was Whiteside's childhood dream to play in the NBA.
However, seeing his physical appearance, especially his height, at that time, nobody believed he could make it big, so they often insulted and demotivated him.
But his mother always encouraged him to stick to what he preferred doing, which helped him very much.
After his first high school year at Forestview, his mother sought his father's help, so he went for a while to live with his father in New Jersey.
He stayed there and attended the East Side high school for a year before returning to live with his mother again. He eventually graduated high school from The Patterson School and joined Marshall University for higher education.
Hassan Whiteside | Basketball Career
High School Career
Whiteside started playing high school basketball for the Forestview High School in North Carolina.
However, the coaches ousted him from the team in his sophomore season, citing his lower height as there were already better players on the team.
He was 5'11" when he was evicted, but they needed a much taller person to fill in the position of center. But he gained about eight inches more near the end of the year, surprising Dan Ghent, the then head coach of The Forestview.
After two seasons, he played his junior season for the East Side High School in New Jersey. He showed a lot of improvement that season, averaging 18.0 points and 10.0 rebounds per game.
Kelly Oubre Jr. is a prominent American professional basketball player who plays shooting guard for the Charlotte Hornets. Click to read more about his net worth, controversies & relationships >>>
Moreover, he played for two more schools, namely Hope Christian Academy and Patterson Academy, in high school basketball tournaments. Various sports agencies highly rated him when he graduated in 2009.
College Career
Hassan received scholarship offers from different universities, including South Carolina, Auburn, Kentucky, etc., but he ultimately chose to play for the Marshall University basketball team.
He soon got featured on the national news after recording 14 points and 17 rebounds in a single match against the Ohio University Bobcats on November 28.
He finished the season with an average of 13.1 points and 8.9 rebounds per game. Moreover, Whiteside had the highest number of block shots in the country that year. With that performance, he broke numerous national records that season.
Eventually, Hassan decided to forgo the last three years of his college career and declared for the NBA draft on March 29, 2010.
Professional Career
The Sacramento Kings chose him as the draft's second-round 33rd pick. He appeared for the Kings in their first match against the Minnesota Timberwolves. Sadly, that was the only match he played for them in his entire rookie season.
He missed some matches due to fouls he committed during that match. But, when he was all set to return, he suffered a knee injury for which he had to go through surgery for recovery.
Consequently, he missed all the remaining games of his first NBA season.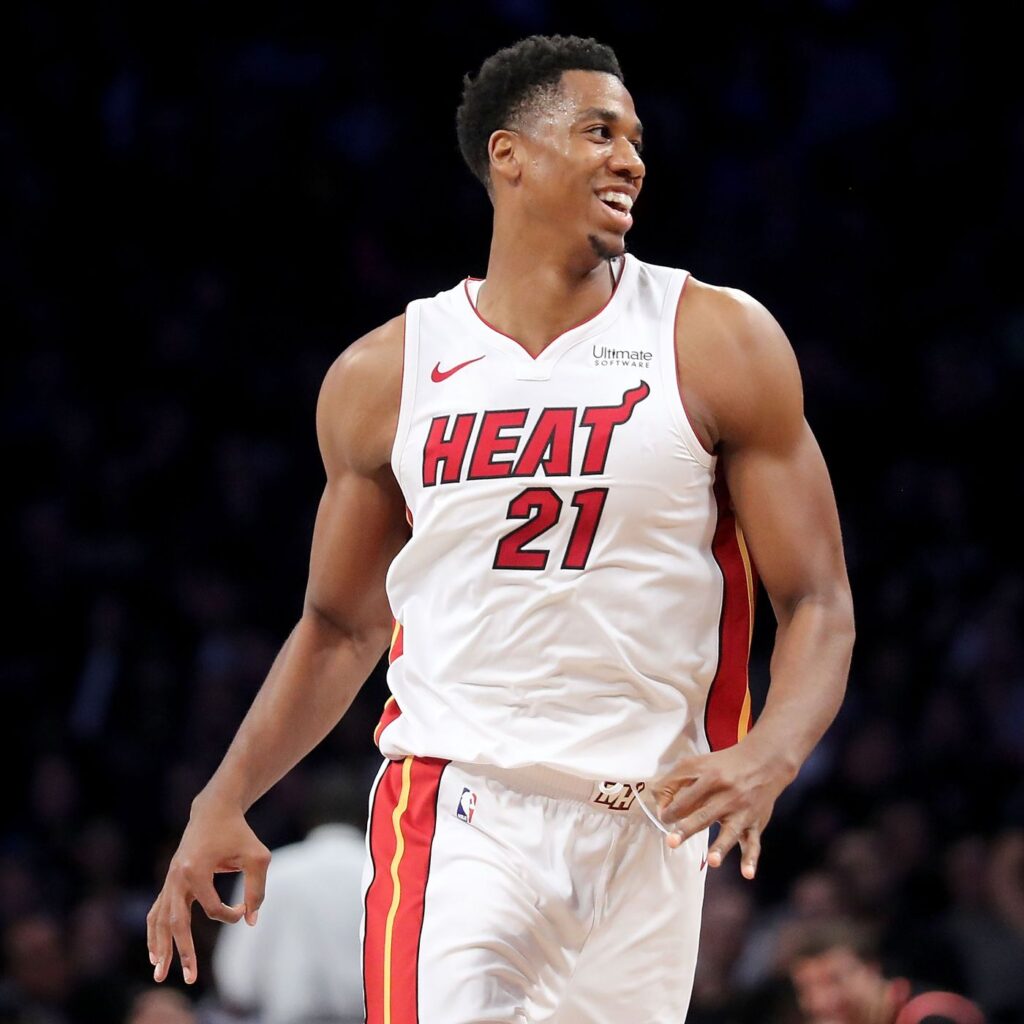 The Kings released him as soon as the second season was over, after which Hassan had a brief stint in the NBA G League. He played for different foreign clubs in China and Lebanon in the following year.
However, all the tables turned after he signed with the Miami Heat in 2014. He played 48 matches in the first season after returning from overseas and averaged 11.8 rebounds and 10.0 rebounds per game.
Likewise, people voted him to the fourth position in the NBA Most Improved Player Award that year. Hassan played four more seasons with the Heat until 2019, and his performance kept improving.
They traded him to the Portland Trail Blazers on July 16, 2019, for the new season. Since then, he has played for two NBA clubs, his former team Sacramento King being one.
Awards & Achievements
Some of his awards and achievements include:
NBA rebounding leader (2017)
Lebanese League Block champion (2014)
NBA blocks leader (2016, 2020)
NBA G League champion (2013)
Conference USA Freshman of the Year (2010)
NBA All-Defensive Second Team (2016)
NBL-China Champion (2013)
Conference USA Defensive Player of the Year (2010)
NBL-China Finals MVP (2013)
All-Lebanese League First Team (2014)
NBL-China Defensive Player of the Year (2013)
Hassan Whiteside | Net Worth & Earnings
One of the finest rebounders in the NBA, Hassan Whiteside, has a net worth ranging from $15 million to $25 million. Even though many websites on the internet claim it to be $16 million, the exact number is unknown.
When Hassan entered the NBA, he received low payment as he was one of the bottom picks and had very little playtime. The Sacramento Kings paid him around $1.5 million for his first two seasons.
Then he played for about two years in the minor leagues in which he had meager payments compared to the NBA. However, he later earned a lot after returning to NBA regular season.
The Portland Trail Blazers paid him his career-highest $27 million in the 2019-20 NBA season. The Utah Jazz paid him around $2.4 million for playing for them in the most recent season.
Whiteside has already accumulated approximately $103 million from his NBA career to date.
If you're interested to read about the professional and personal life of professional American basketball player Duncan Robinson click here!
Moreover, he has made a considerable amount of money through brand endorsement deals with various companies such as Nike, Harman International, Panini, etc.
Buying Debbie a House
Hassan bought a new home for his mom in North Carolina in the May of 2017. He did that just some months after signing a huge contract deal worth around $98 million with the Miami Heat in 2016.
The player accompanied her during a house tour without hinting that he would gift it to her. After the surprise, Debbie could not be happier.
She remarked that he had always promised her that he would do something great for her, and he finally did it. It is a six-bedroom house that, according to her, "has everything she had wanted."
Nassan's Place
Hassan has not only fulfilled his needs and lived a luxurious life through his earnings but has invested money for the benefit of society as well.
One of his brothers, Nassan, is autistic, so in his honor, Hassan and his family founded a non-profit organization named Nassan's Place in 2012. It is based in New Jersey and works vigorously to make people aware of autism.
Moreover, it provides financial assistance to low-income families to raise their children in a safe and comfortable environment.
Hassan Whiteside | Personal Life
Whiteside is in an intense relationship with a Latin American beauty named Ashly Ariza. Hassan and Ashly began dating soon after they met in 2016.
On January 22, 1996, Ariza was born in Columbia and moved to Miami, United States, after graduating from college.
She completed her Bachelor's degree from Universidad Cooperativa de Columbia in Medellin, Columbia.
Besides being popular as Whiteside's girlfriend, Ariza is quite famous among Insta people and has over 10k followers. She is a fitness freak and occasionally does modeling as well.
Moreover, Ariza and Whiteside have a son named Jayden Legend Whiteside. He was born on December 9, 2018.
Avenatti Affair
In 2017, Whiteside got engaged in a legal battle against the former American attorney and now convicted criminal Michael Avenatti.
The notorious lawyer had allegedly embezzled a large sum of money that Hassan had entrusted him to give to his ex-girlfriend Alexis Gardener. Instead, he invested the money in buying his own private jet.
Gardener and Hassan were long-time lovers who had finally broken up in 2016.
So, he had vowed to give her settlement money worth $3 million as compensation for the time she spent for his betterment during his NBA career.
But, they later discovered that Avenatti had taken more money than he was supposed to take from his client. His legal fee was $1 million, but he had withdrawn nearly $2 million from Whiteside.
Age, Weight & Height
As of 2023, Hassan Whiteside is 34 years old.
About his physical stats, he stands tall at 2.13 meters (7 feet) and weighs around 265 lb (120 kg).
Hassan Whiteside | Social Media
Randolph Albert Morris, aka Randolph Morris, is a former American basketball player who had a brief career in the NBA. Click here to get all details on his personal life!
Frequently Asked Questions
Does Hassan Whiteside have a ring?
No, Hassan Whiteside does not have a ring. He has not won an NBA championship throughout his professional career.
What is the wingspan of Hassan Whiteside?
Hassan Whiteside has a wingspan of 2.31 meters.