Chiney Ogwumike's brilliance doesn't shine alone in the realm of professional basketball.
Her sisters, Nneka, Olivia, and Erica, too, are luminous stars on the court, together forming a constellation of exceptional talent and athletic prowess.
The inseparable bond between WNBA star sisters Chiney and Nneka continues to shine as they stay together on the Los Angeles Sparks for another exciting season.
Let's explore more about the Chiney Ogwumike sisters and their journey towards basketball supremacy.
Chinenye "Chiney" Ogwumike is a popular American professional basketball player who was born on March 21, 1992.
Hailing from Tomball, Texas, she started her sports journey from Cypress Fairbanks High School. During her sophomore and senior years, she won the 5A State Championship.
She also earned MVP honors for the White team, scoring 24 points in the 2010 WBCA High School All-America Game.
After a successful high school career, Chiney attended Stanford and there proved her potential, showcasing her skills.
Finally, Ogwunmike transitioned to the professional level after being selected as the first overall pick in the 2014 WNBA Draft by the Connecticut Sun.
During her rookie season, she earned the WNBA Rookie of the Year title and gained for the Connecticut Sun from 2014 to 2019.
Later, in 2020, she was traded to the Los Angeles Sparks and reunited with her with her sister Nneka.
Chiney Ogwumike Sister Nneka Ogwumike
American professional basketball player born on July 2, 1990, Nneka Ogwumike is the elder sister of Chiney Ogwumike.
The WNBA star sisters were introduced to basketball at a very young age by Nigerian parents Peter and Ify Ogwumike.
Their parents played a vital role in nurturing their basketball talent and providing a strong foundation for their athletic endeavors.
Growing up, Chiney and Nneka had a close and supportive relationship. Sharing the same love for basketball from an early age, they grew up playing together.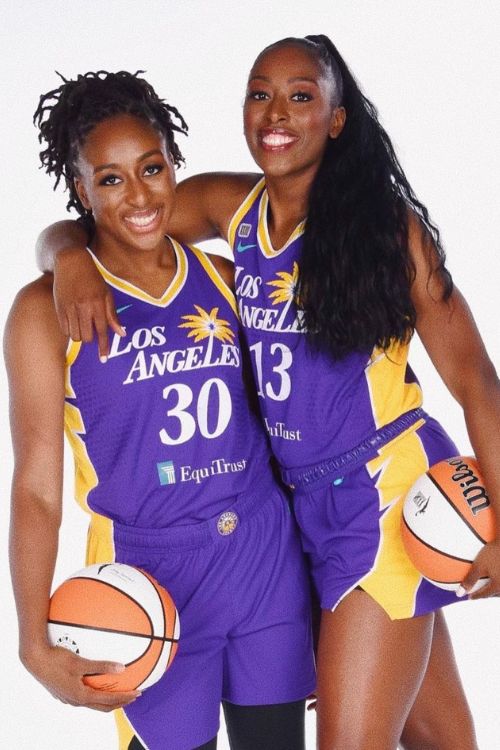 Whether it's their personal or professional life, they have always been together no matter what.
After playing together in childhood, the siblings attended Stanford University and got a chance to play together for a season (2010-2011).
Chiney and Nneka sharing the court at the collegiate level was a unique and memorable experience for them and the university as well.
Finally, they again united when Chiney was transferred to the Los Angeles Sparks in 2021. This reunion allowed them to play together in the WNBA once again.
The Ogwumike sisters on and off-court chemistry has once again kept them together on the Sparks for at least another thrilling season.
Who Are The Other Ogwumike Sisters?
Chiney and Nneka also have two more sisters, and they have also followed their footpaths.
One of their younger sisters, Erica Ogwumike was born on September 26, 1997, in Cypress, Texas.
She also had a successful college career at Rice University and was known for her scoring ability and all-around skills on the court.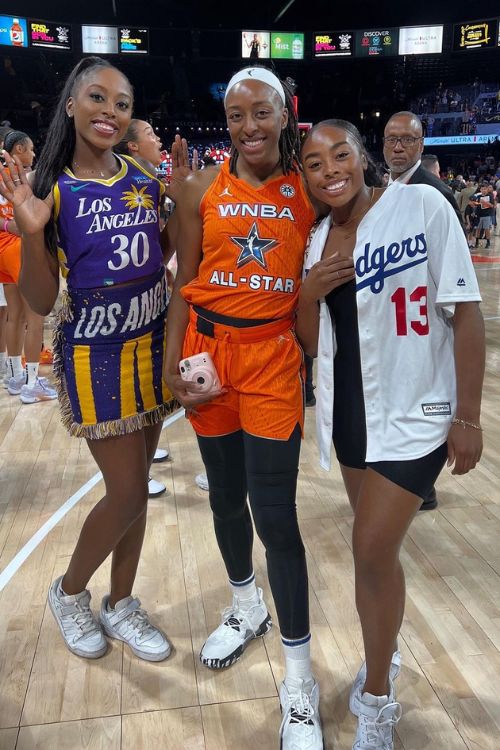 Erica immediately started her professional journey by entering the WNBA draft after completing college.
On the other hand, Olivia Ogwumike is also a high school basketball player. She currently plays Cypress Woods High School under head coach Virginia Flores.
The Ogwumike are very close and supportive towards each other. They are often spotted at each other's games, cheering each other on from the sidelines.
Frequently Asked Questions (FAQs)
1. Who Are Chiney Ogwumike's Sisters?
Chiney Ogwumike's sisters are Nneka, Olivia, and Erica Ogwumike.