Jerry West has been married to his wife, Karen Bua West, for over four decades.
Jerome Alan West, also known as Jerry West, is a former professional basketball point guard and shooting guard who played for the Los Angeles Lakers of the National Basketball Association (NBA).
Jerry, "Mr. Outside," was selected by the Minneapolis Lakers (now Los Angeles Lakers) as the second overall pick in the 1960 NBA draft.
The point guard was committed to the Lakers for about 14 years and won an NBA championship in 1972.
During his professional career, West earned honorable mentions on the All-NBA First Team 10 times and NBA All-Star Team 14 times.
After his retirement as a player, Jerry coached the Lakers for three years and started his career as an executive.
He worked as a general manager for the LA Lakers, Memphis Grizzlies, and Golden State Warriors.
Similarly, West took on the job of executive board member and consultant for the Los Angeles Clippers in 2017 and has been working in the same position since.
Moreover, in 1979, he was elected into the Naismith Memorial Basketball Hall of Fame and was honored as one of the NBA's 50 greatest players in 1996.
Jerry West Wife, Karen
Kristine "Karen" Bua, a former Pepperdine cheerleader, is the wife of a former NBA player and a basketball executive. Bua's birthday falls on December 23.
However, nothing much is known about her early life and career. And like her Instagram account, she likes to keep her personal information private.
Besides, the couple met while Mr. Outsider was starting his coaching career. After some time, they took a step forward and exchanged their vows on May 28, 1978.
Additionally, Jerry and Karen gave birth to two sons: Ryan and Jonnie West.
The former point guard also shares three children from his past relationship with Martha; David, Mark, and Michael.
West was married to his college sweetheart, Martha Jane Kane, in April 1960. While they were a married couple, Martha Jane Kane referred to him as "the saddest man she had ever met."
Moreover, his wife has also mentioned that Jerry had difficulty opening up to her. Whenever she tried to comfort West after the loss, he drove Martha away.
This estranged behavior from her own husband drove Martha further away. Sadly, after being together for more than a decade, Kane and West got divorced in 1976.
Jerry And Karen West Kids
Jerry West's older son, Ryan West, followed in his father's footsteps as an executive rather than a player. In 2009, Ryan joined the LA Lakers as a scout.
He was in charge of the Lakers' scouting department along with Jesse Buss. After years of scouting, the older son was finally promoted to director of player personnel.
Moreover, Ryan moved to the LA Clippers to work with his father after spending almost a decade with the Lakers.
However, West's elder son only worked for a year and later joined Detroit Pistons as a personnel scout.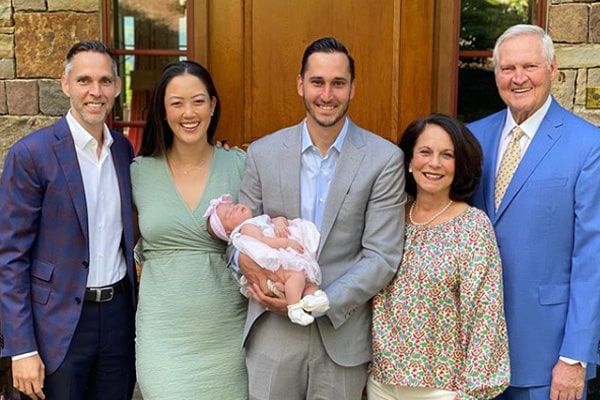 Jerry West's youngest son, Jonnie West, followed in his father's footsteps and played basketball. Jonnie West redshirted a year and played four seasons in the NCAA for the West Virginia Mountaineers.
However, Jonnie remained undrafted basketball didn't work out for him as Jonnie remained undrafted in the 2011 NBA draft.
Later, like his father and brother, he became the executive director of basketball operations for the NBA team, the Golden State Warriors.
Moreover, the executive director is married to a professional golfer, Michelle Wie. The couple was blessed with a beautiful daughter, Makenna Kamalei Yoona West, on June 19, 2020.