Chito Vera, also known as Marlon Vera, is a mixed martial artist from Ecuadorian. Chito fights in the Bantamweight division of the Ultimate Fighting Championship.
He has been competing professionally for eight years now. Likewise, Marlon first served on 'The Ultimate Fighter: Latin America' in February 2012.
Notably, Vera is ranked #13 in the UFC bantamweight rankings as of June 21, 2021. He is an incredible martial artist who has won thousands of hearts.
His outstanding fighting skills and unique style have made him one of the best fighters in the MMA world.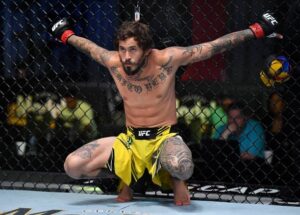 Well, today, in this article, let's dive into the life of Chito Vera and discuss all his incredible journey as a mixed martial artist.
But, before we dive in, let's head towards quick facts.
Quick Facts:
| | |
| --- | --- |
| Full name | Marlon Vera |
| Known As | Chito Vera |
| Nick Name | Chito |
| Birthdate | December 2, 1992 |
| Birthplace | Chon, Ecuador |
| Religion | Not Available |
| Nationality | Ecuadorian |
| Horoscope | Sagittarius |
| Father's name | Marlon Senior Vera |
| Mother's name | Not Available |
| Siblings | Not Available |
| Ethnicity | Mixed |
| Age | 30 years old |
| Height | 1.73 m (5 ft and 8 inches) |
| Weight | 135 lbs. (61.23 kg) |
| Reach | 73 inches (173 cm) |
| Eye color | Black |
| Hair Color | Brownish |
| Marital Status | Married to Maria Paulina Escobar |
| Relationship Status | Married |
| Children | 2 daughters; Anna Paula and Eliana |
| Profession | Mixed Martial Artist |
| Current division in MMA | Flyweight |
| Fighting out of | Irvine, California |
| Style | Striker |
| Affiliation | Ultimate Fighting Championship (UFC) |
| Debut Fight in UFC | Amateur debut in 2012 |
| Former Affiliation | Not Available |
| Teams | Team Oyama |
| Net worth | $4 million |
| Career Earnings | $1,419,000 |
| Social Media Handles | Instagram, Twitter, Facebook |
| Last Update | March, 2023 |
Chito Vera | Early life, Parents & Education
Chito Vera was born as Marlon Vera in Chon, Ecuador. He was born to a proud father, Marlon Senior Vera, while his mother's name is unknown.
Sadly, Chito has not spilled much when it comes to his personal life that much. Anything regarding his parent's whereabouts and childhood is kept a secret.
Same as that, the information on his siblings is also close to nothing. Even anything aside from their names is unknown.
However, all we know is that Vera started training as a rookie in 2011 and made his trained debut in February 2012.
Likewise, he amassed a record of 6–1–1, playing for regional elevations in Latin America before seeking The Ultimate Fighter in 2014.
How old is Chito Vera? Age, Height, and Body Measurements
The talented fighter, Chito Vera, was born in 1992, which makes him 30 years old at the moment.
Likewise, Chito celebrates his birthday every year on the 2nd of December under the Sagittarius star sign.
Now talking about his physique, it is no secret that Vera has a muscular build. He has a well-built and maintained physique, thanks to his years of training.
He maintains a proper diet and workout regularly to keep him fit and active. Moreover, Chito stands at an astounding height of 5 feet 8 inches (1.73m) and weighs around 61.23 kg (135 lbs).
Besides this, his other notable body facts include his short brown hair and pair of black eyes. Not to mention Vera is Ecuadorian by Nationality and belongs to mixed ethnicity.
Chito Vera | Professional Career
The Ultimate Fighter: Latin America
It was exposed that Vera was a cast portion of The Ultimate Fighter: Latin America, playing for Team Werdum in May 2014.
Up the course of the program, Vera first conquered Enrique Briones in the quarterfinals via knockout.
Further, he was made out from a semi-final bout due to a skin virus and was ousted by Guido Cannetti.
Ultimate Fighting Championship
Chito made his real première against fellow castmate Marco Beltrán on November 15, 2014, at UFC 180. He missed the fight via a single choice.
Later, he faced Roman Salazar for his next bout on August 8, 2015, at UFC Fight Night 73. He won the fight via docility in the second round.
Likewise, he also got a Performance of the Night tip. Further, Chito faced Davey Grant on February 27, 2016, at UFC Fight Night 84. But, he lost the fight via unanimous decision.
Moreover, Chito was expected to face Ning Guangyou on August 20, 2016, at UFC 202.
However, on August 9, 2016, it was unveiled that Guangyou had tested positive for trace quantities of clenbuterol to an out-of-competition drug test taken on May 19.
Further, Guangyou was cleared of inappropriate doing after USADA settled that he had possibly had infected meat from China.
More Victories to Come
The fight was rescheduled and presumed to take place the subsequent week at UFC on Fox 21.
In turn, the bout was delayed again due to claimed visa issues for Guangyou, which bound the timing of his trip.
The pairing finally took place at featherweight on November 27, 2016, at UFC Fight Night 101. Chito won the fight via unanimous decision.
Further, Vera was curtly tabbed as a short-notice substitute to face Jimmie Rivera on January 15, 2017. Yet, Rivera refused the fight, and the pairing was dismissed.
He was damage or an injury substitute for Henry Briones to face Brad Pickett on March 18, 2017, at UFC Fight Night 107.
Due to Vera's little notice and preparation, the bout was struck at a catchweight of 140 lbs.
However, he conquered the fight via TKO in the third round, for which he also bestowed a Performance of the Night reward.
Later, Vera met Brian Kelleher on July 22, 2017, at UFC on Fox 25. He won the bout via assent in the first round.
UFC
Chito faced John Lineker on October 28, 2017, at UFC Fight Night 119. He lost the bout via single choice.
Further, Vera stood Douglas Silva de Andrade on February 3, 2018, at UFC Fight Night 125. But, he lost the bout via collective choice.
Similarly, Chito faced Wuliji Buren on August 8, 2018, at UFC 227. He swayed the fight via TKO in the next step.
On November 17, 2018, Vera stood Guido Cannetti at UFC Fight Night 140. He acquired the match via a rear-naked choke in round two.
Moreover, Vera was supposed to face Thomas Almeida on March 2, 2019, at UFC 235. However, Almeida drew out of the fight on January 31, referring to an injury, and was replaced by Frankie Saenz.
Vera drew out of the fight on February 27 due to illness, and the fight was dismissed from the match.
But, the fight was rescheduled to UFC Fight Night 148. Vera won the round via a special knockout in round one.
Further, Vera was registered to face Sean O'Malley on July 6, 2019, at UFC 239. O'Malley stated he retire from the match on June 21, 2019, due to a lost test for ostarine.
So, newcomer Nohelin Hernandez replaced O'Malley. Chito won the fight via a rear-naked choke in round two.
Later, Vera stood Andre Ewell on October 12, 2019, at UFC on ESPN+ 19. He won the fight via technical knockout. This win also got him the Performance of the Night reward award.
On February 8, 2020, at UFC 247, Vera was registered to face Jimmie Rivera. But, Rivera drew out of the fight on January 23, citing an injury. In turn, progression leaders elected to push Vera from the card.
Expectations
Vera was supposed to face Eddie Wineland on March 28, 2020, at UFC on ESPN: Ngannou vs. Rozenstruik.
But, on April 9, Dana White, the UFC president, declared that the event was delayed to a later date.
Rather, Vera stood Song Yadong in a featherweight match on May 16, 2020, at UFC on ESPN: Overeem vs. Harris. He lost the fight by popular choice.
Both members earned the Fight of the Night award. Further, Vera stood Sean O'Malley on August 15, 2020, at UFC 252.
He beat O'Malley via first-round TKO, ending O'Malley with a flurry of hits after O'Malley fell, possibly experiencing lower leg injury after getting a calf kick from Vera.
Later, Chito faced José Aldo on December 19, 2020, at UFC Fight Night: Thompson vs. Neal. However, he lost the bout via collective choice.
You might also want to read about: <<Canelo Alvarez Bio: Career, Kids, Net worth & Boxing>>
Chito Vera | Achievements
Chito has won several awards and made beautiful achievements. He was honored with the Night's performance for three consecutive times vs. Roman Salazar, Brad Pickett, and Andre Ewell.
Likewise, Vera was also honored with the Fight of the Night when he played against Song Yadong.
He was also tied (with T.J. Dillashaw) for most stoppage wins in the UFC Bantamweight division eight times.
You can find the latest fight details and records relating to Chito Vera on the Tapology website.
Chito Vera | Criticisms
Some things provoke MMA fans more than a fight being added wrongly, though the term "robbery" tends to be lost around casually and is often steeped in prejudice.
Like UFC 249, the card that befell a week prior, UFC on ESPN 8 had a trio of dubious bouts, and the noise enclosing them was so fast and loud that we took a look at all three of them.
Now, let's look at Song Yadong vs. Marlon Vera, a game that arguably drew the MMA community's loudest outcry. Hither is just less of the responses:
Most of these reactions threw shade towards Vera, whilst few were supportive. People thought that Vera was robbed.
No sooner than the bout ended, Vera's competitor came with a saying he delivered via media. Song's own less-than-enthusiastic post-fight quotes issued to the media after the bout:
"I was deeming it was maybe a split choice, but when I heard it was a common choice, I felt good, but I didn't do well in this game.
I feel like I acquired a lot from this game; when I have the turn, I will critique this fight and get more practice for when I come aft."
The Fight
The initial round struck out pretty much as foreseen, with Song seeming for openings to dive in for flurries and Vera adding leg kicks and following a tight defense.
Song's absurd hand speed was on full show, but one must ask how many of his strokes were actually going within Vera's stop. There was a lot of noise and rage, that's certain.
Vera's clinch match perfection was a huge part of this fight, and he got much of Song about every time they tied up.
Vera made efficient use of the clinch during the game, whether it was gliding in elbows, kneeing Song's body, or fixing up a trip.
After a close first round, Song seemed a lot better in round two, crash-landing cleaner even as Vera lingered in his face.
You may want to read about Cynthia Calvillo. Click on the link to learn more.
Continued
Though it was an insulting change or Vera's front not being sharp, Song starts to join with energy and strength.
However, his own guards were tested as Vera shot back and again used that clinch to obstruct Song's game design. Vera steadily pushed ahead in round two and ended it with a swirl.
Vera came out furious in the third, settling a knee to the belly that caused Song to start the clinch at this point.
It didn't act well, and Vera got a takedown ahead of it. He fought hard on the ground to get the fight back to the feet.
He settled some nice counters, though there are several changes where they just swapped punches. What a great fight!
A couple of times in the third, Vera got the top position, and he hid in some ground-and-pound.
More than that, they battle to the buzzer, and you know this one was omitting the loser even with more impediment than normal.
Opinions
All the judges, Sal D'Amato, Howard Reichbach, and Dave Tirelli, marked it 29-28 Song. They all accepted that Song got the initial two rounds while Vera won the last.
People definitely wonder this fight was a busy one; they are right. Both Song and Vera had a credit with around 100 total strikes, with Song getting in that category 101-92 (he also had more total strikes, 119-115).
The figures might shock some as Vera runs nearby around, taking a 21-17 vital lead in round one, while Song got to round two 44-37 and round three 40-34.
Song's interest in round three sway takes Vera's balance going 2-for-2 on takedowns and strongly relating with four vital strikes on the area.
Song had a big role in head strikes at 79-41, but Vera did great work on the body and legs, getting in those areas 29-12 and 22-10, apiece.
Not fighter got a knockdown, but it wasn't for the loss of seeking. People want a few verdicts of how willing these two were to stand in the pocket and fire.
Later, Song ends the fight, docking 50 percent of his vital strikes, and Vera was even much at 56 percent.
Chito Vera | MMA Stats
Mixed martial arts record

25 matches
17 wins
7 losses
By knockout
6
0
By submission
8
0
By decision
3
7
Draws
1
What is Chito Vera's Net worth? Net Worth and Fight Pursue
The measures of Marlon Vera's net worth vary because it's hard to foretell his spending practices.
Several top-level fighters also get pay-per-view cuts, money from support, and other "locker room" or special optional bonuses the UFC often pays, which are not told to the people.
However, Marlon Vera's fight purse is estimated to be $65,000. His wallet money for the UFC fight grew after acquiring the game with (Wuliji Buren) at UFC 227.
As per the reports, Vera earned $68,000 for winning the bout next (Buren), which adds $32,000 to show, $32,000 to win the reward, and $4,000 sponsorship bonus pay.
In 2020, his income per fight rose $65,000, and if he takes O'Malley at UFC 252, his future fight payday will rise to $70,000.
"The more I learn, the more I realize how much I still have to learn" – Chito Vera
Who is Chito Vera Wife? Personal life, Wife & Family Problems
Chito Vera is happily married to María Paulina Escobar. Together they have three kids two daughters, Ana Paula Vera and Eliana Vera, and a son, José Ignacio.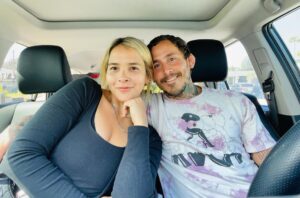 Vera's family had to go through a lot. Their eldest daughter, Ana Paula, has a rare neurological disease, Mobius diagnostic, to which Vera built a GoFundMe statement.
"It's something I aspired to do so that individuals can fuse, and so I can figure with the aid of the people that support or follow me; the people who know my story knows that I want to fight for my family and that I fight to fulfill my elder daughter's surgery," Vera answered in one of the interviews in 2018.
Vera raised enough contributions for that surgery and successfully implemented it in California in June 2018.
Nearly two years later, seeing on The Ultimate Fighter Latin America, Vera could still see Ana Paula smile since her exceptional neurological disease prevents her from having any facial emotion.
Famous UFC fighters like Fabricio Werdum, Carlos Condit, Derek Brunson, and Bec Rawlings also helped Vera's cause by yielding his GoFundMe page online.
"I'm very grateful for them as I asked them a boon, and they've healed me with no dilemma, so I feel in bonds with them, and I relish what they're doing for me," Vera answered.
Social Media Presence:
Instagram: 496k followers
Twitter: 171.4k followers
Facebook: 590k followers
Some FAQs:
Is Vera into any controversies?
Yes, he has been into few criticisms. He gets criticized in some situations, despite his innocence.
How is Vera's daughter currently?
Currently, Vera's daughter is healthy and fine. After her surgery, her health is a lot better. She is a beautiful growing child.
Who is Chito Vera's manager?
Jason House is the manager of Chito Vera. Likewise, Jason is the founder and CEO of Iridium Sports Agency, which currently boasts many MMA fighters.
What is Chito Vera's fight record?
Chito Vera has a professional fight record of 17 wins, 7 losses, and 1 draws.