Many boxers have risen to the pinnacle throughout the centuries of boxing and have made their name in this challenging sport. One such name among the boxing elite is Canelo Alvarez.
He is famous for his excellent counterpunch and exploiting openings in his opponents' guards by avoiding punches with head and body movement.
Just this month, Canelo is ranked as the world's best active boxer, pound for pound, by The Ring, Boxing Writers Association of America, and second by the TBRB and ESPN.
Moreover, he is also ranked as the second most excellent Mexican fighter of all time, pound for pound, by BoxRec boxing's elite. But, besides being a professional boxer, there is so much we don't know about Canelo Alvarez.
So, today in this article, learn more about Canelo's life. Here we have mentioned all his details regarding his early life, age, weight, physical statistics, career, net worth, personal life, and many more.
Quick Facts about Canelo Alvarez
Full Name
Santos Saul Alvarez Barragan
Birth Date
July 18, 1990
Age
32 years old
Birth Place
Guadalajara, Mexico
Nick Name
Canelo ("Cinnamon")
Religion
Unknown
Nationality
Mexican
Ethnicity
White
Education
Unknown
Horoscope
Cancer
Father's Name
Santos Alvarez
Mother's Name
Ana Maria Barragan
Siblings
Six older brothers- Rigoberto Alvarez, Daniel Alvarez, Ricardo Alvarez, Gonzalo Alvarez, Victor Alvarez, Ramon Alvarez
One older sister-Ana Elda Alvarez
Younger half-brother from paternal side-Bryan Alvarez
Height
5 '9 inches (175 cm)
Weight
79 kg (167 lbs)
Hair Color
Reddish Brown
Eye Color
Brown
Body Measurement
Chest: 41 inches
Waist: 33 inches
Biceps: 15 inches
Build
Muscular
Married
Single
Girlfriend
No
Children

Emily Cinnamon Alvarez




Maria Fernanda Alvarez




Saul Adiel Alvarez




Mia Ener Alvarez

Profession
Boxer
Net Worth
$94 million
Salary
$20 million
Affiliations
TKO, WBA
Active Since
2004
Social Media
Instagram, Facebook, Twitter
Merch
Autographed Glove, Caps, & Sweatshirts
Last Update
December, 2022
Canelo Alvarez Wiki-Bio – Early Life & Family
Santos Saul Alvarez Barragan professionally Canelo Alvarez was born in Guadalajara, Mexico, to parents Santos Alvarez and Ana Maria Barragan.
Although his family is originally from Los Reyes, Michoacán later moved to their current home at Juanacatlán, Jalisco.
Likewise, Canelo was born as the youngest son in a big family of eight children, seven of them boys and one sister.
All Alvarez boys used to be very athletic since they were a kid. Among these, the older brother Rigoberto Alvarez first decided to take up boxing and inspired his family.
Additionally, two of his older brothers are also welterweight boxers Ramon Alvarez and Ricardo Alvarez. Moreover, Canelo followed in the footsteps of his older brother, Rigoberto, and got into boxing.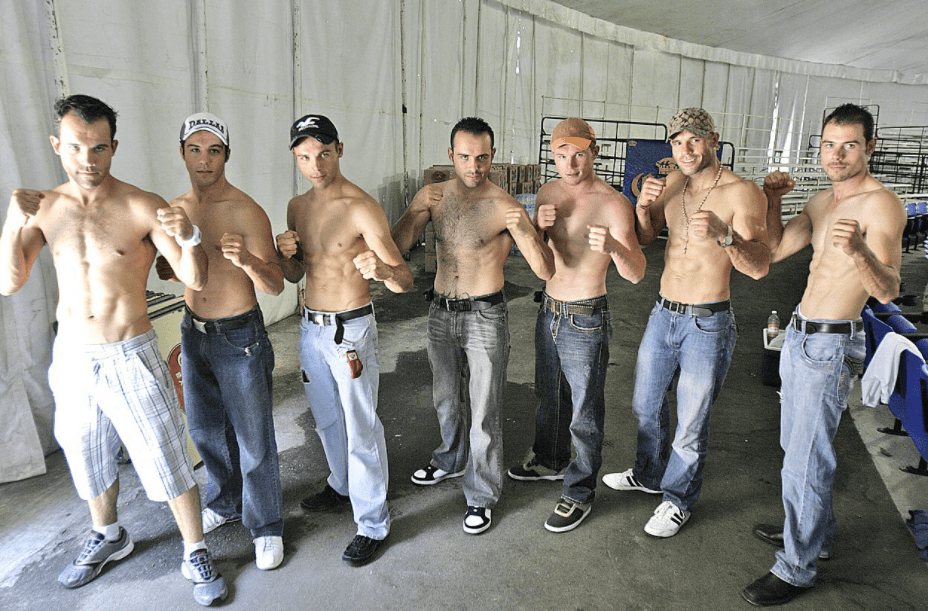 Likewise, he first got in the ring at the age of 13, and since then, boxing has become an inseparable part of his life. As an amateur, Canelo took part in many boxing matches and even twice got the victory in the Junior Mexican National Championships in Mexico.
If you are interested in buying boxing gloves, click here>>
Interestingly, he also won his first gold medal before making his professional debut at the early age of 14. Likewise, when Canelo was just 20 years old, he became the WBC World Championship runner-up.
How old is Canelo Alvarez?-Age, Height & Body Measurements
Having born on July 18, 1990, makes Canelo 30 years old at the moment. Not to mention, Alvarez's birthday falls under the star sign of Cancer. And from what we know, his personality is supposed to be stubborn, energetic, and passionate.
Moreover, Canelo fights in the Welterweight, Light middleweight, Middleweight, Super middleweight, and Light heavyweight, which means that his weight varies depending upon the weight class. Well, as of now, his recorded weight is 79 kg (167 lbs).
Likewise, welterweight fighters are usually short, but that's not the case with Canelo, as he stands at 5 feet 9 inches (175 cm).
Added to that, he also has a robust body, measuring 41 inches in the chest, 33 inches in the waist, and 15 inches in the biceps.
Despite all, Canelo has got an athletic physique and trained body thanks to his years of training. It has been a decade since he first started as a boxer, and still to this date, he is muscular and fit to the bones.
If you are interested in buying boxing shorts, click here>>
In addition to that, the talented boxer has got a pair of brown eyes and reddish-brown hair. Interestingly, in Spanish, his name "Canelo" is the masculine word for cinnamon and is mostly used as a common nickname for people with red hair.
Canelo Alvarez – Boxing Career
Shortly after winning the gold medal in 2005, Canelo started playing professionally. Generally, amateur boxers don't make their debut at age 15, but Canelo made the jump simply because he was very talented and no one else wanted to fight him.
Though he was fighting professional boxers much older than he was, he knocked out most of his opponents and kept his winning streak in.
Likewise, in his first 19 months as a professional, he even knocked out 11 of his 13 opponents, all of whom were significantly older than him.
Moreover, he started with several loud victories, and in 2008, he knocked out two of his rivals and won the prestigious 'WBA Fedecentro" welterweight title.
Similarly, he continued his winning spree, and again in 2009, he won the 'NABF' and the 'WBO Latino welterweight titles, defeating Mexican boxer Antonio Fitch.
After that, Canelo competed in light middleweight, in 2010, and even their he won the WBC silver title. Likewise, that same year, he also became the first boxer to knock out Carlos Baldomir.
Later that year, on September 14, Canelo suffered a massive loss against Floyd Mayweather Jr, marking the first loss of his professional career. However, the loss could not take away the fighting spirit of Canelo.
Find more about Floyd Mayweather Jr.
Further, he went on to win many more fights and got victories over Alfredo Angulo in 2014.
Similarly, he also successfully defended the title against British boxer Amir Khan on May 7, 2016.
Moreover, on September 15, 2018, Canelo fought in a rematch against Gennady Golovkin and won with a majority decision.
Initially, the fight was first scheduled to occur on May 5, 2018, but Álvarez tested positive for an illegal substance and was suspended for six months.
In his next match in 2019, Canelo competed with US boxer Daniel Jacobs, held on May 4, 2019, and won the 'IBF middleweight title and retain the 'WBA (Super),' 'The WBC,' 'The Ring,' and the lineal middleweight titles.
Not to mention, in his professional career, Canelo's record currently stands at 53 wins, 1 loss, and 2 draws. Likewise, in those 53 wins, he's stopped 36 of his opponents.
How much does Canelo Alvarez make the per fight?- Networth and Income
The greatest boxer Canelo Alvarez has been active as a professional boxer since 2005. Since then, in fifteen years, Alvarez has earned a lot of recognition from all over the world.
Well, it's not only the name and fame Canelo has earned throughout these years.
But, has pocketed plenty of million dollars in earnings making him one of the fourth-highest-paid athletes behind only a trio of soccer stars Lionel Messi, Cristiano Ronaldo, and Neymar.
As of 2021, Alvarez has earned an estimated net worth of $94 million, per Forbes. And most of his fortune came from accumulated cash earnings from his successful boxing career and winning world-class championships.
Moreover, in 2018, Canelo signed a 5-year contract worth $365 million with Oscar De La Hoya's promotion company and DAZN, covering 11 fights.
Likewise, between June 2018 and June 2019, Alvarez received $95 million from his empire, and in the following 12 months, he earned $40 million.
You might also be interested in:
Further, he was also paid handsomely, a whopping amount worth $12 million when he fought with Floyd Mayweather Jr. on Sept. 14, 2013, and received $25 million for fighting against Amir Khan on May 7, 2016.
Equally, he was paid $70 million when he fought against Gennady "GGG" Golovkin. Besides this, Canelo has also captured many product endorsement deals that have helped his income significantly.
Canelo has currently signed deals with Under Armour, Coppel Tecate, Hennessy, and Everlast, increasing his salary and net worth.
According to sources, Alvarez's previous home in San Diego with six-bedroom, seven-bathroom with 11,970 square feet was sold in October 2015 for $6 million.
Likewise, from his online displays, Canelo seems to be very fond of cars and has filled his garage with vehicles like the Mercedes SLS AMG Black Series to a Lamborghini Aventador, Ferrari Testarossa, McLaren P1, a Bugatti Chiron, and many more.
Nadia Kassem Bio: Mixed Martial Arts, Family & career>>
Canelo Alvarez – Logo
Who is the mother of Canelo's daughters?- Personal life and kids
The greatest boxer, Canelo's love life, is very active. Over the last decade, Canelo has dated many beautiful and famous ladies and had plenty of relationships but has never officially married.
But although he has not been married, he has already experienced the joys of parenthood. Interestingly, Canelo has four kids from four different mothers.
Moreover, while dating his school sweetheart Karen Beltrán, he welcomed his first daughter Emily Cinnamon Alvarez in 2007. Interestingly, Canelo was just 17 at the moment of his daughter's birth.
Later, Canelo and Karen separated soon after their daughter's birth, but he didn't escape from Emily's life and maintained a good relationship with her till now.
After that, he welcomed his second daughter Mia Ener Alvarez with model Valeria Quiroz. Sadly, they also got separated after some time. Currently, Mia lives with her mother in Los Angeles.
Similarly, after dating for a year with his business partner Nadia Sepulveda, Canelo welcomed his third child (and the first boy), Saul Adiel Alvarez.
It was confirmed when Canelo publicly posted Saul's picture on Instagram, captioning it "My boy #teamcanelo."
But, unfortunately, just like his other relationship, even this relationship also didn't work out, and Canelo and Nadia got separated after some time.
Moreover, Canelo is currently dating Fernanda Gómez. The duo reportedly met for the first time in 2017 at a charity gala and instantly hit off.
After dating for about a year, they welcomed their first child and Canelo's third daughter Maria Fernanda Alvarez in 2018.
Although the two have been dating for a long time, since 2017, to be precise, they have made no plans to tie the knot anytime soon.
However, this has not stopped Canelo and Gomez from posting a couple of pictures on their social media handles.
Well, till now, everything seems to be going very well with the duo, and they seem to be living a blissful life with each other. If something fruitful about their relationship comes out, we will update it here for sure.
Besides these beauties, the boxer also has a dating history with other famous girls Kate del Castillo (an actress), Shannon de Lima, Cynthia Rodriguez, and Marisol Gonzalez (2003 Miss Mexico Universe).
Canelo Alvarez – Product Website
You can purchase Alvarez's t-shirts, hats, tracksuits, accessories, etc., on his very own website, Store Canelo Team.
Canelo Alvarez – Social Media Presence
Canelo Alvarez is recognized all over the world as one of the greatest boxers. As a reason Canelo has achieved millions of followers worldwide on social media who admire and respect him.
Moreover, Canelo has around 1.6M followers on Twitter, with about 5,332 tweets to date. Similarly, he has around 8M followers on Instagram and 4,034,321 followers on Facebook.
Some FAQs:
Does Canelo lift weights?
No, he doesn't perform strength training and weight lifting. But, he has been sometimes seen using small weights for doing bodyweight exercises.
What does Canelo Alvarez eat?
Canelo maintains a proper diet and is only allowed to eat bread or rice just once a week.
Likewise, he likes to stay away from carbohydrates and only consumes much protein like fish, chicken, steak, and snacks that consist only of fruits and vegetables.
What is Canelo Alvarez's real name?
Canelo's real name or birth name is Santos Saúl Álvarez Barragán.
What belts does Canelo hold?
Canelo holds three belts with world titles of WBA (Super), Ring and lineal middleweight titles, and WBA (Regular) super middleweight titles since 2018.
What happened in Canelo Alvarez Vs. Golvikin?
Canelo Alvarez Vs. Gennady Golvikin was a boxing competition held on September 16, 2017. It was held at T-Mobile Arena on the Las Vegas Strip, Nevada, United States.
The fight firstly ended with a controversial split draw. The rematch was held then.
Nonetheless, Canelo Alvarez stood up as the winner by majority decision.