Chris Chiozza is one of the most down-to-earth players in the NBA. He is a rising star in the realm of basketball.
The American professional basketball player plays for the Golden State Warriors of the NBA and the Santa Cruz Warriors of the NBA G League on a two-way deal.
Moreover, Chris was a Florida Gators' basketball team member in college.
If you're a basketball enthusiast, you must have probably heard about Chris and his charisma on the court.
Today, we have everything you need to know about the young basketball player. So, please read the article to the end and learn about Chris, his family, career, and net worth.
Firstly, here are some quick facts about Chris Chiozza.
Quick Facts
| | |
| --- | --- |
| Full Name | Chris Chiozza |
| Birth Date | November 21, 1995 |
| Birth Place | Memphis, Tennessee |
| Nick Name | Flash |
| Religion | Christianity |
| Nationality | American |
| Ethnicity | Mixed |
| High School | White Station (Memphis, Tennessee) |
| College | College Florida (2014–2018) |
| Playing Career | 2018-present |
| Zodiac | Scorpio |
| Father's Name | Christopher Joseph Chiozza |
| Mother's Name | Curtistine Chiozza |
| Siblings | Not available |
| Age | 28 years old |
| Height | 5 feet 11 inches |
| Weight | 79 kgs |
| NBA Draft | 2018/Undrafted |
| Hair Color | Black |
| Eye Color | Brown |
| Career Highlights & Awards | First-team All-SEC (2018) |
| Build | Athletic |
| Marital Status | Not married |
| Wife's Name | None |
| Position | Point Guard |
| Profession | Professional Basketball Player |
| Net Worth | $1-$3 million |
| Salary | $462,629 |
| Currently Plays For | Golden State Warriors |
| League | NBA |
| Active Since | 2018 |
| Social Media | Facebook, Instagram, Twitter |
| Merch | Notebook |
| Last Update | December, 2023 |
Chris Chiozza: Early Life and Familly
The basketball player, Chris, was born in Memphis, Tennessee, on November 21, 1995. His Father's name is Christopher Joseph Chiozza, and his mother's name is Curtistine Chiozza.
Chris is very close to his parents. Chris's parents go to his matches to watch him play whenever they get a chance. Chris says that it's a great feeling to know that he has parents that are so supportive.
Further, Chris has always been a family boy. Moreover, it has always been Chris's dream to play basketball at a higher level and earn a lot of money.
He does not want to trouble his parents any longer and wants to rest at home. He says that now it is his time to take care of them.
Also read, Malik Beasley Bio: Career, Family, NBA & Net Worth>>
Maternal Grandparents
Along with his parents, Chris is also super close to his grandparents. His maternal grandmother's name is Pearlie Crenshaw, and his grandfather's name is Emerson Crenshaw.
He was raised in Memphis under the guardianship of his maternal grandparents. Hence, Chris spent a lot of time with his grandparents.
His grandmother left her job to watch Chris so that Chris's mother could go back to work. Pearlie didn't want his grandson to be left at daycare. Therefore, Chris was usually with his grandparents and used to run around the farm.
Crenshaw-Chiozza, Chris's mother's favorite picture of Chris, is also one of the farm days. In the photo, Chris was wearing his grandfather's cowboy hat and sitting on his tractor.
Further, Chris's maternal grandfather was a deacon in the church. Therefore, Chris spent Sunday mornings in church with his grandparents, sitting in the same pew weekly.
Chris says his maternal grandparents are the big reason he has so much faith in himself and God. According to the basketball player, it is a big part of his confidence.
Chris's grandma passed away only days before a major Amateur Athletic Union tournament in Pittsburgh. Her death shattered him as she played a big part in his life.
However, Chris played the AAU in honor of his grandmother. He believed that his grandmother was watching him, giving him strength.
Seven months after the death of Pearlie came another storm in the Chiozza family. His grandfather also died. The time was a time of great grief for Chris.
Paternal Grandparents
Just like his maternal grandparents, Chris is also very close to and is loved by his paternal grandparents. Both of Chris's paternal grandparents are still alive, unlike his maternal grandparents.
His grandfather's name is Francis Chiozza, and his grandmother is Mary Chiozza. Currently, they live in Orlando, Florida.
Moreover, his grandparents visit every home game to watch Chris play for the Gators. Chris is thankful for having a loving and supporting family and dreams of making his family proud of him.
Chris Chiozza: Body Measurements
The American basketball player, Chris Chiozza, was born in 1995. So, he is currently 28 years old.
According to the Chinese calendar, Chris was born in the Pig year.
Talking about Chris's physique, he has an athletic build and a sexy body. Moreover, the player is 5 feet 11 inches tall and weighs about 79 kg.
The basketball player keeps his body fit with healthy nutrition. Moreover, he also exercises daily and goes to the gym.
Chris Chiozza: Career
High School Career
The basketball player was coached by Jesus Patino while at White Station High School. Likewise, he was also a member of Team Thad's AAU team.
After his grandmother died a junior, Chris averaged 27 points, seven assists, and seven steals in a key Pittsburgh tournament, earning him substantial college interest.
Moreover, Chris averaged 15 points and eight assists per game as a senior. Before committing to Florida, Chris was ranked No. 45 in his class.
Further, he also had scholarship offers from Memphis, Auburn, UMass, Richmond, Ohio State, and Tennessee.
Also, have a look at the article, Davis Bertans Bio: Career, NBA & Net Worth>>
College Career
In the 2017 NCAA Tournament's Sweet Sixteen, Chris made a game-winning 3-pointer at the buzzer to help Florida beat Wisconsin in overtime and advance to the Elite Eight.
Moreover, he also considered passing. However, he ultimately ended up hitting the game-winning shot. As a junior, Chris averaged 7.2 points, 3.8 assists, and 3.3 rebounds per game.
As a senior, Chris started and led the SEC with a 3.22 assist-to-turnover ratio. Then, on January 6, 2018, the player had a last-second steal and layup to upset Missouri.
Likewise, Chris broke Erving Walker's Florida assist record on March 3. He also averaged 11.1 points, 6.1 assists, and 4.6 rebounds per game.
Similarly, Chris was selected to the First Team All-SEC at the end of the regular season. He also got invited to the Portsmouth Invitational Tournament 2018 after the season.
Professional Basketball Career
Chris joined the Washington Wizards for the 2018 NBA Summer League after going undrafted in the 2018 NBA draft.
He eventually signed a contract with the Wizards and attended training camp with them. However, on October 14, 2018, the Washington Wizards released him, and he was sent to the team's NBA G League club, the Capital City Go-Go.
Likewise, Chris signed a 10-day deal with the Houston Rockets on February 22, 2019, but he did not participate in any games with the Rockets.
However, the American player did play for the Rio Grande Valley Vipers, the Rockets' G League club. Moreover, Chris signed a contract for the 2018–19 season on March 22.
On March 24, he appeared in his first NBA game, playing 5 minutes in a 113–90 thrashing of the New Orleans Pelicans.
The Houston Rockets released Chiozza on July 30, 2019. Then, Chris re-signed with the Washington Wizards for training camp on September 26, 2019.
On October 21, the Wizards signed him to a two-way deal. Chris split time between the Wizards and their G League franchise, the Capital City Go-Go, under the pact's terms.
However, Chiozza was terminated by the Wizards on December 17, 2019. Soon, on December 21, 2019, the Capital City Go-Go announced that they had re-acquired Chris.
The basketball player signed a two-way deal with the Brooklyn Nets on January 4, 2020. Further, he re-signed with the Nets on December 1.
After being released at the end of training camp, Chris was re-signed on December 22. Moreover, the player signed a two-way deal with the Golden State Warriors on August 14, 2021.
Chris Chiozza: Personality
Chris greets everyone with a broad smile and has a charming personality.
Moreover, the basketball player is very energetic, and the charisma with which Chris presents himself on the court is awe-striking.
Further, Chris's zodiac is Scorpio. Sapiens with the sign Scorpio are honest, intelligent, and brave. They are also very humorous and practical. Chris Chiozza is no different.
Chris describes himself as fun to be around and a funny person off the court. He is a people person.
The basketball player's friends and family can lean on him when they need something or if they ever need anything. He loves to see his people happy.
Chris Chiozza: Tattoos
The basketball player's body is carved with tattoos. He has approximately 11-12 tattoos carved on his body to date.
Among all the tattoos, one tattoo means significantly more to Chris. It is the tattoo of the picture of his late maternal grandmother, Pearlie Crenshaw.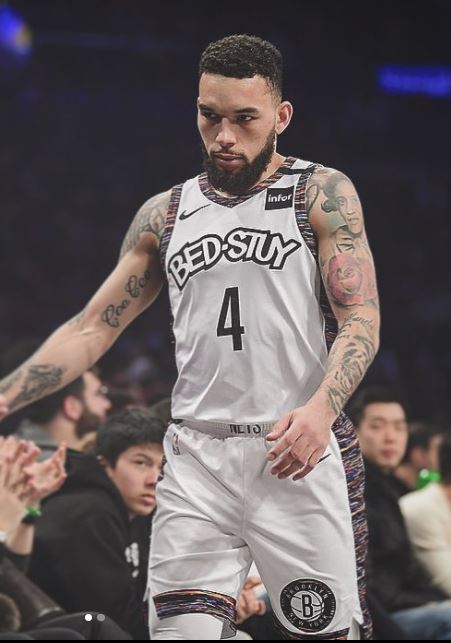 The full-color tattoo is inked on the player's left shoulder. He inked it to honor her memory and pay tribute to her lasting impression on him.
Before every game, Chris says he closes his eyes and thinks about his late grandmother.
Chris Chiozza: Social Media
Chris Chiozza has a significant social media presence and a wide fan following. The basketball player can be found on Facebook, Instagram, and Twitter.
Chris has thousands of followers altogether. In addition, he frequently interacts with his fans via his social media.
The player has over 4.9k friends on his Facebook account. Likewise, he has more than 62.7k followers on his Instagram page and more than 14.2k followers on Twitter. All of the player's accounts are verified.
Chris follows other athletes like Will Yeguete, Daren Bates, Malik Monk, Kyle Pitts, and PJ Washington on Twitter.
The player usually posts glimpses of his basketball matches on his social media. Chris is currently not available on YouTube. However, various basketball sports channels upload his videos and attract many views.
If you wish to learn more about the lifestyle and professional career of the NBA star, follow him on his social media handles.
Chris Chiozza: Net Worth
The Golden Start Warrior's champion, Chris, currently earns $462,629 annually. Moreover, his projected salary for 2022/23 is $1,576,305.
At present, the basketball player has a net worth of approximately $1-$3 million.
He also earns from various endorsements and sponsorship deals. The details of his other earnings, property, and assets are still under review.
However, we can say that Chris earns enough to live a life of luxury and provide enough for himself and his family.
Frequently Asked Questions (FAQs)
Who is Chris Chiozza's girlfriend?
Chris is very private about his love life. To date, Chris Chiozza has not made any mention of his girlfriend.
It is safe to assume that the player is busy building his professional career. Hence, the player is single.
Does Chris have any sporting relatives?
Chris comes from a family of athletic bloodlines. His Father was a former point guard at Christian Brothers University in Memphis.
Likewise, his great-grandfather played for Major League Baseball with the Philadelphia Phillies. Moreover, his great-uncle also had a six-year career with the Phillies and New York Giants.