Chris Froome is a British cyclist born and raised in Kenya. Unlike most pro cyclists, he did not grow up dreaming about winning cycling tournaments. In fact, he did not even know that cycling was a sport.
He only saw it on TV when he was almost an adult.
Froome looks like an up-to-date version of snooker star Steve Davis, but he also has the persistence of Rafael Nadal, tennis star.
Moreover, he also possesses the mercy-less nature of Schumacher's F1 champ while having the panache of the excellent football legend Maradona.
On the surface, road cycling does not look like much, "It's just cycling. You just need a bit of stamina," someone might say, but it's more than that.
Chris Froome once said, "The tour is so brutal that I have to sit in the shower because I can't stand up."
Let's more about this legendary cyclist, starting with some quick facts.
Chris Froome | Quick Facts
Full Name
Christopher Clive Froome
Birth Date
20 May 1985
Birth Place
Nairobi, Kenya
Current Residence
France
Nick Name
Froomey
Religion
Christianity
Nationality
British
Famous for being
Pro cyclist
Ethnicity
Caucasian
Education

St Andrew's School, Bloemfontein
St John's College
University of Johannesburg

Horoscope
Taurus
Father's Name
Clive Froome
Mother's Name
Jane Flatt
Siblings
Two brothers (Jeremy Froome and Jonathan Froome)
Age
38 years old
Height
6 feet 1 inch/186 cm
Weight
145 lbs/66 kg
Hair Color
Light Brown
Eye Color
Light Blue
Build
Slim
Hobbies
Speak fishing
Favorite Destination
Kenya
Profession
Road cyclist
Marital Status
Married to Michelle Cound
Kids
Three
Net Worth
$6 Million
Merch
The Climb(Book), Autographed Memorabilia
Last Updated
November, 2023
Chris Froome | Early Days & Childhood
Apparently, Chris did not grow up wanting to be a professional cyclist someday; in fact, he didn't even know that professional cycling was a thing. He said, and we quote,
"I did not know whatsoever of Tour de France. Cycling was about getting on around on my bike and having fun."
He further added,
"It was my freedom and my independence. It was only later when I saw the Tour on TV that I realized there was a whole sport out there."
Froome was 17 when he first got to know about Tour de France and professional cycling.
Moving on, his mother supported his cycling hobby as much as she could. His mother was the one who set him up with the Kenyan cyclist David Kinjah as his coach.
While his friends would enjoy a day by the pool or spend their time fooling around, Chris was busy chasing much older opponents in the hills.
Chris was so inspired and driven by the people at the Safari Simbaz. Members of the Simbaz would ride for six/seven hours on virtually non-existent roads despite having a low budget cycle.
Spending most of his time in the high altitude with thin air adapted his body to overcome the oxygen deficiency by producing more Red Blood Cells carrying oxygen. Those early experiences have paid off a lot in his pro cycling career.
You might want to read about Stuart Bingham, the man who did not win a notable title for 16 years of his professional career >>
Family Issues
One might say, "Froome's a white guy, he is privileged, he went to a boarding school, it was a smooth sail for the guy. No obstacles to overcome."
But everyone has their type of problem; it's not like rich people sleep the best sleep; problems may arise, financially, emotionally, and mentally.
Froome was emotionally troubled as his family was falling apart following his parent's divorce tendencies. To escape from his troubled home, he would ride as far as the country roads of Kenya took him.
Chris was in no way a socially active child, but he was a member of the cycling team formed in the slums of Nairobi. The young boy could pedal powerfully and fast, and his endurance was incredible.
His physique was one of the things that Team Iones's manager Dave Brailsford noticed, eventually making him join his team.
Chris Froome | Career
Early Career
In a desperate attempt to race in the professional events, Chris sent hundreds of emails to different teams. Finally, Froome moved to Europe in 2007 to participate in a race.
He got accepted into a team of athletes from developing nations. Chris was an incredible cyclist; he had the power, he had the stamina, and he had a winning mentality. The only place he lacked was experience, which could be seen in his early events.
In one of his early races, he crashed into a flower bed. Similarly, he rode on the wrong finish line at another event. Despite spending most of his teenage riding in the mountains, he did not know how to brake safely.
A year later, Froome began racing under a British license. Because Britain could provide better support and better facilities for his pro cycling career, he was happy to get the British license.
In 2010, Froome joined the newly formed Team Sky after racing for the Barloworld Pro team.
Chris Froome's First Impression
Team Iones's manager Dave Brailsford is the only guy that single-handedly started Froome's career and made him a sensation in the cycling world. Dave signed Chris to his newly formed team.
Their first meet dates back to 2006. Dave was attending a team managers' meeting when Chris walked in wholly wet, "he walked in, rain-sodden, representing himself," said Dave.
Froome stood across the room from Dave; apparently, he was there because his Kenyan coach at the time signed him up for a time trial event without telling him.
Three seconds into his trial, Froome hit a race delegate and crashed after hesitating at a fork in the road. Now that's an eye-catching event, and it caught the attention of Dave too.
Dave commented, "For somebody with the background he had, he caught our eye. That told us a lot about the tenacity of the guy and the desire; there's a character in there."
Chris Froome Horrible Ribs-breaking accident
A month before the start of Tour de France, Chris Froome got in an accident which resulted in a broken leg, ribs, and elbow. Obviously, the accident put him out of the 2019 Tour de France event.
He sustained multiple serious injuries all over his body and was admitted to the ICU (Intensive Care Unit).
On the 12th of June, 2019, Chris collided into a wall after losing control, trying to blow his nose while going 37mph on his bike. This happened outside the town of Roanne in the Loire.
Chris was not racing at the time; he was preparing for the fourth stage of the Critérium du Dauphiné; he was on a ride around the track. Froome used this event as a part of his preparation for the Tour de France.
Froome was rushed to the St. Etienne University hospital via air support, where he was treated for his multiple fractures.
UCI WorldTeam Ineos Grenadiers manager Dave Brailsford was at the place of the accident when it happened.
Dave spoke about the accident,
"It's obviously very gusty today, and he took off his hands from the bar to blow his nose…He's hit a wall at 60kmph or something like that, he's got a bad fracture, he's badly injured, and it sounds like he has a fracture of the femur."
Team Ineos later release a statement regarding Froome's accident and his participation in upcoming events.
Froome Never Gives Up
Tour de France
Chris Froome won his career first Tour de France in 2013, beating Nairo Quintana by 4 minutes and 20 seconds. He won this legendary title after six years of becoming a professional road cyclist.
Furthermore, he won his second Tour de France in 2015 despite throwing a pint of urine to his face. On the surface, this does not look like a big deal to worry about but think of it.
If that does not distract you from winning, I don't know what will. Froome continued his race despite all this because he knew that a crazy man by the road was not worth abandoning the Tour de France race.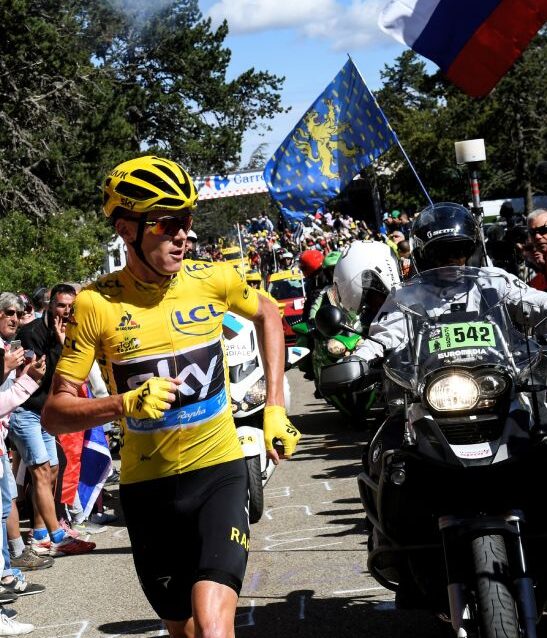 Similarly, in the 2016 Tour de France, he was caught jogging uphill by the cameras. Apparently, he hit his cycle onto a motorbike; the crash proved too damaging for him to ride his bicycle again.
Since he was at a remote part of the track, a replacement bike would take some time to reach him.
Considering that, he jogged his way up the steep road until the replacement bike arrived. The incident was comical and inspiring at the same time.
You might want to read about David Reichel, the famous TV personality Tracy Wolfson's husband >>
2018 Giro d'Italia
During the 2018 Giro d'Italia race, Froome did something that amazed every viewer and everyone attending the race. He pulled off 3 minutes and 22 seconds deficit, that too during a steep mountain climb in the Jafferau.
Everyone was amazed by his powerful pedaling and his endurance; people could not believe that he put on so much power for so long. On the way, he even avoided a crashed motorcycle in the dark Alpine tunnel.
Chris Froome | Wife and Kids
Chris Froome is married to Michelle Cound Froome, a photographer and a cycling enthusiast.
They met each other in 2009 through a mutual friend, South African cyclist Daryl Impey. They quickly took a liking to each other and started dating the same year.
Fast forward a couple of years, the two moved to the South of France in 2011. Following that, two years later, in 2013, they got engaged. They were on holiday at the time, in Italy.
Michelle said in an interview, "He rolled on to one knee and popped the question. When I replied, he started crying and said, "Is that a yes? Then we went and watched the cycling?"
Following that, the couple got married in November 2014 in South Africa.
Chris and Michelle were blessed with their firstborn on the 14th of December in 2015. Froome was more than happy; in fact, he was happier than the moment he won his first Tour de France.
Since he didn't grow up wishing to win the Tour de France, it is safe to say that being a father was the happiest moment of his life. The couple named their firstborn son Kellan Froome.
The couple welcomed their second child (daughter) on the 1st of August 2018, a few days after the Tour de France that year. Froome placed third on that year's Tour.
They named their only daughter, Katie.
You might be interested in reading about DeAndre's mother, an acid attack survivor and a motivational speaker >>
Chris Froome | Net Worth
Froome is the second-highest-paid cyclist in the world, with an annual salary of approximately $6.3 million.
The cyclist has an estimated net worth of $15 million. Moreover, he has also stepped into the world on investments, investing in Factor Bikes, one of his team's sponsors.
Social Media Links
Twitter: 1.5 million followers
Instagram: 1.1 million followers
Facebook: 585k followers
FAQs
Why did Chris Froome leave Ineos?
Chris Froome left his first-team Ineos after they decided not to renew his contract.
One of the main reasons for his departure was the growing discomfort of battling another two riders at the team for the Tour's yellow jersey. Chris joined the Israel Start-Up Nation team after leaving the Ineos.
Will Chris Froome race the 2021 Tour de France?
Froome's current team Israel Start-Up Nation confirmed that he would participate in the 2021 Tour de France. They also stated that he would be a part of the Israel Start-Up Nation's eight-man squad.
Unfortunately, the 2021 Tour did not turn out to be much of a success for Froome as he barely kept up with the race.
Who owns the Israel Start-Up Nation?
Ron Baron and Sylvan Adams own the Israel Start-Up Nation. They have stated that the team's primary goal is to participate in all the major races, including the Tour de France.