Some people are just humble and grateful no matter how high they get in their careers. Chris Kunitz is an iconic name in the National Hockey League (NHL).
He won four Stanley Cups and brought home an Olympic gold medal in his 15-seasons career with the NHL.
Yet Chris is a down-to-earth soul. Chris thanked almost everyone, from all the teams he played for to the owners, coaches, management, trainers, and teammates, to make him who he is today while he was retiring in 2019.
Moreover, Kunitz is a Canadian professional ice hockey player; he played as a left-winger.
The hockey star, Chris was born on September 26, 1979, in Regina, Saskatchewan, Canada. It was his childhood dream to become an ice hockey player, and it came true.
Even after Chris went undrafted, he has a successful NHL career from 2003 to 2019. Kunitz started his NHL career with Anaheim Ducks in 2003 as an undrafted free agent.
Later he played for Pittsburgh Penguins, Tampa Bay Lightning, and Chicago Blackhawks.
After retirement, the iconic player Kunitz will serve as a player development adviser with the Chicago Blackhawks. Kunitz was an asset as a player for the teams he played. Further, he will continue to contribute to future players.
Before going deeper into the legend, Kunitz's life, let's check quick facts about him.
Quick Facts
| | |
| --- | --- |
| Full Name | Christopher Kunitz |
| Birth Date | September 26, 1979 |
| Birth Place | Regina, Saskatchewan, Canada |
| Nick Name | Not Available |
| Religion | Not Available |
| Nationality | Canadian |
| Ethnicity | White |
| Education | Ferris State University |
| Horoscope | Libra |
| Team | Anaheim Ducks, Pittsburgh Penguins, Tampa Bay Lightning & Chicago Blackhawks |
| Father's Name | Marvin Kunitz |
| Mother's Name | Penny Kunitz |
| Siblings | Not Available |
| Age | 43 Years Old |
| Weight | 88.4kg |
| Height | 6 feet |
| Hair Color | Dark Brown |
| Eye Color | Dark Brown |
| Body Measurement | Not Available |
| Shoe size | Not Available |
| Build | Athletic |
| Married | Yes |
| Wife | Maureen Pfeiffer |
| Profession | Professional Ice Hockey Player |
| Position | Left-Wing |
| Children | Zachary James, Payton Marie, Aubrey Ann |
| Net Worth | $14 million |
| Retirement | July 30, 2019 |
| Social Media | Not Available |
| Merch | autograph items |
| Merch | Jersey, Bag |
| Last Update | June, 2023 |
Kunitz | Age | Weight | Height | Horoscope
The left-winger Kunitz celebrated his 43nd birthday on September 26. He is 6 feet tall and weighs around 88 kilograms.
Moreover, Chris possesses a medium athletic body that is well suited for his hockey career.
Chris is born as a Libran. Librans are usually gracious and diplomatic people. They seek balance in every part of their life.
In Chinese Astrology, Kunitz is a Goat/Sheep, which makes him well-mannered and persevere towards his career goals. Moreover, Chris is a delicate soul with higher ambitions.
Chris Kunitz | Family | Early Life | Education
Early Life
The NHL star Kunitz was born to Marvin Kunitz and Penny Kunitz. They were supportive parents.
Marvin became nostalgic about all the hard work they did together when Chris brought home the Stanley Cup.
Early on, Chris knew what he wanted. Kunitz wanted to go to school and play hockey. His dream was simple, but life made it grander than he had ever expected.
The Canadian athlete, Chris, went to Michael A. Riffel High School in Regina. He graduated in 1997, and luckily after ten years, he brought home his first Stanley Cup in 2007.
College | Wife | Children
The ambitious player Kunitz chose to go to Ferris State University in Big Rapids, Michigan. Kunitz considers his time in Ferris memorable.
Chris met his wife Maureen Pfeiffer; he said together they have beautiful memories there at Ferris. Chris got a degree in Marketing and Business from Ferris.
After graduating from Ferris, Chris started to build his NHL career, whereas Maureen, a Schaumburg native Maureen, started working in Chicago.
In Summer 2006, Kunitz also moved to Chicago. Chris got married in July 2008 at Bucktown church. The couple gave a wedding reception at the Field Museum.
Together Chris and Maureen have three beautiful children, Zachary James, Payton Marie, and Aubrey Ann.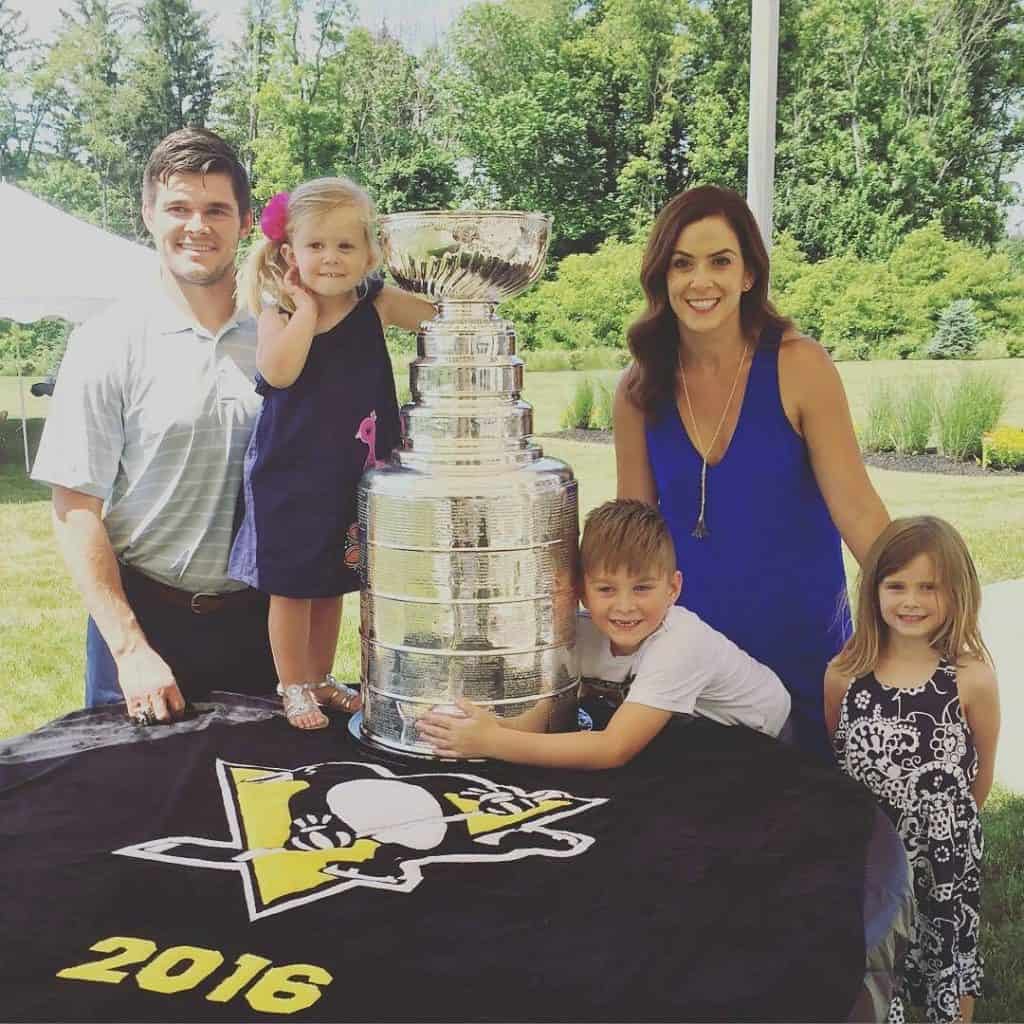 Moreover, Chris remembers his close friends from Ferris, who he will cherish his entire life. The family moved around a lot before finally settling in Chicago after Chris's retirement.
Besides Chris's personal life, his professional life flourished in Big Rapids. He got his major push towards his successful career. Chris found the right people and the proper training while at college to achieve his goals.
Chris Kunitz | Career
College Career
The hockey star, Kunitz, first played two seasons with the Melville Millionaires, and then while at Ferris State University, he joined the Ferris State Bulldogs in 1999.
In addition to that, Chris became the finalist for the Hobey Baker Award in 2003.
Anaheim Ducks
Even though Chris went undrafted with the Ducks, he was signed as an undrafted free agent to split his time between the American Hockey League(AHL) affiliate, the Cincinnati Mighty Ducks, and the Anaheim.
There was a 2004-05 NHL lockout with Cincinnati. After that, Chris has a brief stint with the Atlanta Thrashers in 2005-06.
Just after two weeks, Kunitz went back to the Anaheim Ducks. He played 67 games scoring 19 goals and 22 assists for 41 points.
Furthermore, Chris's performance improved in the 2006-07 NHL season; and scored 25 goals and made 60 points. He contributed the Ducks significantly to capture the first Stanley Cup.
Chris was an outstanding player for the Ducks, one of the scoring types on that team.
Kunitz got the opportunity to play such great players as Chris Pronger, Temmu Selanne, Scott Niedermayer, Corey Perry, and Ryan Getzlaf. Yet, he made his own place in the team.
The next year in the 2007-08 seasons, Chris was promoted as the team's alternate captain, but that season, Chris's output dipped down a bit that made him trade away.
Pittsburgh Penguins
In the 2008-09 season, Chris entered the Pittsburgh Penguins. It was a trade-off between Chris and Ryan Whitney, an indispensable defenseman.
Kunitz scored1 goal and had 13 assists during the 2009 playoffs. In addition to his record, the Penguins won the Stanley Cup the same year.
Similarly, in his 400th game, Chris scored a goal on November 6, 2010, against the Phoenix Coyotes. Again in March 2016, he scored a goal against the New York Islanders on his 800th game.
During the 2016 playoffs, Kunitz recorded 4 goals and had 8 assists for 12 points defeating the San Jose Sharks. Kunitz made another Stanley cup possible for the Penguins.
In May 2017, Kunitz sent the Penguins to the Stanley Cup finals with a double-overtime game-winner in Game 7 of the Eastern Conference Finals versus the Ottawa Senators.
Moreover, the Penguins played against the Nashville Predators in the final, defending the Stanley Cup. Eventually, Chris assisted the winning goal and won his fourth Stanley Cup, a third cup for the Penguins.
Tampa Bay Lightning
Kunitz left the Pittsburgh Penguins in July 2017 and signed a $2 million contract with the Tampa Bay Lightning.
The Lightning announced #14 through social media. Chris had a total record of 14 goals and 29 points, and 1 assist that season with the Lighting.
Chicago Blackhawks
After much waiting, Chris finally made it to the Chicago Blackhawks. He signed a one-year contract with the Blackhawks. For the Blackhawks, Kunitz played a total of 56 games and scored 5 goals and 10 points.
International Play
Chris first played internationally in 2008 for his home country Canada and brought home a silver medal.
The Blackhawks player, Chris again participated in the 2014 Winter Olympics held in Sochi, Russia, and won a gold medal.
Retirement
The hockey star Kunitz scored 268 goals and 351 assists in 1022 NHL games.
In addition to that, Chris had 27 goals and 66 assists in 178 playoff appearances. After 15 complete NHL seasons, the star announced his retirement on July 30, 2019.
While retiring, Chris thanked almost everyone. He thinks everyone involved made him the kind of player he is today. Chicago coach Jeremy Colliton praised Chris and welcomed him as a part of the coaching group.
Chris Kunitz | Jersey Numbers
Chris Kunitz has featured for many teams and has different jersey numbers in each of them to date.
To elaborate, Chris Kunitz featured in jersey number 14 for Pittsburgh Penguins, Tampa Bay Lightning, Chicago Blackhawks, Cincinnati Mighty Ducks, and Canadian National Men's Hockey Team.
Furthermore, he featured as Jersey number 24 in the Atlanta Thrashers, while he was jersey number 19 in Portland Pirates.
Chris Kunitz | Achievements
Over the course of 15 professional years devoted to the NHL, the left-handed shooter had proved himself to be a born winner.
By the end of his career, he has played a total of 1,022 games, where he has 268 goals. Also, with a set of skillful abilities, he has achieved some good feats, which are listed below.
All-CCHA First Team (Season 2001-02)
All-CCHA First Team (Season 2002-03)
AHCA West First-Team All-American (Season 2002-03)
CCHA All-Tournament Team (2003)
Stanley Cup (Anaheim Ducks in 2007)
Stanley Cup (Pittsburgh Penguins in 2009, 2016 & 2017)
First All-Star Team (2013)
2014 Winter Olympics (gold medal)
2008 world Championship (silver medal)
Chris Kunitz | Net Worth
Kunitz started playing ice hockey when he joined the Saskatchewan Junior Hockey League's Melville Millionaire.
Then he played for the Ferris State Bulldogs in 1999. Chris played in NHL from 2003 to 2019, which helped to acquire both fame and money.
The left-winger, Kunitz, has an estimated net worth of $14 million.
Kunitz has made most of his fortune playing hockey. In 2013, the Penguins signed Chris a 3-year contract of $11 million.
With the Tampa Bay Lightning, Chris had a $1 million contract in July 2017. Moreover, Kunitz signed with the Blackhawks a one-year- million contract in 2018.
The NHL winger Chris had total career earnings of $39,012,500 with the multiple contracts he signed with different NHL teams.
After retirement in 2019, Chris is continuing with the Blackhawks as a player development advisor who is likely to add to his net worth in the future.
House
Furthermore, Kunitz owns a house in Orange, California, in the western suburbs. Apparently, he has been living there since February 22, 2007, alongside his cute family.
As per the sources, the athlete bought the house for $1,345,000, which stands in 3,218 square feet of land. To elaborate, the house consists of five bedrooms and 4 bathrooms.
Chris Kunitz | Ex-Nanny Issue
Back in 2016, Chris Kunitz used to have a nanny and had an issue with her. Apparently, his ex-nanny filed fraudulent insurance claims for setting the house on fires and other issues.
Additionally, she had also stolen the diamond earrings, worth $12,000 from Maureen Kunitz's bedroom while the couple wasn't home.
Later, she sold that jewelry in a pawnshop. Apart from it, Kunitz wasn't the only family; she had done those too.
According to the sources, she had stolen $4,400 and a gold, diamond-stud earring worth more than $10,000 from another house.
All in all, she was convicted of many crimes where she pleaded guilty for them.
Chris Kunitz | Social Media
Unfortunately, the ice hockey player Kunitz does not have any official social accounts. He seems sociable and likable, but he kept his personal and professional life away from social platforms.
He has retired now; we will likely be able to see him on some platforms. His fans and fellow teammates will love to see him active on social media and know him better.
Common Questions About Chris Kunitz
How many cups did Chris Kunitz win?
Four. Chris Kunitz has four Stanley Cups, one with Anaheim Ducks and three with Pittsburgh Penguins.
What is Chris Kunitz doing?
Kunitz retired in 2019. He will be working as a player development advisor with the Blackhawks. The 41-year-old player might explore some other ventures in the future.
Did Chris play for the Atlanta Thrashers?
Yes. Kunitz had a brief stint with the Thrashers in 2005-06. He went back to the Ducks and continued. Chris once joked about the Thrashers not being on his career list.