Chris Leak is a former professional National Football League (NFL) player. Other than that, the athlete also played in the All American Football League, Canadian Football League, and the Arena Football League.
Likewise, the Chicago Bears signed him as an undrafted free agent after Chris went undrafted in 2007.
Thereafter, he played for Canadian teams like the Hamilton Tiger-Cats, Montreal Alouettes, and the Saskatchewan Roughriders.
After that, Leak left the CFL and played for Jacksonville Sharks of the National Arena League. Chris's professional career ended with the Orlando Predators.
Following his retirement as a football player, he decided to be a coach. So, in 2013, he became a graduate assistant in the same college he played collegiate football.
f
Shortly after that, he was offered the position of head coach at Edgewater High School. However, Chris was forced to resign after few days of his hiring as he misbehaved with a minor.
The Orlando Police Department suspected that the former NFL player might have sexually assaulted a minor, a 16-year-old girl. However, the matter was resolved when the girl chose not to press any charges against the coach.
Here are some quick facts about Chris before getting into details about the Quarterback's life and career.
Quick Facts
| | |
| --- | --- |
| Full Name | Christopher Patrick Leak |
| Nick Name | N/A |
| Birth Date | May 3, 1985 |
| Birth Place | Charlotte, North Carolina |
| Religion | Christianity |
| Nationality | American |
| Ethnicity | African American |
| Education | University of Florida |
| Horoscope | Taurus |
| Father's Name | Curtis Leak |
| Mother's Name | Karen Leak |
| Siblings | Four; C.J., Crystal, Kristina, and Tiffany |
| Age | 37 years old (as of August 2021) |
| Height | 6 feet (185 cm) |
| Weight | 209 lbs (95 kg) |
| Eye Color | Hazel |
| Hair Color | Black |
| Build | Mesomorph |
| Profession | Former NFL Player, Coach |
| Draft | Undrafted |
| Position | Quarterback |
| Active Years | 2003-2012 (Player), 2013-2016 (Coach) |
| Marital Status | Married |
| Wife | Latria Leak |
| Kids | Two |
| Net Worth | $1 million – $5 million |
| Social Media | None |
| Merchandise | NFL Jersey, NFL Trading Cards |
| Jersey Number | 12 (Jacksonville) |
| Last Updated | March, 2023 |
Chris Leak | Early Life, Family, And Education
Chris Leak was born in Charlotte, North Carolina, the United States, to his parents, Curtis Leak and Karen Leak.
He grew up in a reasonably traditional house with his four siblings, namely C.J., Crystal, Kristina, and Tiffany. The footballer's parents were highly supportive of his career choice.
Furthermore, Chris grew up watching and playing football with his older brother C.J. They sometimes train together.
The QB always wanted to play and be exactly like his brother. Moreover, the brothers also played against each other during their collegiate careers.
It was a match against the Florida Gators and the Tennessee Volunteers, which the Gators won. Not to mention, Chris played a significant role in that victory.
Nevertheless, the brothers never let the stress of the field strain their relationship. In fact, they were close and bonded over the fact that they both loved football.
The former NFL QB attended Independence High School and later attended the University of Florida to play collegiate football.
Learn More About Former Florida Gator Swimmer, Elizabeth Beisel Bio: Medal, Olympics, Net Worth & Survivor>>
Chris Leak | Age, Height, And Weight
The former Bears' Qb was born on May 3, 1985. Hence, he is 37 years old as of 2023. Being a former athlete, he takes great care of his health and diet.
Hence, he is quite fit in his mid-30s. Furthermore, he is 6 feet tall and weighs 209 lbs, i.e., 95 kg.
Chris Leak | Football Career
High School And Collegiate Football
Leak attended Wake Forest High school and attended Independence High school in Charlotte. Not to mention, Chris served as the quarterback for the school's football team.
Chris even led the team to win North Carolina 4-A state championships three consecutive times.
Moreover, he was also the 2003 Parade's Player of the Year. Above all, from the 2003 recruiting class, Chris was ranked third in the best quarterback.
Furthermore, Chris committed to play for the University of Florida under coach Ron Zook.
Likewise, Leak was named the SEC All-Freshman Team alongside All-American Team. Similarly, for his sophomore year, the former coach became a notable quarterback in collegiate football.
Despite Meyer's different offensive scheme still wasn't enough for a championship run.
Nevertheless, with the addition of a talented freshman Tim Tebow, the narrative seemed to change. Thus with the leadership of Leak, they finally won the 2006 SEC Championship.
Chris received the 2007 Most Valuable Player award, again.
NFL
After winning the back-to-back SEC Championship, Chris entered the 2007 NFL Draft. Despite being undrafted, the Chicago Bears immediately signed him after the draft.
Further, Leak was the backup quarterback for the team but only saw playtime during the final game of the preseason.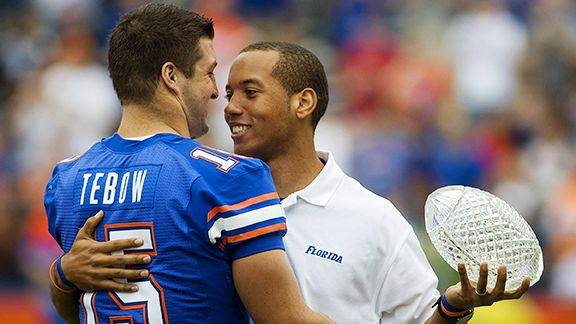 Besides that, he wanted to sign with the Kansas City Chiefs, but his efforts did not bear any contract or deal from the Chiefs.
You Might Be Interested In NFL Quarterback, Jimmy Garoppolo Bio: Contract, Wife, Injury & Trade >>
AAFL
After failing to land a deal in the NFL, he entered the 2007 AAFL Draft. Upon draft, he was picked by Team Florida in the 6th round.
Further, the former NFL player joined the team to play the backup quarterback position.
However, speculation of the season being postponed was highly rumored. Eventually, due to lack of capital and low ticket sales, the season was postponed till 2009.
Ultimately, the season was canceled, and just like all AAFL players, Leak was released from his contract.
Move to CFL & AFL
In 2008, the Hamilton Tiger-Cats of the Canadian Football League signed Leak as the backup quarterback.
However, he could only see a few garbage playing times. Hence, for most of the season, he would remain inactive for the roster.
Eventually, Tiger-Cats released him, and the Montreal Alouettes signed him the next day. However, due to the injury of the backup quarterback of the Alouettes, he was on the active roster.
As a result, he received his first CFL ring in his second year as a CFL player. Thus, he ended up re-signing for one more year with the team in the next season.
Moreover, the Alouettes starting quarterback got take out with injury. Hence, this put Chris on the starting lineup. Nevertheless, he would also suffer an injury that also sidelined him.
After no deals with the CFL, the Jacksonville Sharks of the Arena Football League signed him up. Further, he would play as the starting quarterback for the Sharks.
However, the Sharks released him after the season ended. Nevertheless, he did sign with the Orlando Predators, which also didn't work out.
Post-playing Career
During the 2012 college football season, Chris began to work as a host on SiriusXM College Sports. Further, a year later, he was hired as a quality control coach by Florida Gators.
Likewise, in May of 2014, the head coach promoted him to the wide receivers coach. Previously, as a player, he worked under coach Urban Meyer from (2003-2006).
Then Chris worked for the Tampa Bay Buccaneers as the football development and youth outreach.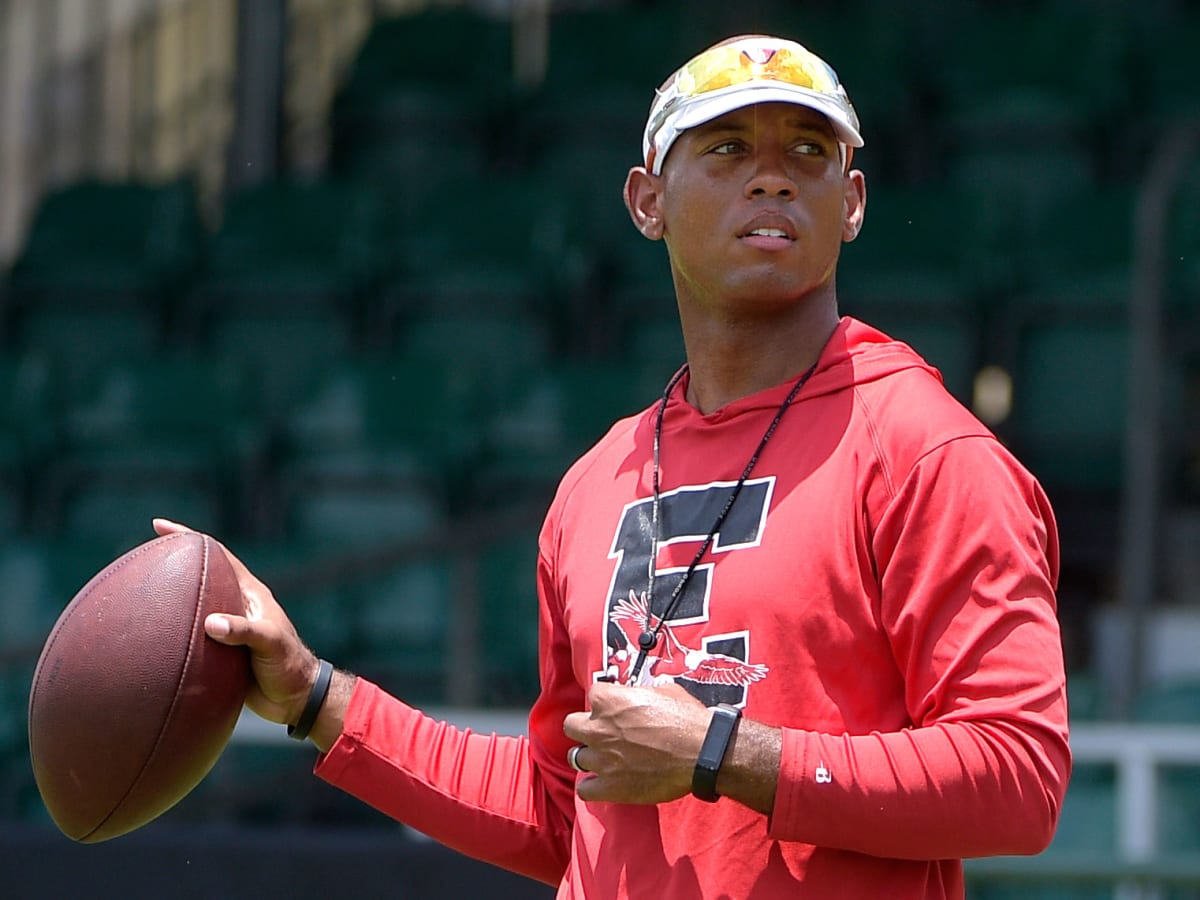 Moreover, Leak then worked as a head coach for the Edgewater Eagles high school football team hired him. However, after a consecutive 5 losses, he resigned from the position.
Initially, Chris aimed to be fast, fearless, and full physical with the team, but it seems like things did not happen accordingly with his plan.
Don't Forget To Check Out Quarterback Mac Jones Bio: Stats, NFL Draft, Patriots & Net Worth >>
Achievements And Highlights
2006 National Champion
Hall Trophy in the year 2002
Pete Dawkins Trophy in the year 2003
2007 BCS National Championship Game's offensive MVP
Sexual Misconduct
While serving as the head coach and art recovery teacher of Edgewater Eagles high school, a 16-year-old girl accused the quarterback of sexual misconduct. The minor reported the incident to a school resource officer who called the authorities.
In the filed police report, the minor said that she gave Chris an inappropriate massage at his request.
Furthermore, the accused coach came out of the shower wearing nothing but a towel draped around him.
He allegedly put the 16-year-old girl's hand on his private part (genitals). Moreover, when the minor revealed what happened to a friend, the QB reportedly gave that friend $100 to keep quiet.
Amidst all the allegations, the footballer turned in his resignation. He also voluntarily gave up his Educator's Certificate that can never be reinstated again around September 5, 2016.
After giving up his Educator's certificate, he lost his teaching job forever. Tim Jansen, his lawyer, said, "My client voluntarily talked with the police and denied the allegations."
In the end, no charges were filed, and the investigation got closed, and Chris maintains his innocence similarly,
Chris Leak | Net Worth And Salary
The American quarterback earned most of his wealth through his career as a professional football player.
Although Leak's exact net worth is unknown, sources claim it to be between $1 million to $5 million.
Furthermore, his salary details are not disclosed to the public yet. However, Chris played for many prominent teams and has experience as a player and coach.
Hence, we can assume that he earns a good amount of salary. Besides that, Leak resides in a beautiful home in Orlando with his family.
Chris Leak | Marriage, Wife, and Kids
The former coach is married to Latria Leak. The two lovers married in February of 2008. Furthermore, the couple dated for a long time before tying the knots.
Latria Leak worked as an assistant for Orlando Magic's VP and author, Pat Williams. In his book Happy Spouse, Happy House: The Best Game Plan for a Winning Marriage, he has even mentioned her and Chris.
Williams wrote of the time Leak had sent his wife flowers with a lovely note without any special occasion. He mentioned the footballer as "a young man who understands how to bless his wife."
Besides that, the duo has two daughters. Their names and other details are kept away from public attention to protect their privacy.
To update on his latest news, Chris Leak joined Steve Russell on Sportscene to talk about his time at the University of Florida on April 17, 2020.
Chris Leak | Social Media Presence
Unfortunately, the 2006 National Champion is not active on any social media platform. Hence, he does not have an Instagram or Twitter account.
FAQs
Did Chris Leak play for the Jacksonville Sharks?
Yes, the former athlete played for the Jacksonville Sharks in 2011
What is Chris Leak currently doing?
Well, there are no such updates on his life as of now. We hope to hear from him really soon.