Chris Quinn is a former basketball player who is currently serving as the assistant coach for the Miami Heat.
People consider NBA drafts the only way to succeed as an NBA player. But players like Chris Quinn have proved them wrong by being successful despite not being drafted.
He went undrafted in the 2006 NBA draft, but this did not end his NBA career, as he went on to sign a partially guaranteed deal with Miami Heat.
Thus, Quinn had to work extra hard to prove his worth, and he did. He became one of the most famous NBA players. He played for seven years for the NBA and then worked as an NBA coach.
Chris has been appointed as an assistant coach for Miami Heat and has also worked as a temporary head coach. Moreover, he has been working as an NBA coach for around ten years.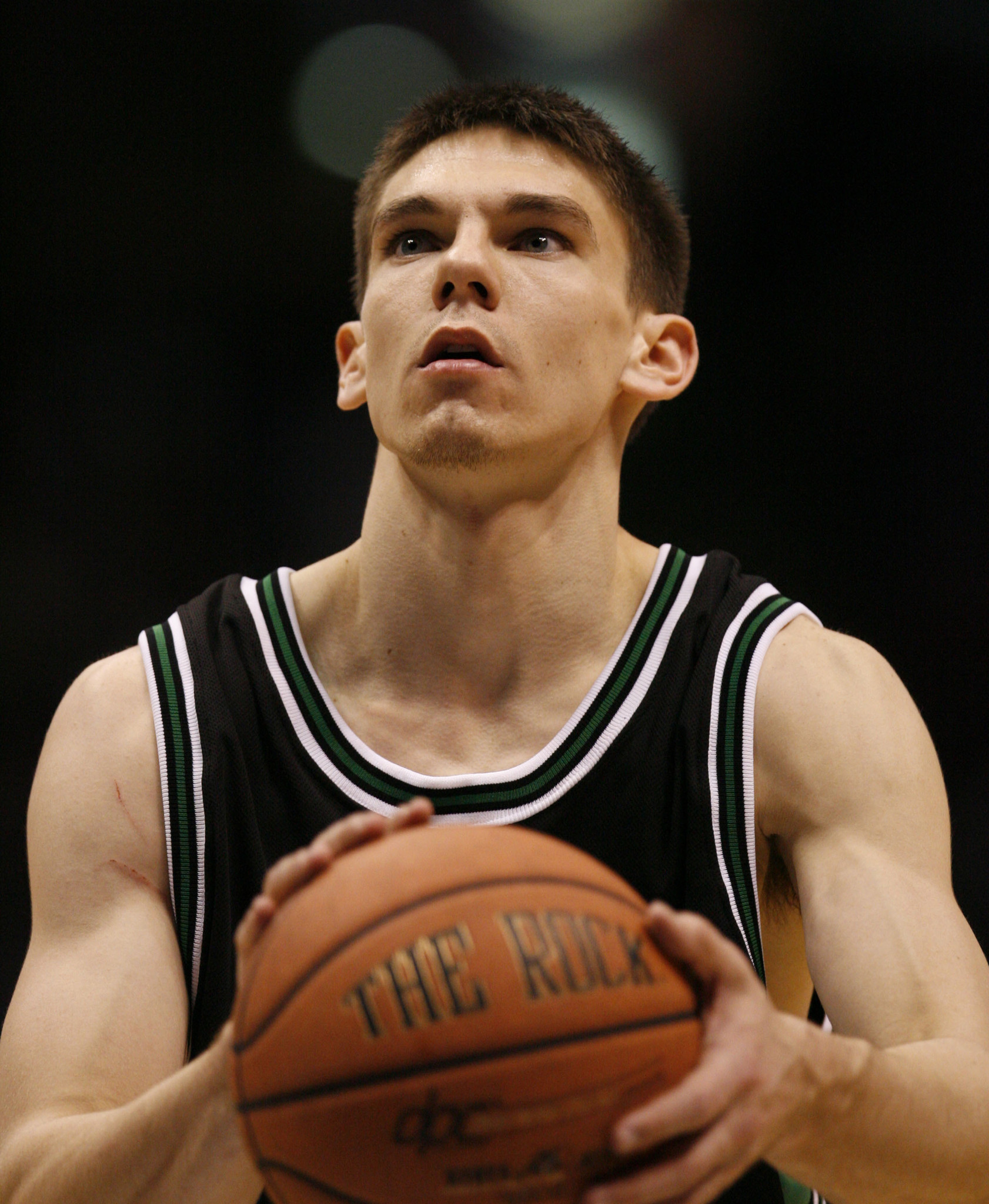 How did Chris, who was undrafted in the NBA draft, become an assistant coach for Miami Heat? Make sure to read to the end for the answer.
Furthermore, this article will examine Chris Quinn's personal life, net worth, and coaching career.
Before that, let's take a glance at his quick facts.
Quick Facts
Full Name
Christopher James Quinn
Name

Chris Quinn

Nick Name

Chris

Date of Birth
September 27, 1983
Age
40 Years Old
Birth Place
New Orleans, Louisiana, USA
Nationality

American

Ethnicity

White

Zodiac Sign

Libra

Height
6 feet 2 inches/1.88 m/188 cm
Weight
175 pounds/79 kg
Hair Color

Black

Eye Color

Dark Brown

Father's Name

Chris Quinn Sr.

Mother's Name
Susan Quinn
Siblings

Not Available

High School
Dublin Coffman High School
University

University of Notre Dame

Marital Status

Married

Wife
Lauren Quinn
Children

Three; Charlie, Lydia, and Colette Quinn

Previous Profession

Former NBA Player

Current Profession

NBA Assistant Coach for Miami Heat

Position

Point Guard

Leagues

National Basketball Association (NBA)

NBA Draft

Undrafted

Debut Year

2006

Retirement

2013

Playing Teams

Miami Heat (2006-2010)

New Jersey Nets (2010)

San Antonio Spurs (2010-2011)

Khimki (2011-2012)

Valencia (2012)

Tulsa 66ers (2012-2013)
Cleveland Cavaliers (2013)

Coaching Teams

Northwestern University (2013-2014)

Miami Heat (2014-Present)

Awards and Achievements

Columbus Dispatch Player of the Year (2002)
First-team All-state (2002)

First-team All-Big East (2006)

Net Worth
$5 million
Social Media
None
Merch
Signed Photo
Last Update

November 2023
Early Life & Education
Christopher James Quinn was born in New Orleans, Louisiana, on September 27, 1983, to his mother, Susan Quinn, and father, Chris Quinn Sr.
Unfortunately, no information about his childhood is available. However, it is known that Chris had a passion for basketball and began playing at a young age.
For education, Chris attended the University of Notre Dame after graduating from Dublin Coffman High School.
Age, Height & Weight
Chris was born in 1983, which makes him 40 years old.
People born in September are Libras, known to be compassionate and empathetic. Moreover, they are diplomatic and can fit in any place with anyone.
Furthermore, Quinn is 6 feet 2 inches (1.88 meters) tall and weighs around 175 pounds (79 kg).
Early Career
Chris Quinn attended Dublin Coffman High School in Dublin, Ohio, where he started playing basketball.
He was a popular member of the school basketball team, where he established 14 school records and was awarded the Columbus Dispatch Player of the Year in 2002.
Chirs was also voted first-team all-state twice and was named Mr. Basketball in Ohio as a senior, placing second to NBA sensation LeBron James.
He was also awarded the Ohio Capital Conference Player of the Year and led his team to back-to-back conference titles and two consecutive district titles.
After an impressive high school career, Quinn was a three-year starter and two-time co-captain at the University of Notre Dame.
Quinn concluded his college career with 14.6 points per game, 3.5 assists, 2.7 rebounds, and 1.27 steals.
As a result, he was named First Team All-Big East as a senior and a Big East Academic All-Star as a freshman.
Professional Career
Chris Quinn entered the 2006 NBA draft, but unfortunately, he was not drafted. Being undrafted was a major pushback to his NBA dream.
However, Chris did not give up his NBA dream and wandered around the NBA landscape, hoping to get a contract from the teams.
Finally, he signed a partially guaranteed deal with the Miami Heat and played for the team in the Orlando Summer League.
During his rookie season, he had little playing time, but after some of the players on the team retired, Quinn's playing time saw an increment in the 2007-2008 season.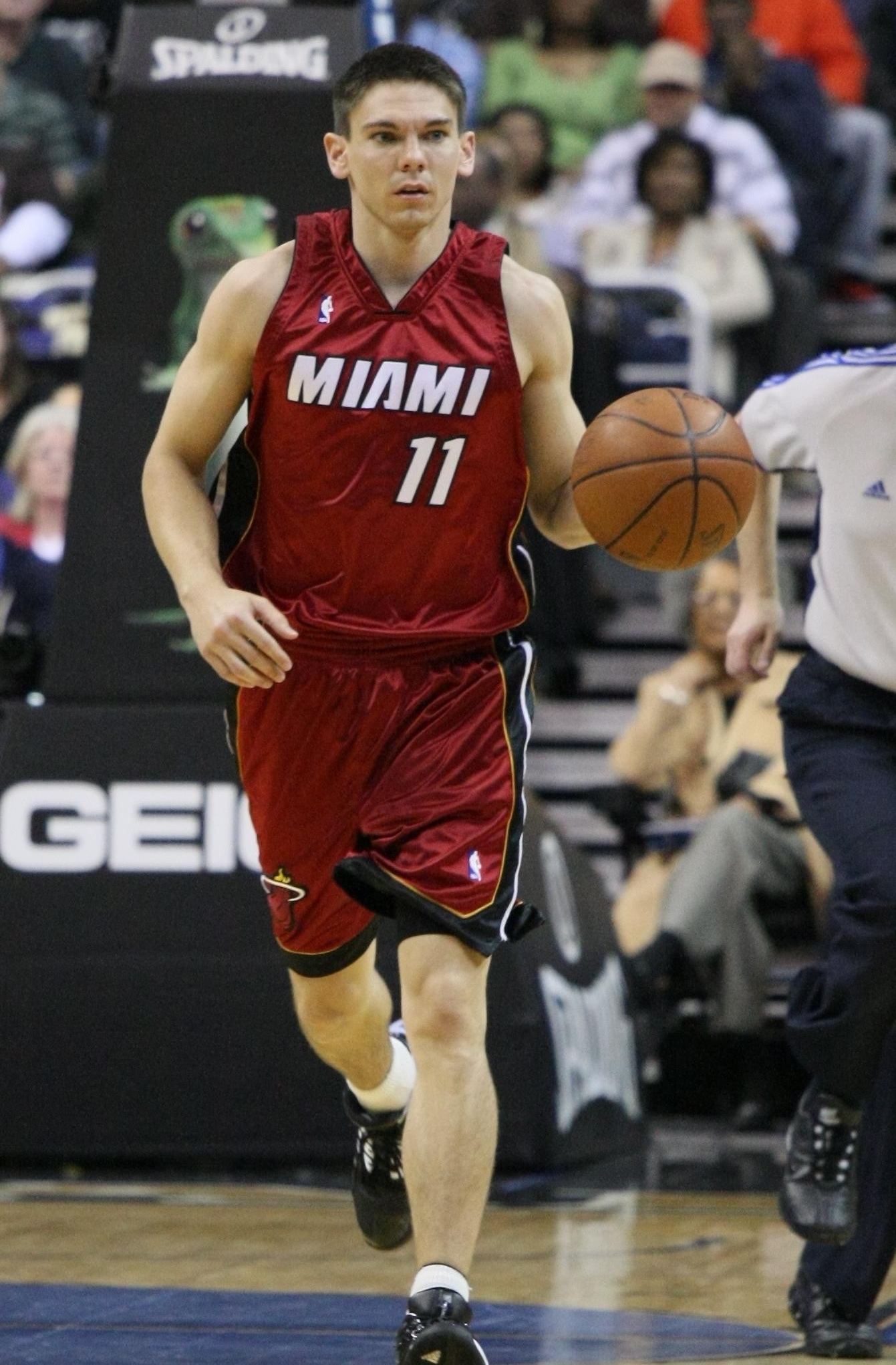 With that, he got his time to shine and scored the season-high 22 points against the Washington Wizards, scoring six three-point field goals on December 13.
Quinn quickly became one of the valuable members of the team and set his new career-best records.
However, he was dealt with the New Jersey Nets for a conditional second-round pick in the 2010 NBA draft on January 5, 2010.
Later, Quinn joined the Philadelphia 76ers for training camp but was released. In November 2010, the San Antonio Spurs signed him.
On July 21, 2011, Chris joined the VTB United League team Khimki Moscow Region and Valencia of the Spanish League a year later.
Then, Quinn was signed by the Cleveland Cavaliers for the remainder of the 2012–13 NBA season on March 20, 2013.
But, he was waived by the Cavaliers on July 19, 2013, after which Chris embarked on his new career as a coach.
Coaching Career
On October 28, 2013, Northwestern University coach Chris Collins hired him as the team's new director of player development.
Quinn was appointed as an assistant coach by the Miami Heat on September 17, 2014.
Likewise, on March 26, 2022, Chris temporarily replaced the head coach of the Miami Heat, Erik Spoelstra, and took over the role.
He claimed that he would coach in the same manner as Spoelstra and would follow the structure and culture he set.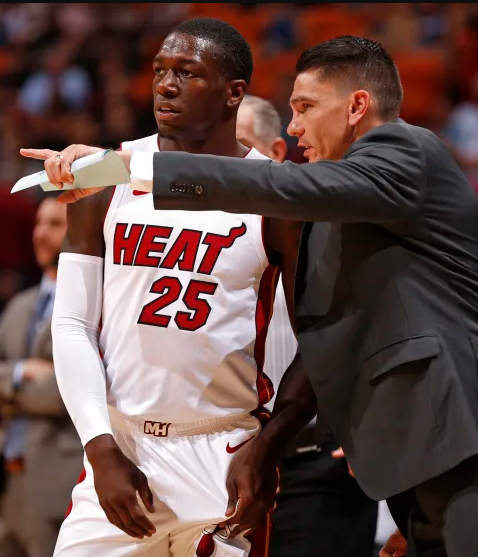 On April 3, 2022, Spoelstra underwent team health and safety procedures. Quinn once again acted as the Heat's temporary head coach during Kyle Lowry's first game against his old team Toronto Raptors.
It was Quinn's first victory as head coach and the first time a replacement head coach won a game while Spoelstra was unavailable.
Chris has been working as an assistant coach for Miami Heat for around ten years.
Awards and Achievements
Columbus Dispatch Player of the Year (2002)
First-team All-state (2002)
Mr. Basketball (2002)
First-team All-Big East (2006)
Big East Academic All-Star (2006)
Wife And Children
Chris Quinn is married to his longtime girlfriend, Lauren Quinn. The couple is blessed with three beautiful children.
Though much information is not known on when and how these two love birds first met, it is known that the couple married in the late 2000s.
The wedding was held privately, and they only invited a bunch of close friends and family members.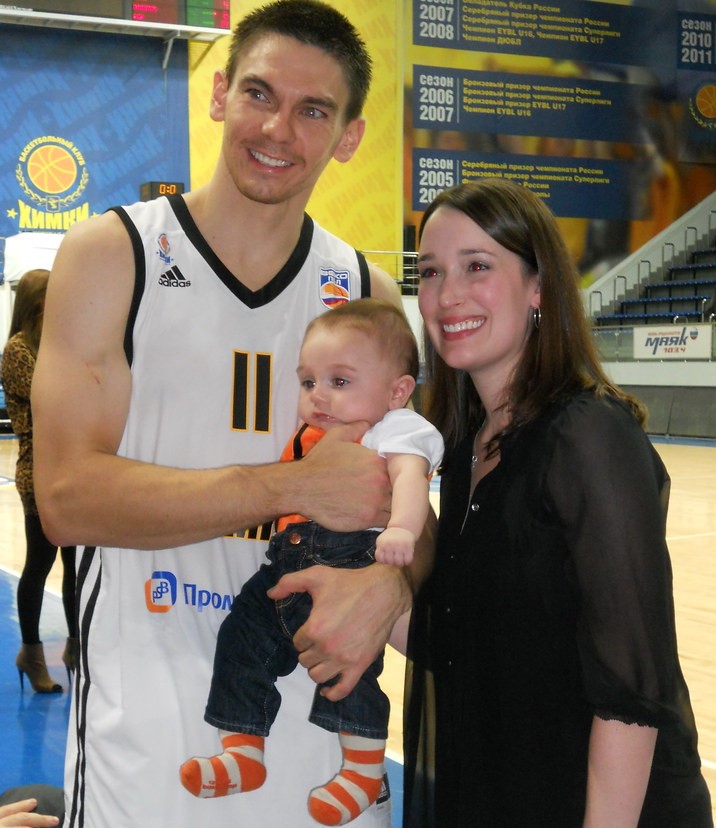 The Quinns welcomed their first child, Charlie, in 2012. Two years later, they welcomed their second child (first daughter), Lydia.
In September 2017, the couple had their third child, Colette, and the family has been residing in Miami.
Net Worth And Salary
The net worth of Chris Quinn is estimated to be $5 million as of November 2023. He earned his wealth as an NBA player and NBA coach.
Quinn signed a two-year, $2 million deal with the Miami Heat in 2006. In his debut year with the Heat, he earned $412,718.
Later, Chris joined the Brooklyn Nets in the 2009-10 season and made around $1.055 million.
Moreover, the following season, he earned $861,978 from his deal with the San Antonio Spurs.
In addition, Quinn got $169,339 as a paycheck while playing for the Cleveland Cavaliers in his last NBA season.
Soon after his retirement, the former NBA player accepted a position as an assistant coach for Miami Heat. However, his salary as an assistant coach is available.
An assistant coach's salary in the NBA ranges from $100,000 to $1 million, and based on Chris's experience and expertise, he might be earning on the higher end.
Social Media Presence
Chris Quinn does not use any social media. He is a private person and loves keeping his personal life private and low-key from the public.
However, you can get updates about the life of Chris Quinn from his interviews, podcasts, and public appearances.
Popularity Graph
The assistant coach and former NBA player is quite popular and is searched by many fans and followers.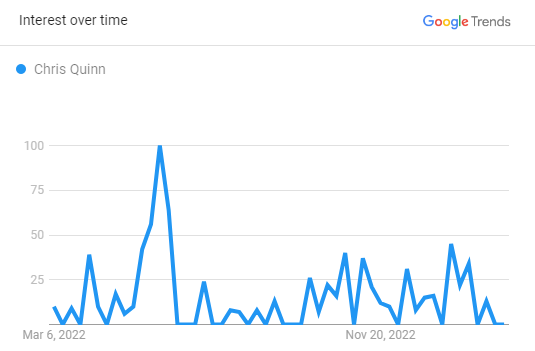 The line graph represents his search interest in the last 12 months.
Frequently Asked Questions (FAQs)
Is Chris Quinn related to Brady Quinn?
No, Chris Quinn is not related to Brady Quinn, but they are good friends. Both of them went to Dublin Coffman High School and Notre Dame University. Many people confuse them as siblings due to the same last name. According to Chris, Brady was a junior in high school, but they had a good relationship with him as a friend.
Why was Chris Quinn not drafted in the NBA draft?
Chris Quinn wasn't drafted in the NBA draft despite having an impressive high school and college career. There is no exact cause why but people believe it was high competition for the point guard in NBA 2006 drafts. Chris particularly did not wow anyone and, thus, went undrafted.
What are the overall NBA statistics for Chris Quinn?
In his NBA career, Chris Quinn played 241 games with an average of 1.1 rebounds, 0.4 steals, 1.9 assists, and 4.5 points per game.