The multiple-time All-Star and Olympic gold medalist Kyle Terell Lowry is an American professional basketball player for the Miami Heat of the NBA.
To be precise, he has been an NBA All-Star six times, which is a meritorious achievement. Lowry currently holds the point guard position for the Miami Heat.
He was named to the All-NBA Third Team in 2016 and won the NBA championship with the Toronto Raptors in 2019.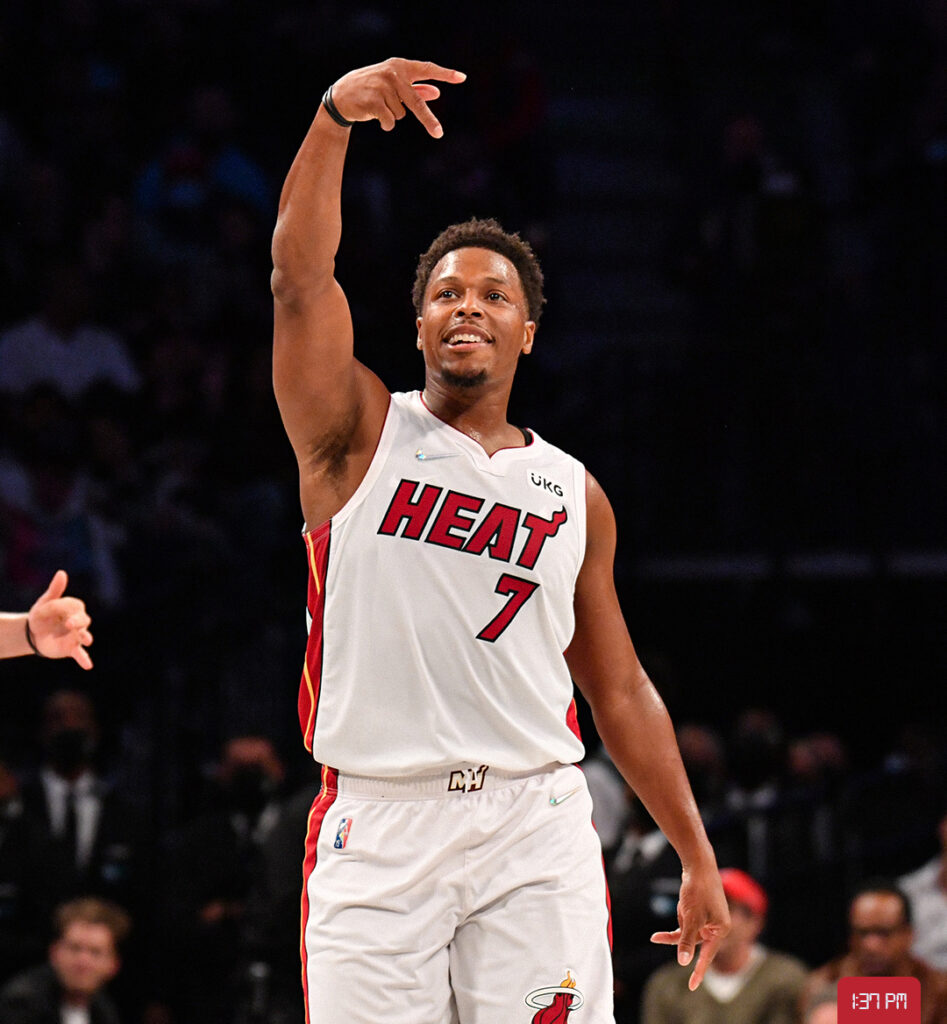 Kyle Lowry has a free-flowing offensive strategy, enriched shooting abilities, and decent playmaking. Moreover, he is also known for his ball-handling skills.
This article will discover more about the professional basketball player's lifestyle, family, career, and net worth.
Before going further, do have a look at the Quick Facts.
Quick Facts
Name
Kyle Terrell Lowry
Date of Birth
March 25, 1986
Birth Place
Philadelphia, Pennsylvania, USA
Nick Name
The Bulldog
Age

37

Gender
Male
Religion
Christianity
Nationality
American
Ethnicity
Afro-American
Horoscope
Aries
Body Measurement
45 inches (Chest), 15.5 inches (Arms), and 35 inches (Waist)
Height
6 ft (1.83 m)
Weight
89 kg (196 lb)
Body Mass Index (BMI)
26.6
Build
Athletic
Wingspan
1.88 m
Shoe size
13
Hair Color
Black
Eye Color
Dark Brown
Tattoo
Yes
Father's name
Lonnie Lowry Sr.
Mother's name
Marie Holloway
Siblings
Lonnie Lowry (brother)
Relationship
Married (2014)
Wife
Ayahna Cornish Lowry (former basketball player)
Children
Karter and Kameron (sons)
Profession
Professional Basketball Player
Position
Point Guard/ Shooting Guard
Education

Cardinal Dougherty High School
Villanova University

High School Ranking
4-star recruit/ 29th ranked
Draft
2011 (24th overall pick) Drafted by Memphis Grizzlies
NBA Debut
2006
Team
Miami Heat
Previous Teams
Memphis Grizzlies, Houston Rockets
Current Affiliations
NBA
Jersey Number
7
Salary
$30 million
Net Worth
$55 million
Social Media
Twitter, Instagram
Playing Career
2006 – present
Merch
The Inspiring Story of One of Basketballs All-Star Guards (Paperback), Trading Card
Last Update
December, 2023
Kyle Lowry | Early Life & Family
Before Kyle Lowry became a successful professional basketball player, he had crucial childhood and percentages of drawbacks in his early life.
On March 25th, 1986, Kyle Lowry was born in Philadelphia, Pennsylvania. He is of American nationality and follows Christianity as his religion.
Kyle Lowry grew up in North Philadelphia, where his mom and grandmother raised him.
His mom Marie Holloway was committed to two jobs (Internal Revenue Service & U.S Post Office) for overtime to look after her sons.
His grandma also worked at Dunkin Donuts to fortify income.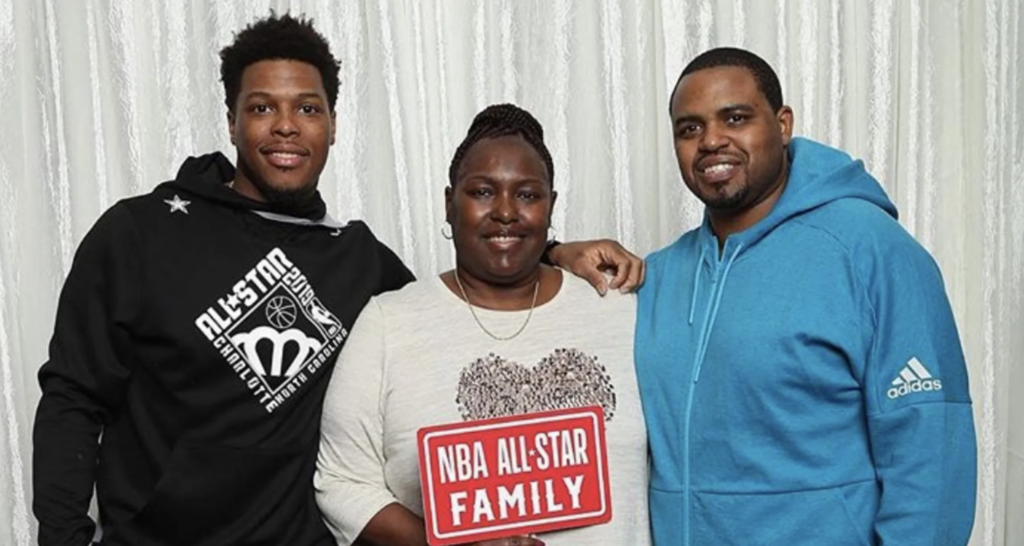 Kyle Lowry's father, Lonnie Lowry Sr., lived 10 minutes away from his family's home, never showed up. He became an estranged father when Kyle was around seven years old.
His brother Lonnie Jr. is five years older than him. They grew up concurrently, and Lonnie's love for basketball energized Kyle Lowry to fall in love with sports.
Kyle Lowry was a skilled player from a young age. His mother used to bring him sporting equipment rather than toys.
At first, he was engaged in Baseball, and he also attempted for a while, but Kyle's brother boosted him to play basketball.
And today, Kyle Lowry is one of the most successful and highest-paid basketball players. All Thanks to his brother, who showed him this beautiful journey.
Kyle Lowry | Career
High School Career
Kyle Lowry attended Cardinal Dougherty High School in Philadelphia. He played the role of point guard for the high school basketball team.
He was considered a five-star recruit by Rivals.com and listed as the no.6 point guard, and he stood No.8 player in the U.S in 2004.
College Career
Lowry was named the Big East All-Rookie team in his freshman season at Villanova.
He was named the All-Big East Second Team and the First Team All-Big 5. He averaged 11.0 points, 4.3 rebounds, 3.7 assists, and 2.3 steals per game in 31 out of 33 games.
Memphis Grizzlies
The Memphis Grizzlies chose Kyle Lowry with the 24th overall pick in the 2006 NBA draft.
He underwent a season-ending injury due to a broken wrist while playing against Cleveland Cavaliers.
The team's head coach, Lionel Hollins, and Kyle Lowry had a toxic bond. Kyle was unhappy with his role and organization that considered him a bad influencer on the roster.
Houston Rockets
Lowry was traded to Houston Rockets in a three-team agreement, including Memphis Grizzlies and the Orlando Magic, in February 2009.
He recorded a career-high 26 points, six rebounds, ten assists, and five steals in a win over the Dallas Mavericks in December 2009.
He scored second career-high 28 points in a win against Memphis Grizzlies in December 2010.
Again, in February, he recorded his career-high 36 points against the Philadelphia 76ers.
He recorded his first triple-double with 28 points, 11 rebounds, and ten assists in a victory over Utah Jazz.
Therefore, he was subsequently titled Western Conference Player of the Week.
Do read this interesting article: Patrick Christopher Bio: Career, Records, NBA & Net Worth>>
Toronto Raptors
Kyle Lowry was traded to the Toronto Raptors in exchange for Gary Forbes and a future first pick in July 2012.
Lowry joined the off-season as one of the most admired free agents. The NBA's big teams, Miami Heat, Houston Rockets, and other teams are interested in Lowry.
Kyle re-signed the four-year, $48 million deal with the Toronto Raptors.
Lowry became the teams' all-time leader for triple-doubles with 13 points, 11 rebounds, and ten assists in November 2014.
In December, he recorded a career-high 39 points on 13-of-22 shooting in a win against Utah Jazz.
Lowry was named the Eastern Conference player of the month for December 2014.
Kyle Lowry came to be the first-time All-Star when he was declared as an Eastern Conference starter in the 2015 NBA All-Star Game.
He recorded his seventh career triple-double averaged 20 points, 11 rebounds, ten assists against Indiana Pacers.
Lowry tied career-high three-pointers, scoring a game-high 31 points over Brooklyn Nets.
He was named a starter of the Eastern Conference All-Star team for the 2016 NBA All-Star Game.
Furthermore
He recorded his eighth career triple-double with 22 points, 11 assists, and 11 rebounds against the New York Knicks.
Lowry averaged 26 points, seven rebounds, and ten assists in game 6 of the 2019 NBA Finals.
His contribution helped to snatch victory over Golden State Warriors, therefore helping Toronto Raptors win their first NBA championship in franchise history.
Kyle Lowry was named the Eastern Conference player of the week on December 16-22, 2019.
Lowry recorded his 4,000th assist with the Raptors and joined the players Stephen Curry and Damian Lillard, who have crossed over 4,000 assists with their present team.
Lowry recorded 10,000 points with the Toronto Raptors, enlisting with DeMar DeRozan and Chris Bosh, who has set that landmark with the franchise.
Miami Heat
The Miami Heat acquired Kyle Lowry from Toronto Raptors in August 2021. He was acquired with a sign and trade in exchange for Precious Achiuwa and Goran Dragic.
Lowry recorded his first triple-double with the Miami Heat, and that was his 19th career triple-double on November 2021.
He averaged 20 points, 12 rebounds, and ten assists, shooting 72% from the field.
National Team Career
Lowry was a team member of the U.S men's national team. He won a gold medal at the 2016 Rio De Janeiro Summer Olympics averaging 5 points and 3.3 rebounds.
He received appraisals for his defense and leadership during the game, with head coach Mike Krzyzewski tagging him as the team's "unsung hero."
And assistant coach Jim Boeheim called him "the best team player out of everybody."
Career & Achievements
NBA champion (2019)
All-NBA Third Team (2016)
Six times NBA All-Star (2015-2020)
Second-team All-Big East (2006)
Big East All-Freshman Team (2005)
No.1 retired by Villanova Wildcats
Age, Height & Weight of Kyle Lowry
Born on March 25, 1986, Kyle Lowry is 37 years old.
His listed height is 6 feet (1.83 m), and he weighs around 196 lb (89 kg). He has got average height with an athletic physique.
Appearance-wise, his hair color is black, and his eye color is dark brown.
Social Media Presence
The outstanding professional basketball player Kyle Lowry has a decent number of social media followers in his verified account.
Read this interesting article; Brook Lopez Bio: Career, NBA & Net Worth>>
Kyle Lowry | Personal Life
Kyle Lowry was married to his High School love Ayana Cornish Lowry in 2014.
They got married after dating each other for more than 12 years. Both of them attended Cardinal Dougherty High School in Philadelphia, Pennsylvania.
The couple has known and dated one another since High School. It's a long journey to a successful relationship.
Ayahna is a former American basketball player who has won the Best Offensive Player title two times for St.Joshep University's women's team.
Sadly, she underwent an ACL injury in her junior year and could not perform any longer at the same level.
The wonderful couple has two sons, Karter Lowry and Kameron Lowry.
Kyle and his wife Ayahna Lowry share a strong bond. Ayahna supports Kyle Lowry by attending the basketball arena and watching him play.
Kyle Lowry | Net Worth
One of the most prominent professional basketball players, Kyle Lowry, has a net worth of $55 million.
In the 2020-21 season with Toronto Raptors, he earned $30,500,000.
The Miami Heat presently pays a handsome annual salary of $30 million.
He is one of the highest-paid athletes. Also, he has promising endorsement earnings from Adidas, Sony, Citizen Watch Canada, Taylor Made Golf.
The involvement with endorsement deals and business ventures keeps on strengthening his wealth.
Dive in to know more about Kyle Lowry's net worth>>
The Lowry Love Foundation
Unlike the nightmare that Lowry is in the arena, he is a different self off the arena with a kind heart and essence. He is a continual contributor to the realm of philanthropy.
His wife, Ayahna Lowey, introduced "The Lowry Love Foundation" in 2013 with the primary motive of improving the lives of the underprivileged group in Philadelphia, Pennsylvania.
Kyle Lowry has donated thousands of dollars from his foundation to improve society.
Interesting Facts
Besides basketball, Lowry loves to play golf in the off-season. His favorite golf courses are Aronimink Golf Club in Newtown Square, Pennsylvania, and Aviara Golf Club in San Diego.
Lowry had never won a championship before 2019, neither in High School nor in University. He became an NBA champion in 2019 with the Toronto Raptors.
In 2016, he started his brand of Juice. The drink called "Fam Juice" came into eight flavors was procured in the Philadelphia region.
Lowry made his cameo appearance in "The Nutcracker" in 2019.
Lowry has not dunked in an NBA regular season or playoff game in 12 years.
Read also, Malik Beasley Bio: Career, Family, NBA & Net Worth>>
Frequently Asked Questions (FAQs)
What brand of shoes does Kyle Lowry wear?
The Philadelphia professional basketball player Kyle Lowry wears the branded Adidas Shoes. He started his career deal with Adidas, where he has been awarded some stylish PEs.
How long did Kyle Lowry play for the Raptors?
Kyle played for the Raptors for nine seasons from 2012 to 2021, and he was the first player to have his number 7 jersey retired by the team.