Christen Harper, an American model, actress, and social media influencer, is also known as the long-time girlfriend of the Detroit Lions quarterback Jared Goff. Previously, she was represented by modeling agencies such as L.A. Models and Wilhelmina Models. She began acting at 11 and has worked in multiple movies.
Christen's ascent to the limelight is duly credited to her acting credits in movies like Auggie, Seven's Eleven, and The Obituary of Tunde Johnson, partly due to her relationship with Jared.
Goff is a quarterback for the Detroit Lions of the NFL, whose first-round, first-overall pick was for the Los Angeles Rams in the 2016 Draft. The Rams traded him in 2021.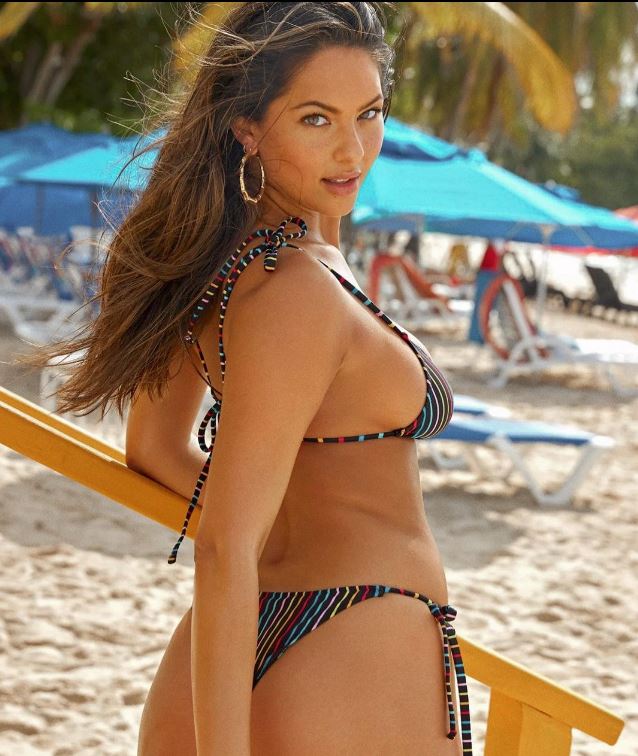 The two-time Pro Bowler donated $250,000 to the L.A. Food Bank to cover one million meals for needy people during the coronavirus pandemic.
Moreover, christen Harper has assisted UNICEF in saving and protecting the world's most vulnerable children.
Harper also works as a Sports Illustrated Swimsuit model from time to time.
Today, we will discuss her early life, career, net worth, and how she came to meet her boyfriend. Let's commence with the quick facts!
Quick Facts
| | |
| --- | --- |
| Full Name | Christen Harper |
| Birth Date | May 28, 1993 |
| Birth Place | Valencia, California, U.S. |
| Nick Name | Christen |
| Religion | Undefined |
| Nationality | American |
| Ethnicity | Caucasian |
| Education | Cal State University at Northridge |
| Horoscope | Gemini |
| Father's Name | Mike Harper |
| Mother's Name | Daria Harper |
| Siblings | Yes (Shane Harper) |
| Age | 30 years old (as of August 2022) |
| Height | 5'9″ (1.77 m) |
| Weight | 60 kg (132 lbs) |
| Shoe Size | 7.5 (U.S.) |
| Hair Color | Brown |
| Eye Color | Hazel |
| Body Measurement | 34-27-35 inches |
| Figure | Curvy |
| Married | Engaged (June 2022) |
| Boyfriend | Jared Goff |
| Children | No |
| Profession | Actress, Model |
| Net Worth | $1.5-2 million (Approx) |
| Salary | around $70,000 annually |
| Social Media | Instagram, Facebook |
| Last Update | May, 2023 |
Christen Harper Wiki-Bio | Early Life & Education
Christen Harper was born on May 28, 1993, in Valencia, California (U.S.). Her parents are Daria Harper and Michael Harper, and she is a younger sister to Shane Harper.
Christen's brother is also a professional hockey player with the Swedish Hockey League club, Orebro H.K.
Despite getting skipped for a professional draft in his native, he played for a short while in the Western Hockey League.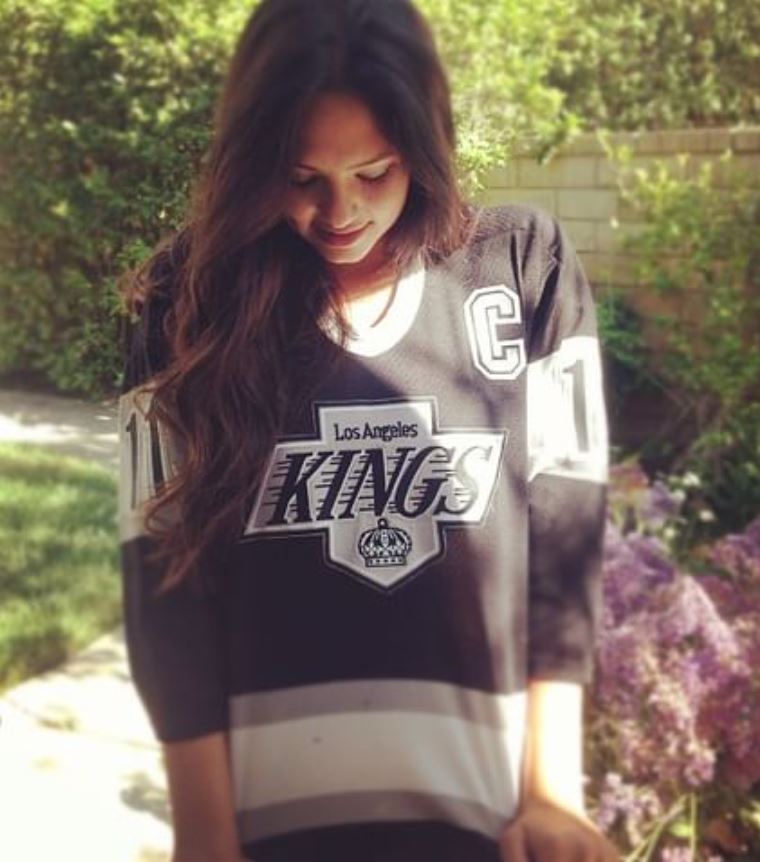 Contrarily, being of Californian origin undoubtedly qualifies her as an American citizen—Harper, Caucasian by ethnicity and falls under the Gemini zodiac sign.
Likewise, per the horoscope, Christen has unique traits of intelligence and adaptability.
Moreover, Harper completed her formal education at a private college in California and enrolled at Cal State University.
Eventually, after graduating with a bachelor's degree, the American cultivated a desire for acting.
Christen Harper | Age, Height, & Body Measurements
Born in 1993, the beautiful actress is 28 years old at the time of writing. At this age, with such talent and charisma, there is no room for doubt that Christen will be the next big thing in the coming years.
Added to that, Harper possesses quite a tall stature standing at 5'9″ (1.76 m) and weighing about 55 kg (121 lbs).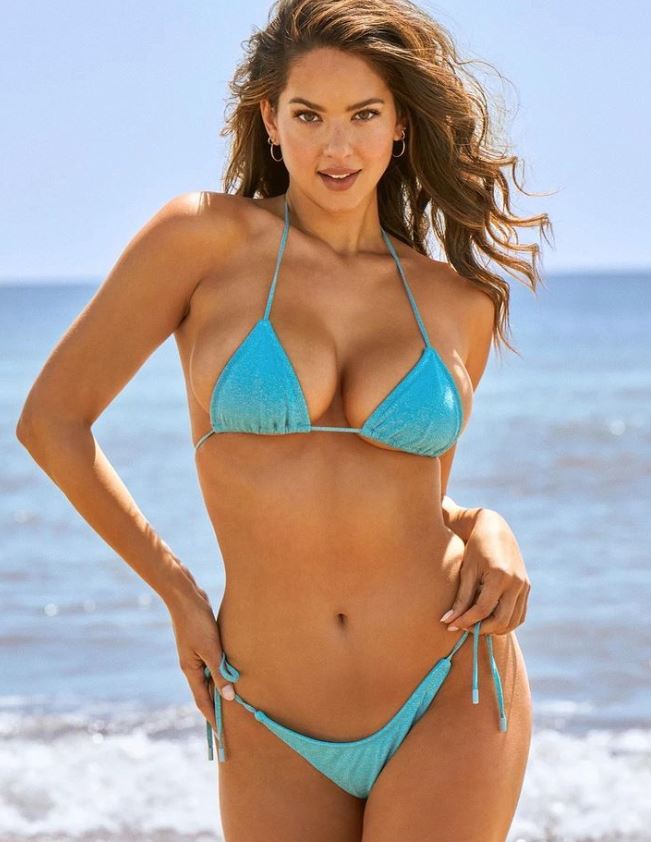 Similarly, it doesn't fall out of the requirement to maintain their fitness; instead, it comes as an obligation towards their craft.
Hence, Christen's body measurements include 34-inches of the breast, 27-inches of the waist, and 35-inches of the hips.
With curves, all in the right places, and a sexy body, very few fail to catch sight of the emerging actress.
In like manner, the Californian wears a dress of size three and a shoe of size 7.5 (U.S.). Most importantly, Harper's attractive features are her Hazel-colored eyes, long dark hair, high cheekbones, button nose, and plump pink lips.
Skincare Routine
Christen Harper has flawless skin and maintains a clear-looking complexion. For it, she keeps her skin hydrated every time with sheet masks.
She also uses coconut oil for makeup removal, a face mask, and skin hydration.
Christen Harper | Career: Actress & Model
Firstly, Christen stepped into the entertainment field through modeling. From a young age, the aspiring actress engaged in modeling but did not intend to make it a profession.
In the same way, the Californian developed an interest in acting and, by age ten, had already appeared in a short movie titled Seven's Eleven, released in 2004.
Likewise, as a teenager, Harper made her tv debut in one of the HBO series Entourage episodes.
However, her rise to fame would be due to her representation by L.A. Models and Wilhelmina Models, which genuinely put a star label on her career.
Immediately, Christen appeared in spreads of magazines and several commercials, one of them for Bliss magazine.
As a result, the number of fan followers increased drastically overnight, as the Californian became a social media sensation. After sharing jaw-dropping pictures on her Instagram, the model's status surpassed a new level.
At the same time, Harper signed on with W360 Management, which enabled her to land more exposure in the media.
Simultaneously, her Instagram account comprises promotional content for brands like Monday Swimwear, REVOLVE, Guess, Realisation Par, Reformation, and Love Culture.
Besides being a model, Christen never lost touch with her inherent passion, acting. Further, to continue her dreams of being a movie star, she joined an acting class, at Baron Brown Studio, which taught and honed her skills for the best.
Modeling and acting became an excuse for stardom. Harper's relationship with former L.A. Rams quarterback Jared Goff propelled her to prominence.
Despite this encounter, it cannot alter the fact that Christen is making a name for herself as an actress.
To illustrate, the Californian appears as Caroline in the drama The Obituary of Tunde Johnson, one of the most gripping movies of 2019.
The film is about the story of a gay African-American teenager stuck in a time loop, making him witness his brutal shooting at the hand of police over and over again.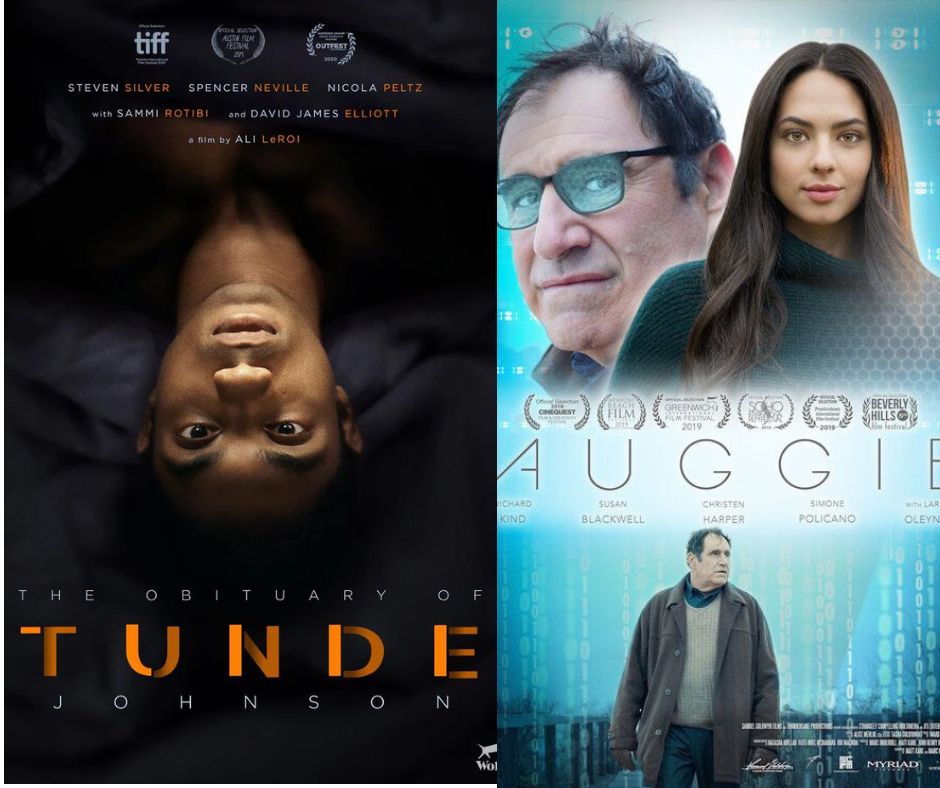 The movie made a premiere at the Toronto International Film Festival. The casts include Nicola Peltz, Spencer Neville, and Steven Silver in the lead role.
Furthermore, Christen landed a significant role in the 2019 Sci-fi drama Auggie.
Also, the movie's plot is based around Richard Kind's character, Felix, whose affection towards an A.I. companion played by Harper, begins to jeopardize his personal life.
Similarly, the 2019 movie sees Christen in the titular role.
Christen Harper Net Worth | Salary & Income
In particular, an actress's and a model's earnings should be pretty hefty. Indeed, the Californian amassed a stunning net worth of $1.5 million from her acting and modeling ventures.
Even though her salary's exact detail remains unclear, reports suggest that an average salary of a model lies around $70k, depending on the tenure.
Similarly, an actress's wage is typically around $65k based on the nature of the project.
As a budding actress and still with a lifetime of opportunity ahead of her, we can safely assume that Christen's net worth and earnings will take an upward trend sooner or later. Accordingly, we will update this section as soon as we uncover more.
On the contrary, the man Harper is dating, Jared Goff, is a famous NFL player with a mouth-watering net worth of $30 million.
In 2016, the NFL star signed a contract with L.A. Rams that saw him pocket a whopping $27.9 million. Besides, his annual salary is expected to be $25.65 million.
Moreover, the quarterback is one of the highest earners of the 2016 Draft batch. Further, sources disclosed that Goff earned $19 million altogether between 2016 and 2017 alone.
Christen Harper Personal Life | Jared Goff's Girlfriend
Moving on, Christen is in an open relationship with NFL quarterback Jared Goff, who assumably met back in 2018 in one of the Rams games.
The couple maneuvered about it covertly, but the story picked up the heat when a paparazzi spotted the two outside a grocery store.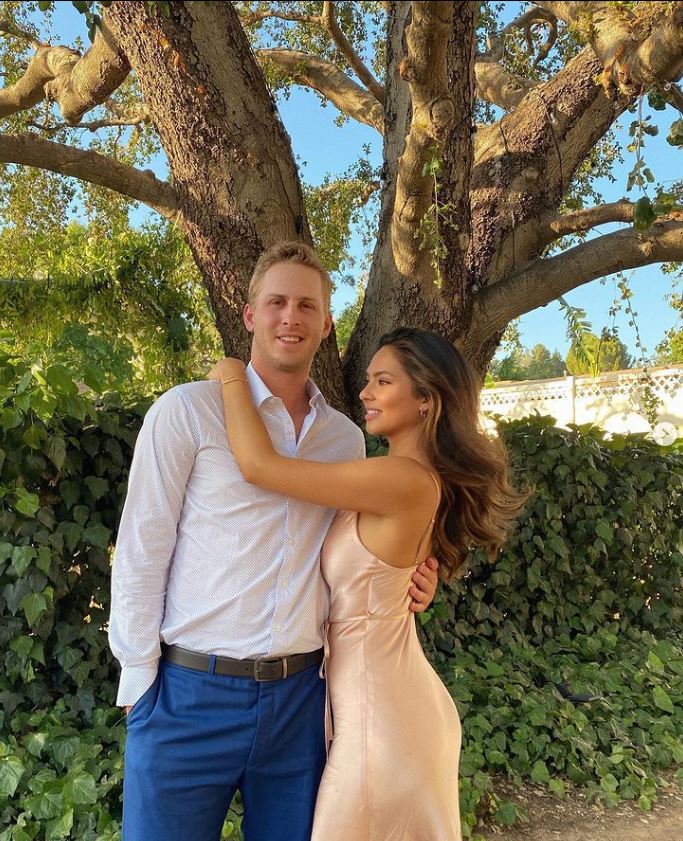 In brief, Jared Goff was born in Novato, California, on October 14, 1994. The quarterback initially picked up a football at Marin Catholic High School and kept on with his passion for the sport, eventually getting drafted by Los Angeles Rams in 2016.
Before Goff, Christen was in a relationship with Andrew Rohrbach, a baseball player for Colorado Rockies. The now-separated couple started dating in 2013.
Ultimately, they decided to part ways in 2015; the reason remains in the dark.
Christen Harper Engagement | Fiancee Jared Goff
Christen Harper has been engaged to her long-time boyfriend, Jared Goff. The Detroit Lions quarterback and Sports Illustrated Swimsuit model got engaged in Mexico.
Jared got engaged to the love of his life on June 16, 2022. Harper wrote, "6.16.22 can't wait for forever with you," as a caption making her engagement public.
Sports Illustrated Swimsuit model harper chose a romantic beach setting for the proposal and called the getaway "the best weekend of her life" in an Instagram post.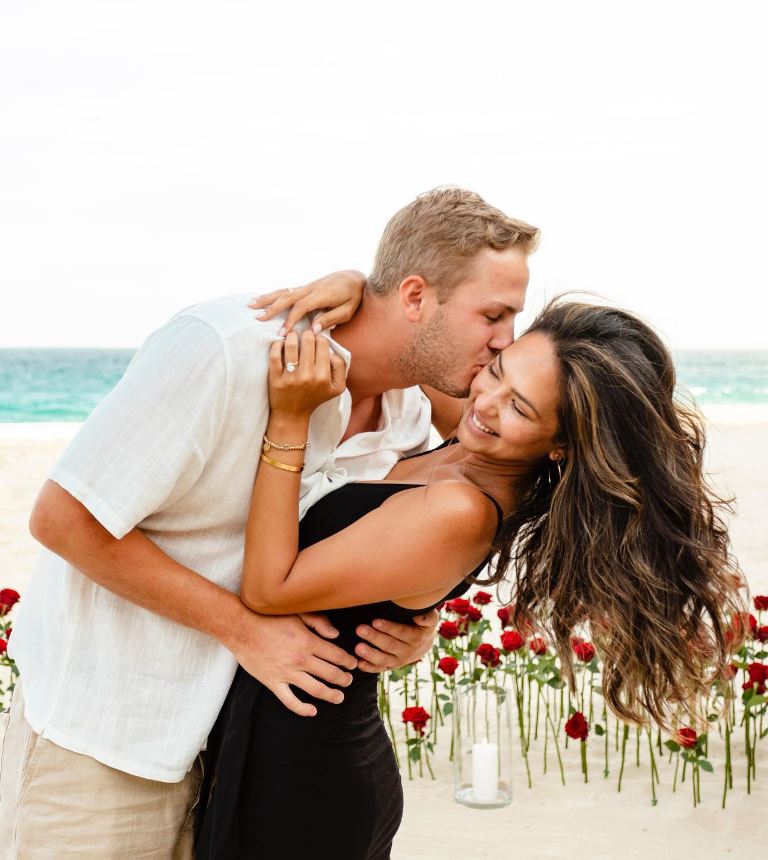 Jared seems to be on cloud nine as well. He wrote, "I'm the luckiest guy in the world because I get to spend forever with you. I love you, @christenharper."
Overjoyed, Harper told her social media followers she was "still on cloud 9."
Social Media Presence
Instagram: 438k followers
Facebook: 3.9 million followers
Christen Harper's Popularity
The curve shows her increasing popularity in the U.S. as she got engaged to Jared Goff and appeared in movies.

FAQs on Christen
Is Jared Goff in a relationship?
]are Goff is in a relationship with his long-time girlfriend Christen Harper, a model and an actress. Recently the couple got engaged in June 2022, and along with their friends, they celebrated the weekend in Mexico.
How rich is Jared Goff?
Jared Goff's net worth is estimated to be $30 million, which makes him pretty rich. He is playing as a quarterback for the Detroit Lions of the NFL.
How old is Jared Goff?
The Detroit Lion Quarterback Jared Goff is 28. He recently got engaged to his girlfriend, Christen Harper, a model, and an actress.