The National Football League fans who have watched the Los Angeles Rams' game ought to know the exceptional pocket passer, Jared Goff.
He is an American football quarterback. Notably, he has been a vital player and influencer for the L.A. Rams since he was drafted in the first round with the first pick in 2016.
The 26-year-old struggled a bit in his debut season in the top-flight football league. However, the next season he was the leader in the Rams' journey to their first playoff appearance in 13 years.
Also, in the 2018 season, the team could make it to their first Super Bowl since 2001 at Super Bowl LIII. Of course, Goff had a major contribution to the team in reaching the milestone.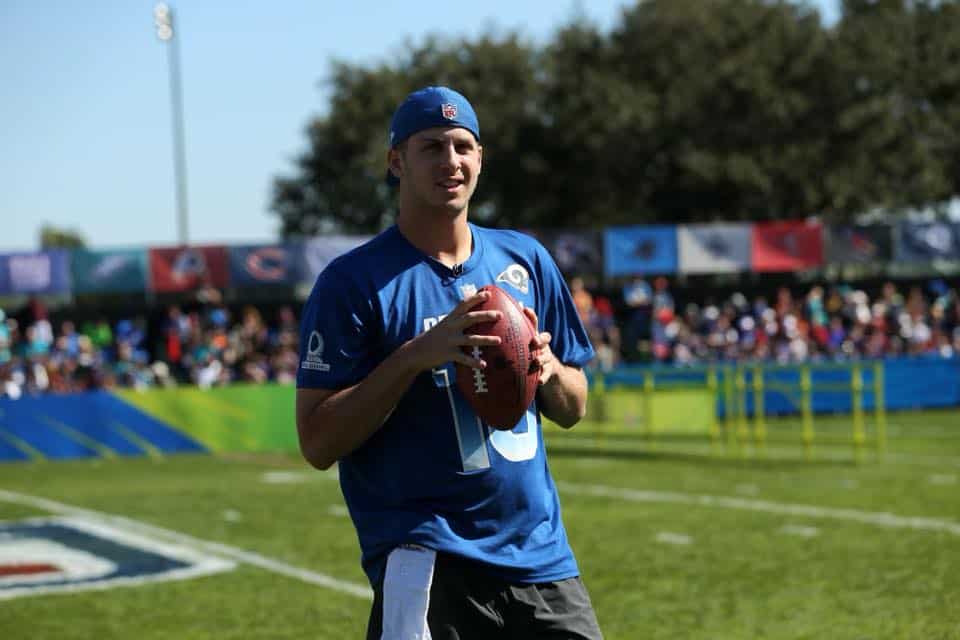 Goff was included in the Pro Bowl in his second and third seasons in the NFL. Receiving such great recognition in the early seasons at the world's top football league is a lifetime achievement for most players.
But Jared has shown no signs of stopping where he is. Today, in 2020, he is also pushing himself and his team to poach more glories and titles.
Let's glance over a brief life journey of a wonderful and promising player.
Quick Facts:
Full Name
Jared Thomas Goff
Birth Date
October 14, 1994
Birth Place
Novato, California, United States
Nickname
Jared Goff
Religion
Christianity
Nationality
American
Ethnicity
White
Education
Marin Catholic High School, Kentfield, California
University of California, Berkeley
Horoscope
Libra
Father
Jerry Goff
Mother
Nancy Goff
Siblings
One elder sister
Sister
Lauren Goff
Age
28 Years Old
Height
6 feet 4 inches (193 cm)
Weight
101 kg (222 lbs)
Build
Athletic
Eye color
Dark Brown
Hair Color
Blonde
Profession
NFL player
Playing Position
Quarterback
Active years (Senior Career)
2016 – present
Team
Los Angeles Rams
Sexual Orientation
Straight
Marital Status
Unmarried (In a relationship)
Girlfriend
Christen Harper (2019 – present)
Jersey Number
16
Net Worth
$30 million
Total Annual Earning
$50 million (June 2019 – June 2020)
Salary
$33 million
Brand
JG16 (clothing)
Endorsements
Red Bull, BMW, Bose, Banana Republic, Nike, Pizza Hut
Social Media
Facebook, Twitter, Instagram
Merch
Rookie card, Jersey, Autographed Helmet
Last Update
May, 2023
Jared Goff | Early Life, Family, and Education
Jared was born in Novato, a city in northern California, on October 14, 1994. Jerry and Nancy Goff are his parents. Besides, Lauren Goff is his elder sister. Jerry played Major League Baseball in his days.
He grew up in Novato with his sister. Joe Montana was his childhood idol for which he wore the no. Sixteen shirts as a tribute to him. Accordingly, he was a fan of the San Francisco 49ers as a kid.
Jared went to Marin Catholic High School in Kentfield for school-level education. There he played football for the school team until he graduated in 2013.
He threw for 7,687 yards and had 93 touchdowns, including 18 interceptions in the varsity seasons he played. He took his teams to three NCS playoff games and three MCAL championships.
Jared Goff | College Career
He drew many colleges' attention with his brilliant performances at the high school level, including several scholarship offers.
Ultimately, he joined the University of California in Berkeley in 2013. Immediately, he was recruited for the Golden Bears' training.
Freshman season for the Cal
The California College team named him the starting quarterback for his debut season in 2013.
Notably, he was the first quarterback in the college's history to start in his freshman season. Moreover, he started in all twelve games in the season.
Overall, he had 18 touchdown passes and ten interceptions in the season. Also, he made a record in Cal's history for most passing yards, yardage gained, total offense passes completed, and attempted passes.
One should have a wonderful season to set all those records in the same season.
Sophomore season
No doubt, he was again at quarterback for all the games in the 2014 season. Notably, he recorded seven touchdown passes against the Colorado Buffaloes in the season.
He was the pivot for the Bears' improvement in the season, with a 5-7 win-loss record overall.
With a 62% completion rate, he had 3,973 yards and 35 touchdowns in the season. Remarkably, this was also a new record at the college.
Final Season with the Golden Bears
Goff started gaining recognition at the beginning of his junior season in 2015. He was projected as the no. 1 quarterback for the 2016 NFL Draft.
Goff clinched the Pac-12 Offensive Player of the Week title as he threw for 453 yards and six touchdowns in a victory over Oregon State.
The same title came again following a 542 passing yards victory over Arizona State.
Overall, the Bears had a 7-5 record in the 2015 season. Individually, Goff made 4,714 passing yards and 43 touchdowns in the season. His records saw him included in the first team of All-Pac-12.
After Aaron Rodgers in 2004, he was the first quarterback of the Bears to earn the honor. Moreover, the Bears had won a post-season game for the first time since 2008.
In terms of education, Goff had chosen sociology as his major in college. However, with immense interest from several NFL parties, he decided to cut off his senior season with the Bears. Accordingly, he enlisted his name for the 2016 NFL draft.
Jared Goff | Professional Football Career
After leaving college, he was ready to begin his career on the top flight. The analysts speculated that the Cleveland Browns or the San Francisco 49ers would poach him in the early first round.
But against all the predictions, the Los Angeles Rams acquired him in the first round with the Tennessee Titans' first pick.
Debut Season
Roman Gabriel and Terry Baker joined Goff in the first-round selection by the Rams. Accordingly, he signed a four-year, $27.9 million contract with the team in June 2016.
His debut start came against the Miami Dolphins in November after nine games in the season. In his debut game, he had 17 successful attempts for 134 passing yards.
However, Goff could have his first NFL touchdown pass to wide receiver Tavon Austin against the New Orleans Saints next week. Also, he had his first interception in the same game.
With seven starts in Goff's season, the Rams had an overall 4-12 record. Individually, he had 112 out of 205 passes for 1,089 yards, five touchdown oases, and seven interceptions.
Playoffs and Journey to the Pro Bowl
Sean McVay was his new coach for the 2017 season. His first professional win was the 46-9 victory against the Indianapolis Colts.
The Rams witnessed a brilliant performance from Goff as they snatched the NFC West title.
The title came for the first time since 2003 against the Tennessee Titans. Individually, Goff had four touchdowns covering 301 passing yards.
Moreover, he played against Carson Wentz, the second-overall pick, in a game against the Philadelphia Eagles.
Accordingly, Goff had an opportunity of playing the playoff games for the first time. He made a touchdown as the Rams lost 26-13 to the Atlanta Falcons in Wild Card Round.
To summarize his 2017 season, he had 3,804 passing yards making 28 touchdowns and seven interceptions.
He saw his name in the Pro Bowl squad with the 38th position among the league's best players. Furthermore, Carson Wentz made it to the Pro Bowl as an injury replacement.
Super Bowl
Goff had two passing touchdowns as he saw his team thrash Oakland Raiders 33-13 in the 2018 season opener. Against the neighbor Los Angeles Chargers recorded 80.5% completion with three touchdowns.
Besides, he was named the NFC Offensive Player of the Week in Week 4 and Offensive Player of the Month in September.
Again, the Rams defeated the New Orleans Saints in the NFC Championship. Besides, with 186 passing yards, Goff led the Rams to beat the Dallas Cowboys in the Divisional Round of the playoffs.
Significantly, the Rams made it to the Super Bowl LII that season against the New England Patriots. Sadly, they had to bear a 13-3 loss. Goff was ranked 32nd in the NFL Top 100 Players of 2019.
Contract Extension
Goff signed a four-year, $134 million contract extension with the Rams. The contract had $110 million guaranteed, an NFL record until Patrick Mahomes broke it in 2020.
Against the Tampa Bay Buccaneers in Week 4, he set an NFL record for most regular-season game completions.
In Week 13, he had a 424-yard throw with two touchdowns in a 34-7 win against the Arizona Cardinals. This earned him the NFC Offensive Player of the week.
However, the Rams' playoff journey ended with a 31-34 loss against the 49ers in Week 16.
Goff had 22 touchdowns with 4,638 passing yards and 16 interceptions in the 2019 season. He led his team to finish with a 9-7 record.
The 2020 Season
Goff led his team with 275 passing yards and an interception to win 20-17 over the Dallas Cowboys in Week 1 of the 2020 season.
Also, he had an outstanding performance with 321 passing yards, two touchdowns, and an interception against a 32-35 loss against the Buffalo Bills in Week 3. Furthermore, he is represented by his agent Ryan Tollner of Rep1 Sports
Jared Goff | Achievements, Highlights, and Titles
It has been only four years since Goff started his NFL career. Many more awards are still to come for him as he is just on his way to the pick of his career.
He has already set the NFL record for most completed passes (45) in a single game. Besides, he has lifted the 2018 NFC Championships trophy. Moreover, the 27-year-old has already made it to the Pro Bowl two times.
He was honored with the PFWA Most Improved Player of the Year in 2017. Also, FedEx awarded him the Air Player of the Week title in Week 16 of 2017.
Similarly, he has been the NFC Offensive Player of the Week and the Offensive Player of the Month a single time.
Jared Goff | Career Stats
Before moving to Jared Goff's career journey, let us check out his statistic in college.
During his tenure at college, Jared maintained 96 passing touchdowns, 30 passing interceptions, 12195 passing yards, and a 62.3 pass completion percentage.
Jared Goff | Net Worth and Salary
Goff started his professional NFL career in 2016 with a lot of hype behind him. His signing contract was worth $27.9 million for a four-year deal.
According to sources, he is the highest-earning player of those who came from the 2016 Draft. He gathered $19 million between 2016 and 2017.
Jared Goff has a net worth of $30 million as of 2022.
He is currently contracted to the Rams with a four-year, $134 million deal in which $110 million is guaranteed.
Some sources speculate that he earned $50 million in the 2019 season alone. That includes the brands' endorsement fortunes like Red Bull, BMW, Bose, Banana Republic, Nike, and Pizza Hut.
Similarly, he runs a clothing brand under his trademark, JG16. Besides, he made donations worth $250,000 to support the COVID-19-affected people. Goff owns a House worth $4 million in Hidden Hills, California.
Get more detailed information on his net worth and houses in the article below:
Jared Goff Net Worth: Contracts, Earnings & House >>
Jared Goff | Quotes
I will focus on myself and continue to improve because I have plenty of things I need to work on.
Repetition every day. That's something the great ones do never get complacent.
My pocket presence and my ability to extend plays speak for themselves.
What the people say on TV means nothing to me, and it means nothing to anybody playing football. It's for the fans to watch and enjoy.
I wouldn't be the first quarterback from California to go-to cold weather. I think Tom Brady and Aaron Rodgers are doing well and can do it.
I've been a good player my whole life and expect to continue to work hard, do everything I have done, and try not to take any steps back. Try to stay the course, be the best player, teammate, and hopefully the best leader I can be, and play as well as I can.
Jared Goff | Wife, Marriage, And Relationships
Jared has got a beautiful body along with a promising career. Accordingly, many girls can be easily attracted to him.
Goff was linked to a model, Christen Harper, in 2019. But he had declined the rumors and had not revealed the relationship publicly.
At the time, the relationship was limited only to a close circle. Many shreds of evidence show that the couple started dating in early 2019.
Harper was seen at a Rams game, and they both were seen together at a Halloween Party.
With these heated rumors in the media, the couple could no longer disclose their affair. Eventually, Harper posted a story on Instagram that confirmed all the words. Harper is a model and actor who is also an Instagram sensation.
The 27-year-old has appeared in the promotion campaigns of the brands like Revolve, Love Culture, and Guess.
Besides, she appears in Caroline's role in the recently released drama film The Obituary of Tunde Johnson. On the other hand, Goff revealed in an ESPN interview that his celebrity crush is actress Jennifer Aniston.
Jared Goff | Social Media Presence
It has not been long since Jared Goff introduced himself into American football's limelight.
Accordingly, he has been dragging his fans to his social media accounts over the years. Jared actively uses Facebook, Twitter, and Instagram as his social media handles.
Facebook: 70k followers
Twitter: 177k followers
Instagram: 325k followers
Common Queries:
Does Jared Goff wear gloves?
Normally, the footballer does not wear gloves. Many people even call him a non-glove-wearing quarterback.
However, he recently put gloves on in the NFL Divisional Round to express his and the L.A. Rams' seriousness towards the game. The QB's action contradicts the quote, "the gloves are coming off," which indicates seriousness.
How much is Jared Goff's handspan?
Jared Goff's handspan is nine inches. It is a little below average for a man of his height.
What is Jared Goff's Madden 21 rating?
The QB's overall Madden 21 rating is 76 with the L.A. Rams. Meanwhile, Aaron Donald had the highest rating of 99 in the Rams.
Why did Jared Goff not play for the Detroit Lions?
In December 2021, Jared Goff missed out weekend's game against Atlanta because of COVID issues. Furthermore, he missed his Week 15 game versus the Cardinals due to his knee injury.
Are Ryan Gosling and Jared Goff similar?
Often Ryan Gosling and Jared Goff are considered similar. However, they are two different people from two other fields.
Ryan is an award-winning actor who has starred in major blockbusters like The Notebook, Crazy, Stupid, Love; La La Land; and Blade Runner 2049. At the same time, Jared is a professional footballer playing quarterback for the Detroit Lions of the National Football League.