An American football offensive tackle for the Minnesota Vikings of the National Football League (NFL), Christian Darrisaw was born to his parents, Kimberly Cherry & Jerronney Darrisaw, on June 2, 1999, in Petersburgh, Virginia.
Darrisaw's football journey commenced at Riverdale Baptist School in Upper Marlboro, Maryland, where he showcased his prowess as a left tackle for the school's football team.
His exceptional skills earned him a college football opportunity at Virginia Tech, standing as his sole NCAA FBS offer.
However, due to academic considerations, he initially enrolled at Fork Union Military Academy in Fork Union, Virginia, as assigned by the university.
In 2018, Darrisaw's determination led him back to Virginia Tech, where he made a triumphant return to the football field.
Taking up his position as left tackle for the Hokies, he became an integral part of the team's lineup.
The following seasons, 2019 and 2020, witnessed Darrisaw's continued excellence as he secured a starting role and demonstrated consistency and performance.
His exceptional skills and dedication culminated in a well-deserved recognition — a place on the prestigious first-team All-ACC (Atlantic Coast Conference) roster during the 2020 season.
Christian Darrisaw Parents: Meet Kimberly Cherry & Jerronney Darrisaw
Christian Darrisaw's roots are firmly planted in Petersburg, VA, where he was born to parents Kimberly Cherry and Jerronney Darrisaw.
Nestled in a park neighboring FedEx Field in Landover, MD, a young Christian Darrisaw took his initial steps toward a future that would eventually become as monumental as the towering structures around him.
Even as a mere four-year-old, his presence on the field, dwarfed by his oversized uniform, marked the beginning of a journey that would later see him excel in football through his involvement in the church's youth flag football program.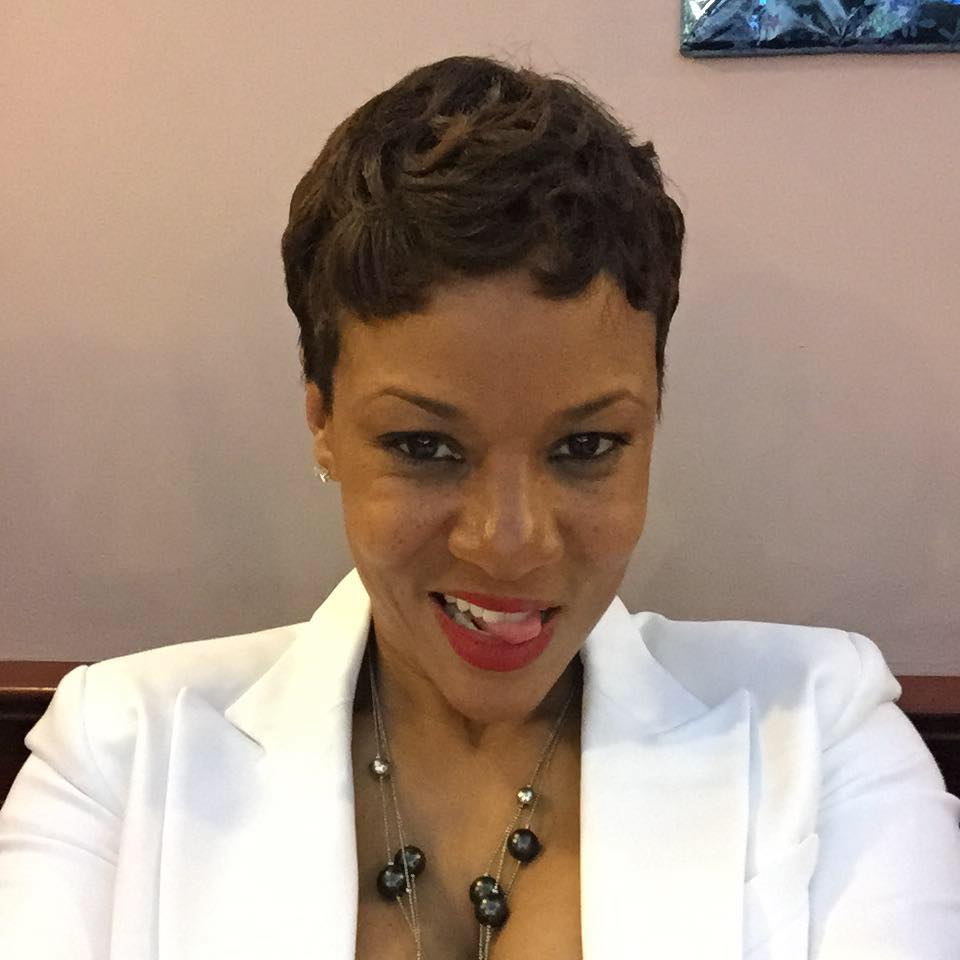 As the only child of Kim Cherry and Jerronney Darrisaw, Christian's upbringing was primarily shaped by the presence of his mother and grandmother in Maryland.
While his parents, who were never united in marriage, followed individual paths, they united in forming a support system for him.
Their commitment to his growth was evident not only in their consistent presence but also in their attendance at nearly every football game he participated in, spanning both his college and professional career.
This devoted familial bond underscored Darrisaw's journey, demonstrating how the synergy of family support and his own determination paved the way for his remarkable success.
Father Jerronney Darrisaw
Hailing originally from Amityville, New York, Christian Darrisaw's father, Jerronney Darrisaw, now resides in Baltimore, Maryland.
His academic journey led him to Virginia State University, where he pursued Biology/Pre-Med studies from 1994 to 1998.
Simultaneously, he served as a Chemical Laboratory Assistant at England China Clay International during this period.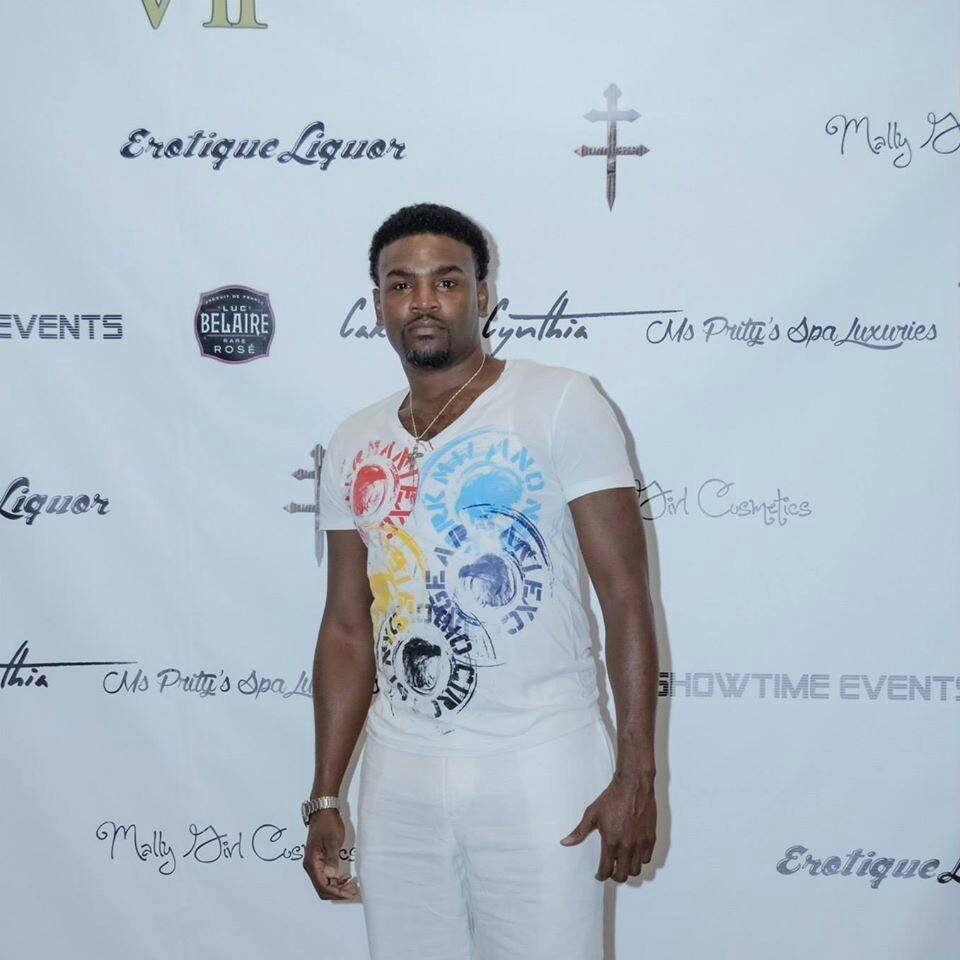 With over three years of experience, Jerronney transitioned to a new role as a Research and Development Chemist at Dean's Food, a significant move that expanded his professional horizons.
Embracing diverse opportunities, he navigated through various labs and companies before finding his niche at TIC Gums.
At TIC Gums, his role as a Quality Assurance Manager spanned from September 2014 to March 2015, contributing to the company's commitment to excellence.
In his current capacity, Jerronney is a distinguished Scientist at Martek Biosciences, underscoring his continued dedication to the field of biosciences and research.
Christian Darrisaw Early Life
Darrisaw's journey was forged during his formative years, as he found himself contributing to the community through volunteering at fundraisers and participating in youth sports at the City of Praise Family Church in Landover.
Even in his early days, Darrisaw's physical stature set him apart.
By 9, he had already gained a height advantage that marked him as the tallest among his peers.
Darrisaw's presence dominated the flag football field and made him a towering figure both on the baseball diamond as a first baseman and a cleanup hitter.
However, his rapid growth also came with some challenges. Complaints of discomfort in his knees and back prompted a visit to the doctor, who equated those discomforts to the inevitable toll of being a larger-than-average young athlete.
Darrisaw's time with the Spirit of Faith Youth football team, he showcased his potential.
Initially playing as a tight end, he quickly became a target for passes due to his imposing height.
As he transitioned to full-time offensive tackle at Riverdale Baptist, his natural skills were refined under the guidance of former Warriors coach Dion Golatt.
It's worth noting that Golatt, who also happened to be the father of Darrisaw's closest friend D.J. Golatt, recognized his potential on the offensive line and even in the backfield, where he occasionally took on handoffs.
Military School
The rigors of military school pushed Darrisaw's passion for football to its limits.
Enduring four months of shining his shoes and enduring phone-less days, he dedicated himself to both academic tutors and the game of football.
During the initial week, students were isolated from the external world, with limited laptop access granted only to those who persevered through that demanding period.
His resolve faced another crucible as colleges inquired about reopening his recruitment following those transformative four months.
His tenure at Fork Union yielded exceptional results, prompting his mother, Kim, to send a heartfelt, handwritten thank-you note to Coach John Shuman.
However, Darrisaw remained steadfastly committed to Virginia Tech.
2023 Draft & Contract
After an impressive 2020 season at Virginia Tech, the 6 feet 5 inches, 322-pound Darrisaw declared for the 2021 NFL Draft.
His outstanding performance on the college field caught the attention of scouts and teams, ultimately leading to his selection by the Minnesota Vikings in the first round with the 23rd overall pick.
Solidifying his professional commitment, Darrisaw put pen to paper on May 14, 2021, signing a promising four-year rookie contract with the Vikings.
This $13.3 million contract includes a $7 million signing bonus, $13.34 million guaranteed, and an average annual salary of $3.33 million.
In 2023, Darrisaw will earn a base salary of $1.87 million.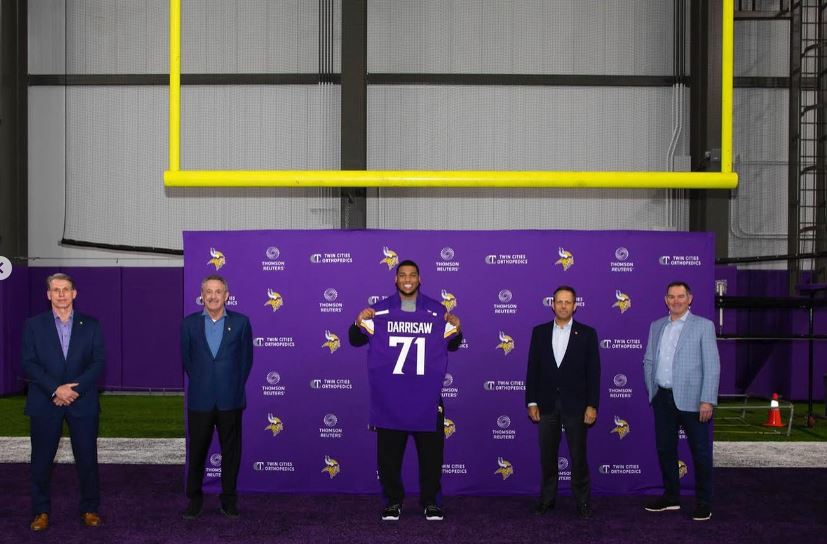 This contract not only marked the beginning of his NFL journey but also underlined the team's trust in his abilities and the expectations for his future contributions.
Despite his NFL debut's anticipation, Darrisaw encountered a hurdle early on.
A groin injury sidelined him for the first four games of his rookie season, presenting an early challenge that tested his resilience and determination.
As he navigated this setback, Darrisaw's resolve and work ethic were on full display, reflecting his dedication to overcoming obstacles and making a meaningful impact in the league.