CJ McCollum, an American NBA player currently playing for the New Orleans Pelicans, has a net worth of $14 million as of November 2023. He has established himself as one of the prominent players in the league.
On March 2, 2023, CJ faced his former teammate Damian Lillard for the first time in a 110-121 win over Portland Trail Blazers, where CJ scored 24 points while Lillard scored 41 for his team.
Although he has never made it to the All-Star game, he is a player with All-Star potential. Despite being 1.91 meters, he has dribbling skills and athleticism to create his scoring space.
McCollum's on-court performance has helped him earn a vast fortune. During his time with the Blazers, he made $29.35 million, making him 2nd best-paid player on the team behind Damian Lillard.
Alongside playing basketball, he is also doing his best to help communities and has been an active radio personality and philanthropist for the community.
Besides, he is also a businessman, and being a wine enthusiast himself, he introduced his wine label named McCollum Heritage 91 in 2020.
Similarly, in March 2021, CJ McCollum and Li-Ning introduced McCollum's first signature shoe, CJ1.
In a 2022 Interview with ESPN, CJ McCollum, first time publicly, addressed Kyrie Irving's social media post about an anti-Semitic controversy.
CJ McCollum was hopeful about the learnings all NBA players got from Kyrie Irving's fallout.
Let's go through some quick facts before going into the article
Quick Facts
Name
Christian James McCollum
Date of Birth
19th September 1991
Birth Place
Canton, Ohio, USA
Nick Name
CJ, Chef CJ
Age
32 Years Old
Gender
Male
Religion
Christian
Nationality
American
Ethnicity
Black
Horoscope
Virgo
Body Measurement
Hand length (8), Hand Width (9.5)
Height
6'3″/1.91 m/191 cm
Weight
86 kg/190 lb.
Body Mass Index (BMI)
23.7
Build
Athletic
Wingspan
1.99 m
Shoe Size
12.5
Hair Color
Black
Eye Color
Black
Tattoo
No
Father Name
Errick McCollum I
Mother Name
Kathy McCollum
Siblings
Errick McCollum II (Professional basketball player)
Relationship
Married (Sep. 5, 2020)
Wife
Elise McCollum
Children
Son; Jacobi James McCollum (Jan. 10th, 2022)
Profession
Professional Basketball Player
Position
Shooting Guard
Education
GlenOak High School, Lehigh University
High School Ranking
3-Star Recruit (ESPN)
Draft
2013 (10th Overall Pick) Drafted By Portland Trail Blazers
NBA Debut
5th January 2013
Team
New Orleans Pelicans
Current Affiliations
NBA
Jersey Number
3
Salary
$35.8 Million
Net Worth
$14 Million
Social Media
Instagram, Twitter, Facebook
Achievements

2016 NBA Most Improved Award
Number 3 Retired By Lehigh University Mountain Hawks
2012 Patriots League Tournament MVP

Shoe
LI-NING
Merch
Autographed Photo
Last Update
November 2023
Salary & Net Worth
After being drafted by Portland Trail Blazers in the 2013 NBA Draft, McCollum earned $2.31 million during his rookie year. However, he played only 38 games because of a foot injury.
In his second season, McCollum made $2.42 million and made $2.52 million the following season.
The shooting guard earned NBA Most Improved Player honors for the 2015-16 season, which enabled a 4-year/$106 million contract extension with the Blazers on July 27, 2016.
However, he bagged $3.22 million in the 2016-17 season due to his exercised contract on September 30, 2015, and his 4-year rookie contract extension was set to trigger in the fifth season only.
In the 2017-18 season, McCollum earned $23.96 million, followed by $25.75 million the next season.
Before the beginning of the 2019-20 season, he signed a 3-year/$100 million contract extension because of his fantastic performance in the 2019 playoffs.
For the Covid-19-affected season, McCollum pocketed around $25.8 million in salary.
The former Blazers shooting guard earned $29.3 million in the 2020-21 season.
Later he was traded to New Orleans Pelicans on Sept. 26, 2022, for a 2-year/$64 million veteran contract extension. Out of which, $20 million was covered by the Blazers in the first years.
For the 2022-23 season with the Pelicans, CJ is estimated to earn around $33.3 million.
With this, his earnings in his NBA career total $179,591,129.
Moreover, the point guard is estimated to have a net worth of around $14 million as of 2023.
Endorsement & Investment
Endorsement
CJ McCollum's rise to stardom has helped him earn several years of shoe deals. In 2017, he signed a five-year contract with the Chinese brand Li-Ning.
Before Li-Ning, he wore Nike shoes for four-season since his debut in the NBA.
Similarly, in 2017 McCollum became the brand ambassador of Banana Republic.
In 2019, McCollum and Dockers launched a campaign highlighting their 'khakis' brands, and he was also featured in several products advertisement.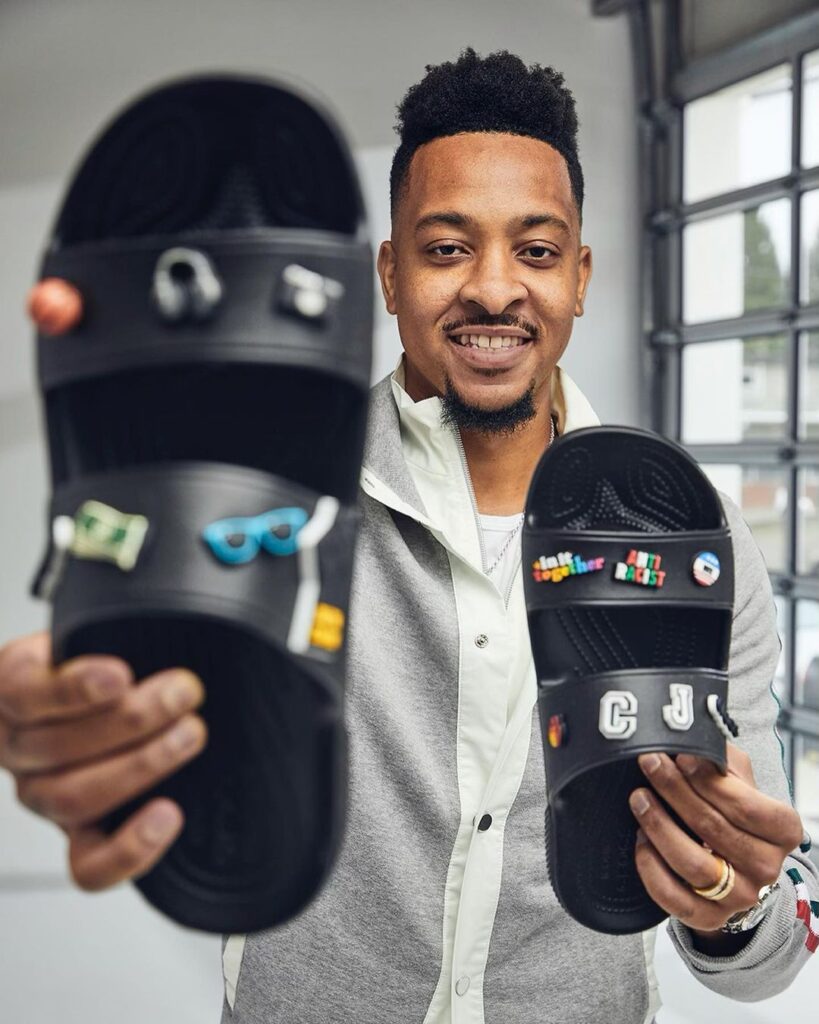 But it was in March 2021 McCollum's first signature shoe Li-Ning CJ1 was released.
Likewise, he inked a deal with Crocs in 2021, being the only NBA player to be endorsed by the brand.
In addition to these, he has endorsed several other brands and companies such as LaceClips, AT&T, Levis's, and Jamba Juice.
Investments
CJ McCollum is an avid wine enthusiast. During the 2019 NBA Bubble, he brought 84 wine bottles and kept them in his hotel room.
Considering his love for wine, he introduced his own wine label McCollum Heritage 91. McCollum stands for his family name, whereas heritage and 91 means the street where he grew up and his birth year.
In September 2020, McCollum partnered with Adelsheim to introduce his first Oregon pinot noir wine, a limited edition THAT was sold out in just 45 minutes.
With that, McCollum is planning to release his second wine in 2023.
The Pelicans shooting guard was among the professional athletes investing in the Players Media Group.
He also hosts a podcast named 'Pull Up,' where he invites NBA players to look into their basketball life. His podcast is available on Apple Podcast, Sticher, Spotify, and other platforms.
Lifestyle
Fashion
During his rookie season, McCollum was not much of a shopper. But his taste has changed over the years.
Nowadays, he loves a good suit. McCollum has more than 70 tailored suits in his closet. When he gets a fresh haircut, McCollum always likes to wear suits.
However, McCollum's clothes preferences are hoodies and tees rather than suits and ties.
Although not a shoe collector, McCollum likes to collect jerseys from his favorite players, including his brother, Errick McCollum.
House & Cars
CJ McCollum's car collection includes Mercedes Benz, Ford, GMC, and Chevrolet.
He lives in a $1.6 million mansion in West Linn in the same neighborhood as Damian Lillard.
Holidays & Family
CJ McCollum has frequently been to European countries where he used to watch his brother play.
In 2016 and 2018, McCollum visited Turkey, where his brother played for Galatasaray. Likewise, during his rookie year, he visited Athens, Greece.
During the off-season in 2019, McCollum went to the Bahamas to swim with sharks and later to Italy that same year.
CJ McCollum is married to Elise Esposito McCollum, a dentist by profession. The couple shares a son Jacobi James McCollum, who was born on January 10, 2022.
Controversy
In a 2022 Interview with ESPN, CJ McCollum first time publicly addressed Kyrie Irving's social media post about an anti-Semitic film controversy.
McCollum emphasized the apology Kyrie uploaded after his suspension from Brooklyn Nets and hoped all NBA players learn from Irving's fallout.
McCollum also added the delayed timing of his statement was due to him needing to gather all information on the matter before speaking out.
Net Worth Of CJ McCollum In Different Currencies
Here is the net worth of CJ McCollum in different currencies, including the Pound and Indian Rupee.
| | |
| --- | --- |
| Currency | Net Worth |
| Euro | €13,196,960 |
| Pound Sterling | £11,699,100 |
| Australian Dollar | A$20,761,034 |
| Canadian Dollar | C$19,022,500 |
| Indian Rupee | ₹1,152,795,000 |
| BitCoin | ฿625 |
Professional Career & Stats
CJ McCollum was drafted by Portland Trail Blazers in the 2013 NBA Draft as the 10th overall pick.
However, due to injury and lack of playing time, McCollum could not make his mark at the NBA in the first two seasons.
But after the departure of 4 starters, he filled the shooting guard position. He started in 80 games for the Blazers, recording 20.8 PPG, 3.2 RPG, and 4.3 APG.
Furthermore, McCollum also successfully claimed the NBA's Most Improved Award in the 2015-16 season.
Likewise, on 26th January 2019, McCollum registered his first triple-double (38 points,10 rebounds,10 assists) in a 120-111 victory over Atlanta Hawks.
McCollum recorded 24.7 PPG, 5.0 RPG, and 3.7 APG during the playoffs to help Blazers reach conference finals. However, they suffered a 4-game sweep against the Warriors.
In the 2020-21 season, McCollum became the 2nd player in NBA history to score 25+ points in the first five matches.
With the Pelicans, McCollum scored 42 points in a 127-116 win over the Philadelphia 76ers on December 30, 2022, including 11 three-pointers which were the Pelicans franchise record for the most three-pointer made in a game.
Charity
CJ McCollum always gives back to communities to bring reform. He received November NBA Cares Community Assist Award in 2016.
In November 2016, McCollum opened CJ McCollum Dream Center in several Oregon communities. He designed and funded the space personally.
McCollum wants to encourage youth to focus on education and career development. He also provided books, computers, TV, printer, furniture, and artwork. Later, he opened more Dream Centers.
Besides, McCollum mentors high school scholars interested in journalism through THE CJ Press Pass Program.
During the 2020 Covid-19 pandemic, McCollum made a $170k donation for the relief effort.
He also donated $100k to Akron-Canton Food Bank, which provided about 40,000 meals across Canton areas.
Likewise, he made a $70k donation to Portland Metro Area Boys and Girls Club.
Interesting Facts
During college, CJ promised his mom he would complete a bachelor's degree from Lehigh before entering the NBA Draft. Later, on 20th May 2013, Mccollum completed his Bachelor of Arts in Journalism. Furthermore, he is the only player from Lehigh in the NBA.
CJ McCollum's brother Erik McCollum II is also a professional basketball player. His brother is three and a half years older than him. McCollum has mentioned if his brother hadn't pushed him, he would not have been an NBA player.
CJ McCollum married his long-time girlfriend, Elise McCollum, in 2020. They started dating in 2013 and got engaged in 2018. They met at Lehigh University, and Elise is a dentist who graduated from Columbia University College of Dental Medicine.
Quotes
"I think, in moderation, taunting is a part of life."
"I'm not just a dumb basketball payer who got lucky and graduated from college. My ratio from professor to student was nine-to-one, so it wasn't like I wasn't going to class. I was going to class every day."
"You have to learn how to win in this league. It's a process."
Search Graph
CJ McCollum's search graph illustrates the higher percentage of fluctuation.
The above graph illustrates the search rate for the past 12 months.
Frequently Asked Questions (FAQS)
What is the salary of CJ McCollum?
CJ McCollum signed with New Orleans on Sept. 26, 2022, in a 2-years/$64 million contract. His salary for the 2022-23 season is $35.8 million.
Which shoes does CJ McCollum wear?
CJ McCollum wears his 2021 released signature shoe Li-Ning CJ1. Before that he wore Li-Ning's popular Speed, Sonic, and YuShuai lines.
Does CJ McCollum own a wine?
CJ McCollum is a wine lover and owns a wine label named McCollum Heritage 91, named after his family name, the street where he grew up, and birth year.
When and where did CJ and Elise McCollum tie the wedding knot?
The couple tied their wedding knot on September 5, 2020, in Oregon wine country.