Damian Lillard is an American professional basketball player who plays point guard for the Portland Trail Blazers of the National Basketball Association (NBA).
"Dame Time" if you say this word to an Oklahoma City Thunder fan, then you might get attacked.
So, remember not to use this word in Oklahoma because Damian Lillard won the series against the Thunders with an 11.2 meters 3-point shot, which still reverberates around the Moda Center, the home of the Portland Trail Blazers.
The series had been highly competitive until Game 5 of the first round, with tempers flaring on both sides.
But, with the clock winding down and the game still in the balance, the 7-time All-Star point guard not only won but also sent the Thunder back home to Oklahoma.
That is Damian Lamonte Ollie Lillard Sr. in a nutshell. He is the leader of the Portland-based franchise and has only played with the Blazers since he got drafted in the 2012 NBA draft.
Besides, he is married and shares three children with his wife, Kay'La Hanson.
So without wasting any more time, let's look at what Lillard has achieved until now, along with his lifestyle, family, net worth, endorsements, and salary.
But first, let's look at the quick facts table below;
Quick Facts
| | |
| --- | --- |
| Full Name | Damian Lamonte Ollie Lillard Sr. |
| Birth Date | 15 July 1990 |
| Birth Place | Oakland, California, the United States |
| Nick Name | Big Game Dame, Dame |
| Religion | Christian |
| Nationality | American |
| Ethnicity | African American |
| Education | Weber State University |
| Horoscope | Cancer |
| Father's Name | Houston Lillard |
| Mother's Name | Gina Johnson |
| Siblings | Two; Houston and Lanae Lillard |
| Age | 27 Years Old |
| Height | 6'2″/1.88 m/188 cm |
| Weight | 88 kg/195 lb. |
| Hair Color | Black |
| Eye Color | Brown |
| Build | Athletic |
| Profession | NBA Player |
| Current Team | Portland Trail Blazers |
| Position | Point Guard |
| Active Years | 2012 – Present |
| Marital Status | Married |
| Wife | Kay'La Hanson |
| Kids | Three; Damian Jr, Kali, Kali |
| Net Worth | $100 million |
| Net Worth | $42,492,492 |
| Social Media | Instagram, Twitter, Facebook |
| Merchandise | Signed Jersey, Book |
| Jersey Number | 0 |
| Last Updated | March 2023 |
Collegiate And Professional Career
Lillard started his college career at Weber State University after being recruited from Oakland High School.
As a freshman, Dame averaged 11.5 points and 2.9 assists per game, which earned him the Big Sky Conference Freshman of the Year award.
In his sophomore year, Lillard stepped up his game as he led the Wildcats to the Conference Championship while averaging 19.7 points and 3.6 assists per game.
The 7-time NBA All-Star was named the Big Sky Player of the Year for his excellent performances.
The following year, Damian was on course to replicate his previous season, averaging 19.7 points per game, but unfortunately, he got injured and sat out for the rest of the year. Due to his injury, Lillard had to take a medical redshirt.
The point guard averaged 24.5 points per game and led the nation in scoring most of the year until Reggie Hamilton overtook him during the end of the season.
Lillard was awarded the Big Sky Player of the Year for the two seasons and was named to the first-team all-conference three times.
Due to his match-winning and leadership qualities, the Oaklander was the top point guard prospect in the 2012 NBA draft.
Therefore, Lillard decided to skip his senior year to enter the 2012 NBA draft.
He finished his college career becoming the second-highest scorer in Webster State history and the fifth-highest scorer in Big Sky history.
Professional Career
Being the top draft prospect in the point guard role, it was no surprise that Portland Trail Blazers picked him sixth overall in the 2012 NBA draft.
Damian would have been selected even higher had the franchises with higher picks needed a point guard.
The Blazers got their hands on one of the best point guards to play in the league wearing their jersey.
Lillard registered 23 points on his debut and 11 assists against Lt. Kobe Bryant-led Los Angeles Lakers.
The same year, the point guard became the first Trail Blazer to win an event at the NBA All-Star Weekend.
He won the Skills Challenge scoring 18 points and six assists in the Rising Stars Challenge.
The Oaklander finished his rookie season averaging 19 points, 6.5 assists, and 3.1 rebounds per game and won the NBA Rookie of the Year award.
His rookie season was so remarkable that the panel voted in unanimously voted in favor of him.
Dame also made his first All-Star appearance and became the first NBA rookie to record 35 points and 9 assists in a game.
During the first round of the 2014 NBA playoffs, Damian made a buzzer-beating three-pointer to win a playoff series against Houston Rockets, becoming the first player to achieve this feat since then-Utah's John Stockton against Houston in 1997.
The point guard's third season in the Blazers jersey was one of his most prolific seasons, averaging 21 points, 4.6 rebounds, and 6.2 assists per game.
On top of that, he got his second All-Star call-up to replace Blake Griffin after the latter suffered an injury.
Further
The 2015-2016 season started with Damian signing a five-year/$120 million contract extension with the Blazers.
Lillard's performance improved and lived up to the franchise's expectations; his scoring increased from 21 points to 25.1 points and his assists from 6.2 to 6.8 from the previous season.
The following year, Lillard became one of three players to reach 8,000 points and 2,000 assists in their first five seasons. The other two are arguably the best of all time, Michael Jordan and LeBron James.
Lillard scored a franchise-record 59 points in a 101-86 win over the Jazz the same season.
The point guard was named to the All-NBA First Team, becoming the third player in franchise history to earn this honor after Clyde Drexler and Bill Walton, and finished 4th in the 2018 MVP race, winning 207 of 1010 possible points.
First Conference Finals
Despite performing exceedingly well in all of the regular seasons, Lillard failed to assist his team in reaching the conference finals.
It changed in the 2018-19 season as the Portland-based franchise reached its first conference finals since 2000.
The most notable moment in the conference finals run has to be the game-winning 37-foot (11.2 meters) 3-point buzzer-beating shot.
Despite BEING guarded by one of the best two-way players of the current generation, Paul George, Lillard was able to make the series-clinching buzzer-beater that sent the Oklahoma City Thunder home.
The 2019-20 season saw Lillard raise the bar even more. He scored a then career-high 61 points in an overtime 129-124 win against Golden State Warriors.
During a stretch of six games, including the overtime win against the Warriors, Dame averaged 48.8 points per game and also recorded his first career triple-double (36 points, 10 rebounds, and 11 assists) in a 125-112 win over the Houston Rockets.
In the 2020-21 season, Lillard finished 7th in the 2021 MVP race, his 5th time being placed among the top 8 in the MVP voting.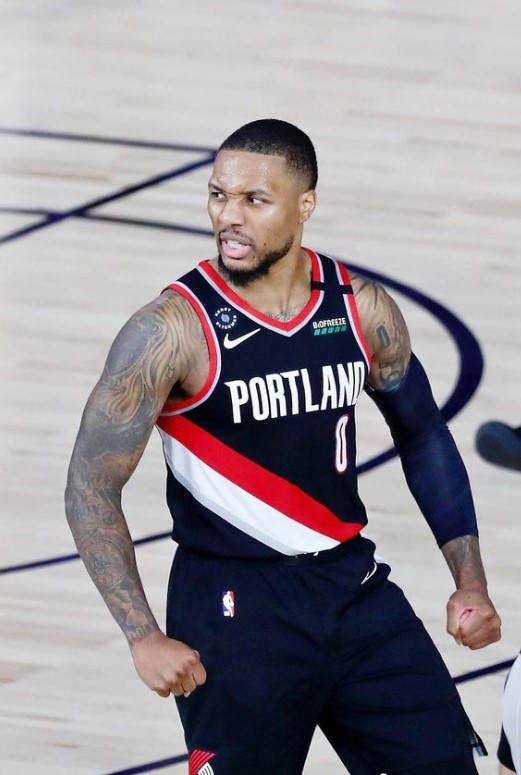 The point guard recorded his playoff career-high 55 points in Game 5 of the first round of the 2021 playoffs. In Game 6, the Blazers lost to Denver Nuggets, halting their title journey for the fourth time in five years.
The Blazers point guard underwent surgery for an abdominal injury on January 13, 2022, and was officially ruled out for the remainder of the 2021-22 season.
Lillard was named to the 2023 All-Star Game and scored the game-winning 3-pointer, handing the victory to team Giannis.
On February 18, 2023, the point guard scored a career-high and Blazers franchise-high 71 points with 13 three-pointers, 6 rebounds and 6 assists in a 131-114 win against the Houston Rockets.
Career Achievements
NBA
7X NBA All-Star (2014, 2015, 2018-2021, 2023)
All-NBA First Team (2018)
4X All-NBA Second Team (2016, 2019-2021)
All-NBA Third Team (2014)
NBA Rookie of the Year (2013)
All-Rookie First Team (2013)
2X NBA Rising Star (2012, 2013)
2X NBA Skill Challenge (2013, 2014)
College
AP Third-Team All-American (2012)
NABC third-team All-American (2012)
2X Big Sky Conference Player of the Year (2010, 2012)
3X First-Team All-Big Sky (2009, 2010, 2012)
2X Big Sky All-Tournament Team (2010, 2012)
Big Sky Freshman of the Year (2009)
Jersey No.1 retired by Weber State.
Career Stats
| | | | | | | | | | | | |
| --- | --- | --- | --- | --- | --- | --- | --- | --- | --- | --- | --- |
| Year | GP | GS | MPG | FG% | 3P% | FT% | RPG | APG | SPG | BPG | PPG |
| Playoffs | 61 | 61 | 40.3 | .412 | .369 | .887 | 4.5 | 6.2 | 1.2 | 0.3 | 25.7 |
| Career | 763 | 763 | 36.3 | .439 | .373 | .895 | 4.2 | 6.7 | 1.0 | 0.3 | 25.2 |
| All-Star | 6 | 0 | 19.2 | .457 | .408 | 1.00 | 2.8 | 2.3 | 1.0 | 0.0 | 19.5 |
Age, Height & Body Stats
The Oakland-born native is one of the most skillful players in the NBA. Dame stands at 6 feet 2 inches (1.88 meters) and weighs around 88 kg (195 pounds). He is extremely quick and agile.
Despite his short height, he is a dangerous threat to the opposing defenders as he can shoot long-range 3-point shots and fly past his guards to make a lay-up or score a mid-range floater.
On the one hand, Dame can dribble past the defenders at ease and score, while on the other hand, he can also assist his teammates if they are in a better position to score.
As a result, Damian is currently ranked among the top point guards in the league.
Rap Career
The 7-time All-Star is extremely talented off the basketball court and is a successful hip-hop artist and rapper.
Lillard goes by the name Dame D.O.L.L.A, short for Different On Levels the Lord Allows.
His cousins Eugene "Baby" Vasquez and Brookfield Duece, a successful rapper in Oakland, were the major influencers for the NBA player's rapping career.
However, Lillard's passion came to fruition when the talented point guard released his first single, 'Soldier in the Game,' via SoundCloud, an online music streaming site.
Since then, Dame has released three albums through his record label, 'Front Page Music.'
His first album, The Letter O, debuted on 21 October 2016 and was the seventh highest-selling album on the Billboard 2016 U.S. R & R&B/Hip-Hop Chart.
Similarly, his second album, Confirmed, was released nearly a year later, on 6 October 2017.
Similarly, his third album, Big D.O.L.L.A, released on 9 August 2019, is his most popular to date as it features prominent stars like Lil Wayne, Mozzy, and Jeremih.
It ranked 12 in the US Independent Album Chart, published by the famed Billboard Magazine.
Also, Lillard performed in the 2020 NBA All-Star games in memory of Kobe Bryant. As a result, he gained many new fans and was praised for his rapping skills.
Although Damian is an elite-level player in the NBA, he still has much to achieve in his Rap career to be considered as good as he is on the court.
But judging by the never-say-die attitude of Lillard, it is evident that he can become just as successful in rapping as he is in the basketball arena.
Net Worth, Salary, And Contract
Even though the 7-time All-Star was the best player on his team during his first three seasons in the NBA, he was still on a rookie contract.
In 2015 Lillard signed a five-year/$139.89 million contract extension with the Blazers, and later a 2-year/$121.77 million veteran contract extension on July 9, 2022.
He also exercised a $48.79 million player option with the team for 2024-25 as part of the extension.
Consequently, in the 2026-27 season, Lillard will cross the $60 million threshold for one season, per USA Today.
The point guard has amassed a staggering net worth of around $100 million as of 2023.
Besides, he earns $42.49 million in salary for the 2022-23 season.
Also, Dame has endorsement deals with elite brands like Hulu, Panini, Spalding, State Farm, Spotify, Bose, and Toyota.
However, the Oakland native's significant sponsor has to be Adidas. Damian is provided with signature shoes and has a 10-year contract with the Germany-based sporting giants, which could be worth up to $100 million.
Besides, he has also co-founded a sneakers brand 'Move,' which is supported by Jamal Crowford and Chris Paul.
Wife, Kids, And Lifestyle
Damian is married to his college sweetheart Kay'La Hanson. While dating, Lillard and Hanson embarked on a new journey together as they welcomed their first child, Damian Jr., in 2018.
They were blessed with twins, Kali and Kalii, in January 2021. Following the birth of their twins, the pair decided to take their relationship to the next level and shared the wedding vows in 2021.
Furthermore, Damian expressed his joy of having three kids and being a girl dad through his Instagram.
They live a prosperous and luxurious life along with Lillard's mother, Gina Johnson.
It may seem as though the 7-time All-Star is as cold-hearted and intense off the court as he is on it.
On the contrary, Dame is exceptionally loyal and loving, as suggested by his social media posts. Also, Lillard speaks highly of his family and friends.
He spent $2.8 million on a house in West Linn for his family as he wanted them to enjoy the luxurious lifestyle. On top of that, Lillard bought his mother a $100,000 SUV.
He also owns a 2021 Bentley Continental worth $210k, which he drives most of the time. Besides, Damian has another House in Oswego, Oregon, which cost him $6.65 million.
Social Media Presence
The Blazers point guard is an active social media user. Lillard keeps his fans posted about his life and his whereabouts.
He frequently posts pictures of him during games, with friends and family, and some endorsement posts.
Lillard is available on Instagram under the handle @damianlillard, Facebook @Damian Lillard, and Twitter @Dame_Lillard.
Instagram: 9.7m followers
Facebook: 5m followers
Twitter: 3.2m followers
Popularity
In his journey from being drafted by the Blazers to becoming one of the best point guards in the NBA, Damian Lillard has worked his way up and gained millions of fans along the way.
The above graph gives brief information about the popularity of Damian Lillard based on Google searches in the United States over a year.
Frequently Asked Questions
Who is Damian Lillard's agent?
The basketballer's agent is Aaron Goodwin. He is a sports manager who has represented many NBA players before. Moreover, he used to describe LeBron James.
Is Damian Lillard 6'3"?
The Big Game Dame stands tall at 6'2"(1.88 meters), which is close to 6'3".
What is Damian Lillard's defense rating?
The athlete's defense rating is 112.6 in his career. However, his defense has been widely criticized throughout his career with the Blazers.
Is Damian Lillard the highest-paid player?
No, he is not the highest-paid player yet. However, he is the highest-paid player in the Portland Trail Blazers.
What is Damian Lillard's haircut called?
Lillard's haircut is mid-bald fade, or you can simply call it the Damian Lillard haircut since the player has rocked the look for quite a while.
Where is Damian Lillard traded?
As of now, Lillard is staying put. He signed a two-year/$121.77 million contract extension keeping him with the Blazers till the 2024-25 season. Nevertheless, many rumors were swirling about his trade previous to his signing. The point guard even landed at number one in the trade rumor rankings on HoopsHype.
What is Damian Lillard's vertical?
The NBA player's max vertical is 39.5".