Devoting 18 years of his life in the NBA, he was a man with no fears. Especially, his setting age did not concern him, nor did his health, as long as he got to play whatever he wanted.
Now, it's been a few months since his heavenly ascend; however, Clifford Robinson is most missed for his undeniable on and off-field personality.
As I take a moment to remember, he was the basketball forward featuring for the National Basketball Association (NBA).
Ever since his selection in the 1989 NBA Draft, he has played for the Portland Trail Blazers, the Phoenix Suns, the Detroit Pistons, the Golden State Warriors, and the New Jersey Nets.
Additionally, during his 18 years long journey in the NBA, Robinson has been considered the 'predecessor of the modern center.'
Furthermore, his career statistics stand with 19,591 points, 6,306 rebounds, and 3,094 assists today.
"Thirty-nine, 49, it really doesn't matter. It really doesn't matter about age. I am going to play as long as I continue to love playing basketball. I'm just happy to get out there on the floor."
-Clifford Robinson quotes
Quick Facts:
Full Name
Clifford Ralph Robinson
Date of Birth
December 16, 1966
Birth Place
Buffalo, New York
Nick Name
Uncle Cliffy
Religion
Christianity
Nationality
American
Ethnicity
Black
Zodiac Sign
Sagittarius
Death Date
August 29, 2020
Height
6'10" (2.08 m)
Weight
225 lb (102 kg)
Hair Color
Black
Eye Color
Black
Build
Athletic
Father's Name
Name Unknown
Mother's Name
Helena Horne
Siblings
None
Education
Riverside High School
University of Connecticut
Marital Status
Married
Wife
Heather Lufkins (m. 2003)
Kids
A son, Isaiah Robinson
Profession
Basketball player
Position
Forward / Center
Affiliations
Portland Trail Blazers (1989-1997)
Phoenix Suns (1997-2001)
Detroit Pistons (2001-2003)
Golden State Warriors (2003-2005)
New Jersey Nets (2005-2007)
Playing Career
1989–2007
Net Worth
$20 million
Social Media
Instagram
Merch
Autograph, Basketball Card
Last Update
June, 2022
Clifford Robinson | Early Life, Family and Education
Robinson (fully named Clifford Ralph Robinson) was born on December 16, 1966, under Sagittarius' sun sign.
Apparently, his birthplace is Buffalo, New York, born to his mother, Helena Horne. As per the sources, Robinson lost his father at an early age and did not have any siblings.
Moreover, his detailed information about his childhood and family background is all unknown.
High School
Clifford Robinson attended Riverside High School, where his mother encouraged him to play basketball.
It was reported that as a child, Robinson was a short boy, and no one ever intended him to grow tall.
However, ever since high school, he went through a growth spurt, and thus, he commenced trying basketball. Apparently, Robinson also partook in the Big East Conference.
Altogether, Robinson's breakthrough came during his sophomore as he was improving, and more and more colleges took an interest in him.
College
During Robinson's high school phase, the foremost letter for recruitment came from the University of Connecticut.
Hence, Clifford Robinson thought of committing to that very college as the former UConn assistant coach Howie Dickenman showed quite an interest in him.
Therewith, Clifford commenced his gameplay with UConn in 1985, where he played for four seasons.
During his tenure, his best day was when the Huskies won the 1988 National Invitation Tournament championship. Right then, Robinson was named to the all-tournament team.
Similarly, Robinson was also named to UConn's All-Century men's Basketball team. Following it, he was a part of the "Huskies of Honor" on February 5, 2007, where Clifford's number "00" was retired at Gampel Pavilion.
"We didn't have the talent that other teams had, so my junior year when we came out, and we won the NIT, it's the best memory for me."
-Clifford Robinson quotes
Clifford Robinson | Professional Career
After college graduation, Clifford Robinson entered the 1989 NBA draft, and as per him, the transition from college to get a professional was a hard journey. However, the Portland Trail Blazers selected him in the second round as the 36th overall pick.
Portland Trail Blazers
During his tenure in the team, Robinson partook in every playoff game of the team. Likewise, he was also featured in the NBA Finals in 1990 and 1992, which won him the Sixth Man of the Year Award.
All in all, he had posted an average of 19.1 points, 6.6 rebounds, and a career-best 1.99 blocks per game. Furthermore, he also bagged the All-Star in 1994.
Apparently, he was nicknamed "Uncle Cliffy" during the 1992 Western Conference Finals against the Utah Jazz. To illustrate, the nickname came through his victory dance after the game as he reported to the journalists the name of his dance.
Anyways, Uncle Cliffy stuck with him for the rest of his career as he had the iron man streak. However, his streak was broken during the match against the Golden State Warriors.
Overall, his streak stood as the most in the franchise record, where he had spent eight seasons.
Phoenix Suns
As he bid his goodbyes to the Blazers, the Phoenix Suns signed him in as the free agent as he spent four years with the team.
Equally important, Robinson became the oldest NBA player (33 years old) to have a 50-point game, which was registered against the Denver Nuggets.
Detroit Pistons
On June 29, 2001, the Suns traded Clifford Robinson to the Detroit Pistons to exchange Jud Buechler and John Wallace.
Golden State Warriors
After getting into the Golden State Warriors team in exchange for Bob Sura, Robinson recorded 82 games for the regular season team.
New Jersey Nets
Clifford Robinson landed on the New Jersey Nets, for whom he spent two seasons with a long journey from team to team. Afterward, in July 2007, he was released, and then, he retired from the NBA.
"I've had a lot of fond memories, but I think the biggest one was probably my rookie season with the Portland Trailblazers; our team made it to the NBA finals that year."
-Clifford Robinson quotes
Clifford Robinson | Beyond Basketball
To those unknown, Clifford Robinson is one of the advocates for the legalization of cannabis (marijuana). Additionally, he provided support to reform cannabis laws in the U.S. states of Oregon and Connecticut.
Having said it, he is an entrepreneur in the cannabis industry, whose brand name is Uncle Cliffy in the market.
Besides, Robinson was part of the 2013 film, Survivor (American reality television series), which was broadcasted in 2014.
Moreover, Cliff mentioned during one of his interviews that, in the Survivor reality show, he had one of the hardest experiences. He mentioned that it was tougher than the NBA.
To go into detail, Clifford was the contestant for the Brains vs. Brawn vs. Beauty, where he featured as the Brawn tribe. Overall, he stood in 14th place by the end of the series.
You might also want to read: <<Devale Ellis Bio: Net Worth, Career, Wife & Parents >>
Clifford Robinson | Career Achievements
After his NBA career retirement, Clifford Robinson traveled to North Korea to play in a match against the Northern Korean Senior National Basketball Team.
Dennis Rodman organized the event to celebrate the birthday of Kim Jong-un. Altogether, the trip's motive served as the "basketball diplomacy" among the two nations.
All in all, the team included Kenny Anderson, Vin Baker, Craig Hodges, Doug Christie, Sleepy Floyd, Charles D. Smith, and four "streetballers."
As for his career stats, Robinson maintained an average of 14.2 points, 4.6 rebounds, 1.05 steals, and 1.03 blocks in each game.
Altogether, he had appeared in 1,380 games where he had 42,561 minutes played in the NBA.
Consequently, this record stood the second behind Kevin Willis, 14th among retired players, and first in the Basketball Hall of Fame 2016.
With his long-run career, he became one of those two players who were still active in the 2007 league after getting drafted in 1980.
Apparently, he was also the tallest player (6 feet and 10 inches) to make more than 1,000 three-pointers.
Not to mention, he was qualified for the 2015 Class of the Basketball Hall of Fame. All in all, Robinson had 1,300 steals and 1,300 blocked shots in their ABA/NBA career.
Some of his highlights and awards are written below.
NBA All-Star (1994)
2× NBA All-Defensive Second Team (2000 & 2002)
NBA Sixth Man of the Year (1993)
Second-team All-Big East (1989)
Third-team All-Big East (1988)
Clifford Robinson | Net Worth and Salary
Altogether, Clifford Robinson has a net worth of $20 million as of 2022. According to the sources, Robinson had earned $62.5 million in salary as an NBA player.
Among those salaries, his highest salary to date was $8.42 million during the 2002-2003 season at Pistons.
Moreover, his business of cannabis has spread in the worldwide market; thus, making him "the face of Sports Cannabis."
You might be interested in reading: <<Bol Bol Bio: Career, Education, Net Worth, NBA & Parents>>>
Clifford Robinson | Controversy
On May 12, 2006, Clifford Robinson was suspended for five games during the NBA playoffs while playing with the Golden State Warriors.
Before it, he was also suspended in 2005 for violating the terms of the league's drug policy. According to Robinson, cannabis is the one to thank for the longevity of his NBA career.
Subsequently, it helps him relieve pain and anxiety, not to mention his side effects of pharmaceutical drugs.
Clifford Robinson | Career Stats
Career Stats Summary
Summary
G
PTS
TRB
AST
FG%
FG3%
FT%
EFG%
PER
WS
Career
629
17.2
8.3
2.0
46.8
18.4
72.2
46.9
17.0
30.5
Clifford Robinson | Private Life and Wife
Moving on to his love life, Clifford Robinson was married to Heather Lufkins on September 21, 2003.
As per the sources, the duo took vows on the island of Barbados with a private ceremony. Furthermore, the couple shares a twin son.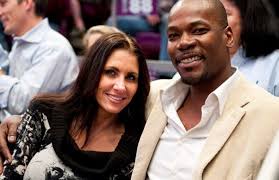 Besides them, Clifford Robinson was married to Alfred Devuono before marrying Heather Therewith; he has a son and a daughter from his former marriage.
Apparently, his son Isiah Robinson is the basketball player for the Jefferson High School Democrats in Portland and the Houston Baptist Huskies.
Short Glance on Heather Lufkins's
Heather Lufkins is an American businesswoman and reality television personality.
Aside from being the wife of an NBA player, the beloved Heather is also the one who competed in the reality TV series called Survivor.
Besides, she has also made many appearances on many hit shows like The Real Housewives of New Jersey, VH1's For Love, VH1's Mob Wives, and Hip Hop.
Additionally, before marrying Clifford Robinson, she was married to Michele M. Malik, which bought a while share of news flooding.
Thus, layer during the divorce settlement, she wasn't given any of his assets.
Overall, she testified her interest in the assets of Mr. Malik, which made a huge claim reciting her previous false testimony.
To elaborate, the property she was interested in was in the name of JR Property Holdings. ALtogether, this whole case is widely known as the Malik Scam.
You might also want to read: <<Jesse Marsch- Early Life, Career, Wife, Liverpool & Salary >>
Did Clifford Robinson die of Covid? Health Issues & Death
Clifford Robinson was never too healthy, as he had Lymphoma. In March 2017, Robinson struggled with a stroke, which left his left side of the body paralyzed.
However, it was all fortunate as he could make his arms and legs move again.
Moreover, he was undergoing many medical issues, which also included a brain hemorrhage in 2018. Furthermore, he also had removed his tumor from the jaw the same year.
The next year, in 2019, Robinson further went to have surgery for cancer treatment. All in all, after years of unknown battle, he passed away due to lymphoma on August 29, 2020, at the age of 53.
Lymphoma is a cluster of tumors that originates from lymph nodes and lymphoid cells, if you don't know. Despite the fact, Uncle Cliffy was always positive with a vibrant of energy.
Some FAQs:
Is Clifford Robinson in the Hall of Fame?
Clifford Robinson was an inductee in the Greater Buffalo Sports Hall of Fame in 2009. Apart from it, he has been the NBA All-Star, NBA's Sixth Man of the Year, and on the NBA's All-Defensive Second-Team.
What type of lymphoma did Clifford Robinson have?
Clifford Robinson had diffuse large B cell lymphoma.
What positions had Clifford Robinson played in?
During his NBA career, Clifford Robinson played as the small forward, power forward, and center.
How much is a Cliff Robinson rookie card worth?
Cliff Robinson's rookie card price ranges from $2.07–$256.99.
What is Cliff Robinson's defense rating?
Clifford Robinson had a defense rating of 103.4 in his career.
What was Clifford Robinson's jersey number?
Clifford Robinson was featured in the gameplay with the jersey numbers 3 and 30.