Clyde Drexler is a name that resonates with elegance, finesse, and unparalleled basketball brilliance. From the moment he stepped onto the hardwood, Drexler's mere presence demanded attention and commanded respect.
Clyde is a former professional basketball player from the United States and the Big 3 3-on-3 basketball league commissioner.
He was nicknamed "Clyde the Glide" and played 15 seasons in the NBA, mainly with the Portland Trail Blazers, before finishing with the Houston Rockets.
The player was a ten-time NBA All-Star selected to the league's 50th and 75th-anniversary teams.
Further, Clyde also won an NBA championship with Houston in 1995 and was a United States Olympic squad member known as "The Dream Team" in 1992.
He is widely regarded as one of the best basketball players and shooting guards ever. Want to know more about the legendary basketball player? Scroll the article to the end, and you will be good to go.
But before that, here are some quick facts about Clyde!
Quick Facts
| | |
| --- | --- |
| Full Name | Clyde Austin Drexler |
| Nick Name | Clyde the Glide |
| Birth date | June 22, 1962 |
| Birthplace | New Orleans, Louisiana, U.S. |
| Age | 61 Years Old |
| Zodiac | Cancer |
| Chinese Zodiac | Tiger |
| Height | 6 ft 7 in/2.01 m/201 cm |
| Weight | 222 lb/101 kg |
| High School | Ross Sterling High School (Houston, Texas) |
| College | University of Houston (1980–1983) |
| NBA Draft | Round: 1, Pick: 14th Overall (1983) |
| Selected by | Portland Trail Blazers |
| Playing Career | 1983–1998 |
| Position | Shooting guard / Small forward |
| Number | 22 |
| Coaching Career | 1998–2000 (Houston), 2001–2002 (Denver Nuggets – assistant) |
| Mother's name | Eunice Scott |
| Father's name | Not known |
| Siblings | 3 |
| Brother's name | James Drexler |
| Sisters' name | Denise Drexler, Virginia Drexler |
| Marital Status | Married |
| Wife | Tonya Outen |
| Children | 4 (Austin, Elise, Adam, Erica) |
| Net Worth | $20 Million |
| Social Media | N/A |
| Last Update | September 2023 |
Early Life & Family
Clyde Drexler, the basketball icon, was born in New Orleans, Louisiana, on June 22, 1962. He later moved to Houston, Texas, and lived in the South Park area.
The player grew up with his brother, James, and sisters, Denise and Virginia. His mother's name is Eunice Scott. Unfortunately, information about his father is unavailable.
Clyde's mother works at the family barbecue restaurant in Houston. His brother James and his two sisters, Denise and Virginia, oversee the restaurant. The restaurant was founded by their uncle in 1967.
Drexler's World Famous BBQ & Grill includes the "22 Bar," named after Drexler's jersey number.
Education
Clyde attended Ross Sterling High School in Houston, where he became classmates with Zina Garrison, a talented tennis player.
After graduating from high school in 1980, Drexler had several colleges interested in recruiting him—for instance, New Mexico State University, Texas Tech University, and the University of Houston.
However, the player ultimately chose the University of Houston. At Houston, Drexler pursued a major in finance while also working at a bank during the summer.
Interestingly, when head coach Guy Lewis initially recruited him, some supporters and alumni doubted Drexler's abilities and criticized the decision to bring him to the university.
However, Drexler's talent and dedication soon proved them wrong as he embarked on a remarkable collegiate career.
Career
The Portland Trail Blazers drafted Clyde Drexler as the 14th overall pick in the NBA Draft in 1993. Drexler graced the court for over a decade wearing the Trail Blazers' jersey.
He became a beloved figure, leading the team and achieving incredible milestones. His talent and determination made him a franchise legend, breaking records and guiding the Trail Blazers to two NBA Finals appearances in 1990 and 1992.
Likewise, in 1992, Drexler got to be in the Olympics with the best basketball players from the United States. They called the team the "Dream Team," and they won a gold medal in Barcelona, Spain.
Then in 1995, Clyde joined the Rockets, where he played with his friend Hakeem Olajuwon from college. They were a powerful duo and won the NBA championship together. It was a dream come true for Drexler.
The player retired from basketball in 1998, but his skills and passion left a lasting impact. People still remember him as one of the best shooting guards ever.
Career Highlights and Awards
Clyde's contributions to the sport and his teams have solidified his place among basketball's elite. Here are some notable achievements and honors that he received throughout his career:
1983: Consensus second-team All-American
1983: SWC co-Player of the Year
1986, 1988–1994, 1996, 1997: NBA All-Star
1988: All-NBA Second Team
1990, 1995: All-NBA Third Team
1991: All-NBA Second Team
1992: All-NBA First Team
1995: NBA champion
50th and 75th NBA anniversary teams
Portland Trail Blazers retired No. 22
Houston Rockets retired No. 22
Houston Cougars retired No. 22
1998: Inducted into the Texas Sports Hall of Fame
2022: Inducted into the Houston Sports Hall of Fame
Coaching Career
After his successful NBA career, Clyde Drexler made a transition into coaching. He returned to his alma mater, the University of Houston, as the head men's basketball coach.
Drexler took on the coaching role for the Cougars in the 1998-1999 and 1999-2000 seasons. The Cougars compiled a 19-39 record under his guidance for two seasons.
However, Clyde did not stay long as a coach and resigned from his position as a coach because he wanted to spend more time with his family.
Wife and Kids
Clyde Drexler has been married twice and has four children. His first marriage was to Gaynell Floyd, an attorney, and they tied the knot on December 30, 1988.
Together, they welcomed three children named Austin, Elise, and Adam.
Unfortunately, their marriage ended in divorce in 2011. Clyde married Tonya Outen on March 16, 2014, marking his second marriage. He has a daughter named Erica with Tonya.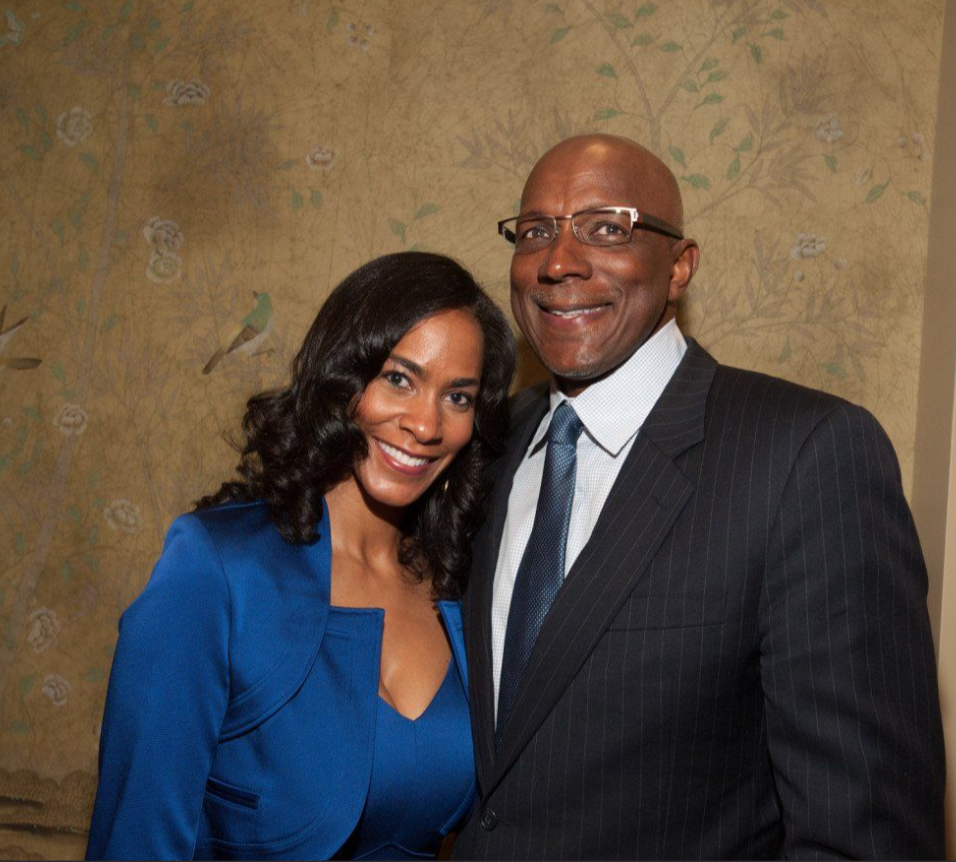 Clyde's son Adam has followed in his father's footsteps and pursued a career in professional basketball. Adam has also played overseas in Japan and China. Further, he has also participated in the Big3 league, a 3-on-3 basketball league.
Likewise, his daughter Elise has accomplished her achievements, graduating from Rice University and working as a marketing manager at Amazon.
Not much information is available about his other children, Austin and Erica.
Age, Body Measurements, and More
Clyde was born in the year 1962. Hence, he is 61 years old. His zodiac sign is Cancer.
The former NBA player possesses remarkable body measurements contributing to his basketball court success. He stands at an impressive height of 2.01 m and weighs 222 lb.
Drexler is known for his right-handed shooting technique, showcasing his dexterity and accuracy on the court. The player sported jersey number 22 throughout his playing days.
Net Worth
Clyde Drexler, the legendary basketball player, has a net worth of $20 million as of 2023. His NBA career was financially successful, earning him $31.1 million in salary alone. Adjusted for inflation, this would equal $50 million in today's money.
After retiring from professional basketball, Drexler ventured into various business endeavors and philanthropic activities.
He co-owns a renowned restaurant called Drexler's World Famous BBQ & Grill in Houston, which has been in operation since 1967, initially started by his uncle.
Additionally, Clyde owns a car dealership and a construction company, further expanding his business portfolio.
In addition to his entrepreneurial pursuits, Drexler occasionally works as a basketball analyst and commentator for esteemed media outlets, earning him some extra sum.
He showcased his versatility by participating as a contestant on the fourth season of Dancing with the Stars in 2007, earning $125,000 for his appearance.
Interesting Facts
Drexler appeared as a contestant on the fourth season of Dancing with the Stars in 2007, where he was paired with Elena Grinenko. He was eliminated in the fourth week of the competition.
Clyde is the subject of the book Clyde Drexler: Clyde the Glide, written by Kerry Eggers and published in 2004. The book chronicles his life and career, from his childhood in Houston to his NBA glory days to his post-retirement endeavors.
Clyde has also been featured in several documentaries and TV specials about basketball, such as Michael Jordan: His Airness (1999), The Dream Team (2012), NBA at 50 (1996), and Clyde Drexler: Clyde the Glide (2004).
Frequently Asked Questions (FAQS)
What is Clyde Drexler doing now?
Clyde Drexler is currently the commissioner of the Big3 3-on-3 basketball league. He also occasionally works as a basketball analyst and commentator for various media outlets. Clyde has worked for ESPN, NBA TV, TNT, and AT&T SportsNet Southwest.
How did Clyde get his nickname?
Clyde Drexler got his nickname "Clyde the Glide" in high school in Houston, Texas. The nickname was given to him by his baseball coach, who was impressed by his smooth and graceful style of play on the court and the field. The nickname also referred to his ability to soar above the rim and finish with spectacular dunks.