Cody Bellinger and his girlfriend Chase Carter are now to-be husband & wife. After two years of relationship, the couple went Instagram official about their engagement.
Carter shared the news on Instagram this June, posting a carousel of three pictures. It featured the love birds with an engagement ring with the backdrop of Lake Michigan and the Chicago skyline.
The couple, who already have two children, have plans to get married soon.
Fans have expressed great excitement for the couple and have made many comments on the size of the engagement ring.
Cody James Bellinger is a professional baseball player who currently plays as an outfielder and first baseman for the Chicago Cubs in Major League Baseball (MLB).
In 2013, he was drafted by the Dodgers in the fourth round of the MLB draft, and he made his debut with the team in 2017.
Chase Carter Is A Swimsuit Model
Chase Carter, a swimsuit model, was born on June 10, 1997, to Mark and Denise Carter and grew up with two siblings, a brother, and a sister.
Her grandfather, Sir Charles Carter, is a former member of the House of Assembly and a well-known radio broadcaster.
She embarked on her modeling career at the age of 13 after being scouted during a family trip to Sydney, Australia.
Chase has since worked with prominent publications such as Maxim, Galore, and V magazine, as well as renowned brands like Polo Ralph Lauren and Philipp Plein.
In 2018, she was featured in Sports Illustrated Swimsuit Edition, which she considers her most significant achievement.
Not only a successful model, but Carter is also an accomplished athlete. She previously played for the Bahamas National Football Team and participates in marathons.
In a 2018 interview, Carter mentioned her enjoyment of watching sports while working out.
Cody And Chase Are Parents Of Two Daughters
The duo began dating on July 17, 2020 and didn't take long to share the parenthood.
After a year of their relationship, they shared the news of their first pregnancy on Cody's 26th birthday (on July 13, 2021)- three days before their first anniversary.
On November 30, 2021, Cody & Chase joyfully welcomed their daughter named Caiden Carter Bellinger.
After that, in April 2023, Carter and Bellinger celebrated the arrival of their second daughter, named Cy Carter Bellinger.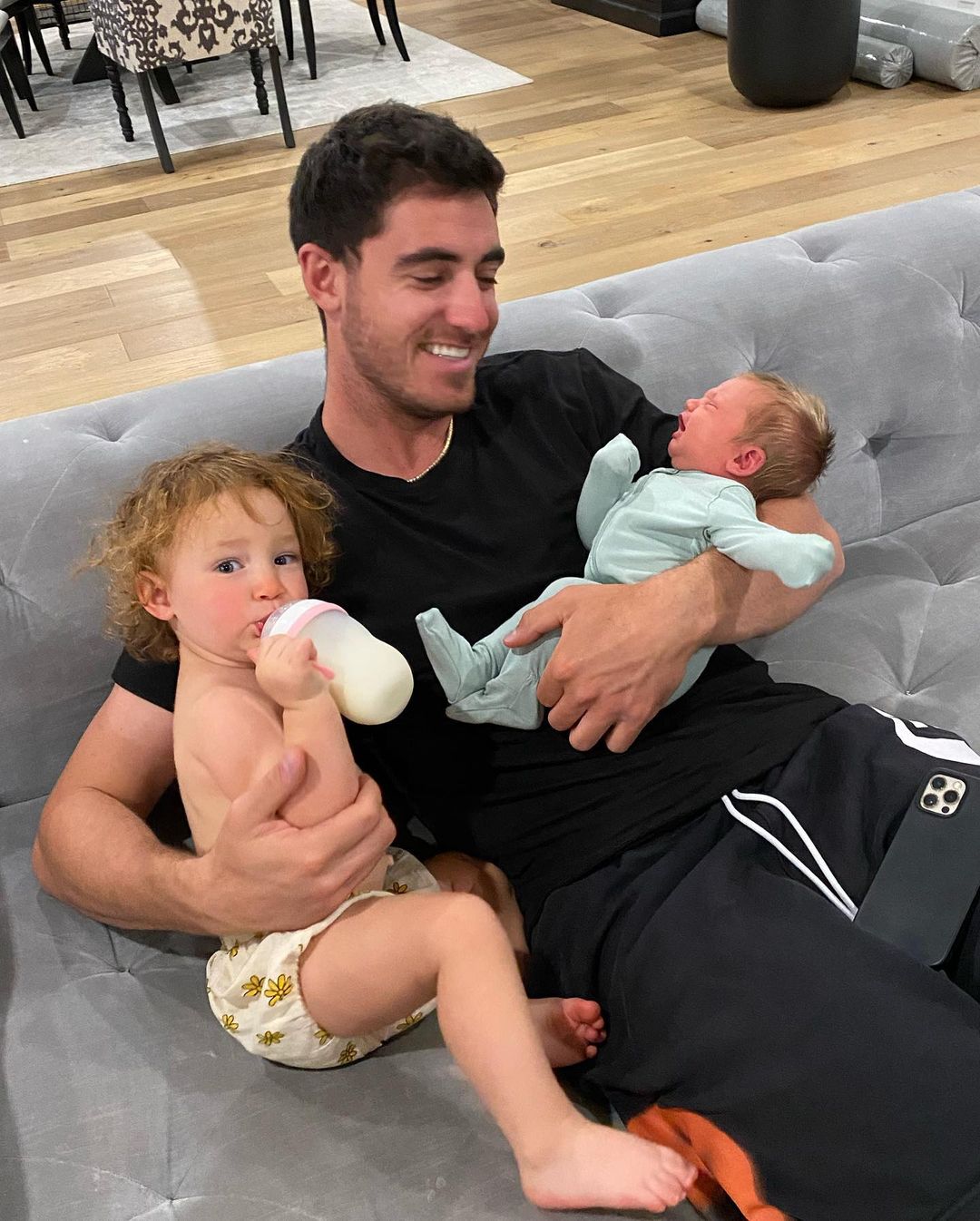 Cy had a twin sibling but the twin couldn't made it. Regardless, the couple are still happy that one of their children survived.
Chase frequently shares pictures of her kids and her fiancé on Instagram, along with occasional travel and modeling snapshots.
Cody Bellinger Comes From A Family Of Athletes
Cody was born on July 13, 1995, in Scottsdale, Arizona, to his parents, Clay and Jennifer Bellinger.
His father, Clayton, is a retired professional baseball player who had a career in the MLB.
He played for the New York Yankees and the Anaheim Angels, achieving the remarkable feat of winning the World Series twice during his tenure with the Yankees.
Currently, the retired star dedicates his time as a volunteer firefighter for the town of Gilbert and has also ventured into the real estate industry.
Meanwhile, Cody's mother, Jennifer, works as a Cabi Stylist, selling clothes.
His brother, Cole Bellinger, was selected by the San Diego Padres in the 2017 MLB draft as the 438th overall pick.
Additionally, his sister, Ashli Korver, obtained a psychology degree from Vanguard University.
During her time at Vanguard, Ashli showcased her athletic abilities by participating in the collegiate volleyball team.