Inheriting the sportsmanship from his father, Cody James Bellinger is one of the familiar faces in the Major League Baseball (MLB), who has been reaching heights at an early age.
He has won multiple awards at a young age and gained recognition as a professional player in the MLB for his position as a first baseman and outfielder.
At 11, Cody helped his team appear in the 2007 Little League World Series and played for his teams in Hamilton High School before being selected for the MLB.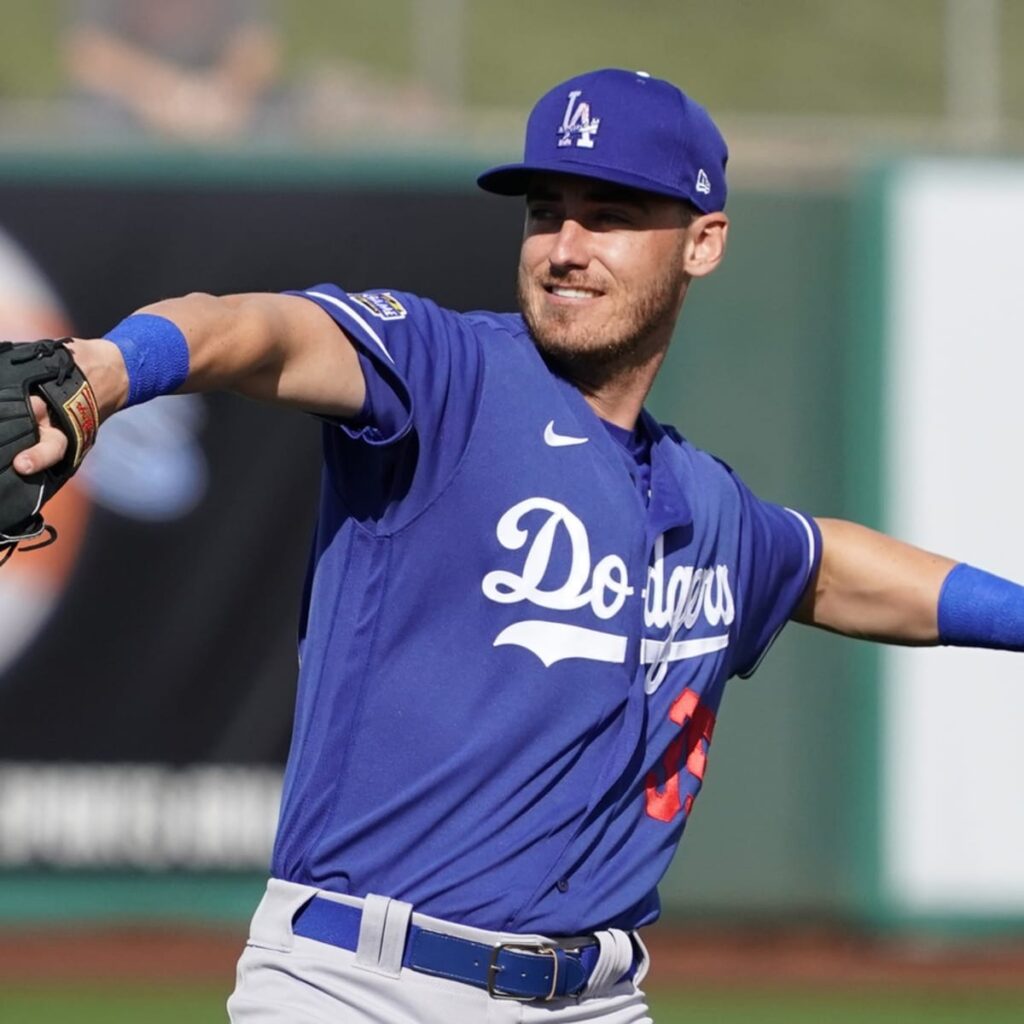 Los Angeles Dodgers recognized Cody during his play with the Oregon Ducks at college and selected him for the fourth round of the 2013 MLB draft.
Let us take you through some of the quick facts about the player. The article will further connect you to Cody's personal life and achievements.
Quick Facts
Full Name
Cody James Bellinger
Known as
Cody Bellinger
Birth Date
July 13, 1995
Birth Place
Scottsdale, Arizona
Father
Clay Bellinger
Mother
Jennifer Bellinger
Siblings
Sister: Ashli Bellinger
Brother: Cole Bellinger
High School
Hamilton High School (Chandler, Arizona)
College
University of Oregon
Nationality
American
Zodiac Sign
Cancer
Age
27 years old
Height
6'4 (1.93 meters)
Weight
202.82 lb. (92 Kg)
Body Type
Athletic
Profession
Baseball Player
Position
First Baseman, Outfielder
Draft
2013 (Round 4)
Active years
2017 – Present
Jersey Number
35
Marital Status
Unmarried
Spouse
N/A
Girlfriend
Chase Carter
Children
Daughter: Caiden Carter Bellinger
Net Worth
$2.5 million
Social Media
Instagram, Twitter
Merch
MLB Shop
Last Update
March, 2023
Cody Bellinger | Early Life & Family
Cody Bellinger was born in Scottsdale, Arizona, to Clay Bellinger and Jennifer Bellinger on July 13, 1995.
Cody's father is a well-known personality in the baseball games and has played for the New York Yankees and Anaheim Angels of MLB from 1999 to 2004.
Growing up under his father's shadow, Cody quickly adapted to the baseball pathway and chose to build a career out of it.
Cody's mother, Jennifer, worked as a Cabi stylist who helped women develop their sense of fashion style. Cody shares a great bond with his family and is frequently seen together during games.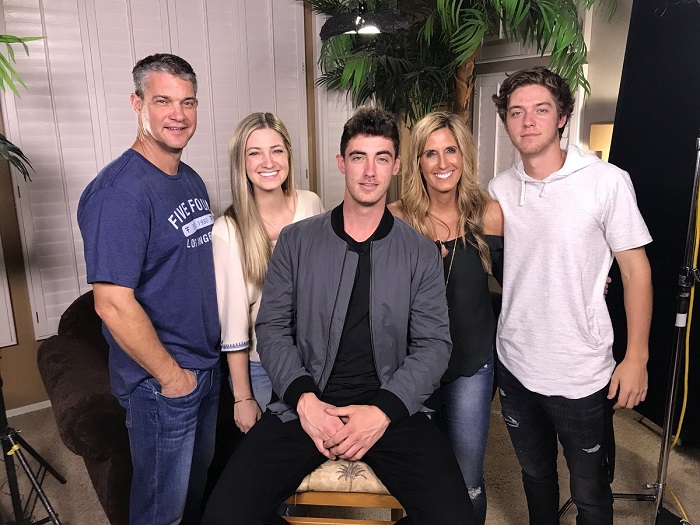 Bellinger has two siblings, both of whom come from athletic backgrounds. His older sister, Ashli Bellinger, played Volleyball for her college team, and his younger brother, Cole Bellinger, actively plays baseball and was drafted by the San Diego Padres in 2017.
Age, Height & Weight
Cody, born in 1995 and standing at the height of 6'4 (1.93 m), is currently 27 years old. He has an athletic body and weighs 202.82 lb (92 kg).
Cody Bellinger | Career
High School Career
Cody went to Hamilton High School in Arizona along with his brother Cole and played baseball for their school team.
Not much information could be retrieved about how his high school career passed; however, we can only imagine it went well.
He practiced baseball from an early age, and his interest grew more during his high school play when he became a standout player for his school.
Bellinger was awarded and recognized as the most valuable player (MVP) for his junior and senior high school years.
Many opportunities struck his door during high school when he was invited for the pre-draft practice; however, a couple of teams were not interested in the pick since he only hit one home run during that season.
Professional Career
The Los Angeles Dodgers selected Cody in the fourth round, 124th overall of the 2013 MLB draft.
Before the selection, he committed to the Oregon Ducks at the University of Oregon to play college baseball, but he chose to rescind it to play for the MLB.
Bellinger opted out of his commitment to the college team and signed a contract with the Dodgers for a bonus of $700,000 approximately.
He played his first professional game for the Arizona League Dodgers, where he struggled with plate discipline, striking out 46 times in 47 games, but he had the willingness and potential to do his best.
The following season, he played Rookie ball for Ogden Raptors in the 46 Pioneer League games batting 0.328 with 34 RBIs.
He slowly started getting recognition during his play with the California League when he hit 12 home runs and was the youngest player amongst the top five hitters.
Cody played against Jake Arrieta of the Chicago Cubs in 2017 and became the youngest player after Miguel Cabrera to homer in the National League Championship Series (NLCS).
At this time, he gained popularity and was named the most valuable player for the league, along with his designation as the hitter for the California League.
Throughout the years, Bellinger has played for various teams and set multiple franchise and MLB records in June, thanks to a string of multi-home run outings.
As of 2019, he has 97 total bases, 37 RBIs, and 47 hits, setting a new MLB record for the most total bases, RBIs, and hits by a player.
As of 2021/ 2022, Cody has signed a one-year contract worth $17 million with the Dodgers.
Awards and Recognitions
2* All-Star (2017, 2019)
NL Rookie of the Year (2017)
NLCS MVP (2018)
Gold Glove Award (2019)
Silver Slugger Award (2019)
All-MLB First Team (2019)
World Series Champion (2020)
Cody Bellinger | Controversies
Although Bellinger has a growing fanbase and maintains quite a distance from the controversies and media limelight, the night during a game sparked attention towards him.
During his game with the Dodgers against the Padres, Cody was a few inches close to being the victim of a beer can thrown toward him on a Friday night.
A video was released on April 2022 by Blake Harris that captioned, "Looks like someone tried to throw a beer can at Cody Bellinger."
One of the members from the audience threw the can right after Bellinger caught the ball, giving the Padres their first out of the inning.
There have not been any confirmations regarding the intention behind the throw and whether it was aimed at Bellinger.
However, there have been speculations that a fan threw the can at him. The aftermath of the incident is unknown since there was no news about the fan's identification.
Cody Bellinger | Girlfriend, Wife & Kids
Cody is currently in a relationship with Chase Carter, a Bahamian model. Although the official date has not been known, they are rumored to have been dating for about a year now.
There has not been specific information about how the two met each other, but the rumors about their dating were confirmed when Chase posted a picture of Cody on her Instagram.
Chase Carter is a known personality popular for her modeling career. Born on June 10, 1997, the beauty started modeling at 13.
She has modeled for famous brands and has appeared on multiple magazine covers, including Maxim Magazine's cover.
Carter seems to support her boyfriend, Cody's career, as she is constantly seen cheering for him during his baseball games.
The two have not been married yet, but they welcomed their first child, Caiden Carter Bellinger, in November 2021.
Cody Bellinger | Net Worth
Cody Bellinger managed to rule over baseball from an early age and has a net worth of $2.5 million.
He has successfully earned a handsome amount through his games and contracts with the Dodgers team.
Before the MLB lockout, Cody signed a one-year contract with the Los Angeles Dodgers and agreed on the deal for $17 million.
As of 2021, he received an average salary of $16.1 million with a 1-year contract with the Dodgers.
Social Media Presence
Bellinger is somewhat active in his social media, even though not as frequent as the fans expect.
He shares maximum pictures and content related to his baseball career and a few about his personal life.
Recently, he uploaded photos of his newborn daughter, Caiden Carter Bellinger.
Instagram: 945k followers
Twitter: 215.6k followers
Frequently Asked Questions (FAQs)
Is Cody Bellinger in a relationship?
Cody Bellinger is in a relationship with his girlfriend Chase Carter, a Bahamian model who started dating in 2020.
The two welcomed their daughter Caiden Carter Bellinger in 2021.
Where is Cody Bellinger now?
Bellinger is currently playing for the Los Angeles Dodgers, an American professional baseball team with whom he has signed up a one-year contract worth $17 million.
What is Cody Bellinger's current batting average?
Over time, Bellinger's batting statistics throughout 2017 – 2019 have fluctuated from 0.420, 0.352, 0.343, and 0.406. Overall, his current batting average is 0.257.