Jake Arrieta is a professional baseball player who has been at it since 2010. One of the prominent players in the Major Baseball League(MLB), he currently serves as the pitcher for the Philadelphia Phillies.
Since his big debut, Jake has been admired by many of his fans and aspiring baseball players.
Aside from the Phillies, Arrieta played for teams such as Baltimore Orioles and Chicago Cubs. He played college baseball at Weatherford Junior College and Texas Christian University(TCU).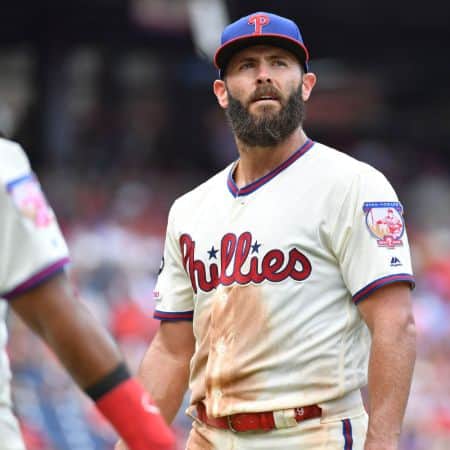 Not to mention, Jake was picked by the Orioles in the fifth round of the 2007 MLB draft. Also, Arrieta pitched for the United States national baseball team at the 2008 Summer Olympics, where he won the bronze medal.
Aside from his professional career, we will also talk more about his personal life in this article. Did you know his wife is a professional gymnast? Well, there is more information about his personal life as well. So, make sure to read it till the end.
Jake Arrieta: Quick Facts
| | |
| --- | --- |
| Full Name | Jacob Joseph Arrieta |
| Birth Date | March 6, 1986 |
| Birth Place | Farmington, Missouri, US |
| Now known as | Jake Arrieta |
| Religion | Unknown |
| Nationality | American |
| Ethnicity | White |
| Education | Texas Christian University |
| Horoscope | Pisces |
| Father's Name | Lou Arrieta |
| Mother's Name | Lynda Arrieta |
| Siblings | Unknown |
| Age | 37 years old |
| Height | 6 feet 4 inches(193 cm) |
| Weight | 225 lbs |
| Build | Athletic |
| Profession | MLB Player |
| Active Since | 2010-present |
| Position | Pitcher |
| Team | Philadelphia Phillies |
| Jersey No. | 49 |
| Marital Status | Married |
| Spouse/Girlfriend | Brittany Arrieta |
| Salary | $10.7 million |
| Net Worth | $20 million |
| Social Media | Instagram, Twitter |
| Merch | Autograph Baseball, Baseball Card, Bobblehead |
| Last Update | March, 2023 |
Who is Jake Arrieta?
Jacob Joseph Arrieta, who is famous as Jake Arrieta, is a professional baseball pitcher. At the moment, he plays for the Philadelphia Phillies of Major League Baseball (MLB). Before this, Jake played for the Baltimore Orioles and Chicago Cubs.
Moreover, Jake had an impressive season back in 2015, which has been compared with the legendary player Bob Gibson. Not to mention, Arrieta won the National League CY Young Award back in 2015.
Diet Plan
Like everyone's diet, Jake Arrieta has a typical diet that is merely plant-based and consists of organic foods. Well, he widely munches on french toast, blueberry, strawberries, pecan, chicken, waffles, and a cookie french toast.
Talking about it, his breakfast consists of two pancakes, three eggs, and a side of bacon. As for lunch, he eats a pint of ice cream as a form of snack. In the meantime, he closes off his day with dinner that includes double doubles and an order of fries.
Workout Routine
Alongside his maintained eating habit, Jake Arrieta is into his workout regime. Well, he makes sure to keep himself in shape all the time. Among all his exercises, he is heavily involved in pilates.
At the same time, he also involves himself in a goblet squat, dumbell shoulder press, squat jumps, biceps curl, lunges, and planks.
Beginning of his career- Amateur Years
Jake Arrieta began his baseball career after attending the baseball team at Plano East Senior High School.
As a junior, Jake recorded 6-1 with a 1.61 ERA, and, as a senior, it was 5-4 with a 1.30 ERA. In his senior year, Arrieta was picked by the Cincinnati Reds in the 31st round of the 2004 draft.
Sadly, at that time, he disregarded the idea to attend Weatherford Junior College. Then in his freshman year, Arrieta was selected by the Milwaukee Brewers in the 26th round of the 2005 Major League Baseball draft.
Likewise, Arrieta transferred to Texas Christian University to play for the TCU Horned Frogs baseball team for his sophomore and junior seasons.
In the summer of 2005, he participated in the summer collegiate baseball with the McKinney Marshalls. By his senior year, Arrieta was leading the college team with 14 wins.
Nonetheless, Jake won the Mountain West Conference Pitcher of the Year Award and was even named a Second-Team College Baseball All-American.
Similarly, in 2006, Jake joined the United States national baseball team and even helped the team win the World University Baseball Championship in Cuba.
Back at the 2008 Summer Olympics in Beijing, he pitched six innings and struck out seven in Team USA's 9-1 victory over China's national baseball team.
Professional Career of Jake Arrieta
As anticipated, Jake Arrieta got picked by the Baltimore Orioles in the fifth round of the 2007 Major League Baseball draft. Right after he signed a contract with the Orioles, worth a $1.1 million signing bonus.
Following that, he made his professional debut in 2007 with the Phoenix Desert Dogs against the Arizona Fall League.
With 16 striking outs and 14 appearances, Arrieta helped his team take the Arizona League championship lead. Likewise, on June 10, 2010, Jake made his major league debut against the New York Yankees at Camden Yards.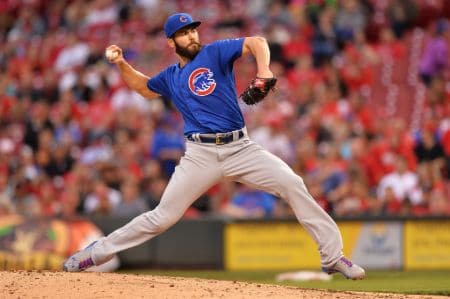 There he pitched six innings, gave up four hits and three runs, followed by six strikeouts, and finally the win. In 2011, Jake was the home opener winner and was, in fact, the youngest opening-day starting pitcher for the Orioles since Mike Mussina in 1994.
Moreover, the American baseball player started the 2013 season with four starts for the Orioles after posting a 1-1 record. Despite being demoted to Triple-A, Jake was recalled twice by the Orioles for making room for other players.
Following his record at the Orioles, the team traded Jake to the Chicago Cubs along with Pedro Strop. In return, they got Scott Feldman and Steve Clevenger. Right away, he was optioned to the Iowa Cubs of the Class AAA Pacific Coast League.
Rise to Stardom- Jake Arrieta's Best Season
Starting in early 2015, Jake began his amazing season, one of the best seasons per se. On July 12, he pitched a complete-game victory over the Chicago White Sox at Wrigley Field.
Not to mention, Arrieta became the first MLB pitcher to win 15 games in the 2015 season.
Likewise, for the 14th no-hitter in Cubs history, Jake no-hit the Los Angeles Dodgers at Dodger Stadium. He not only struck out 12 batters but three batters in both the first and ninth innings.
Thanks to that, for August 24-30, Arrieta was named the NL Player of the Week and NL Pitcher of the Month too.
Moreover, Jake's 2015 season was even compared to Bob Gibson's 1968 season, where he won the National League MVP and Cy Young Awards.
Some of his other contributions include major wins, complete games, three shutouts, and led the National League in hits per 9 innings pitched and 33 games started.
As expected, he began the 2015 National League Wild Card Game. Arrieta also became the first pitcher to post a postseason shutout while striking. To add up, Jake became the first pitcher to have more stolen bases than runs scored in a postseason game.
Moreover, Jake was the first Cubs pitcher to win the NL Cy Young Award since Greg Maddux in 1992.
Then the following year, Arrieta signed with the Cubs with a deal of $10.7 million in salary alone. At the moment, Jake plays as a professional baseball pitcher for the Philadelphia Phillies of Major League Baseball(MLB).
Injury History
Back in 2019, Jake Arrieta struggled with an elbow problem daily which later, it got worse. Following it, he fell on the sixty-day injured list. The next year, he suffered from a hamstring injury and hence, was out of the games for ten days.
Recently, in April 2021, he suffered from a thumb injury and stayed out of the games for ten days. In July of the same year, Jake faced a hamstring injury and was out for ten days.
Net Worth and Income Stats: How much does Jake Arrieta earn?
Jake Arrieta is a professional pitcher for the Philadelphia Phillies of Major League Baseball(MLB). He had been playing professional baseball since his entry back in 2010. As of now, Jake has accumulated a net worth of $20 million.
Also, the admirable pitcher seems to receive $28.3 million alone as his salary. At present, free-agent starter Jake Arrieta has resigned from a $6 million deal with the Chicago Cubs.
It also excludes his income from several endorsement deals with brands like Panini, Rawlings, Adidas, and even Topps.
Moreover, Jake seems to earn a hefty amount from his career and has enough to live a lavish life. But he is not the one to splurge it in social media. Hence, at the moment, Jake has kept all of his financial details secret from the public.
How tall is Jake Arrieta?- Age and Height
Jake Arrieta has always been the man most talked about when it comes to baseball. Since his debut in the pitch back in 2010, Jake has been known for his agility and powerful strikes. Not to mention, the guy is just 34 years at the moment.
Likewise, Jake was born on March 6, 1986, under the sign of Pisces. They are known to be competitive, creative, and hard-working individuals.
Aside from his competitive personality, Jake is lauded for his physique as well. He is a tall man who stands at 6 feet 4 inches (193 cm) and weighs around 225 lbs. Since he is a professional pitcher, having a stout body is a given.
Where is Jake Arrieta from?- Early Life and Childhood
Jake Arrieta, whose full name is Jacob Joseph Arrieta, was born in the city of Farmington, Missouri, in the United States of America.
He was raised by his parents, Lou and Lynda Arrieta, but there is no additional information on them. Likewise, the family moved to Texas four months after Arrieta's birth, where he grew up.
Also, Arrieta has not said much when it comes to his siblings as well. From what we know, Jake can be an only child.
Similarly, Jake is an American when it comes to his nationality, and as for his ethnicity, he is white. As for his education, Arrieta went to Pano East Senior High School, where he played for a baseball team.
Then, after graduation, Jake enrolled at the Weatherford Junior College in 2005, only to transfer to Texas Christian University (TCU) to play for the baseball team. There he acquired his sport psychology degree.
Jake Arrieta and His wife Brittany Arrieta- Personal Life and Children
Already in his 30s, we know Jake is an exceptional player on the pitch and has many awards to vouch for it. Thanks to his splendid career stats, Arrieta has earned a lot of love from his fans and admirers. And many have been curious about his personal life as well.
Well, at the moment, Jake is married to his long-time girlfriend Brittany Arrieta. Not to mention, the two have been together since their high school days. Both of them attended Plano East Senior High School and later went to the same college, Texas Christian University, back in Fort Worth, Texas.
Likewise, after dating for many years, the cute couple took their relationship to the next level. In late 2007, the baseball player pitched his proposal to his wife-to-be, and what do you know, she said yes!
And a year later, the two tied the knot in November at the Gaylord Texan in Grapevine. Sadly, any details regarding their wedding ceremony have not been disclosed.
Moreover, the two now share two wonderful children of their own. The couple welcomed their first baby, a son named Cooper, in late 2010. Later, the two had their wonderful daughter, Palmer, but any further details about her have not been revealed.
Even after a decade long of being together, the two have never been in any rumors or controversies.
Jake, a baseball pitcher, and Brittany, a gymnast, have been with them through thick and thin. Not to mention, they have not shown any signs of divorce or anything remotely close to that.
Social Media Presence
Twitter– 435.8k Followers
Instagram– 240k Followers
Quotes
People can believe I'm politically this way or that way. That's not the case. It's pretty simple, my political stance. I don't consider myself a Democrat or a Republican. I want a president who's going to do a good job. That's where I stand.
Sports psychology or mental training has been viewed as a weakness, and I think that's a pretty silly way to look at it.
Jake Arrieta | FAQs
Does Jake Arrieta have a tattoo?
Well, yes! Back in 2016, the Chicago Cubs and CCU made a bet to ink tattoos by the losing team in the universities' College World Series semifinal. Therefore as the Cubs lost, Arrieta got the CCU tattoo. However, it is unsure where he got the tattoo and how big it is.