Emerging NFL star Cole Kmet has been in the professional field for a few years. With his game skillset and youthfulness, many of his fans wonder about his love life.
Cole is a famous NFL player with a whopping net worth of about $1- $5 million as of 2023.
Among the many questions that fans pose to Cole Kmet, some common ones include, Is Cole Kmet in love? Is he dating anyone? Most importantly, who is the girl that often appears beside him?
Answering all the curiosity, yes, Cole Kmet is dating a beautiful girl named Emily Jarosz. She is the lady who frequently appears in Cole's Instagram posts.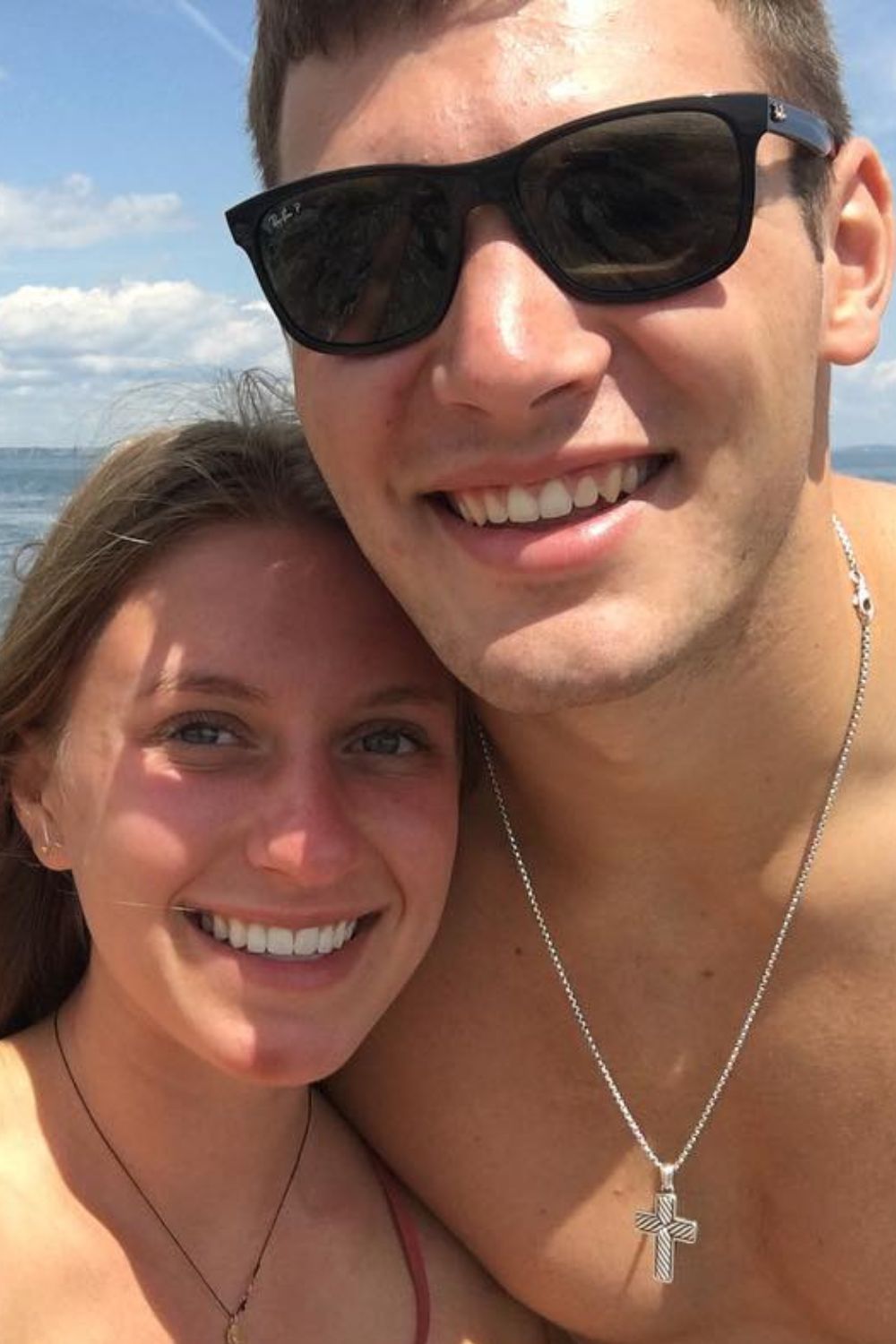 In this article, we will discuss the details of Cole Kmet's girlfriend and all the available details regarding her.
But before starting the discussion, let us first review some quick facts.
Cole Kmet Girlfriend | Quick Facts
Full Name
Emily Jarosz
Date of Birth
September 29, 1998
Birth Place
Illinois, United States
Nickname
Unknown
Religion
Unknown
Nationality
American
Ethnicity
White
Zodiac Sign
Libra
Age
24
Height
Unknown
Weight
Unknown
Hair Color
Dark Blonde
Eye Color
Brown
Build
Slim
Father's Name
Unknown
Mother's Name
Unknown
Siblings
Unknown
Education
Saint Viator High School

Loyola University

Marital Status
Unmarried
Boyfriend's Name
Cole Kmet
Kids
None
Profession
Talent Acquisition Specialist
Net Worth
Unknown
Social Media
Instagram, LinkedIn
Merch of Cole Kmet
Signed Helmet, Signed Jersey
Last Update
June 2023
Cole Kmet's Girlfriend | Emily Jarosz
Emily is the beautiful girlfriend of NFL player Cole Kmet. She was born on September 29, 1998, in Arlington Heights, Illinois.
The source of information for Emily's birthday is Cole Kmet's Instagram. He wishes her a happy birthday every year on September 29.
Emily and Cole both attended Saint Viator High School for their early education. It is unknown if they were in a relationship from their high school days.
Emily completed her high school studies in 2017 and enrolled at Loyola University, Chicago. She graduated in 2021 with a Bachelor's degree in Business Administration and Marketing.
There is no information on her family background, parents, or childhood.
Career
Emily is a very active person. According to her LinkedIn profile, she currently works at MoLo Solutions as a talent acquisition specialist.
She was a B2B Marketing intern at Dyson for three months, from June 2020 to August 2020.
Emily also worked as a Market Research Intern at Cimigo, Vietnam, for three months, from January 2020 to March 2020.
She did work as a part-time Sales Associate at Anthro, Illinois, from September 2019 to January 2020.
From June 2019 to August 2019, she was a project management and operations management intern at LG Electronics.
Before that, she worked as a Sailing Instructor and Camp Counselor for Cedar Camp in Portland.
Emily is also a member of the Delta Sigma Pi sorority.
A Short Bio On Cole Kmet
Cole Kmet was born on March 10, 1999, under the star sign of Pisces in Lake Barrington, Illinois, to his mother, Kandace Kmet, and Father, Frank Scott Kmet.
Cole stands tall at the towering height of 6 ft. six in. (1.98 m/ 198 cm) and weighs 260 lbs. (118 kg).
Kmet comes from an athletic background. His Father and uncle are former National Football League (NFL) players. Sadly, his Father's NFL career was cut short by the leg injuries he faced on the field.
"Football is a tough sport. It's not for everybody. Every day I'm shocked. It's like, 'Holy cow, my son's a Chicago Bear!"
– Cole Kmet's Father
Cole Kmet has three siblings; Casey Kmet, Cooper Kmet, and Frankie Kmet.
Academic Qualification And Career
For his early academics, Cole Kmet attended St. Viator High School in Arlington Heights, Illinois. He played baseball and football during high school.
Cole played as starting tight end during his junior year at the University of Notre Dame. The same season, he broke his collarbone. Later in 2020, Cole announced he would forgo his last year in the University before joining the NFL Draft.
Cole was a baseball player even in college. He played as a relief pitcher but left the game after joining the NFL.
View this post on Instagram
Currently, Cole Kmet is a professional tight end for the Chicago Bears of the National Football League (NFL). He has been on the professional field since 2020, when the Bears drafted him as the 43rd pick in the second round.
Cole Kmet was the top draft prospect of the tight ends during his draft.
Cole maintains a net worth of $1- $5 million. His recent contract deal with Chicago Bears is worth $7,577,786.
To learn more about Cole Kmet and know what he has been up to, follow him on his Instagram and Twitter.
Emily Jarosz | Net Worth & Social Media
We have no information on the salary, income, or earnings of Emily Jarosz. We also have no information on her net worth.
Emily uses Instagram and has over 1.7k followers. However, her account is private.
Cole Kmet Girlfriend | Popularity Graph
Cole Kmet | Frequently Asked Questions (FAQs)
Which jersey number does Cole Kmet wear?
Cole Kmet wears jersey number 85 for the Chicago Bears.
What is the career stat of Cole Kmet?
At the time of writing, Cole maintains a net worth of 127 receptions, 1,288 receiving yards, and 7 receiving touchdowns.