With the recent draft, fans have wondered who Colin Houck's brother is and if he is related to Tanner Houck. However, the two baseball players are unrelated and live with their own separate families.
Except for a resemblance in their surname and profession, the baseball players have no other similarity.
Colin has just made it into the MLB, while Tanner has been playing in the MLB for a few years.
While at Parkview High School, Colin Houck was a varsity football and basketball team member.
During his senior season as a quarterback, Houck set the high school record for most passing yards with 2,142 yards and 24 touchdowns.
Similarly, in baseball as a senior, he recorded a .487 batting average with eight home runs and 50 RBIs and earned the Georgia Gatorade Baseball Player of the Year.
Standing 1.88m tall, Houck succeeded in both sports but eventually committed to play collegiate baseball at Mississippi State University.
Not long after, the MSU signee declared for the 2023 MLB Draft and was predicted to be the twelfth overall prospect by MLB.com.
However, the New York Mets drafted him as the 32nd overall pickup in the first round of the 2023 MLB Draft.
The young champ is ready to establish himself in the MLB, showcasing his exceptional batting and pitching skill.
Colin Houck Brother: Is He Related To Tanner Houck?
Along with his draft, Colin Houck has made headlines, sparking curiosity among fans about his possible relation to Tanner Houck.
However, people shall note that no family or biological relationship exists between the two. Despite their shared surname (Houck) and career field (baseball), Colin and Tanner are unrelated.
In addition, Colin hails from Stockbridge, Georgia; on the other hand, Tanner was born in Collinsville, Illinois.
Unfortunately, no details regarding Colin's family are available, as they live a low-profile life.
Neither the player has shared any family photos on his Instagram. Hence, there is no evident clue about his brother or sister, so it would be hard to tell if he has any.
However, there is information about Tanner's family, which proves that they are not brothers.
Tanner Houck was born on June 29, 1996, to his parents Darrin and Jennifer Houck. He has three sisters; a biological older sister- Shelby, an adopted little sister- Reanna, and a half-sister- Claire.
Nevertheless, the fact that the two players only share their last name and profession but not the bloodline is evident.
Tanner Houck Baseball Career
American professional baseball player Tanner Houck plays for the MLB team Boston Red Sox. The Red Sox chose him as the 27th overall pick in the 2017 MLB Draft.
For a few seasons, Tanner played on multiple minor league teams before receiving a major league call-up. The player made his MLB debut on September 14, 2020, in a win against Miami Marlins.
In 2021, he appeared in 18 games, compiling a 1-5 record with a 3.25 ERA and 87 strikeouts in 69 innings pitched.
Tanner started his 2022 season in the Red Sox's starting rotation but sadly endured several injuries restraining him from the game.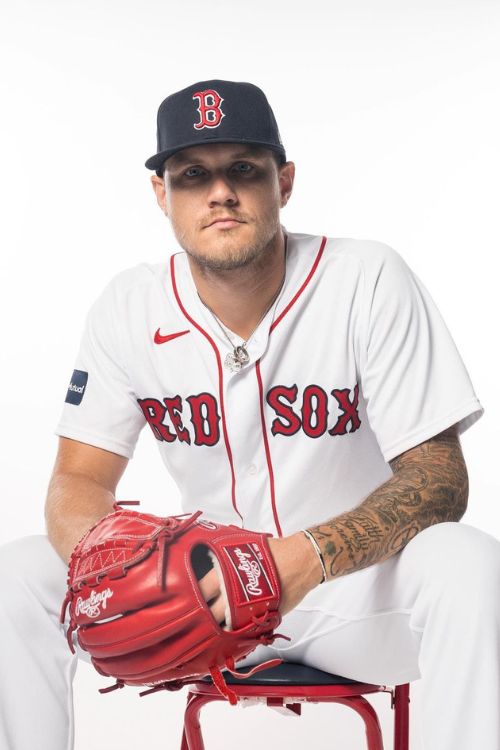 Before turning pro, he played collegiate baseball for the University of Missouri, excelling early in his career.
Moreover, the player has played internationally for the 2015 U.S. Collegiate National Team and the 2019 U.S. National Baseball Team.
The 27-year-old baseball pitcher still has much more to achieve in his career as a professional.