Former Cage Warriors featherweight and lightweight champion Conor McGregor today stands with a net of $180 million.
It is a name that flourished in the Mixed Martial Arts field in a short period, and almost everyone is familiar with it.
Additionally, he has both Ultimate Fighting Championship (UFC) featherweight and lightweight double-champion under his name.
Therewith, Conor is the first fighter in UFC history to hold titles in two weight divisions.
Furthermore, in his 2015 fight at UFC 149 against Jose Aldo, he defeated him through a knockout in just 13 seconds.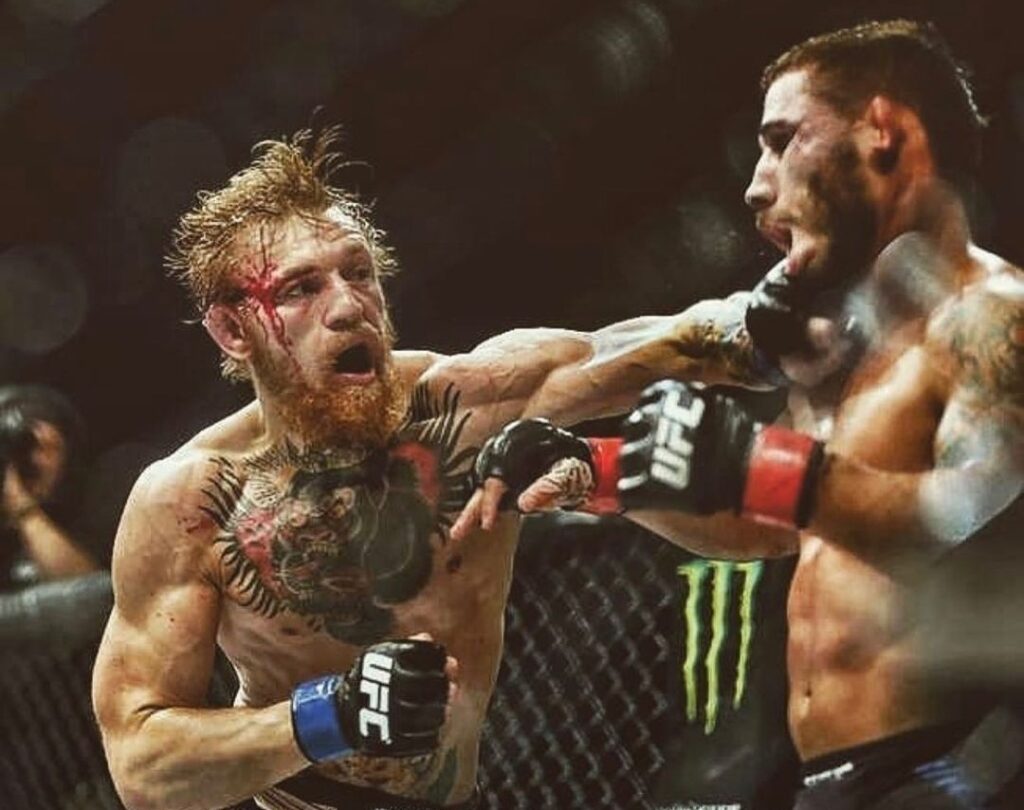 This very record stands as the fastest victory in UFC title fight history. Moving on, MMA is not the only thing in Conor's life.
Besides, he is also a successful businessman who has assisted him in blooming the way he is today.
Quick Facts
Full Name
Conor Anthony McGregor
Date of Birth
July 14, 1988
Birth Place
Crumlin, Dublin, Ireland
Nick Name
Notorious
Religion
Catholic
Nationality
Irish
Ethnicity
Irish
Zodiac Sign
Cancer
Age
35 Years Old
Height
5 feet 9 inches (1.75 meters)
Weight
155 lb (70 kg)
Hair Color
Blonde
Eye Color
Dark Brown
Build
Athletic
Father's Name
Tony McGregor
Mother's Name
Margaret McGregor
Siblings
Two sisters; Erin McGregor and Aoife McGregor
Education
Gaelscoil Scoil Mológa
Gaelcholáiste Coláiste de hÍde in
Marital Status
Married
Wife
Dee Devlin
Kids
Two children; Conor Jack McGregor and Croía McGregor
Profession
Mixed martial artist, businessman, and boxer
Divisions
Featherweight (2008–2015)
Lightweight (2008–2012, 2016–2018, 2021–present)
Welterweight (2016, 2020)
Trainers
John Kavanagh
Owen Roddy
Sergey Pikulskiy
John Connor
George Lockhart
Rank
Brown belt in Brazilian Jiu-Jitsu
Team
SBG Ireland
Active Years
2008–present
Net Worth
$180 million
Social Media
Instagram, Twitter, YouTube
Merch
Action Figures, Shirt, Signed Merch
Last Update
November, 2023
How much net worth does Conor McGregor depict?
At present, Forbes has ranked Conor Mcgregor as the world's highest-paid athlete in 2021.
According to them, in the past twelve months, Conor has bagged pretax gross earnings of an estimated $US180 million ($232 million).
Right then, he was also one of the four athletes to have an earning of $US100 million ($129 million).
Altogether, Forbes stated that as the highest-paid athlete, Conor has the combined worth of $US1.05 billion ($1.36 billion) calculated within May 1, 2020-21.
Among his earnings, Conor earned $US158 million ($204 million) from his sporting activities, while he earned $US150 million ($194 million) from the sale of his whiskey brand.
In the meantime, he also became the third active sportsman to earn more than $US70 million ($90.5 million) in a single year outside of their sporting earnings.
As one of his recent fights, he took down Donald "Cowboy" Cerrone in the first-round knockout in January 2021. Back then, he took $30 million just from that fight.
You might be interested in Cristiano Ronaldo's net worth and career earnings>>>
Proper No. Twelve Irish whiskey
Conor McGregor founded his line of Irish whiskey brand in 2018 named Proper No. Twelve Irish whiskeys. It is his major source of income, and every year, he makes millions from it.
Additionally, it was formed with the help of former Bushmills distillate manager David Elder.
Before its creation, they tried around a hundred blends of whiskey. Later, they named it after Dublin 12, the place where Conor grew up in.
Currently, most company shares are under the name of Proximo Spirits, with a deal worth $600 million.
Also, his working agent is Audie Attar of Paradigm Sports Management and has a partnership with Ken Austin.
"Proper Twelve is my baby for life!" –Conor McGregor
Overall, it is a triple distilled whiskey with fine golden grain and single malt. Furthermore, this brand is available in Ireland, Australia, Canada, Russia, and the US.
Brand Endorsements and Investments
One of his major earnings aside from his sporting career is through brand endorsements. Also, he endorses numerous high-end brands discussed below.
In 2018, Conor McGregor signed a brand endorsement deal with the Monster Energy Drink.
At the same time, he also renewed his contract with Reebok, and as per his manager, Conor gained around US$5 million back then.
Moving on, Conor also became the brand ambassador for the fast-food chain Burger King. For their initial phase, they released a television advert featuring McGregor in a jet with a burger.
Apart from these brands, Conor McGregor has also worked as the endorser for Rolls Royce, Beats Electronics, Anheuser-Busch InBev, Bud Light, Wynn Resorts, and Budweiser.
McGregor Sports and Entertainment Ltd.
In 2014, Conor McGregor formed a promotion company named McGregor Sports and Entertainment Ltd., which was created to tap his earnings. After three years from its formation, he also placed its logo in use.
They had also sold the MacTalk app on iTunes for $0.99. Additionally, this company is listed under 'Other Sporting Activities' in Ireland.
Read about Usain Bolt's net worth and earnings throughout his career>>>
The Mac Life
Also, he has a media house named The Mac Life that covers MMA, lifestyle, and fitness.
This company generates earnings through its advertisements and promotes McGregor's fights and his products.
August McGregor
Throughout the years, Conor has been complimented for his choice in fashion and often showcases a good taste in them. This line of fashion was created with a partnership between Conor McGregor and David Heil.
Additionally, this brand makes suits and formal wear for men.
Other Ventures
Conor McGregor has put forward his conditioning program named F.A.S.T., leading sports doctors and exercise physiologists. Later, he also launched TIDL Sport in partnership with the Anthos group.
This TIDL sport creates plant-based therapy which cures pain and inflammation.
As one of the wealthiest MMA fighters, Conor McGregor lives a lavish life filled with parties and fun. Also, Conor leads the main lead life and spends hugely on his fashion.
According to the sources, he spends $100,000-$150,000 every year for his customized suits. Likewise, he is an avid party lover and loves to keep things at a fun level.
Remember the time when he spent $100,000 on drinks at an after-party before heading to Ibiza, Spain, for a friend's wedding. Or also when he partied with his friends in a $480 million luxury liner, yatch.
Anyways, he is well known to work and party hard.
Click to follow about Lewis Hamilton's net worth and earnings>>>
Workout Routine
Like every athlete, Conor McGregor has loads of time spent on his workout routines. For it, he focuses on stretching, flexibility, static, and boxing training.
Similarly, he indulges himself in learning numerous fighting styles and training methods.
His flexibility and stretching routine include a Muay Thai knee, shoulder rotating, leg swings, hip circles, and neck bridges.
Following it, his static stretching consist of seated butterfly, back roll, laying leg stretch, and locomotion conditioning to name a few. Besides, he also enrolls in aerobic training with endurance exercises.
Diet Plan
Alongside healthy foods, Conor states that hydration is the key, and thus, he is equally indulged in coconut juice and water. As for his daily consumption, Conor has 4,000 calories.
Initially, his first meal constitutes of baked apple slices with peanut butter, avocadoes, and eggs. Moving on, he has honey chicken with rice followed by rice curry with fish.
Additionally, he also indulges himself in a variety of vegetables. In the meantime, Conor has supplements as Protein shake and Multivitamins.
House
With such a deep pocket, Conor McGregor has bought many houses all around.
Mansion in Dublin, Ireland
In 2019, Conor McGregor bought a mansion for two million euros in Dublin, Ireland. This mansion depicts a huge lawn and a house with five bedrooms, six bathrooms, a kitchen, and a games room.
Additionally, it also has a fully equipped training room with top-quality machines. Likewise, almost every room is decorated with golden chandeliers and even boasts of a horse riding facility.
Holiday House in Marbella, Spain
Back in 2018, Conor McGregor bought a 1.3 million euros holiday house in Marbella, Spain. This villa indeed portrays a spectacular view of the Mediterranean.
To illustrate, the villa has a modern touch with a customized swimming pool, gym, a, and Le Resina golf course.
Mac Mansion in Las Vegas
This mansion located in Sin City was bought back in 2015 during his tenure in Las Vegas. Well, it stands at the area of 12,000 square feet, and he nicknamed it Mac Mansion.
To elaborate, it consists of seven massive bedrooms, a 50ft infinity pool with Jacuzzi, a 10-car garage, a luxury spa, and a back garden golf course.
Follow to learn more about Anthony Davis' earnings, net worth, and more!
Cars Collection
BMW i8 (power output of 357bhp and an electric range of 87 km)
Rolls Royce (£240k) Ghost (twin-turbo V12 engine with 560bhp with LED highlights)
Range Rover
McLaren 650S (purchased for £200k with 650bhp)
Cadillac Escalade (purchased for £75,000)
Mercedes S500 Coupe (bought for £110k and has 449 bhp with 155mph)
Rolls Royce Phantom Drophead (purchased for $533,000)
Lamborghini Aventador Roadster (purchased at £275k with V12 engine)
Lamborghini Urus
Bentley Continental GT
Short Glance on Conor McGregor
Conor McGregor is the son of Tony and Margaret McGregor and has two sisters named Erin and Aoife. Also, he was raised as a Catholic and is still the one.
Today, apart from being a fighter, McGregor is also a loving father and a devoted husband. He is married to Dee Devlin, and the duo has been committed to each other since 2008.
Moreover, they now share two children Conor Jack McGregor and Croía McGregor.
Some of his professional achievements to date are highlighted below.
As a fighter, Conor McGregor is always praised far and wide. Well, as Dustin Poirier says, Conor is regarded as the "biggest puncher" he has ever faced.
Interim UFC Featherweight Championship (One time)
UFC Featherweight Championship (One time)
UFC Lightweight Championship (One time)
First Irish-born UFC champion
Third Multi-Divisional Champion in UFC History (Featherweight, Lightweight
CWFC Featherweight Championship (One time)
CWFC Lightweight Championship (One time)
2015 Fighter of the Year (by ESPN, Fox Sports, MMA Junkie, MMA Mania, and Bleacher Report)
2017 Top 100 Most Influential People inclusion
2015 Ireland's Most Stylish Man
2016 Most Charismatic
2015 and 2016 Most Outstanding Fighter of the Year
Social Media
If you are interested in his private uploads and posts, do check out his social media sites. He is on Instagram as Conor McGregor (@thenotoriousmma) with 39.8 million followers.
Likewise, he is on Twitter as Conor McGregor (@TheNotoriousMMA) with 8.7 million followers. Similarly, he also has his YouTube channel by the name Conor McGregor with 82.5k subscribers.
If you are further interested in his biography, click for the details.
Quotes
"There's no talent here; this is hard work. This is an obsession."
"Doubt is only removed by action. If you're not working, then that's where doubt comes in."
"My success isn't the result of arrogance; it's the result of belief."
FAQs
Is Conor McGregor vegan?
Actually, Conor loves his meat, and most of his diet emphasizes a lot of protein.
Does Conor McGregor have a tattoo?
Yes, Conor McGregor does have a tattoo and has several impressive inkwork got done on his body. In total, he has eight tattoos.
Well, his chest has an Arabic writing tattoo, the nape of his neck has a 'Crucifix' tattoo, and a has a helix of thorns down his spine. Furthermore, he has a gorilla tattoo on his chest, a rose bush and a motto tattoo on his arm.
Likewise, he has a tiger in his abdomen and his very name around it.
What is Conor McGregor's fight record like?
In the professional boxing arena, Conor McGregor had played a single game which was a loss via knockout. Likewise, he has played a game in the amateur MMA ring, which got as his win, while he has played 28 games in the MMA ring as a professional.
Among those, Conor had 22 wins (19 by knockout, one by submission, and two by decision) and six losses (two knockout and four submissions).