A strong woman, Dee Devlin, who stayed with her man through thick and thin, is half responsible for the success Conor McGregor has achieved till now. After dating for a long time, in 2020, Dee got engaged to Conor.
Anyone associated with MMA and fighting has heard about Irish mixed martial artist and boxer Conor McGregor.
He is one of the greatest and most successful MMA fighters.
If you don't know him through his career, you've undoubtedly heard about him from the altercation he had at the 2021 MTV Video Music Awards or numerous such altercations, for that matter.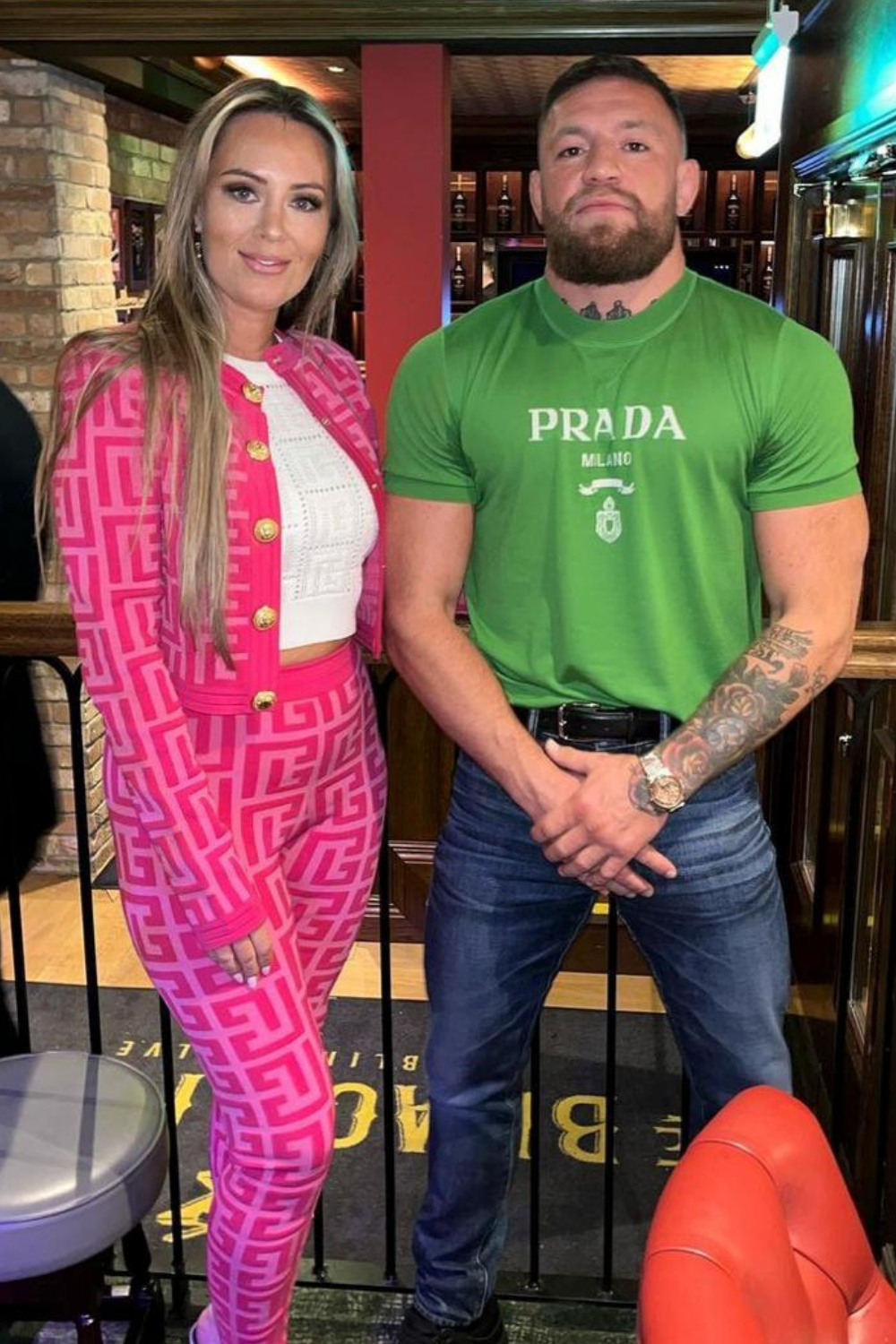 Besides being the fighter's fiance, Dee works with her fiancé's management and promotional teams.
Devlin also manages his finances while being a mother to two kids and managing Notorious' schedules and diets.
As of 2022, Dee is estimated to have a net worth of around $20 million.
Before getting into details about the champion MMA fighter Conor McGregor's wife's life and career, here are some quick facts about her.
Quick Facts
| | |
| --- | --- |
| Full Name | Dee Devlin |
| Birth Date | August 9, 1987 |
| Birth Place | Walkinstown, Dublin, Ireland |
| Conor McGregor Nick Name | Notorious |
| Religion | Christian |
| Nationality | Irish |
| Ethnicity | White |
| Education | Not Available |
| Horoscope | Leo |
| Father's Name | Not Available |
| Mother's Name | Not Available |
| Siblings | Two Sisters, Cathy and Sarah Devlin |
| Age | 35 Years Old |
| Height | 5'7″/1.7 m/170 cm |
| Weight | Not available |
| Hair Color | Black |
| Eye Color | Blue |
| Build | Slim and Toned |
| Profession | Businesswoman |
| Conor McGregor Team | SBG Ireland |
| Conor McGregor Arts | Mixed martial artist, Boxer, Brazilian jiu-jitsu, Kickboxer, Karate, Taekwondo, Capoeira |
| Active Years | 2008 – Present |
| Marital Status | Engaged |
| Fiancé | Conor McGregor |
| Kids | Three; Croia McGregor, Conor Jack McGregor Jr., Rían McGregor |
| Net Worth | $20 Million |
| Social Media | Instagram, Twitter |
| Merchandise | August McGregor, Apparel |
| Conor McGregor Height | 5'9″/1.75 m/175 cm |
| Last Updated | June 2023 |
Early Life, Education, & Family
Dee Devlin was born in Walkinstown, Dublin, Ireland. However, her parents' names and other information are unknown to the public as of now.
Nevertheless, the MMA fighter's wife has two sisters that she is very close to. Their names are Cathy and Sarah Devlin.
Her sister Cathy is married to Ross Sargent, and the two are expecting a handsome baby boy. As of September, she is 29 weeks pregnant.
On the other hand, her other sister, Sarah, is long-term with Sean Fitzpatrick, a strength & conditioning coach.
Moreover, Sarah is a model and is currently signed to Ireland's leading model agency, Assets Model Agency.
Besides that, the businesswoman had a relatively normal childhood. She studied in a local school in Ireland.
However, Devlin has not completed her high school education as she was not an academically bright student. As a result, she dropped out and started working in nightclubs as a waitress before meeting with McGregor.
Furthermore, she also did some modeling along with waitressing. Things were tough, but Dee was a very determined woman and made it through all problematic situations independently.
Age, Height, & Weight
Conor McGregor's wife was born on August 9, 1987, and is 35 years old as of June, 2023. Moreover, the businesswoman is fitness conscious and takes great care of her health.
She recently posted a picture of losing the baby weight from her third child. Not to mention, Devlin mostly hits the gym with her future hubby.
As a result, Dee is reasonably fit and has a toned physique. Furthermore, she reportedly is 5 ft 7 inches tall, whereas her weight details are unknown.
Professional Career
Currently, Dee is working with McGregor's management and promotional teams. She is a well-known businesswoman and handles most of her husband's business ventures.
Before meeting with the MMA fighter, she used to work as a model in her late teens and early twenties. Along with that, the businesswoman also earned through her waitressing career.
Moreover, she met her now-fiance while working in a nightclub. Furthermore, she worked pretty odd jobs during Conor's struggle phase.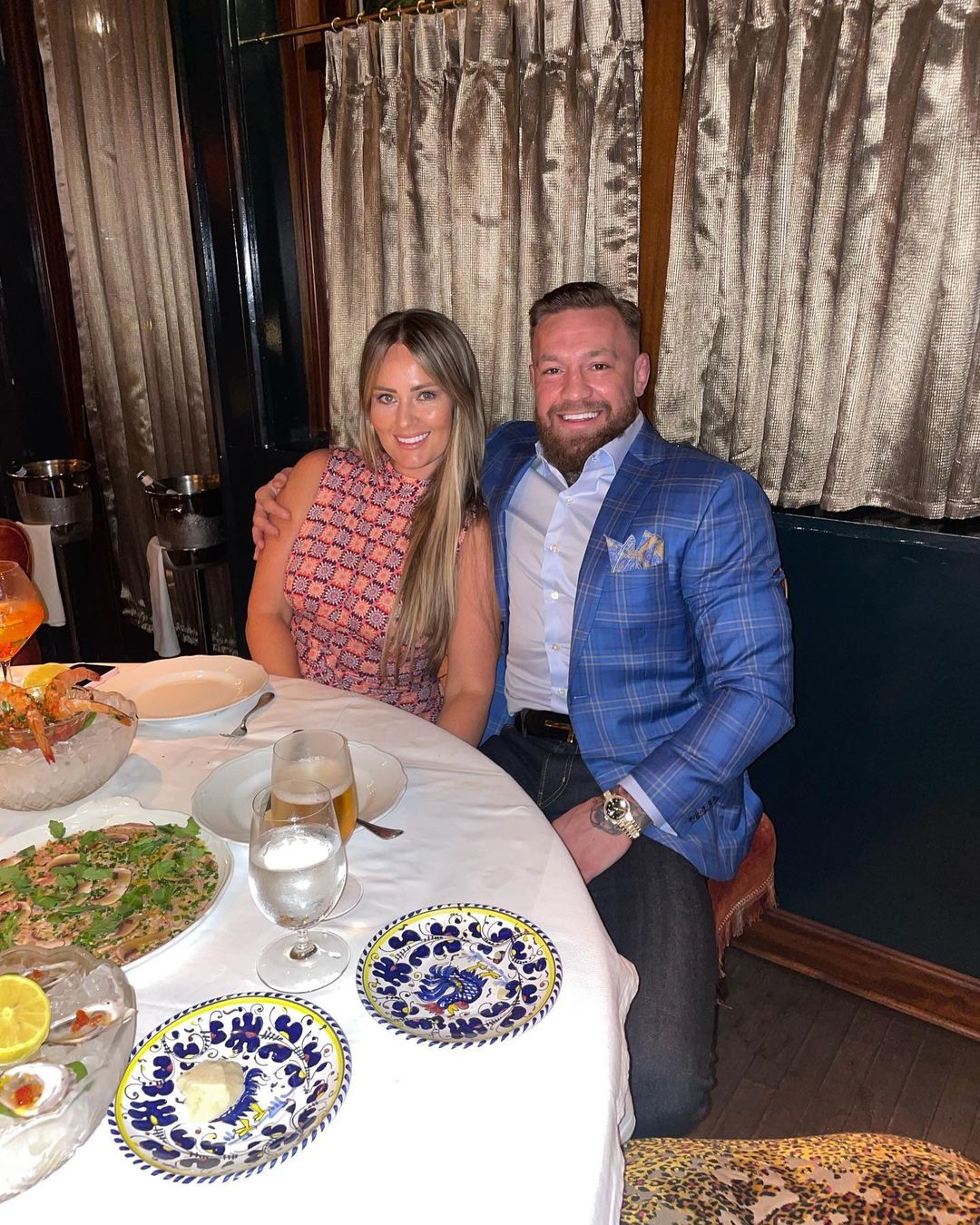 On the other hand, McGregor's used to work as a plumber before leaving his job to pursue a career in MMA. His decision to become an MMA fighter might be one of the most excellent decisions he has ever made.
The Notorious has garnered a lot of success throughout his career and is known as one of the greatest MMA fighters in the history of UFC. He has held many records and won several championships.
Accomplishments
The Irish fighter once won the Interim Featherweight Championship, UFC Featherweight Championship, and UFC Lightweight Championship. Likewise, he was the Fight of the Night champion twice and Knockout of the Night champion once.
Moreover, he has won the Performance of the Night seven times and is the First Irish-born UFC champion. Similarly, the Bleacher Report named him Fighter of the Year twice in 2015 and 2016.
Not to mention, the EPSYs named him the 2016 Best Fighter and also nominated him for the 2016 Best Breakthrough Athlete.
As of October 4, 2021, the boxer's ranking is #7 in the UFC lightweight rankings.
Furthermore, he has fought against notable fighters like Floyd Mayweather and Khabib Nurmagomedov. Conor's fight with Nurmagomedov was filled with controversies and was one of the most famous MMA events.
His match with Khabib at UFC 229 generated the most PPV buys in MMA history, i.e., 2.4 million PPV buys. Recently, Forbes ranked him at #1 in the world's highest-paid athlete list.
Engagement, Wedding & Controversy
Devlin is the future wife of McGregor. The pair has been together since 2008. At the time, Dee worked in a nightclub while Conor had just quit his plumbing job to go after his MMA dream.
Although it wasn't Notorious' first time meeting his future wife, it was the first time he had a proper conversation with her. Shortly after, they two started dating.
The pair speak very highly of each other and have stuck by one another through tough times.
On August 8, 2020, the couple announced the news of their engagement. They got engaged after dating for 12 years.
Moreover, McGregor has credited his fiance for his success and thanked her for staying by his side through all the struggles and difficulties.
Not to mention, the pair seems to be one of the strongest and most dashing couples in Ireland and UFC. Their bond and trust in one another make their relationship strong.
Controversy With Rita Ora
Once McGregor attended the Fashion Awards with singer Rita Ora, the two seemed cozy, and Ora even posted a few photos with the caption "Date Night."
The post, as expected, garnered a lot of attention and backlash at the two, as many pointed out that both of them were in a committed relationship. Many fans even considered Rita disrespectful for even posting the photos.
Despite all the drama, Devlin did not comment or post anything. Also, Conor did not offer any explanation, as the two have utmost faith in one another.
Likewise, the two knew that the post meant no harm and was just a friendly night out with a good friend. Aside from that, the couple does not seem to have any immediate wedding plans.
Furthermore, they recently welcomed their third child and second son Rían McGregor and are focused on his upbringing.
Besides that, the pair had two more children, Croia McGregor, and Conor Jack McGregor Jr.
Hence, Devlin and McGregor are happy with where they are in their relationship and seem to be moving toward married life slowly.
Similarly, they seem to be made for each other as they've stuck by each other's side for all these years.
Controversy With MGK
Conor and MGK made big news after getting involved in a scuffle at MTV VMA.
Apparently, McGregor asked singer Machine Gun Kelly for a picture, which the singer declined. Moreover, Kelly allegedly said something to the fighter, and his security tried to push Conor, resulting in a heated moment between the two.
Furthermore, the MMA fighter can be seen throwing a drink at MGK, who was held back by his girlfriend, Megan Fox. Shortly after, the security separated the two, and when asked about the incident, both of them declined to comment on it.
Likewise, McGregor said,
"I only fight real fighters. People that actually fight. I certainly don't fight little Vanilla Ice white rappers. I don't even know the guy, don't know anything about him except that he's with Megan Fox."
Needless to say, the Irish fighter is equally known for his fights off camera.
Net Worth, Career Earnings, & Endorsements
Dee's net worth is estimated at $20 million. She earned most of her wealth through involvement in her fiance's various business ventures.
On the other hand, McGregor is estimated to have an net worth of around $200 million.
He sold his stake in his whiskey brand Proper No. Twelve that earned him $150 million. Similarly, the Notorious made $22 million from the UFC in 2020.
In the same year, Conor topped the list of the world's highest-earning athletes, making $180 million, according to Forbes.
Besides that, the Irish fighter earns very well through endorsement and sponsorship deals. He is sponsored by DraftKings DKNG, the videogame Dystopia, and the lifestyle brand Roots of Fight.
He also has endorsement deals with Beats by Dre, Monster Energy, Reebok and Bud Light.
View this post on Instagram
Conor's pub, The Black Forge Inn, in Ireland, was targeted by criminals on January 12, 2022. However, no damage was reported.
McGregor is all set to make his debut in Hollywood as he landed a role in the remake of the classic 80's movie 'Road House opposite Jake Gyllenhaal.
Social Media Presence
Devlin is quite active on different social media platforms. As a result, she has an Instagram account @deedevlin1, with 1.9m followers.
The Conor McGregor wife mostly shares her life as the boxer's wife and the mother of their children through her handle. Hence, she is with her kids and future husband in most of her photos.
Likewise, Dee also has a few posts dedicated to her parents and sisters. Similarly, she can be seen hanging out with her friends.
Besides that, in some of her posts, the businesswoman has flaunted her toned physique and shown her OOTD.
View this post on Instagram
In addition, she is usually seen on vacations and lavish trips with her close friends, future hubby, and adorable kids.
Moreover, she also attends McGregor's fights and joins him for award functions and events. Thus, the pair can be seen posing with awards at different functions.
Devlin is also on Twitter @DeeDevlin1 but is not active and has over 52k followers. She usually shares and tweets UFC and McGregor-related news, events, and highlights.
Aside from that, she tweets and retweets about his different business ventures. Overall, the MMA fighter's fiance is a very supportive partner.
Popularity
Dee is a popular MMA fighter's wife among MMA fans. She is continuously covered by different news and an online portal. She also frequently appears in different programs with her husband.
The above image gives brief information about Dee Devlin's popularity in the U.S. over a year.
FAQs
Did Conor McGregor And Dee Devlin Split?
No, the pair have not split and have been going strong for over 15 years now. They have been together since 2008 and have stuck by each other's side through thick and thin.
Moreover, the couple is engaged and is planning to tie the knot very soon. Likewise, Dee and Conor are parents to three beautiful children.
Is Conor McGregor Fighting Jake Paul?
No, the two are probably not fighting any time soon. Moreover, the good news about Jake and Conor's rumored fight is also limited.
However, you can most likely catch Paul trash-talking McGregor on a few occasions. Likewise, Jake has been gunning McGregor for months to take him into the ring, but there is little to no response from Conor's side.
Who Won Conor McGregor vs Khabib Nurmagomedov?
Khabib won McGregor vs Nurmagomedov via submission in the fourth round of UFC 229.
How Much Is Conor McGregor Worth 2022?
As of 2023, Conor McGregor has a net worth of around $200 million.